Last updated on December 14th, 2017
Bhakarwadi recipe with step by step photos. How to make Maharastrian Bhakarwadi recipe with easy and simple ingredients. Maharastra is popular for its tasty vadi recipes like kothimbir wadi, bhakarwadi etc. Bhakarwadi is a popular tea time snack from Pune. I tasted bhakarwadi few recipes back and I am fan since then :). I noted this recipe for bhakarwadi from a book last year and got to try only now 🙂
Bhakarwadi is something like savory pinwheels. The outer dough is made of maida and besan or gram flour. If you prefer you can use wheat flour instead of maida too. The filling of bhakarwadi is sweet spicy coarse paste with various spices and coconut. The filling for bhakarwadi can be totally customized as per taste. If you want to cut down spice you can add more sugar. If you do not want sweet taste in fliing, you can leave out sugar too. You can use desiccated coconut or kopra is filling.
To make bhakarwadi recipe I have used unsweetened desiccated coconut. I have made the filling spicy as we like it that way. You can totally change the proportion of ingredients in the filling. I have skipped a step in this authentic bhakarwadi recipe. I have not steamed the rolls before deep frying as it is mentioned in some recipes. if you wish you can steam rolls just like in traditional bhakarwadi recipe.
Tips for making perfect bhakarwadi recipe 
The dough should contain enough fat for crispy bhakarwadi. Add hot oil to the dough while kneading.
Do not make the outer cover very thick or very thin. if it is too thick the vadis will not be crisoy. if is too thin they may break while frying.
It is very important to roll the bhakarwadi dough very tightly after filling the coconut mixture.
3. make sure to deep fry the cut bhakawadi in medium hot oil until golden brown.
Serve bhakarwadi warm or at room temperature with tea.
If you are looking for more easy maharastrian snack recipes please check poha chivda, namak pare, sabudana wada, batata vada recipes
Bhakarwadi recipe card below: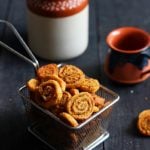 How to make bhakarwadi recipe with step by step photos.
For making the dough:
Take all the ingredients mentioned for dough. Knead into a smooth stiff dough adding required water. Set aside till we make the filling.
For making the stuffing/filling
Take all the ingredients mentioned for filling in a food processor or belnder. Pulse few times to get a semi dry powder or paste.
To make bhakarwadi
Divide the dough int 4 equal parts.
Take a dough ball and roll in to roti of medium thickness.
Spread the prepared filling all over, leaving the edges for rolling.

Roll tightly and seal the edges.

Cut into 3 cm long pieces with a sharp knife.
Deep fry in hot oil until golden brown. Drain excess oil and cool thoroughly before string. You can serve hotbhakarwadi with tea too.