Last updated on August 19th, 2018
Mac n cheese recipe made easily on stove top! A healthy and colorful twist to traditional mac n cheese with addition of vegetables. This quick macaroni and cheese is a filling meal for toddlers and kids!
Mac and cheese recipe with step by step photos. Macaroni and cheese is classic American recipe with elbow pasta. mac n cheese is a very popular pasta dish that is a huge favorite among everyone especially kids. Here I am sharing the recipe of mac n cheese with a healthy twist. An easy cheesy pasta recipe that you can serve as a quick lunch or dinner. This will be a huge hit with toddlers and kids. Few more kid friendly recipes shared in the blog are veg burger, cheese biscuits, potato wedges, veg noodles, veg cutlet, cheese crust pizza recipes.
The traditional mac n cheese recipe does not use any vegetables. I usually make mac n cheese just like this mac hotpot. That is we make macaroni and cheese in oven . This quick mac n cheese with vegetables is something we prefer for quick lunch. It is spicier and flavorful compared traditional mac n cheese. I personally prefer this vegetable macaroni any day.
I make mac and cheese when we crave something fancy. This simple macaroni and cheese is easy to make yet very exotic. You can make this cheesy pasta in a jiffy on stove top in 15 minutes. You can make the sauce and cook the pasta simultaneously. Once they are ready just toss and serve.
It is very easy to make mac n cheese this way. I like to make white sauce or cheese sauce from scratch for such pasta recipes. With few tips in mind you can easily make the best white sauce for pasta at home.
Tips for making perfect white sauce pasta
Use nutmeg powder for traditional tasting white sauce pasta
Always add cheese after removing the white sauce from heat source
Whisk thoroughly after adding cheese for cheesy white sauce pasta.
Cook the flour well until it leaves out nice aroma. Do not brown the flour though.
Make white sauce in lowest heat of your source
Add more milk to adjust the consistency of white sauce.
You can use this white sauce in pasta in white sauce, white sauce pizza, cheese corn toast recipes too.
You can bake mac and cheese in oven if you wish. Please refer notes for making mac and cheese in oven.
Serve mac and cheese hot as quick lunch or dinner.
If you are looking for more pasta recipes do check penne arraibiata, pasta in marinara sauce, masala pasta, butter corn pasta recipes.
How to make mac and cheese recipe
To cook pasta:
Bring a large pot of water to rapid boil with few pinches of salt.
Add the pasta and cook till al dente. The pasta should be cooked yet retain crunch and shape. Do not make them mushy.
Drain excess water and set aside.
To make white sauce or cheese sauce for mac and cheese:
Heat butter in a thick sauce pan. Once the butter is heated and melts, add the flour and saute very well.
Cook the flour in low flame until nice aroma starts to waft out.
Once the flour is well cooked add the milk slowly. keep on whisking while adding the milk.
Keep whisking continuously so that no lumps are formed.
Keep cooking in low flame and the sauce will begin to thicken.
Season with salt, pepper powder, nutmeg or oregano and chili flakes. Remove the sauce from heat source.
Add the boiled vegetables and mix well.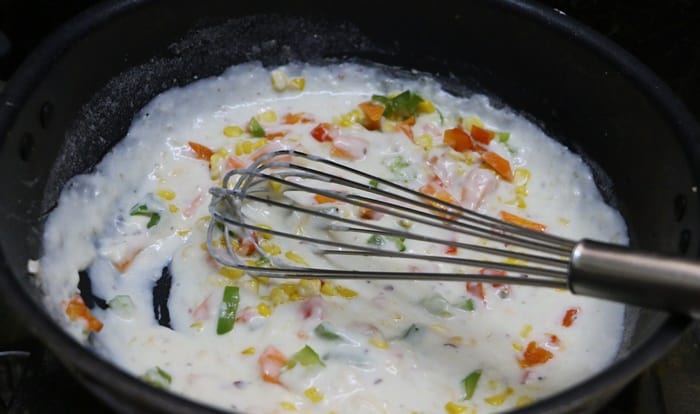 Add the grated cheese and mix very well. The cheese will melt in the retained heat. Now the creamy and cheesy white sauce is ready.
Add the cooked pasta and toss. Serve mac n cheese hot.
Mac and cheese recipe card below:
Mac n veggies n cheese recipe | Easy pasta recipes
Mac n veggie n cheese-easy cheesy pasta recipe with fresh veggies.very tasty and comforting bowl of elbow pasta with cheese and veggies.
Ingredients (1 cup=250 ml)
1

cup

elbow macaroni or shell pasta

1

large carrot

very finely chopped

2

baby corns

chopped

1

small green bell pepper

very finely chopped

1

onion

sliced

2

large tomatoes

very finely chopped or pureed

2

teaspoons

tomato ketchup

1

teaspoon

dried oregano

1

teaspoon

dried mixed herbs or salad herbs

1/2

teaspoon

sugar

1/2

teaspoon

pepper powder

1/2

teaspoon

crushed ginger

1/2

teaspoon

chilli flakes

Salt

1

tablespoon

butter
For white sauce or cheese sauce
2

tablespoons

butter

1

tablespoon

all purpose flour

(maida)

1/2

cup

cheddar cheese

shredded

1/2

cup

mozzerlla

shredded

1 1/1

cups

milk

boiled and cooled

1

teaspoon

black pepper powder

1/4

tespoon

nutmeg

powder
Optional ingredients
3/4

cup

cubed vegetables

(carrots, bell peppers, onions, peas)

1/2

teaspoon

chili flakes

1/2

teaspoon

dried oregano
Instructions
To cook pasta
Bring a large pot of water to rapid boil with few pinches of salt

Add the pasta and cook till al dente. The pasta should be cooked yet retain crunch and shape. Do not make them mushy

Drain excess water and set aside
To make white sauce or cheese sauce for mac and cheese
Heat butter in a thick sauce pan. Once the butter is heated and melts, add the flour and saute very well.




Cook the flour in low flame until nice aroma starts to waft out.

Once the flour is well cooked add the milk slowly. keep on whisking while adding the milk.

Keep whisking continuously so that no lumps are formed.

Keep cooking in low flame and the sauce will begin to thicken.

Season with salt, pepper powder, nutmeg or oregano and chili flakes. Remove the sauce from heat source.

Add the grated cheese and mix very well. The cheese will melt in the retained heat. Now the creamy and cheesy white sauce is ready.

Add the boiled vegetables and mix well

Add the cooked pasta and toss. Serve mac n cheese hot

Recipe Notes
1.Do not over cook the pasta first as we are going to saute it with veggies too.
2.You can add garlic along with ginger