Pudina thogayal recipe with video and step by step photos. I am sharing an easy Tamil nadu pudina thogayal made with fresh mint leaves, lentils and tamarind. A very flavorful, tasty and healthy accompaniment for rice with sesame oil!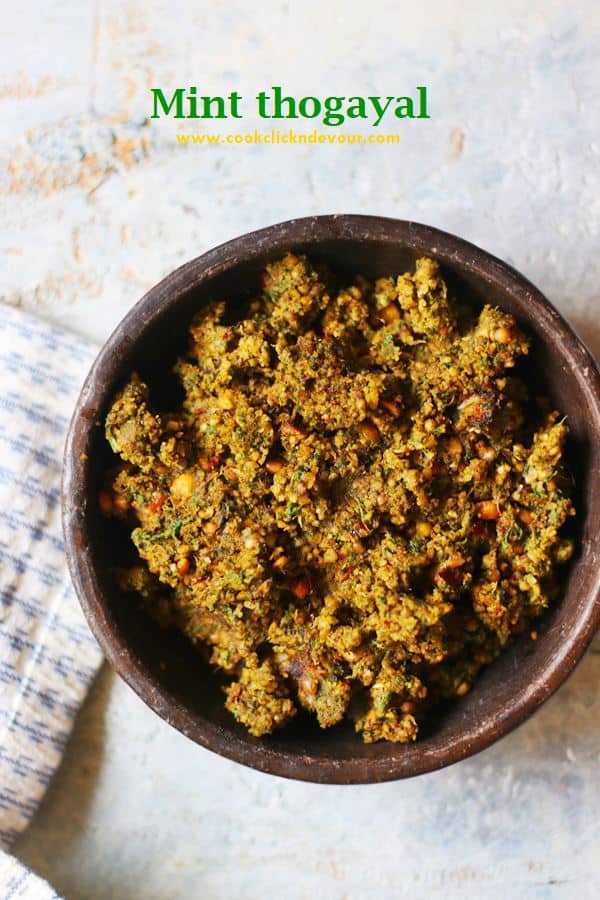 A thogayal is semi dry chutney like condiment especially served with hot rice. The main difference between chutney and thogayal is that mostly urad dal is used for thogayal unlike chutney. Also there is no tempering for thogayal. Authentically a thogayal is hand pounded for that coarse texture.
Thogayal recipes are very commonly made in Tamil households. We make variety of thogayals like coconut thogayal, paruppu thogayal, coriander thogayal and this pudina thogayal is my personal favorite. I always make this when I get my hands on fresh organic mint leaves. We like to pair this with some vadam or spicy potato roast or cabbage poriyal.
Making pudina thogayal is easy once you have cleaned fresh mint leaves handy. There are many variations with pudina thogaya recipe and I am sharing a very basic recipe that I make. You can also make pudina thogayal with coconut, garlic etc. Furthermore in many homes thogayal is made with just urad dal but I like to use a mix of urad and chana dal.
Serve pudina thogayal with hot rice and sesame oil. Sesame oil enhances the taste of any thogayal.
More south Indian recipes:
lemon rasam, cabbage poriyal, coconut chutney, sambar recipes.
Video recipe of pudina thogayal.
How to make pudina thogayal recipe.
1. Pick and rinse the mint leaves well. You can use thin stems as well.
2. Heat 2 tablespoons sesame oil in a pan. Add chana dal and fry for a minute.
3. Next add urad dal and fry.
4. Now add asafoetida, dried red chili, tamarind and saute.
5. Fry well till the lentils turn golden. Remove the fried ingredients to a mixer jar and let cool.
6. Now in the same hot pan add the mint leaves and saute for a minute.
7. Grind along with the fried lentils with required salt. Just pulse for few times without adding water for a coarse semi dry thogayal. Store in airtight container. Keeps well for 3-4 days in fridge.
Pudina thogayal recipe card below:
Pudina thogayal recipe without coconut
Pudina thogayal recipe- south indian vegan mint leaves thogayal or semi dry chutney without tempering
1 CUP = 250 ml
Ingredients
2

cups

mint leaves

tightly packed

2

tablespoons

urad dal

2

tablespoons

channa dal

4

dried red chilies

1/2

teaspoon

asafoetida

tamarind

small piece

Salt

2

tablespoons

sesame oil
Instructions
Pick and rinse the mint leaves well. You can use thin stems as well.

Heat 2 tablespoons sesame oil in a pan. Add chana dal and fry for a minute.

Next add urad dal and fry.

Fry well till the lentils turn golden. Remove the fried ingredients to a mixer jar and let cool.

Now in the same hot pan add the mint leaves and saute for a minute.

Grind along with the fried lentils with required salt. Just pulse for few times without adding water for a coarse semi dry thogayal. Store in airtight container. Keeps well for 3-4 days in fridge
Nutrition
Tried this recipe? Snap a pic and share 🙂
Mention cookclickndevou or tag cookclickndevour