Aloo chaat recipe in taco shell with step by step photos. Sharing a very delicious and flavorful all time favorite aloo chaat recipe served in homemade taco shells. Aloo chaat or potato chaat recipe is a very popular Indian street food and the recipe has so many variations. The one I am sharing now is a super easy one and you can easily modify the recipe to add more flavorings. I have skipped the masala dahi/ curd here and this is a vegan aloo chaat recipe.
The way I have served the aloo chaat makes it more interesting and tasty. I filled the taco shells I baked with sweet chutney, green chutney, aloo mixture and topped with flavorful desi onion tomato salad. All in all this snack was a huge hit. I have given variations to serve the aloo chaat if you do not have taco shells.
To make aloo chaat recipe we need few simple ingredients. It is very helpful if you have green chutney and sweet chutney handy. if you prefer you can add some mayonnaise, spiced curd along with green chutney. I have used some boiled corn along with potatoes. You can even add pomegranate to garnish along with sev.
serve taco shell filled with aloo chaat immediately once assembled. In fact you can set everything and let everyone make their own tacos.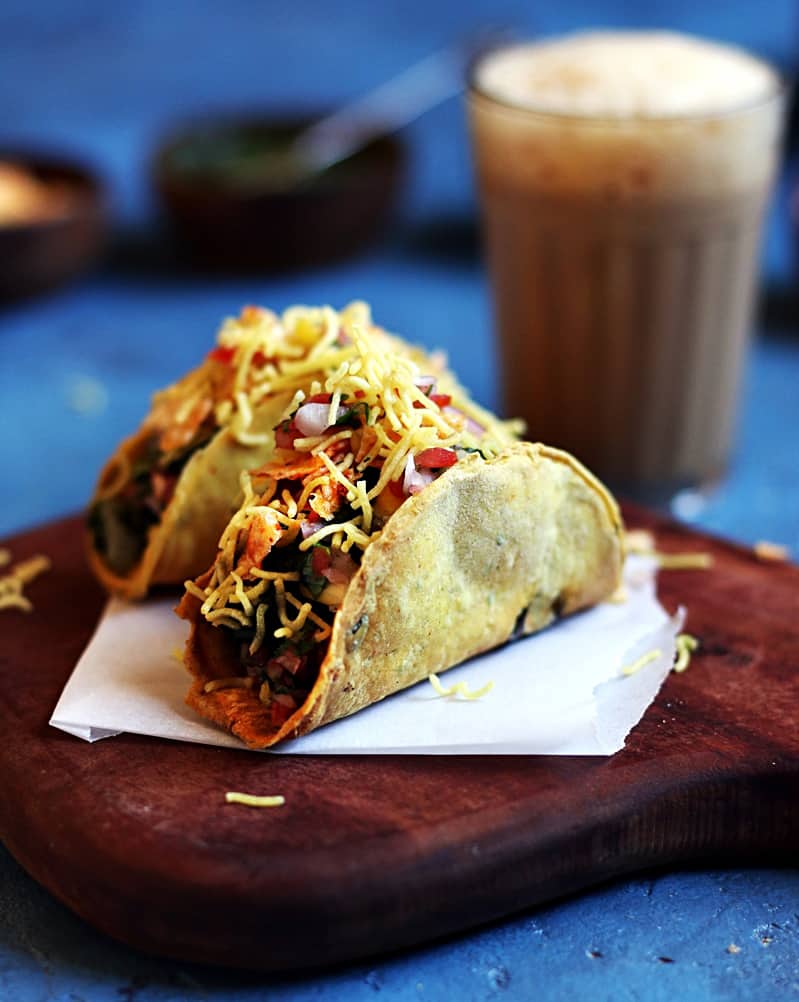 Here is how to make taco shell filled with aloo chaat recipe. Also check veg rajma tacos, sev puri, ragda patties recipe.
Step by step aloo chaat recipe served in taco shells recipe.
1. Boil, peel and crumble the potatoes. Do not make it into a paste. Add rock salt, boiled sweet corn, cumin powder, pepper powder, chaat masala powder, crushed ginger and mix well.
2. Make a salad with finely chopped onions, tomatoes, cilantro leaves, salt, lemon juice and a pinch of sugar. Just mix everything and toss well.
3. keep green chutney, sweet chutney, chips if using and sev ready.
4. Take a taco shell. Slightly warm it if needed. First add some potato mixture. Then top with some green chutney. Then some salad. Next goes sweet chutney.Finally some sev and chips. You can alternate the layers and fill as you wish. Serve the filled taco shell immediately.
Aloo chaat in taco shell recipe card below: