Last updated on December 14th, 2017
Badam kheer recipe with step by step photos. Badam kheer or badam payasam for festivals like Navratri, Diwali, Christmas. Badam kheer or badam payasam is a delicious Indian kheer recipe made with badam or almonds . Traditional kheer recipe is a pudding like sweet made with broken basmati rice. Here in this badam kheer recipe almonds are used instead. However we can use a part of broken rice or vermicelli or sago pearls in badam kheer recipe. Adding rice or vermicelli will surely change the taste of badam kheer though. Some other popular kheer recipes like badam payasam in the blog are easy paal payasam, almond coconut payasam, sabudana kheer
Badam kheer is a thick and creamier version of badam paal or badam milk recipe. Badam milk can be a good  healthy everyday drink for toddlers and kids. But this badam kheer is a rich and creamy Indian almond dessert best served after a rich party meal or festival meal. You can serve badam kheer warm or chilled. I personally prefer chilled badam kheer. Making badam kheer is easy if you blanched almonds ready. This is the traditional badam kheer recipe just like some north Indian sweet stalls.
To make badam kheer recipe we need blanched almonds, milk, sugar, cardamom powder, saffron and some slivered nuts for garnish. I have added 2 tablespoons sweetened condensed milk. Sweetened condensed milk in badam kheer increases the richness and thickness. I suggest you grind the grind the blanched almonds into a very smooth paste for thick and creamy badam kheer.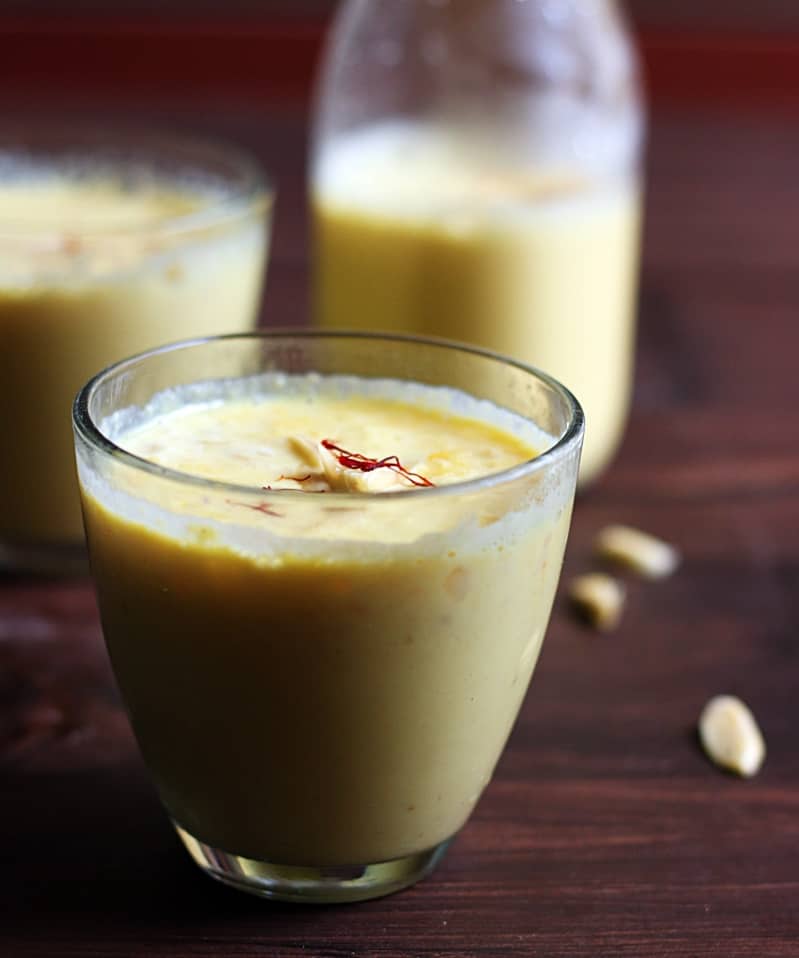 If you want a very thick badam kheer decrease the quantity of milk by 1/2 cup. For thinner badam kheer increase milk by 1/2 cup. The quantity of sugar can also be increased or decreased. This badam kheer recipe can be doubled or tripled too.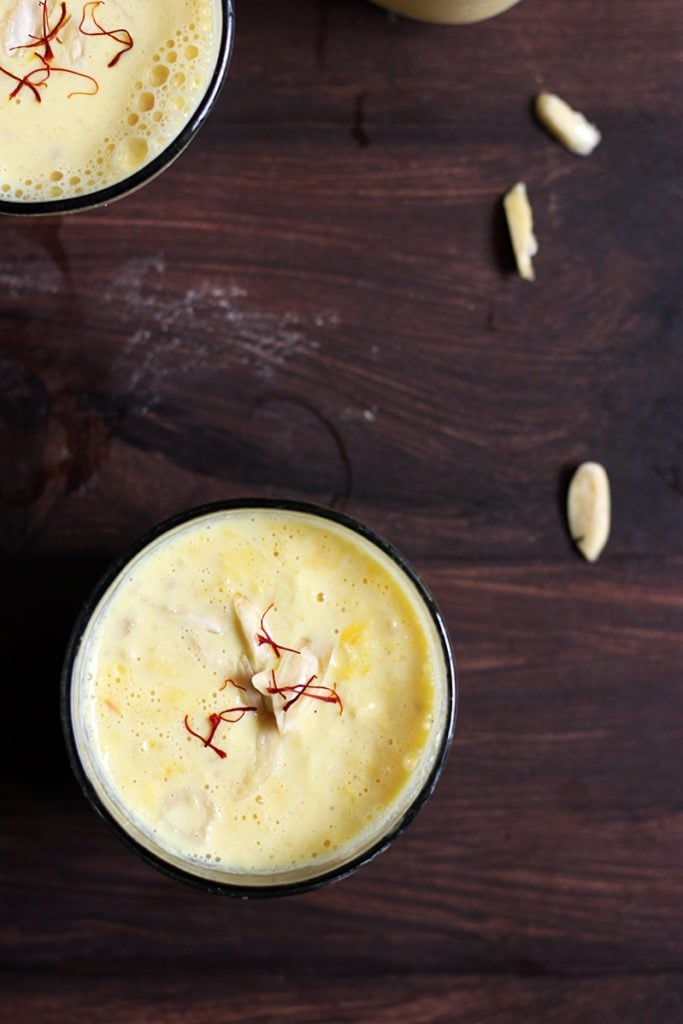 Serve badam kheer warm or chilled as dessert after a rich meal. 
If you are looking for more easy badam recipes do check badam katli, badam halwa, badam chutney recipes.
Please check how to blanch almonds here.
Badam payasam or Badam kheer recipe card below:
How to make badam kheer recipe with step by step photos.
Bring milk to a boil and cool down a bit.
Blanch and peel the almonds

Take blanched almonds, saffron and 1/4 cup milk in a mixer jar. Grind to a smooth paste.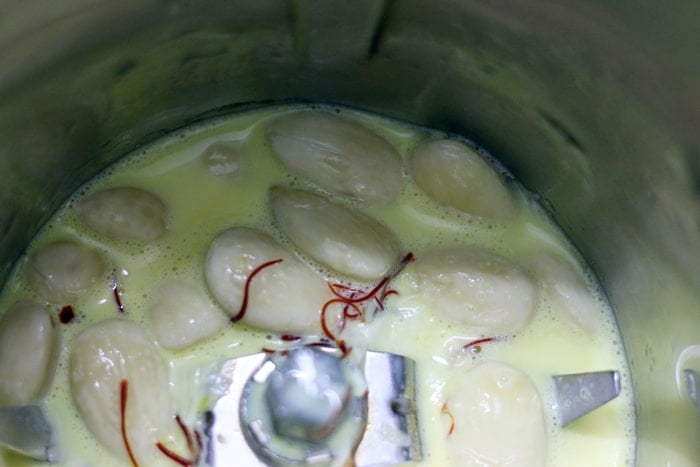 Add condensed milk and sugar to the remaining milk.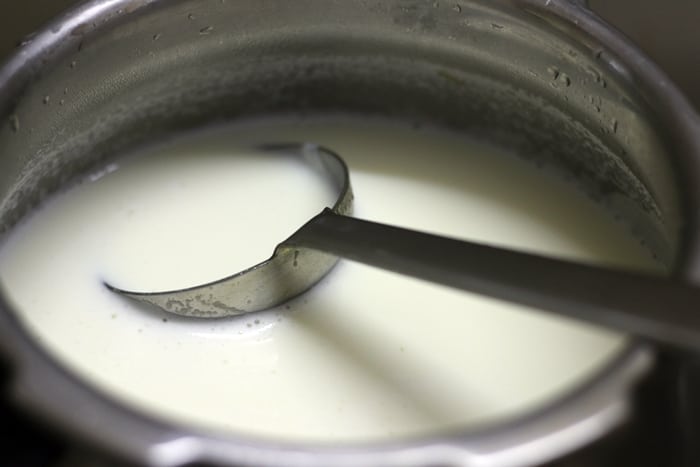 Simmer and cook for 5 minutes.
Add the almond paste and mix thoroughly. Simmer for 10-15 minutes as per preferred thickness.
Add cardamom powder and mix well. Cool down a bit and refrigerate of desired.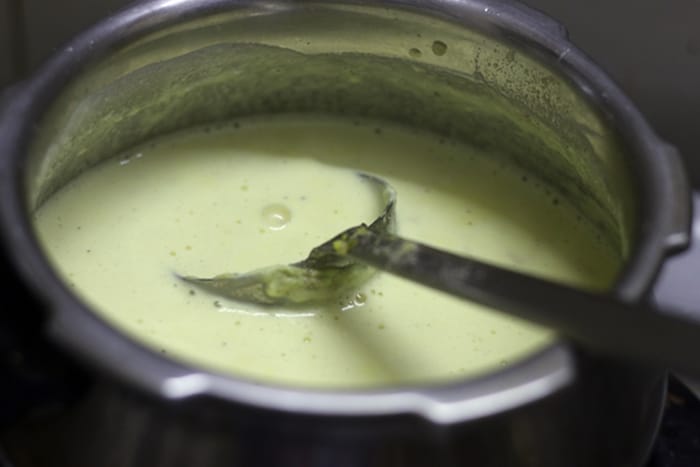 Garnish with chopped nuts, some saffron and serve badam kheer as dessert.