Carrot halwa recipe- Traditional slow cooked gajar ka halwa with step by step photos and video made with season's best red carrots, milk, sugar and ghee. North Indian sweet carrot pudding recipe perfect for winters.
No time for slow cooking? No worries, I am also sharing here easy carrot halwa recipe with condensed milk that you can make in 15 minutes and also how to make this in instant pot when you do not want to babysit the halwa 🙂 Enjoy, this is the season to indulge in this deliciousness.
Craving more halwa? Check out these delicious halwa recipes from the blog- pumpkin halwa, badam halwa, moong dal halwa, sooji halwa recipes.
It is officially winter in India when those gorgeous Delhi gajar or red carrots make an appearance along with heaps and heaps of green peas, cauliflowers.
Abundance of carrots obviously mean carrot halwa 🙂 I know you turn carrots into so many delicious dessert recipes like carrot cake, carrot muffins, carrot kheer or milkshake but I am partial to this Indian dessert gajar halwa first 🙂
Gajar means carrot in Hindi and halwa means a sweet pudding that is semi solid. This sweet also goes by the make gajerla.
Carrot halwa is an very very popular Indian sweet or dessert that finds its way in festivals, parties, weddings and other celebrations.
No festival feast is complete without a serving of this warm halwa. Just like hot gulab jamun this halwa is also served sometimes with vanilla ice cream.
I do make carrot halwa throughout the year with regular carrots or ooty carrots but spotting a bunch of red carrots or Delhi carrots and making a batch is pure joy 🙂
These carrots are deep in flavor, sweeter and just makes prettiest halwa. So if you can get red carrots please use them for making this Indian sweet.
Whichever carrots you use make sure they are tender and juicy for best halwa. Mature fibrous carrots are not a good choice for this recipe gajar ka halwa.
Now if you are not familiar and wondering what all this is about, please read through to lean what this sweet is about, recipe with step by step photos and a video and loads of tips and tricks. I am sharing three ways to make this sweet here. Enjoy! This gajar halwa is
Rich, creamy and delicious
easy to make recipe
Best Indian dessert after a festive meal
made with season's best carrots
My mom's special tried and tested recipe
vegetarian and gluten free
a kids favorite.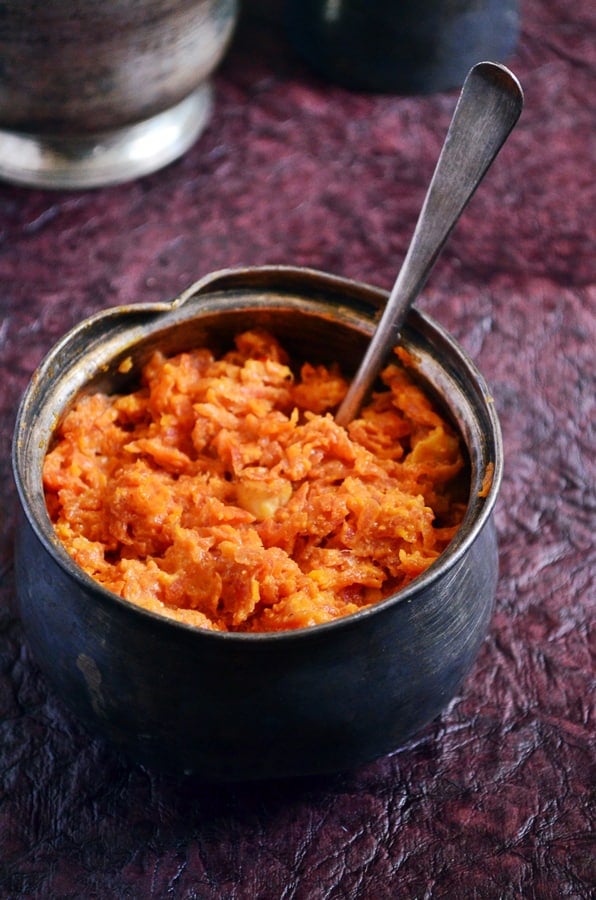 About This Recipe
In this section , I have explained what this sweet is all about, what are the different ways to make it and which method is suitable for whom.
What Is Carrot Halwa?
Gajar ka halwa as it is fondly known in India, carrot halwa is a sweet pudding with carrots, sugar and milk if simply put.
Grated carrots are first sautéed in ghee, then slow cooked in milk, sweetened with sugar and flavored with roasted nuts in this recipe.
Now this is the base and traditional recipe of carrot halwa which over the time has been simplified by many talented chefs and home cooks.
What Are The Different Ways To Make Gajar Ka Halwa?
Usually we make this halwa in two ways at home.
traditional method of slow cooking carrots in full fat milk or whole milk – This is the method my mom always follows to make gajrela.
Using khoya or condensed milk to speed up the process- I sometimes follow this method when I want to make this sweet quickly.
There is one more way in which I am making this halwa these days is using an instant pot.
Now are you confused which method to choose? If you have the time, good quality whole milk or full fat milk and the patience to stir for around 45 minutes, go for the traditional method as nothing can beat the taste of slow cooked halwa.
On the other hand if you want to make rich carrot halwa in less than 20 minutes for sudden guests go for the second method.
Using an instant pot or pressure cooker comes handy when you want to make large volume of carrot halwa recipe while multitasking.
Ingredients For Gajar Halwa Recipe
To make this rich Indian sweet you will very basic pantry staples, just 4 main ingredients with optional garnishes.
Carrots– That one is obvious right 🙂 Yet here are few pointers. If you can get your hands on seasonal red carrots or Delhi carrots, go for it. Make sure they are tender and not very fibrous.
If Delhi carrots are not available you can use regular orange carrots or Ooty carrots. You can use a food processor to grate the carrots easily.
Milk– If you choose to make this halwa in traditional method, use full fat milk or whole milk or full cream milk for best results.
If you are adding khoya (milk solids) or condensed milk in gajar ka halwa recipe then you can add low fat milk as the halwa will be richer from condensed milk anyways. You can also use evaporated milk.
Ghee– Indian desi ghee clarified butter is a must in this recipe. The flavor of carrots sautéed in ghee is just wonderful and the flavor is so good.
Use homemade ghee or any good quality store bought ghee. One point I would like to state here is, this is a dessert recipe suitable for celebrations and indulgent one at that.
You can make carrot halwa with 2 tablespoons ghee as well as 6 tablespoons ghee as I have given here. Both are same recipe but surely they vary in flavor, richness and taste. I like to be generous with ghee while making sweets as we consume it in moderate quantity. So it is your call to decide the amount of ghee. If you want, you can halve the quantity of ghee in the recipe.
Sugar– I prefer to use powdered granulated sugar or organic sugar for this recipe for authentic taste. For healthier gajar halwa recipe you can use coconut sugar.
Garnish ingredients– Finely chopped cashews, almonds, pistachios and dry fruits like raisins, kismis are used.
Flavoring– Freshly pounded green cardamom or cardamom powder.
How To Make Carrot Halwa Recipe
First of all rinse carrots under running water and wipe them gently. Peel and grate them finely. You will need 3 to 3.5 cups tightly packed grated carrots. To grate the carrots you can use a food processor if you have or use a firm hand held grater or box grater. I prefer to grate carrots rather than shredding them.
Bring 2 cups whole milk or full cream milk to a boil in a sauce pan meanwhile. Once the milk boils, remove from flame and set aside.
Heat 2 tablespoons ghee in a heavy pan. You have to choose the right pan that is heavy so that the halwa ingredients do not stick at the bottom. I always use a pressure cooker base to make Indian sweets.
Once the ghee is hot add chopped nuts and fry in medium heat until they turn golden brown. Remove the fried nuts to a plate using a slotted spoon.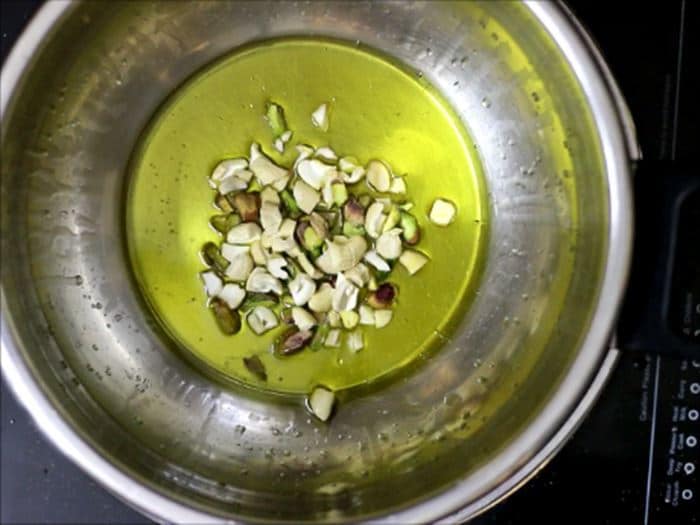 In the same ghee add raisins and fry for few seconds, remove to the plate again.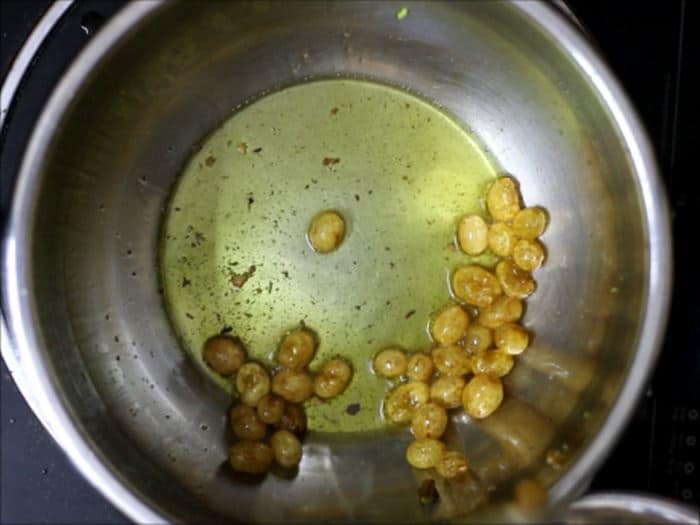 Heat the same ghee again and add the grated carrot. Saute for just a minute to coat the carrots with ghee in medium flame.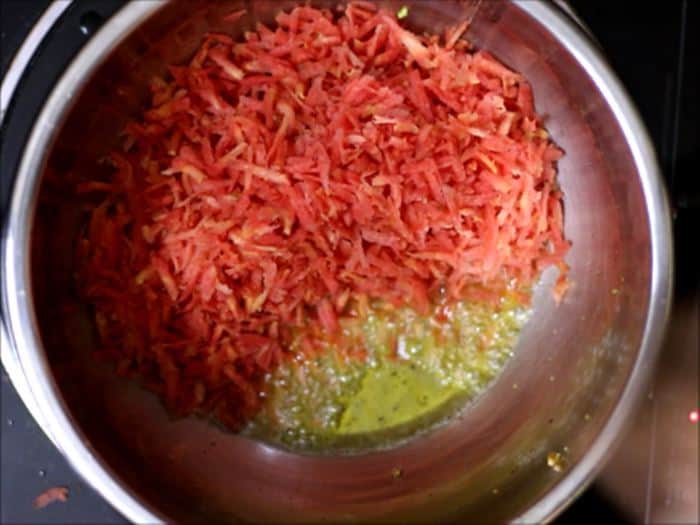 Now add milk that we set aside and mix very well. Stir well to combine.
Cook for 30-35 minutes or until all the milk gets absorbed and carrots turn very soft. Keep stirring often to prevent the milk sticking to the bottom.
Once the milk is absorbed add the powdered 1/2 cup sugar and mix well. Stir to combine and cook for another 5-6 minutes. At this stage you can add 2 tablespoons khoya or milk solids to make the halwa richer.
Now add the remaining 1/4 cup ghee (4 tablespoons) and mix well. Saute till halwa thickens and caramelizes very slightly, it will take 10-12 minutes. You will also see some ghee oozing out.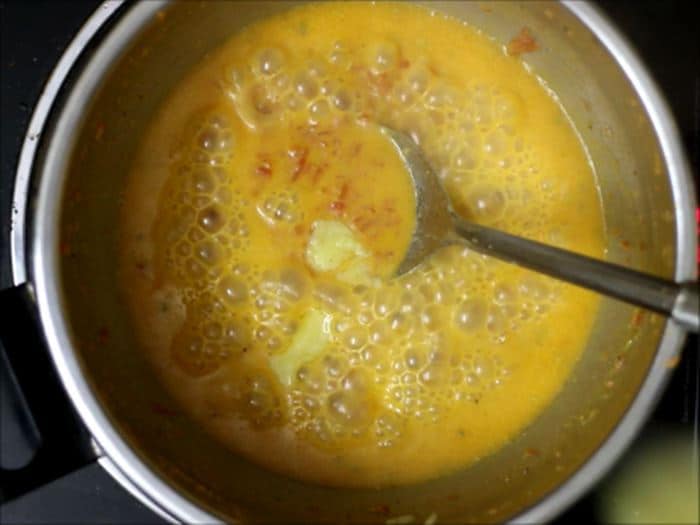 At this stage add 1/2 teaspoon cardamom powder and fried nuts. Mix and cook for another 5 minutes.
Remove from flame and serve carrot halwa hot. You can see my serving suggestions for more ideas.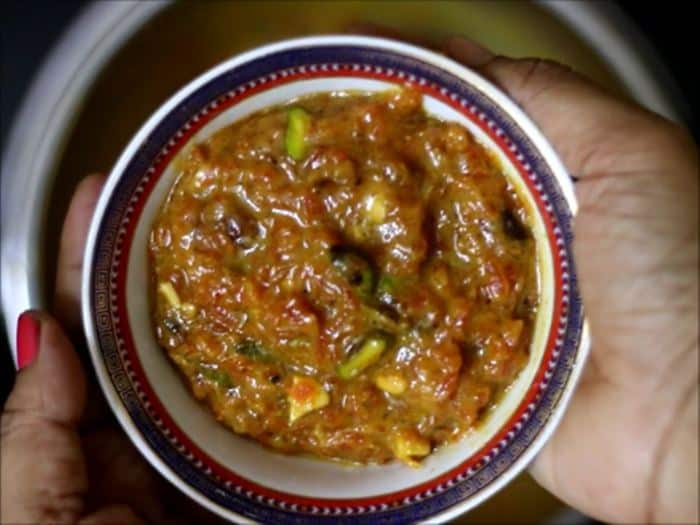 Recipe-2
Gajar Ka Halwa Recipe With Condensed Milk
This is a super easy recipe where we are using condensed milk or evaporated milk instead of cooking carrots in whole milk for a long time.
For the 3.5 cups of grated carrot you will need
1/2 cup condensed milk- 200 ml
4 tablespoons ghee
nuts and raisins as mentioned in the recipe
cardamom powder.
As we are adding sweetened condensed milk no need to add sugar.
Heat 2 tbsp ghee in a heavy pan and fry the nuts, raisins. Remove to a plate.
Add the grated carrots and saute for 2 minutes. Add the condensed milk and cardamom powder. Mix well and cook for 15 minutes in medium flame or until gajar turns soft and well cooked.
Add ghee (remaining ) and fried nuts. Mix well and cook for another 2 minutes. Remove from flame.
Recipe 3
Gajar Ka Halwa With Khoya.
To make a super rich carrot halwa you can add part milk and part khoya. This method is very useful when you want to make a large volume.
Adding khoya saves lots of minutes from stirring the milk.
Please follow this beetroot halwa with khoya recipe and just replace beets with grated carrots.
Recipe-4
Instant Pot Carrot Halwa
Making gajar halwa in instant pot is the easiest method out there. It is basically using a pressure cooker to make halwa. If you don't have instant pot just use your stove top pressure cooker.
The recipe ingredients and proportions remain the same.
Place the steel insert inside the IP and switch it on.
Press saute mode and once the instant pot displays hot, add 2 tbsp ghee. Fry the nits and raisins separately and remove to a plate.
Now to same ghee add grated carrots and saute for 2 minutes.
Next add 2 cups milk , 1/2cup sugar, remaining ghee and mix. Cook in saute mode itself for a minute, stirring often.
After a minute, close the IP, cancel saute mode and press the pressure cook or manual mode. Set the timer for 4 minutes and the pressure release valve to seal.
Once the timer beeps, release the pressure carefully and open the pot.
If you find the halwa to be a but runny, press the saute mode and cook for 5-6 minutes or until the halwa thickens.
Add the fried nuts, cardamom powder and mix. Serve gajar ka halwa hot or warm.
To make the same recipe in pressure cooker, follow the steps and after adding milk and sugar close the cooker, pressure cook for 2 whistles. Let pressure settle naturally, once done open and simmer for 5 minutes.
Expert Tips
Carrots– To make carrot halwa that is soft and melt in mouth choosing right carrots in everything. Use red Delhi carrots if they are available else you can use regular carrots too. Just make sure they are tender and young.
Fibrous carrots will yield chewy halwa. If the carrots you are using are not very tender then increase the amount of milk by half cup for the same measure of carrot.
Grating carrots– Grating the carrots is one of the time consuming part of this carrot pudding recipe especially if you are making a large volume.
I always use a food processor to speed up this task. Using a box grater or a sturdy handheld grater is the standard option. Please do not pulse or blend the carrots in mixer grinder.
You can even do the prep work a day earlier and store the grated carrot in an airtight container in the refrigerator.
Milk– I always use and recommend full fat milk or whole cream milk to make Indian desserts like gajar ka halwa. The flavor and taste of whole milk is so nice and rich in this recipe.
If you want to cut on calories or make the halwa lighter you can reduce the milk from 2 cups to 1.5 cups or just use low fat or skimmed milk.
Use a heavy pan– Use a thick bottomed pan or kadai in this recipe because the halwa may get burnt if the pan is not sturdy. I usually use a thick pressure cooker base. You can also non stick pan.
Add khoya for richer halwa- To make this gajar ka halwa richer, you can add 2 tablespoons unsweetened khoya along with sugar.
Common Questions
How To Make Vegan Carrot Halwa
To make this halwa vegan I highly recommend almond milk. The flavor and taste of almond milk compliments the carrots very well. You can also use thin coconut milk or oat milk.
Use thin almond milk and do not boil it. Instead of ghee you can use vegan butter or melted coconut oil.
Why does my carrot halwa turn black?
Sometimes if you saute the carrots for long time in ghee, it may turn black. Do not saute in ghee for more than a minute.
Can I make gajar halwa in microwave?
To make carrot halwa in microwave, first of all combine grated carrots and milk in a MW safe bowl. MW for 7 minutes in high. Next add ghee, milk powder, ghee and MW for 5 minutes. Next add sugar and MW for 5 more minutes. Add dry fruits and mix well. Serve hot.
Storage & Serving Suggestions
Carrot halwa tastes best when served hot. You can serve hot carrot halwa with a scoop of vanilla ice cream. This combination is wonderful and you will love it.
Store gajar ka halwa in fridge. It keeps well for a week. Furthermore you can freeze the halwa for a month. You can slightly warm the halwa with one teaspoon ghee before serving.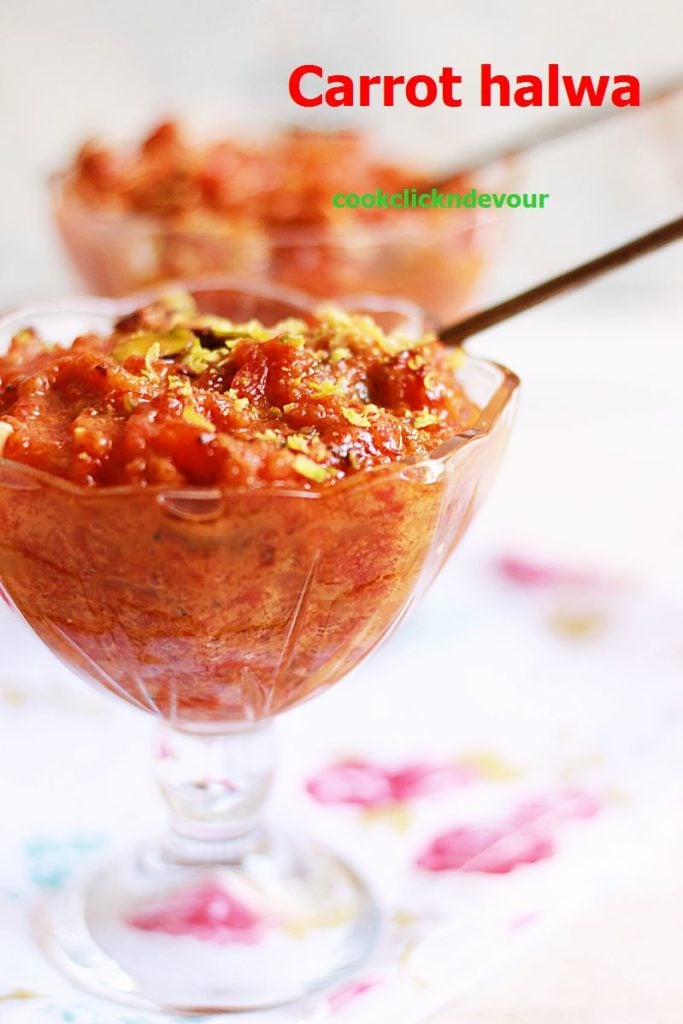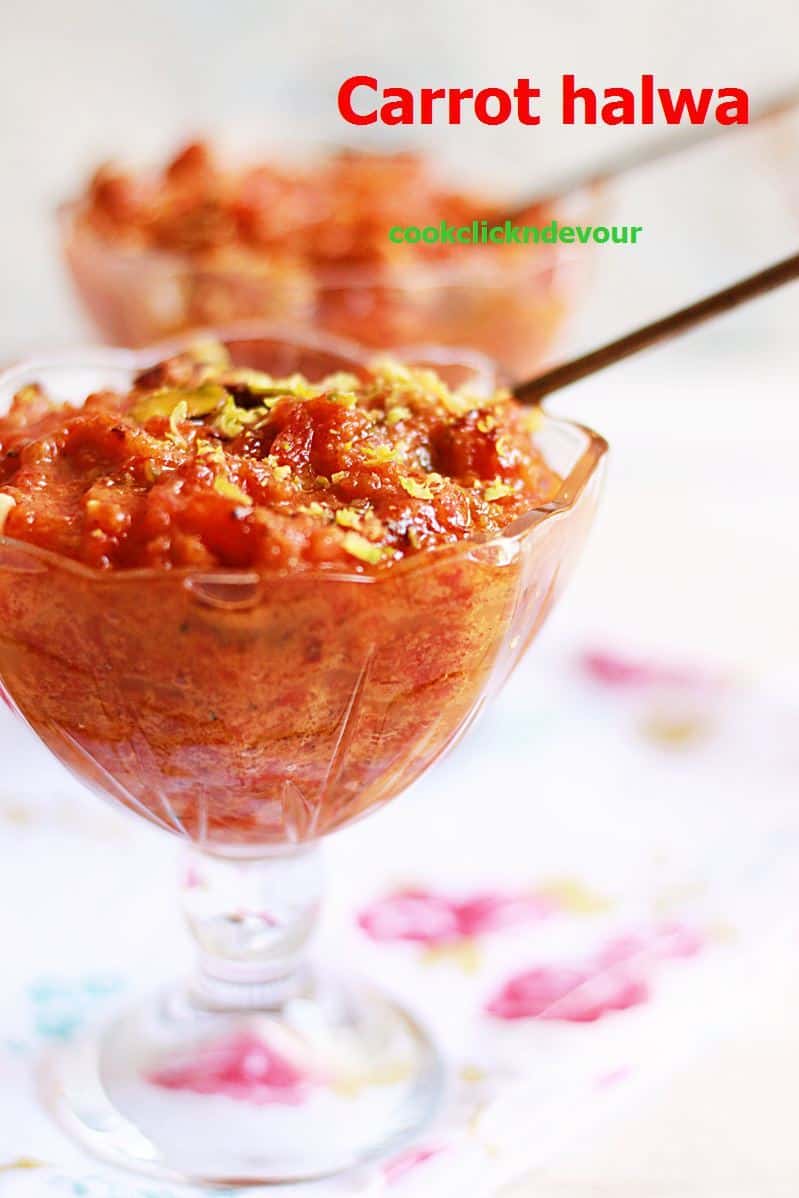 More Indian Sweet Recipes
Gulab Jamun Recipe
Gulab jamun is a classic Indian sweet made of milk powder or khoya (milk solids), sugar, flavorings like rose water, cardamom powder, saffron. These are deep fried balls dunked in sugar syrup and served warm or chilled.
In this post I am sharing with you not one but two traditional ways to make gulab jamun at home with complete step by step photo guide for easy following.
Check out this recipe
Kaju katli Recipe
Kaju Katli recipe- Delicious, melt in mouth thin slices of cashew fudge sweetened with sugar. It is one of the most popular Indian sweets. Make best vegan and gluten free kaju katli easily at home.


Check out this recipe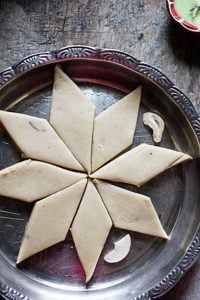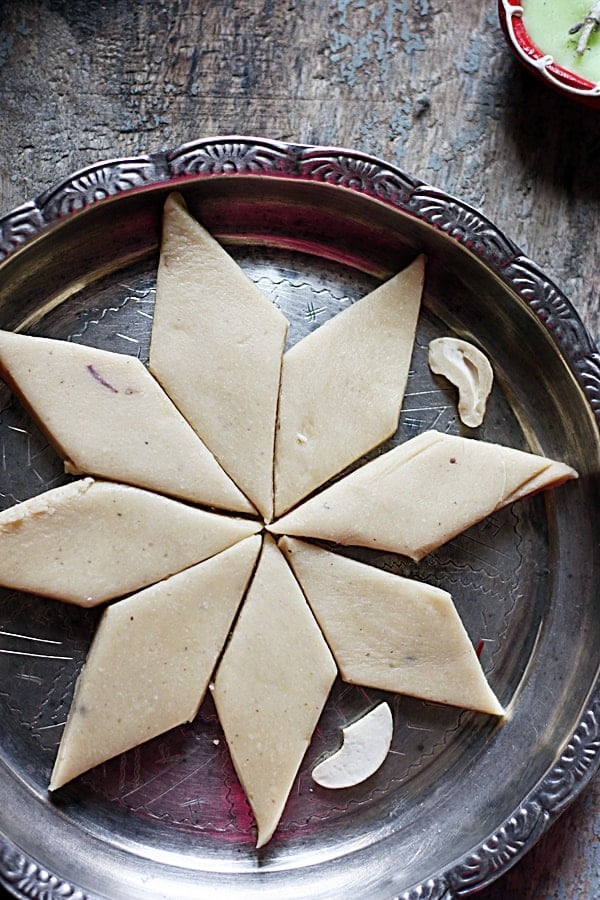 Besan ladoo recipe
besan ladoo recipe- a popular ladoo recipe from Indian cusine. Besan ladoo are sweet balls made with chickpea flour, sugar ghee.
Check out this recipe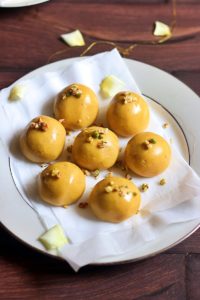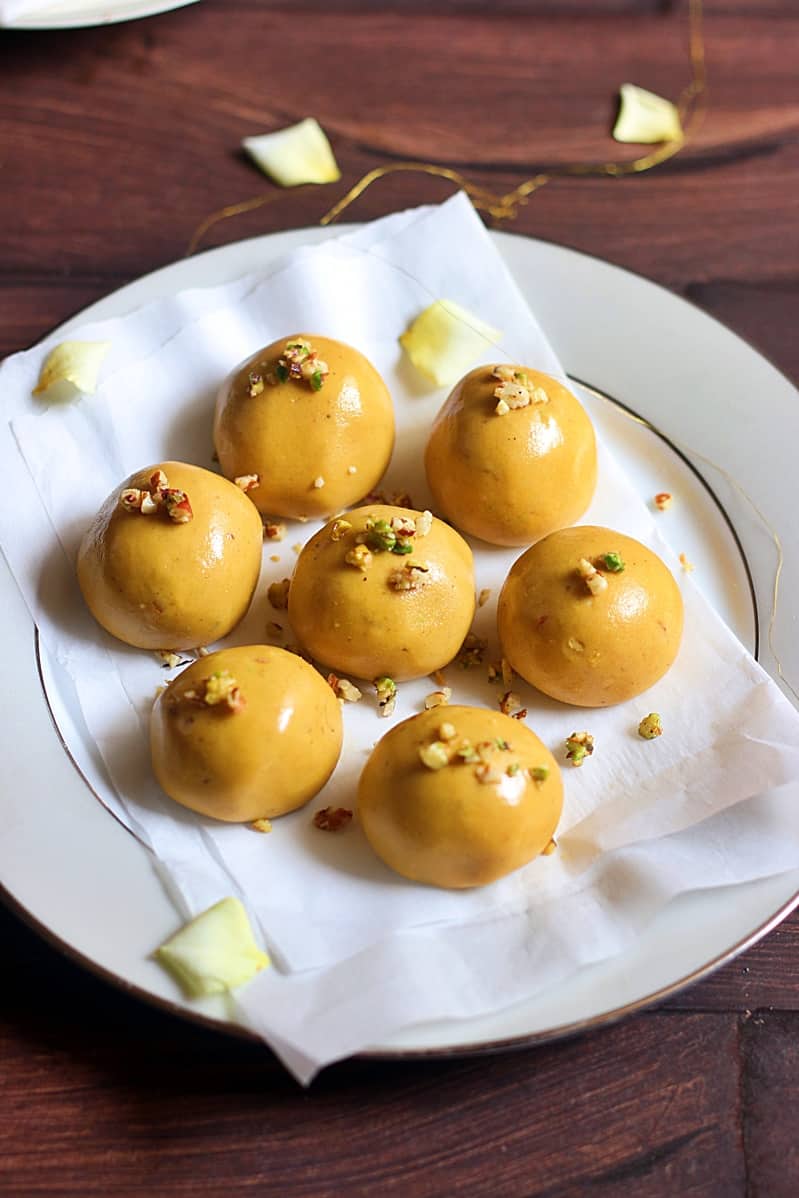 Mohanthal- Traditional Gujarati Recipe
Gujarati mohanthal recipe is a delicious and popular Indian mithai or sweet made for Diwali mainly. This is slightly grainy, rich and delicious fudge with chickpea flour or besan and ghee as main ingredient. Here I am sharing a super detailed with an exhaustive list of tips and tricks so that you can make best mohanthal for Diwali. It does take some time but totally worth it 🙂
Check out this recipe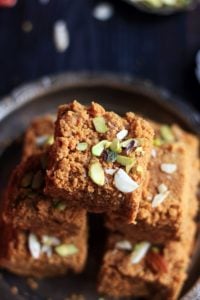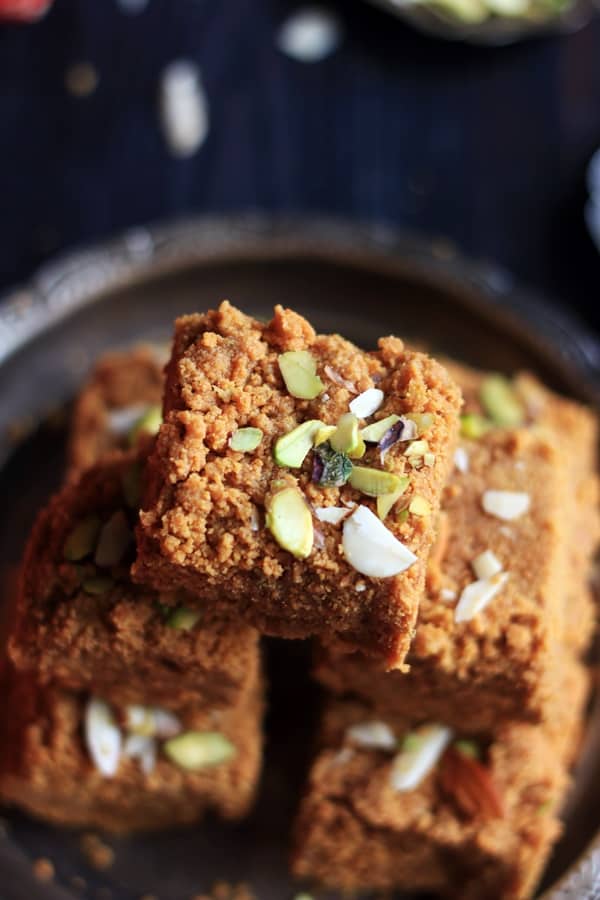 I hope you will try this recipe and enjoy as much as we did. Please give a star rating ★ in the recipe card below if you have tried this recipe. Follow us on Pinterest , Instagram, Facebook for more recipes and ideas.
Recipe Card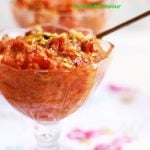 Carrot Halwa Recipe | Gajar Ka Halwa Recipe
Carrot halwa recipe- traditional method of making rich and tasty halwa (sweet pudding) with red carrots, whole milk, sugar and ghee!
1 CUP = 250 ml
Ingredients
3

cups

carrots

grated, 300 grams

2

cups

milk

boiled

1/2

cup

sugar

powdered

6

tablespoons

ghee

4

tablespoons

broken mixed nuts

cashews. almonds and pistachios

3

tablespoons

raisins

1/2

teaspoon

cardamom powder

from 4 pods
Instructions
Wash, peel and grate the carrots. You can do it manually or with a food processor. Heat 2tablespoons ghee in a thick bottomed pan or pressure cooker base. Fry the chopped nuts until they turn golden. remove to a plate.

Add raisins and fry till they plump up. Remove to a plate. Let the ghee remain in the pan.

Add the grated carrots and saute for 2 minutes.

Add whole milk and mix well.

Cover and cook for 30-40 minutes.

Once the carrots are well cooked and most of the milk is evaporated. Add the powdered sugar and mix well. Stir and cook for 5-6 minutes.

Add the remaining ghee and mix well. Cook for 10-12 minutes or until the moisture evaporates and halwa turns thick.

Add the fried nuts and raisins. Mix well.

Serve carrot halwa hot as such or with vanilla ice cream.
Video
Notes
The recipe can be doubled or halved.
The nutritional values are estimates.
Nutrition
Serving:
3
servings
Calories:
478
kcal
Carbohydrates:
65
g
Protein:
7
g
Fat:
36
g
Saturated Fat:
22
g
Cholesterol:
93
mg
Sodium:
163
mg
Potassium:
748
mg
Fiber:
5
g
Sugar:
48
g
Vitamin A:
21647
IU
Vitamin C:
8
mg
Calcium:
230
mg
Iron:
1
mg
Tried this recipe? Snap a pic and share 🙂
Mention cookclickndevou or tag cookclickndevour