Hamburger buns recipe with step by step photos. Today on request I am sharing an easy egg less recipe for making burger buns.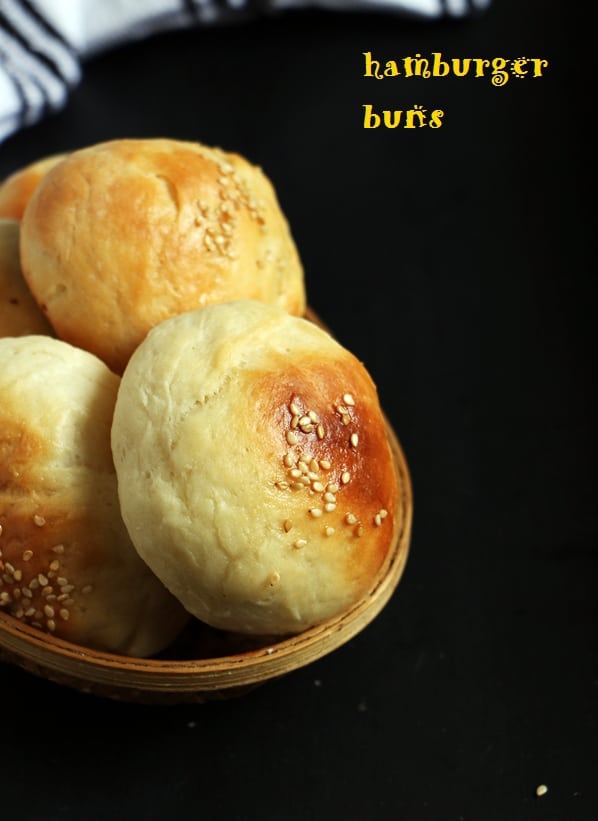 Burger is a very popular fast food, Mcdonald's burger is the most popular one as far I know, the burgers served there are very famous and I have heard many go aah and wooh about it. I personally have not eaten burger from there even once(I have not eaten anything from there in first place) but my husband had eaten their veggie burger few times. He keeps asking me to make burger and doughnuts at home, I kept postponing thinking it to be a lot of work or complicated but when my readers asked for hamburger buns recipe and veggie burger recipe, I quickly started searching for them. I found a pretty straight forward and easy recipe for hamburger buns here and wanted to make it. I then called up a friend who is a pro in baking, she vouched for this recipe and she told she has tried it many times and she also gave me the recipe for making Mcdonald style veggie burger. I shall post the veggie burger recipe next, today I am sharing the eggless burger buns recipe here.
To make hamburger buns recipe, I have used all purpose flour, though you can make the same with whole wheat flour, I made it with maida just to see how it turns out in my first attempt. The source recipe calls for an egg and I have replaced it with curd as I do in most of my baking recipes. I love to bake buns and breads at home and I have practically given up purchasing pav buns or cookies from bakeries. I visit our local bakery only for regular supply of bread and I hope to bake bread too at home soon.
These eggless burger buns recipe is so easy to make and the the buns turned out stunning. I baked around 10 buns and we ate around 4 straight out of the oven. I had a hard time saving 4 buns for making veggie burger 🙂
This hamburger buns recipe yields soft buns with a beautiful texture, in fact I loved the texture the most, the way it lend itself while cutting for making burger. This eggless burger buns recipe or hamburger buns recipe is for all those who love to bake at home, this is perfect recipe for novice bakers I would taking me into account, do give it a try you will love it 🙂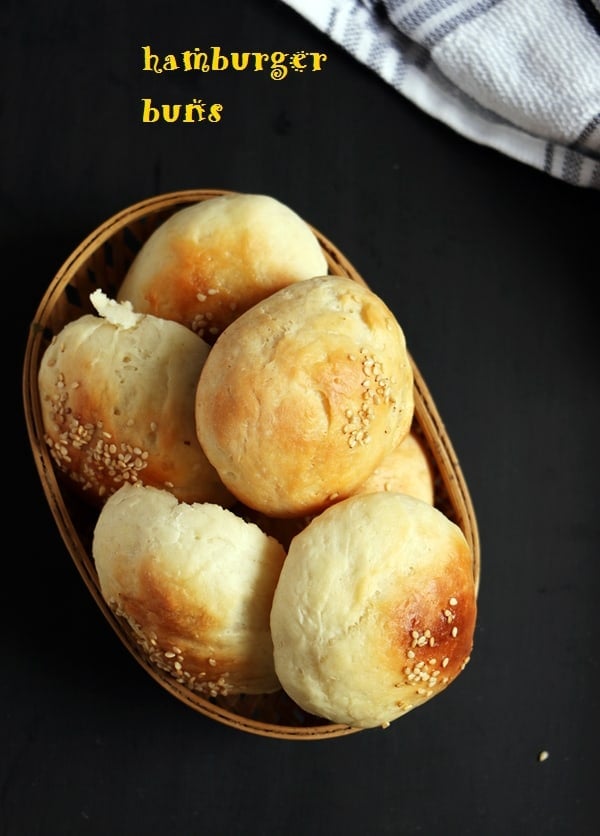 here is how to make hamburger buns recipe or eggless burger buns recipe, try it out!
If you are looking for more homemade buns and rolls do check out potato dinner rolls, homemade pav buns.
Hamburger buns recipe or eggless burger buns recipe with step by step photos.
1. dissolve 1/2 tablespoon yeast in 1/2 luke warm water. Sprinkle around 1 tablespoon sugar from 1/8 cup of measured sugar. Set aside for 10 minutes to activate the yeast.
2. Add all the other ingredients except milk and sesame seeds. Knead to a soft and supple dough. Set aside for 1.5 hours.
3. After 1.5 hours the dough would have been doubled in volume and porous.
4. Knead the dough lightly again and divide into 8-10 equal portions. Shape each portion into a smooth ball.
5. Arrange the shaped buns on a baking tray. Do milk wash ( dip a pastry brush in milk and gently brush the top of each bun with milk). Sprinkle some white sesame seeds on each bun.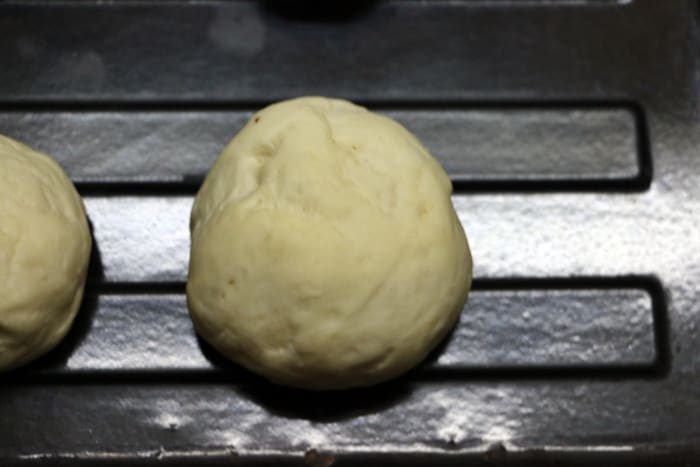 6. C0ver with clean kitchen towel and set aside for 30 minutes.
7. After 15 minutes preheat the oven to 170C.
8. After 30 minutes the buns would have doubled in volume as shown in the picture. Bake in the preheated oven for 18-20 minutes until the top turns golden.
9. Remove from the oven and allow to cool for 5 minutes. Brush the top with some melted butter if you want to serve hamburger buns plain or make veggie burgers with eggless burger buns.
hamburger buns recipe or eggless burger buns recipe card below: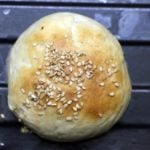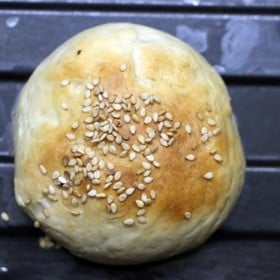 Hamburger buns recipe | Eggless burger buns recipe
Hamburger buns recipe, easy to bake soft and super tasty eggless burger buns recipe!
1 CUP = 250 ml
Ingredients
1 3/4

cups

all purpose flour OR maida

1/4

+ 1 tablespoons curd

1

tablespoon

soft butter

salted

1/8

cup

sugar

take tablespoons from this for activating yeast

1/2

teaspoon

salt

1/2

cup

luke warm water

1/2

tablespoon

active dry yeast

2

tablespoons

milk

2

teaspoons

white sesame seeds
Instructions
Dissolve 1/2 tablespoon active dry yeast and 1 tablespoon sugar in 1/2 cup water, let the yeast get activated.

Add all the other ingredients except milk and sesame seeds. Knead to a soft and supple dough.

Let the dough rest for 1.5 hours. The dough wpuld have doubled in volume by now.

Knead the dough slightly and divide into 8-10 equal portions.

Shape each dough into a smooth ball and arrange in a baking sheet.

Apply some milk on top and sprinkle sesame seeds.

Set aside for 30 minutes.

Preheat oven to 170C

Bake the shaped buns in the oven for 18-20 minutes.

Serve hamburger buns warm or use for making burger.
Notes
1. if you are using unsalted butter increase salt by 1/4 teaspoon.
2. You can use poppy seeds for topping along with sesame seeds as done in source recipe.
3. Make sure to shape the balls very smooth to get a smooth top in the bun.
Nutrition
Tried this recipe? Snap a pic and share 🙂
Mention cookclickndevou or tag cookclickndevour