Strawberry milk recipe with video and step by step photos. This homemade strawberry milk is full of fresh strawberry flavor and bits of real fruit. You can make this super delicious refreshing chilled milk in no time and nothing like artificial flavored strawberry milk from stores.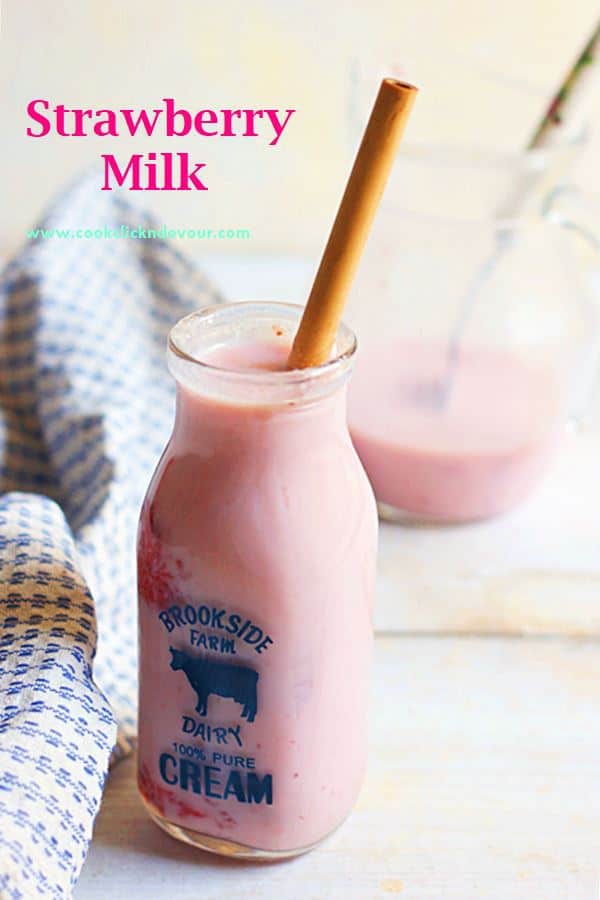 Homemade strawberry milk is our favorite at home that I make during every strawberry season. Years back I used to gulp down bottled strawberry milk but once I tried homemade one there was no looking back. So easy to make, clean and full of real strawberries.
What Is Strawberry Milk?
Strawberry milk is prepared by mixing strawberry syrup or sauce with chilled milk. Unlike strawberry milkshake this milk has thinner consistency and does not use ice cream. Also you can make the syrup smooth or chunky as preferred.
In this recipe I have used raw cane sugar to prepare strawberry syrup. You can use regular sugar or even honey. I have mentioned some variations to prepare this drink easily below.
Variations With Strawberry Milk Recipe:
You can use honey instead of sugar. While using do not cook it along with strawberries. Cook the strawberries until reduced and then add honey after the syrup cools down a bit.
Here I have just chopped the berries to make chunky strawberry syrup. If you want a smooth syrup you can blend the strawberries to a smooth puree and then make syrup.
If you have strawberry jam handy you can make strawberry milk easily by just mixing chilled milk with it
Once you prepare the strawberry syrup you can store it refrigerated for about a week and use as required.
Few Other Uses Of Strawberry Syrup
You can use this syrup as pancake or waffle topping.
We can use this to make refreshing strawberry soda by mixing with sparkling water.
You can make quick smoothie by blending with yogurt and some milk
Finally you can also this to make mock tail, use a ice cream topping also.
This cold strawberry milk is an excellent after school beverage for kids. Healthy, delicious and fun!
Vegans can use chilled almond milk in this recipe.
More strawberry recipes:
strawberry milkshake, strawberry smoothie, strawberry mojito recipes.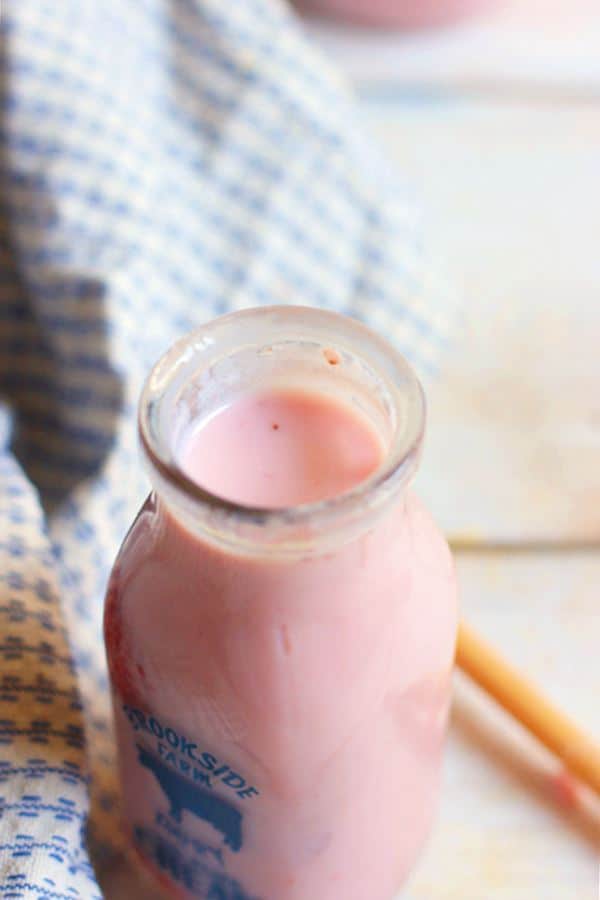 How to make strawberry milk recipe (step by step)
To prepare strawberry syrup:
1. Combine chopped strawberries and sugar in a sauce pan. Start cooking in medium flame.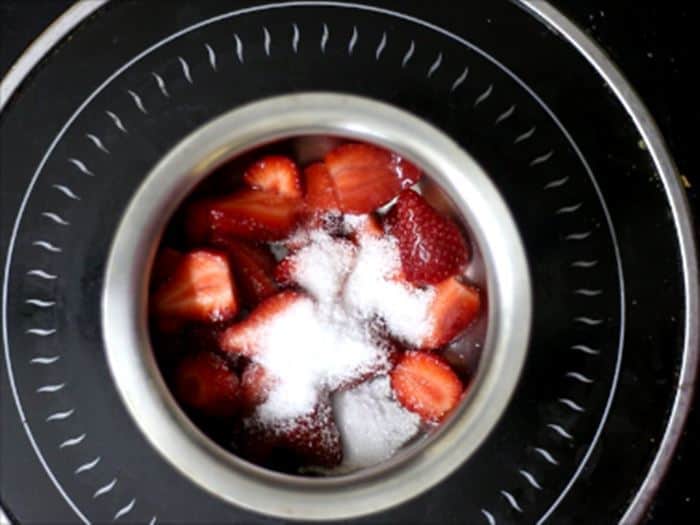 2. Cook for 5-10 minutes until the sugar dissolves and mixture thickens and reaches sauce consistency. Keep mixing and mashing using a whisk while the sauce is cooking.
3. Once the syrup is thickened let it cool thoroughly. Store in a jar and keep refrigerated.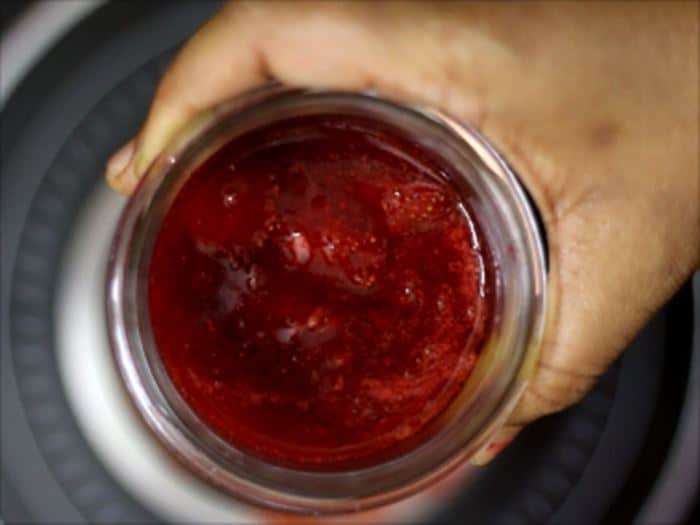 Making strawberry milk:
1. Boil and cool cups of milk. Chill the milk well.
2. Mix 2-3 tablespoons of prepared syrup with 1 cup chilled milk. Serve immediately.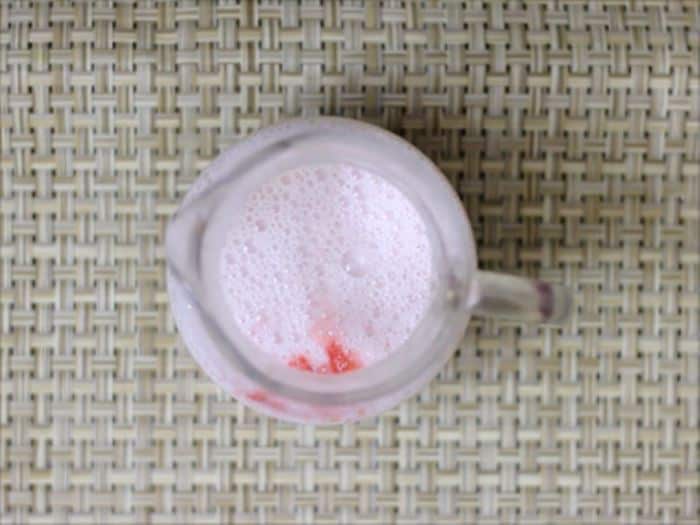 Are you making this recipe? Do snap a pic and share on Instagram with hashtag #cookclickndevou.
We love to see your creations on Instagram, Facebook, & Twitter! Follow us on Pinterest for more recipes and ideas.
Strawberry Milk Recipe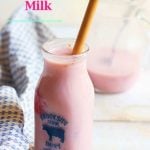 Homemade Strawberry Milk Recipe
Homemade strawberry milk recipe is a delicious and refreshing summer drink you can prepare with strawberry syrup and chilled milk. This recipe of strawberry milk uses real fruit and sugar.
1 CUP = 250 ml
Ingredients
10

strawberries

rinsed, hulled and roughly chopped

3

tablespoons

sugar

3

cups

whole milk

boiled and chilled
Instructions
Combine chopped strawberries and sugar in a sauce pan. Start cooking in medium flame.

Cook for 5-10 minutes until the sugar dissolves and mixture thickens and reaches sauce consistency. Keep mixing and mashing using a whisk while the sauce is cooking.

Once the syrup is thickened let it cool thoroughly. Store in a jar and keep refrigerated.

Boil and cool cups of milk. Chill the milk well.

Mix 2-3 tablespoons of prepared syrup with 1 cup chilled milk. Serve immediately
Video
Nutrition
Tried this recipe? Snap a pic and share 🙂
Mention cookclickndevou or tag cookclickndevour