Kaju strawberry recipe with step by step photos. Have you tasted this kaju strawberry, an amazing cashew based sweet in famous sweet stalls in Chennai. We recently bought kaju strawberry fro a very popular sweet stall and we loved it a lot. I was really fascinated by the shape, flavor and taste of this kaju strawberry. I was determined to try it a home. Since it is a cashew based sweet I went in the lines of kaju katli, kaju pista rolls and made this kaju strawberry recipe.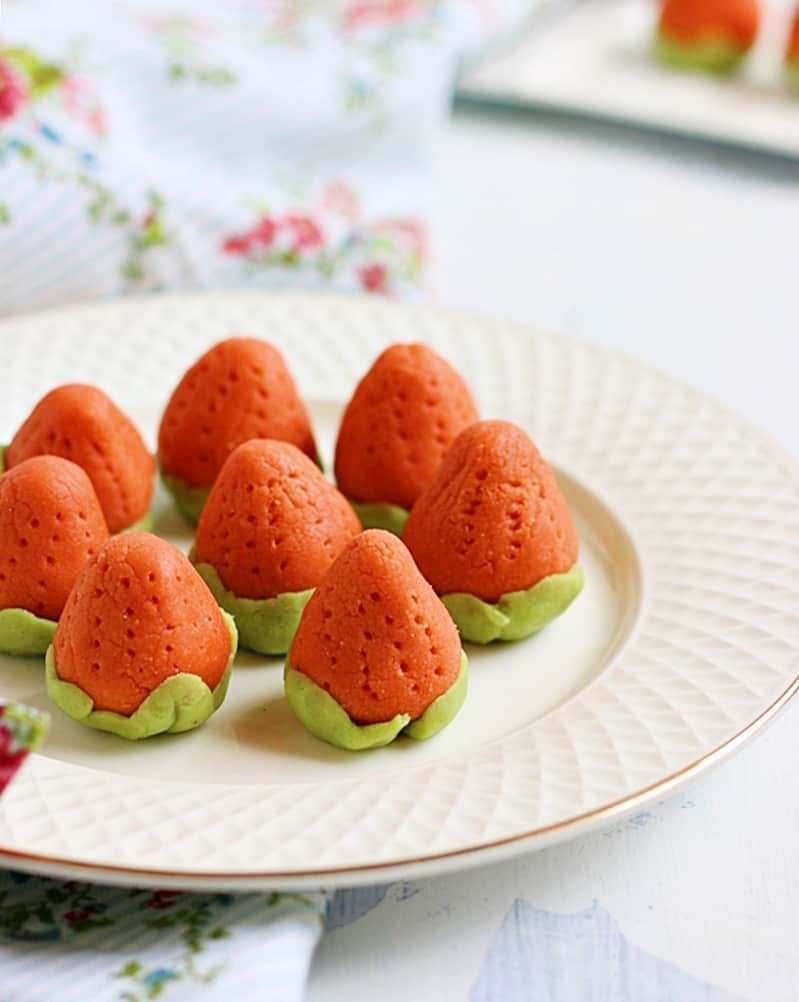 Kaju strawberry recipe is an extremely easy one to make. You absolutely need zero cooking skills for making this one. Only one point to remember is to get the one string sugar syrup right. Next make the entire recipe in low flame. Remove from flame immediately when the cashew mixture starts leaving the sides of the pan. If you cook it for even 2 minutes extra the mixture will harden and turn brittle. It will be impossible to shape smooth strawberries too. Even if you take it a bit early, the mixture will become thick as it cools down. So if and when you make kaju strawberries or any other sweet like kaju apple, kaju flower make sure to remove the mixture from flame as soon as it reaches soft ball consistency.
To make kaju strawberry you just need 2 main ingredients. Cashew nuts and sugar. Strawberry essence, red food color, pistachio essence and green food color are also needed. There is absolutely no need for milk or ghee to make kaju strawberry. This is a must try sweet if you are looking to impress your family and guests. The whole recipe can be made in 40 minutes. The only time consuming part is shaping the strawberries but that is the fun too. if you want to double the recipe the ratio is 1:1/2:1/4 for cashew powder, sugar, water.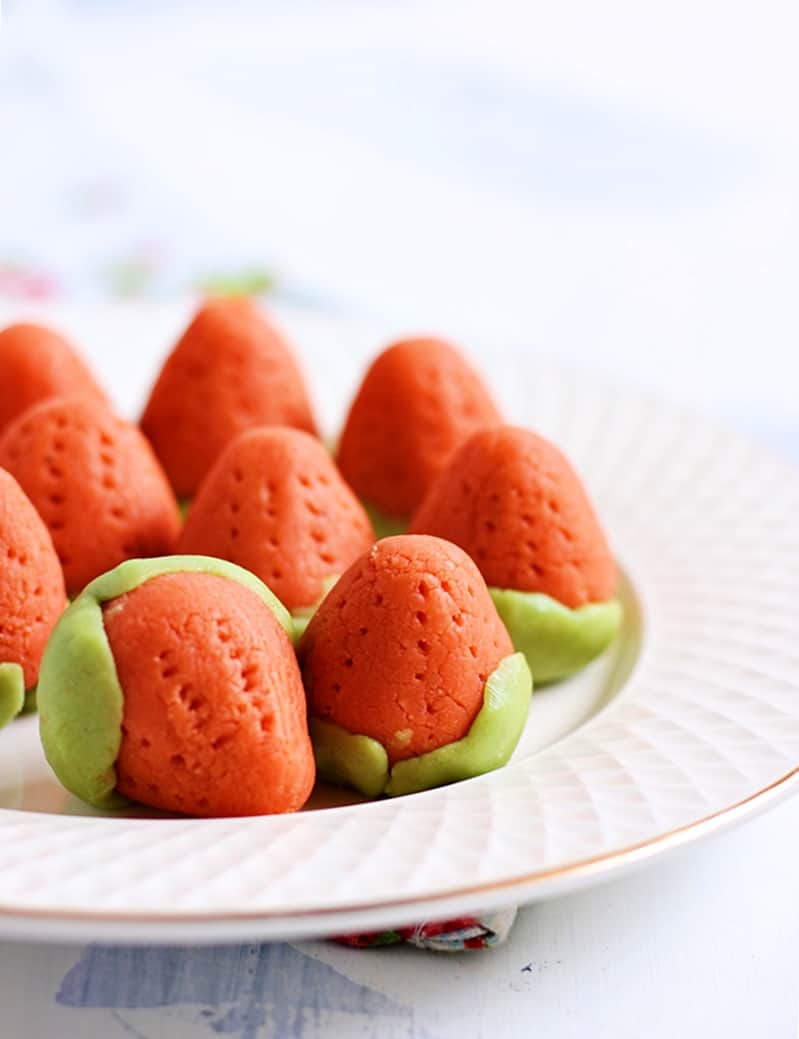 Here is how to make kaju strawberry with step by step photos. Check more Indian sweets recipes here.
Step by step kaju strawberry recipe
1. Dry roast the cashew nuts for 2-3 minutes in low flame. Powder the cashew nuts. If necessary sieve the powdered cashews to get rid of big pieces.
2. Add 1 cup sugar in a pan and pour 1/2 cup water over it. Mix well once. Cook in medium flame to get one string consistency sugar syrup. Once the sugar syrup is formed immediately lower the lame and add strawberry essence and red food color. Mix well.
3.Add 2 cups cashew powder and mix well without any lumps. Cook over medium flame for 5-7 minutes. The mixture will start to leave the sides. Once the mixture becomes a soft lump, remove from flame immediately. Keep mixing till the mixture thickens and solidifies. Once the mixture is bearable to handle, knead it to very soft dough. You can apply ghee or oil to bear the heat if needed.
4. If you feel the mixture is turning dry, you can add few drops of hot water tot milk to it.
5. Now make the pistachio part for leaf in the similar way. 1 cup cashew powder, 1/2 cup sugar and 1/4cup water.
6. Once both colored dough is ready lets getting shaping.
Divide the red part into 20-22 equal sized portions. I made small strawberries for single serving.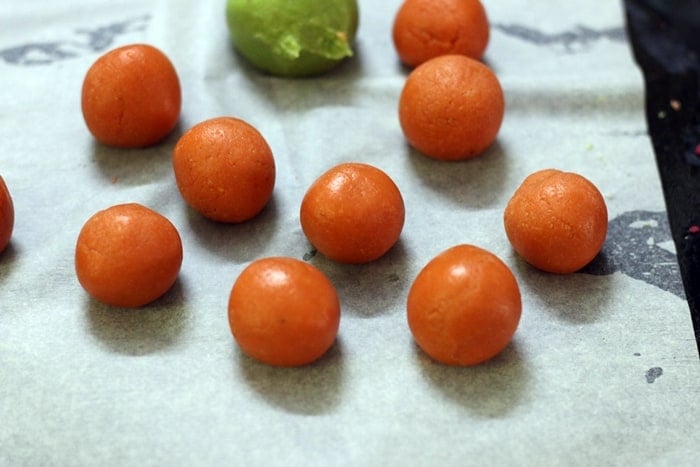 divide the green part too to 20-22 tiny portions.
7. Now shape each red ball into dome like strawberry just like we do for modak. Using a tooth pick make impressions everywhere. repeat the same with all the red dough.
8. Flatten each green ball into a small circle. cut out 4 leaves. Just place the leaves on the prepared strawberries and press gently. Repeat the same with remaining dough.
9. Arrange the prepared strawberries on a plate. Let it set for 10 minutes. Store kaju strawberry in an airtight container and serve as required. No need to refrigerate.
Kaju strawberry recipe card below:
Kaju strawberry recipe | how to make kaju strawberry
Kaju strawberry, smooth, delicious and tasty cashew based sweet shaped into pretty strawberries. 2 Ingredients sweet recipe with cashew and sugar!
1 CUP = 250 ml
Ingredients
For strawberry part

2

cups

cashew powder.

1

cup

sugar

1/2

cup

water

Few pinches of red food color

few drops of strawberry essence

Few drops of rose essence

optional

For leaf part

1

cup

cashew powder

1/2

cup

sugar

1/4

cup

water

few drops of pistachio color
Instructions
Dry roast the cashew nuts for 2-3 minutes in low flame. Powder the cashew nuts. If necessary sieve the powdered cashews to get rid of big pieces.

Add 1 cup sugar in a pan and pour 1/2 cup water over it. Mix well once. Cook in medium flame to get one string consistency sugar syrup. Once the sugar syrup is formed immediately lower the lame and add strawberry essence and red food color. Mix well.

Add 2 cups cashew powder and mix well without any lumps. Cook over medium flame for 5-7 minutes. The mixture will start to leave the sides. Once the mixture becomes a soft lump, remove from flame immediately. Keep mixing till the mixture thickens and solidifies. Once the mixture is bearable to handle, knead it to very soft dough. You can apply ghee or oil to bear the heat if needed.

If you feel the mixture is turning dry, you can add few drops of hot water tot milk to it.

Now make the pistachio part for leaf in the similar way. 1 cup cashew powder, 1/2 cup sugar and 1/4cup water.

Once both colored dough is ready lets getting shaping. Divide the red part into 20-22 equal sized portions. I made small strawberries for single serving. divide the green part too to 20-22 tiny portions.

Now shape each red ball into dome like strawberry just like we do for modak. Using a tooth pick make impressions everywhere. repeat the same with all the red dough.

Flatten each green ball into a small circle. cut out 4 leaves. Just place the leaves on the prepared strawberries and press gently. Repeat the same with remaining dough.

kaju-strawberry-step-8

Arrange the prepared strawberries on a plate. Let it set for 10 minutes. Store kaju strawberry in an airtight container and serve as required. No need to refrigerate.

kaju-strawberry-step-9

kaju-strawberry-d
Nutrition
Serving:
20
g
Calories:
89
kcal
Tried this recipe? Snap a pic and share 🙂
Mention cookclickndevou or tag cookclickndevour