Khaman dhokla recipe with step by step photos. Khaman, Khaman dhokla, nylon dhokla or instant dhokla, be it called by any name, this is my absolute favorite snack.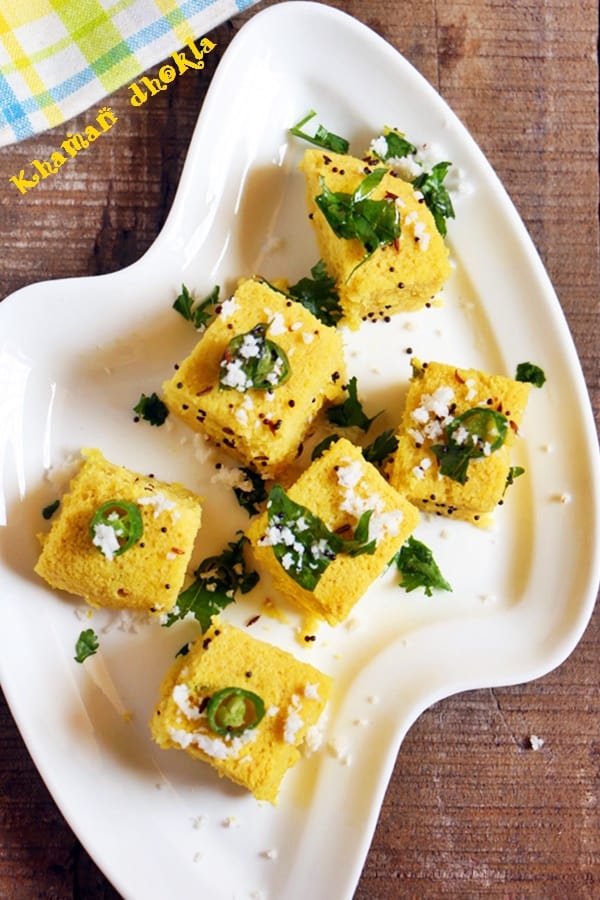 I just love the soft and spongy dhokla pieces well soaked in sweet spicy tadka, coated with good dose of shredded coconut. During our stay in Bangalore for an year just after wedding, I used to eat this delicious khaman dhokla, punjabi samosas, kachori very frequently and also I took keen interest in learning how to make them at home.
Khaman dhokla is a traitional Gujarati snack, usually served at room temperature, at least I have not eaten khaman hot in any shops. It is basically a steamed savory cake made of gram flour/besan/kadalai mavu tossed in a sweet spicy tadka garnished with fresh coconut. There are many dhokla recipes and khaman dhokla or nylon dhokla recipe is one among them.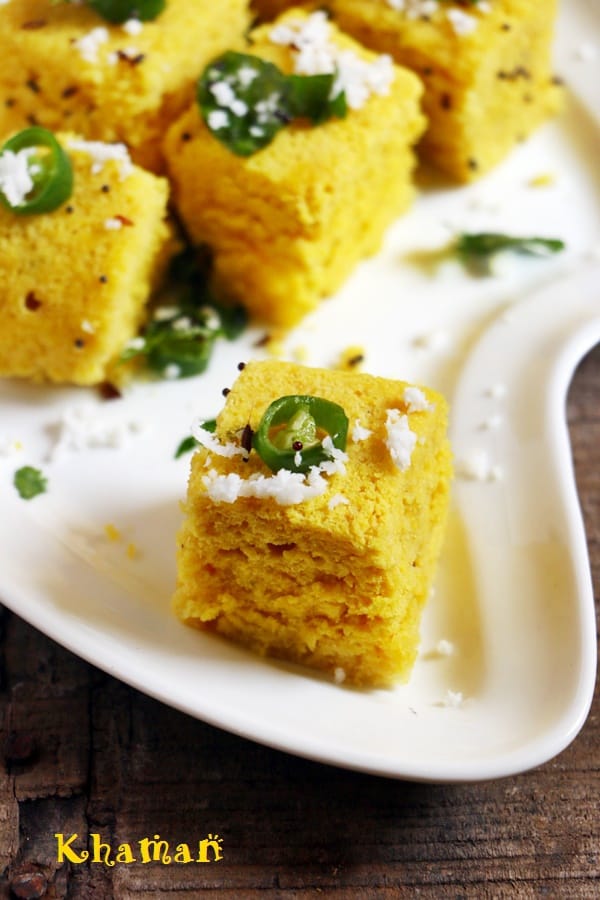 To make khaman dhokla at home all we need is besan/ gram flour and few spices. This is a great snack with very few ingredients, healthy, vegan and can be made gluten free very easily (see notes). The fluffiness and softness of this khaman dhokla comes from fruit salt, mostly eno fruit salt is used for recipes like khaman dhokla, rava idly as leavening agent.
To steam khaman dhokla you can use a dhokla steamer if you have one, else any flat vessel can be used in idli cooker or even pressure cooker can be used. I have made dhokla recipe many times in pressure cooker, it turns out very wel. But you need to make sure you use a sturdy plate for steaming. I have seen few microwave khaman dhokla recipe too but I have not tried them. You can serve khaman dhokla with green chutney, red chutney etc. I like to eat them plain always.
Khaman dhokla recipe with step by step photos:
1. Measure gram flour and take in a mixing bowl.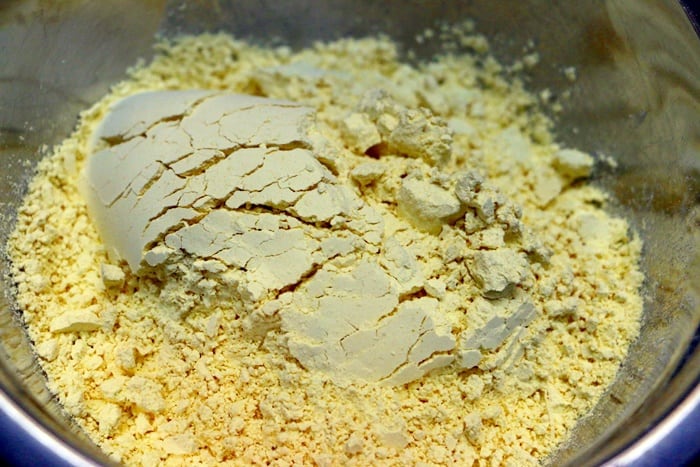 2. Add salt, asafoetida, turmeric powder, lime juice, crushed ginger green chillies to it. Mix well.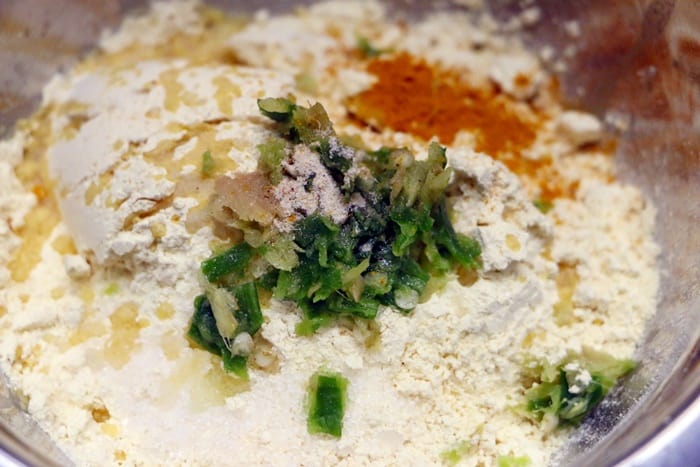 3. Add rava and mix well.
4. Add 1 1/2 + 1/8 cup water and whisk well to form a thick yet flowing batter. There should not be any lumps in the batter. Set aside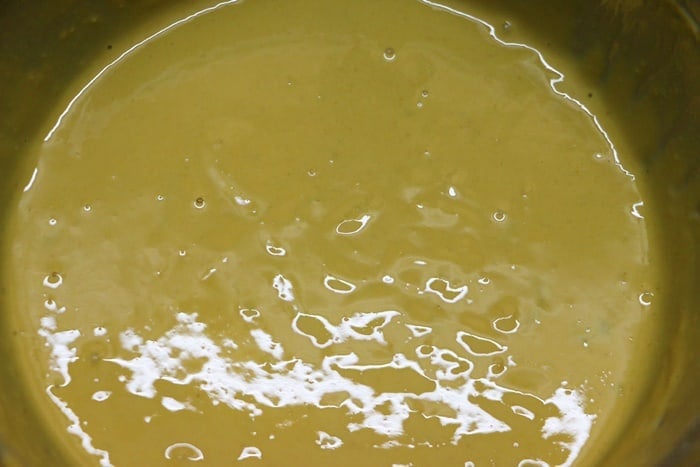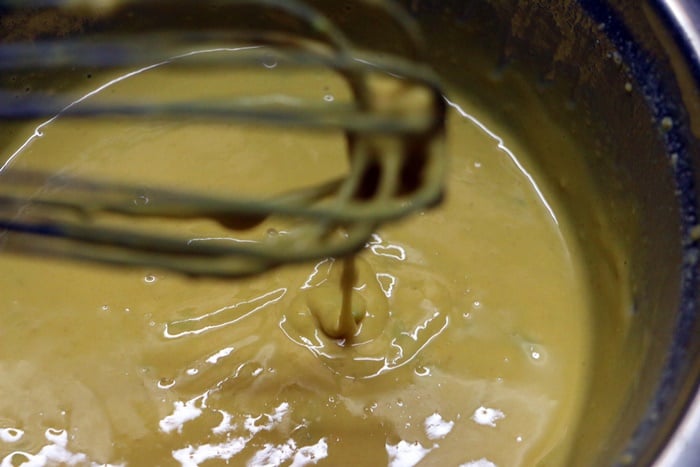 5. Grease a flat plate with some height or a dhokla plate with some oil.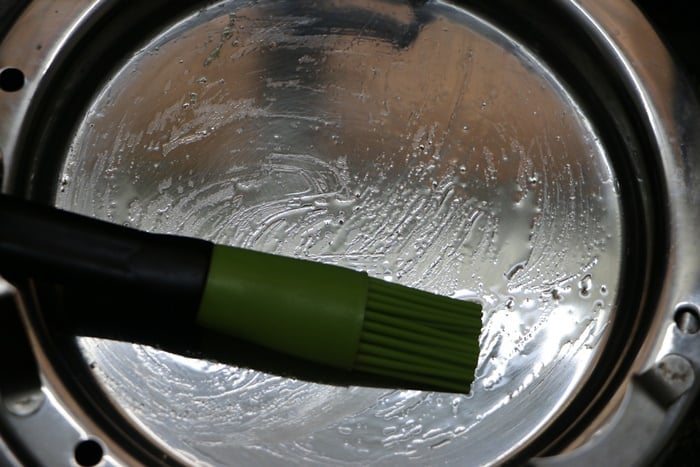 6.In the meanwhile bring some water to rolling boil in the pot or pressure cooker to steam the dhokla.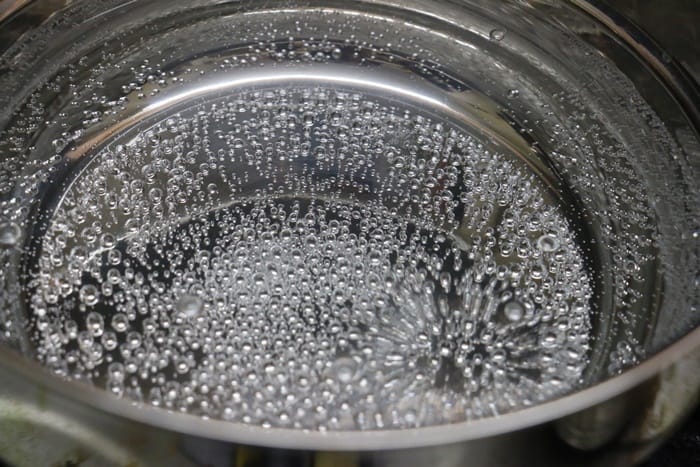 7. Just before you are ready to steam the dhokla, add 1 leveled teaspoon of eno fruit salt to the batter. Mix fast and really well. The fruit salt will start to react and batter will fluff up.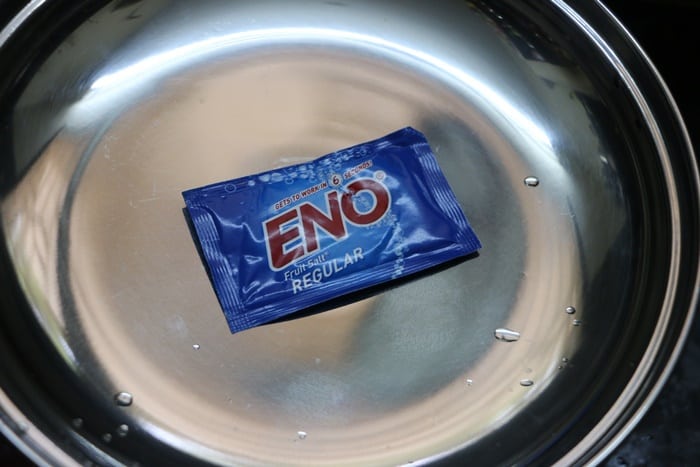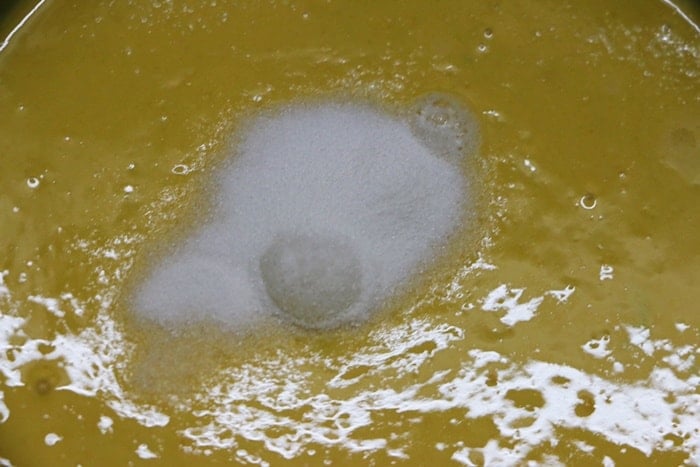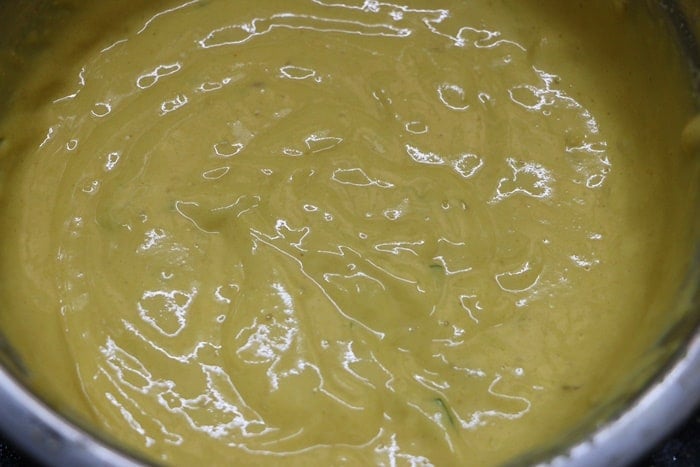 8. Now pour the batter to the greased plate, tap the edges to level and place inside the pot with boiling water.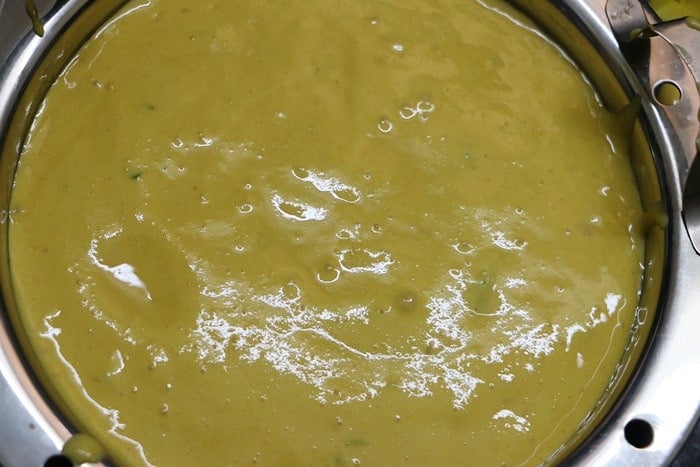 9. Close the lid and steam cook for 15-20 minutes.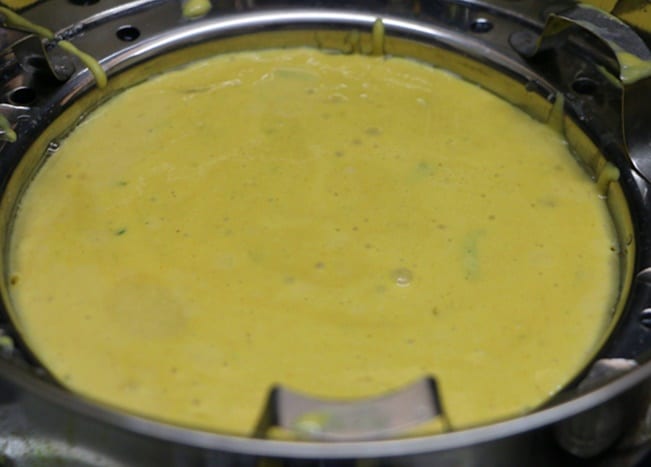 10. Once done, prick the steamed dhokla in few places to see if well cooked.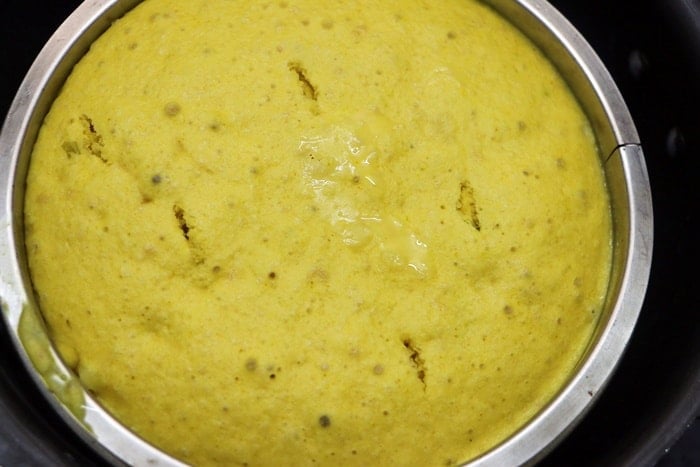 11. Allow to cool for 5 minutes, invert the plate and remove the dhokla carefully. Cut into squares and set aside till we prepare tadka.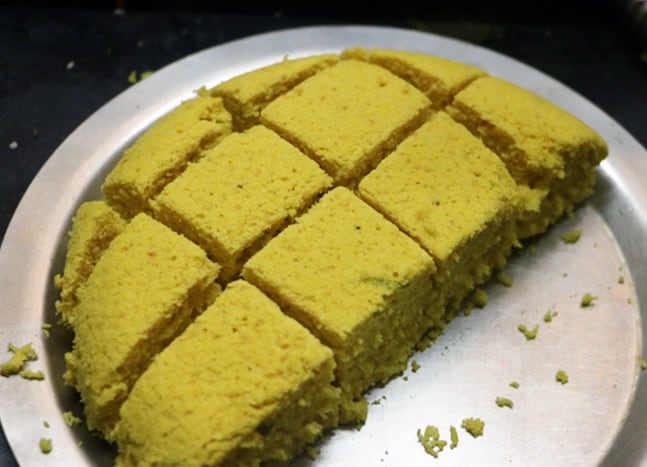 How to prepare for khaman dhokla
12. heat 2 teaspoons oil in a small pan. Add mustard seeds and let them crackle. Now add cumin seeds, chopped green chilies, curry leaves and saute well.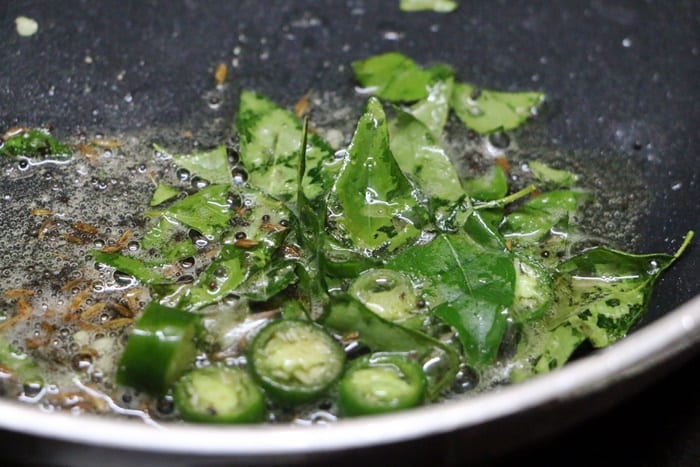 13. Add 1/4 cup water and let it boil.
14 Add sugar and dissolve well.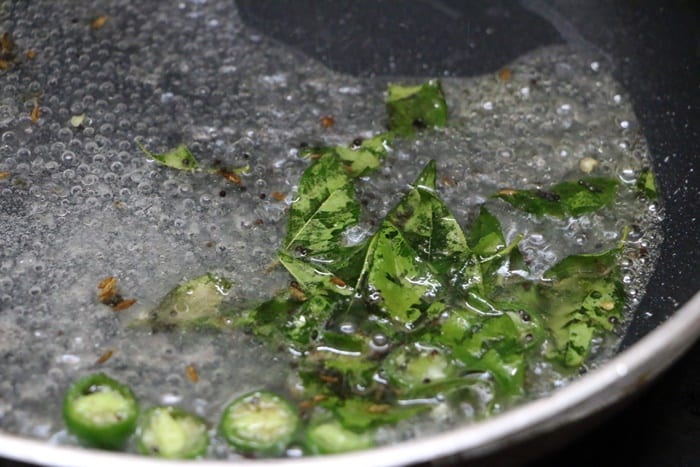 15. switch off the flame and add lemon juice. Mix well and pour over the sliced dhoklas. garnish with chopped cilantro leaves and grated coconut.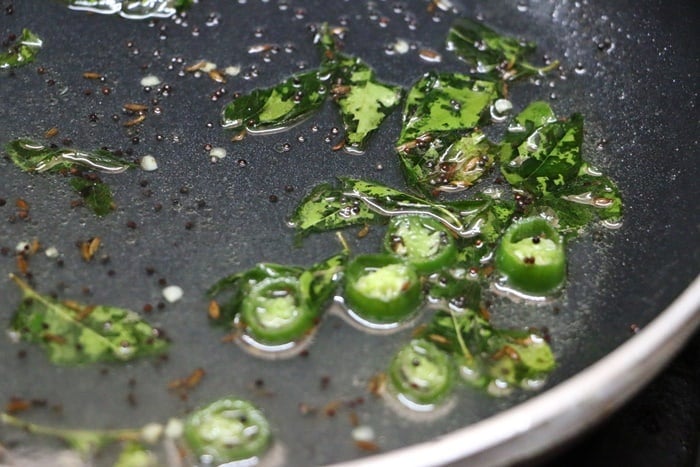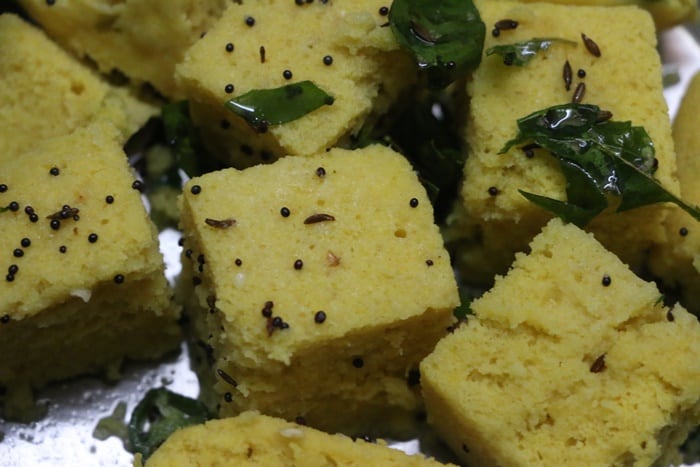 16. Serve khaman dhokla as snack
Khaman dhokla recipe card below: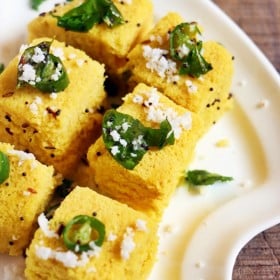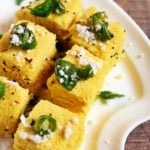 Khaman dhokla recipe, how to make dhokla recipe
Khaman dhokla recipe, a very easy to make steamed savory cake made with gram flour, tossed in spicy sweet tempering and garnished with coconut. Guilt free vegan snack!
Ingredients
For dhokla:

1

cup

gram flour/besan/kadali mavu

1 1/2

teaspoons

rava/sooji

1/8

teaspoon

turmeric powder

1/8

teaspoon

asafoetida

1

teaspoon

lemon juice

1

green chilli + 1" ginger

peeled and crushed together

1

teaspoon

eno fruit salt

regular

Salt

1 1/2

cups+ 1/8 cup water

For tempering/tadka

2

teaspoons

oil

1/2

teaspoon

mustard

1/2

teaspoon

cumin seeds

1

green chilli

sliced

10-12

curry leaves

2

teaspoons

lemon juice

2

teaspoons

sugar

1/4

cup

water

Cilantro leaves and grated coconut for topping
Instructions
How to make khaman dhokla

Take gram flour, rava, salt,lemon juice,sugar,asafoetida,turmeric powder,crushed ginger-green chilli in a deep mixing bowl

mix well, add water and whisk well.The batter should be thick yet flowing and lump free.

Grease a flat plate with some oil. Bring plenty of water to boil in a steamer pot or pressure cooker.

At the time of steaming dhokla, add eno fruit salt and mix very well.

Pour the prepared batter into the greased plate and tap.

Place in the steamer and close.

Steam cook for 15-20 minutes,until completely cooked.

Allow to cool for few minutes, then carefully slice the dhoklas into squares. Set aside.

How to prepare tempering:

Heat 2 teaspoons oil in a small pan.

Add mustard seeds and let it crackle.

Add cumin,curry leaves and green chili. Saute well.

Add water and bring it to a boil. Add sugar and let it dissolve.

Switch off the flame and add lemon juice.

Before serving:

Pour the prepared tempering over the sliced dhokla and toss gently.

garnish with cilantro leaves, grated coconut and serve khaman dhokla
Notes
1. Leave out asafoetida and rava to make gluten free khaman dhokla
2. Adding water and sugar to the tempering makes dhokla very soft and juicy.
3. If you add less fruit salt than mentioned, the dhoklas will not be very fluffy.
4. You can add 1/2 teaspoon baking soda instead of fruit salt
Nutrition
Tried this recipe? Snap a pic and share 🙂
Mention cookclickndevou or tag cookclickndevour