Marinara sauce recipe with step by step photos. Truly delicious, vibrant and so flavorful classic marinara sauce recipe with fresh and plump juicy tomatoes. I so wanted to try this marinara sauce recipe,the classic sauce used for pasta, pizza etc. I was looking for a simple recipe and found this classic marinara sauce recipe from kitchn. I followed the same recipe with few modifications, I used dried basil leaves instead of fresh ones. I added about 4 mint leaves finely torn towards the end and we enjoyed the flavor very much. Marinara sauce recipe is very different from classic pizza sauce recipe, though there are some common ingredients, the flavor profile of marinara sauce is so fresh and different, you will feel the flavor and taste of basil in this sauce. I thoroughly enjoyed making this marinara sauce, savoring the flavor while cooking and the prepared sauce was put to good use in many ways!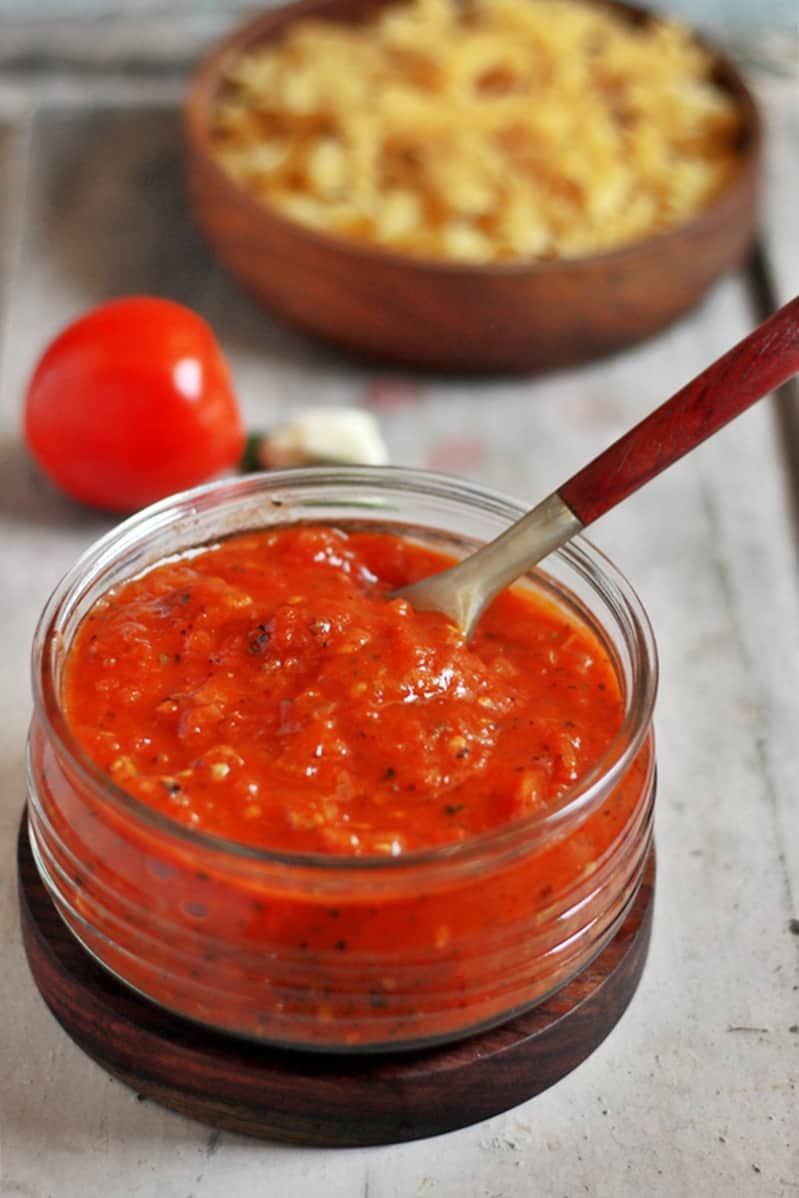 To make marinara sauce recipe, you can use canned tomato puree but I suggest you use fresh vibrant and juicy tomatoes, blanched and peeled (not chopped). For the vibrant deep color you can add few teaspoons of tomato paste but I added 1/4 winter carrot, peeled and very finely chopped, the color of the sauce was so vibrant and the sweetness from carrot added to the taste. I used ripe salad tomatoes, I think desi tomatoes will be more tangy and will have more seeds.
This is an all natural marinara sauce, no preservatives, no colorants etc, so this sauce should be refrigerated and consumed within 10 days.
Serve marinara sauce with pasta, you can use this as pizza sauce, serve with toast etc. I made a very delicious pasta with marinara sauce, used this a spread for paneer pizza, used some for toast and served the remaining marinara sauce with potato croquettes.
Here is how to make delicious and classic marinara sauce recipe, do give this a try!
Marinara sauce recipe with step by step photos.
1. Let us begin making marinara sauce recipe by blanching the tomatoes. Bring a pot full of water to vigorous boil. Add the whole tomatoes along with a teaspoon of sugar. Boil for 5-7 minutes. Drain and let cool for sometime. Peel and set aside.
2. Heat 2 tablespoon olive oil in a deep pa. Add minced garlic and saute in high flame for 3-4 minutes. Add chopped onions and saute until it turns soft. Add chopped carrots and saute until it turns soft.
3. Add the blanched and peeled tomatoes. No need to chop the tomatoes. Mix well and cook in medium flame. You can use masher to mash the tomatoes here and there. Add sugar and salt as required. You can a dash of pepper powder if needed.
4. After 10 minutes the tomatoes will thicken and reduce wee bit.
5. Add dried oregano and basil (if using fresh basil leaves, that should be added towards the end).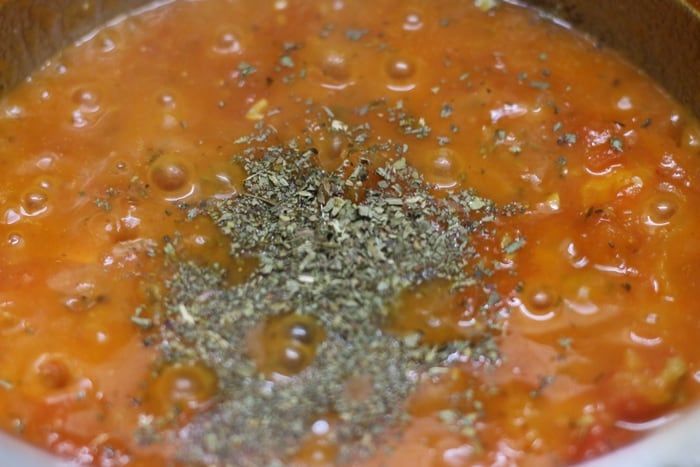 6. Simmer the sauce for 15 minutes until it thickens. You may simmer for more time if you prefer a very thick marinara sauce.
7. Add very finely mint leaves and mix well. Simmer for 5-7 more minutes and remove from flame. Allow the marinara sauce to cool thoroughly and store in a clean jar. Keep refrigerated.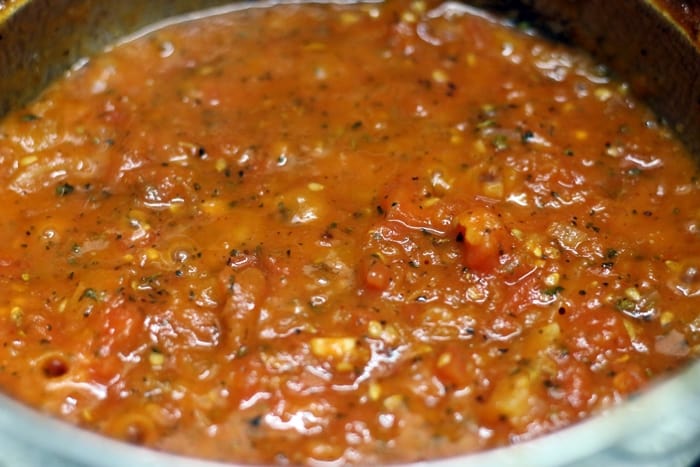 Marinara sauce recipe card below: