Roasted cashew nuts recipe– easiest way to roast cashew nuts at home with very less oil. Perfectly roasted cashew nuts that are spicy and crunchy are just perfect snack to serve with drink!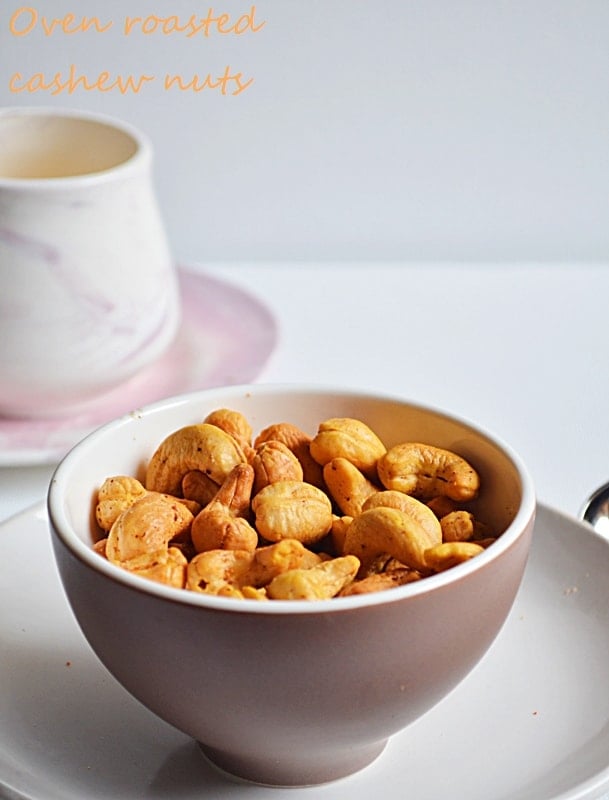 This roasted cashew nuts is our favorite snack to munch on while binge watching TV or with a novel in hand. It is relatively guilt free snack that you can munch on anytime of the day. While roasted cashew nuts are high on calories yet they are much better than store bought fried cashews.
There are many ways to roast cashew nuts. Oven roasted cashew nuts are by far the easiest and simplest method as opposite to roasting cashews on stove top. In addition to that using an oven to roast the nuts also reduces the amount of oil used.
Homemade roasted cashew nuts are an excellent snack for toddlers and kids. Unlike raw cashews these roasted cashews have a delicious flavor and very tasty also. This will especially get the kids on the habit of healthy snacking. On that note I also have added a honey roasted almonds that is totally addictive 🙂
In this recipe I have used oil to roast cashews. You can also use butter or ghee for a richer version. I like to roast the nuts until very crispy and golden so I roast for good 15 minutes. If you prefer to roast the nuts just a bit you can roast for 8-10 minutes also. Finally I have also given some more variations below with this recipe. Do check it out.
Serve roasted cashew nuts as snack or to munch on with welcome drinks. These roasted nuts keeps well for a week when stored airtight. You can also slightly warn the nuts just before serving if needed.
Tips and variations for making oven roasted cashew nuts.
1. Make sure to coat the seasoning very well with all the cashews.
2. Arrange the cashew nuts as a single layer. This will ensure even roasting of the nuts.
3. You can use melted butter or ghee in place of oil.
4. You can even leave out the oil completely and make dry roasted cashews. Just sprinkle seasoning once the nuts are roasted and toss well.
Spice variations:
1.pepper powder,cumin powder,salt and amchoor
2.pepper powder,chaat masala powder and garam masala and kasuri methi
3.Olive oil,dried herbs and pepper powder
You can use almonds or peanuts instead of cashews in this recipe.
Also check Indian kaju pakoda dry fruit laddu recipe.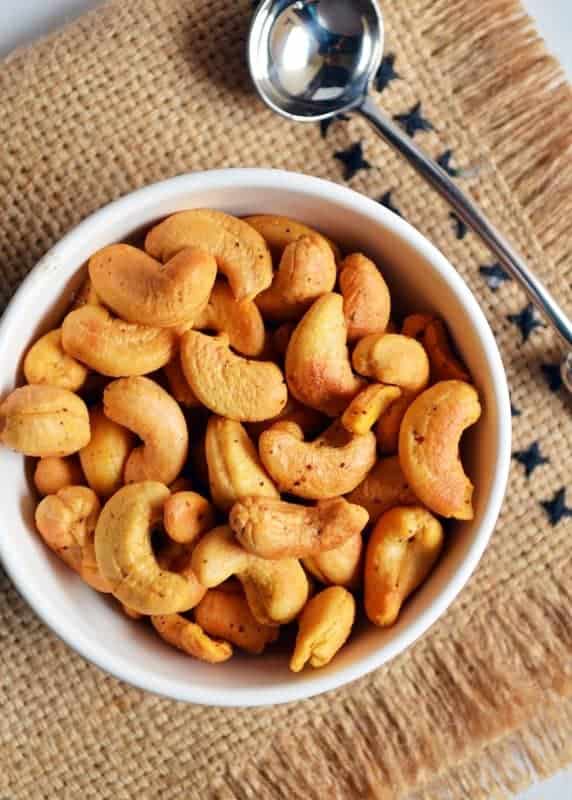 Oven roasted cashew nuts recipe card below
Oven roasted cashew nuts recipe,how to roast cashews in oven
Oven roasted cashew nuts recipe is a simple and easy method to roast cashews in the oven with very less oil.Tasty and healthy snack for kids.
1 CUP = 250 ml
Ingredients
1

cups

cashew nuts

2

teaspoons

oil

any oil you prefer

1

teaspoon

chilli powder

1/2

teaspoon

turmeric powder

Salt

Oil to grease the tray
Instructions
Preheat oven at 200C for 10-15 minutes.Take 2 teaspoons oil in a mixing bowl.Add salt,chilli powder,turmeric powder and mix well.

Measure the cashews and add it to the spice paste.Mix well.

Grease a baking sheet and spread the cashews in a single layer.

Roast in the oven for 5-7 minutes.

Take the tray out and mix well to turn the sides.

Return to the oven and roast for another 5-7 minutes.Cashews will be golden and a bit dry looking by now (mine got done in exactly 12 minutes)

Remove the sheet from the oven,by now the nuts will NOT be very crispy,allow them to cool completely and they will be very crispy.Store in a airtight container.
Notes
1.You can use almonds instead of cashews for a more healthy snack.
2.You can even use peanuts in this recipe.
3.You can make it more flavorful by adding tempered curry leaves after roasting.
Nutrition
Calories:
793
kcal
Carbohydrates:
40
g
Protein:
23
g
Fat:
64
g
Saturated Fat:
10
g
Sodium:
48
mg
Potassium:
890
mg
Fiber:
4
g
Sugar:
7
g
Vitamin A:
595
IU
Calcium:
48
mg
Iron:
9.4
mg
Tried this recipe? Snap a pic and share 🙂
Mention cookclickndevou or tag cookclickndevour