Sabudana khichdi recipe with step by step photos. Masharastrian Sabudana khichdi recipe for vrat. Sabudana khichdi is a delicious snack prepared with tapioca pearls. Tapioca pearls, soaked and drained are quickly tossed with boiled potatoes and peanuts. Maharastrian sabudana khichdi is the popular snack for fasting days like ekadashi, navratri, shivratri etc. This khichdi with sabudana is also a very healthy snack for toddlers and kids.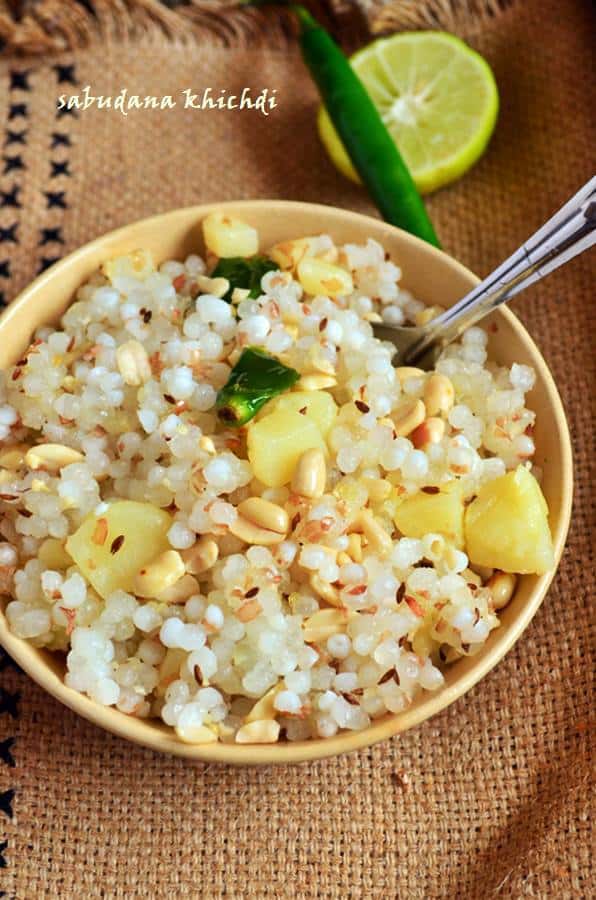 The most important question while making sabudana khichdi is how to make sabudana khichdi non sticky? To make non sticky sabudana khichdi it is important to soak sabudana pearls for correct time. There are different types of tapioca pearls or sabudana pearls. so soaking time varies according to the type. With certain types of tapioca pearls, you can make sabudana khichdi without soaking too. Just wash and keep the pearls with moisture for 10-15 minutes. Here I have shared the recipe where 6-7 hours of soaking time is required. Sabudana khichdi is not something I grew up with but I like it very much. Initially I used to follow sanjeev kappor's sabudana khichdi recipe. but now I have changed proportions and make it as per our taste.
I am sharing few tips and tricks to make perfect sabudana khichdi recipe. please note down and follow the same!
Tips to make sabudana khichdi perfect:
1. Soaking the sabudana properly is the most important step in making this khichdi. Few tapioca pearls are so delicate that you need to soak them only for an hour or so. So experiment with your tapioca pearls and come up with the soaking time correctly.
2. It is very important to drain the stoked sabudana pearls and set aside for 30 minutes before making khichdi. To check if it is ready,take 1 or 2 pearls and press between your fingers, the pearls should mash easily.
3. Do not add water while making sabudana khichdi. Just saute the pearls after adding other ingredients and simmer for 2-3 minutes. If you feel the tapioca pearls are very very dry, just sprinkle 1 teaspoon water and not more than that.
4. Saute the pearls frequently while cooking to prevent them from sticking with one another.
To make sabudana khichdi we need very few simple ingredients. When making for fasting mustard, onions etc are not used. This recipe is sabudana khichdi for fasting, so I have use only the permitted ingredients. Check my south Indian style javvarisi upma recipe for variation. Sabudana or tapioca pearls are used very commonly in Indian recipes like javvarisi payasam, sago murukku, javvarisi vadam, sago mixture, sabudana vada, sabudana kofta recipes.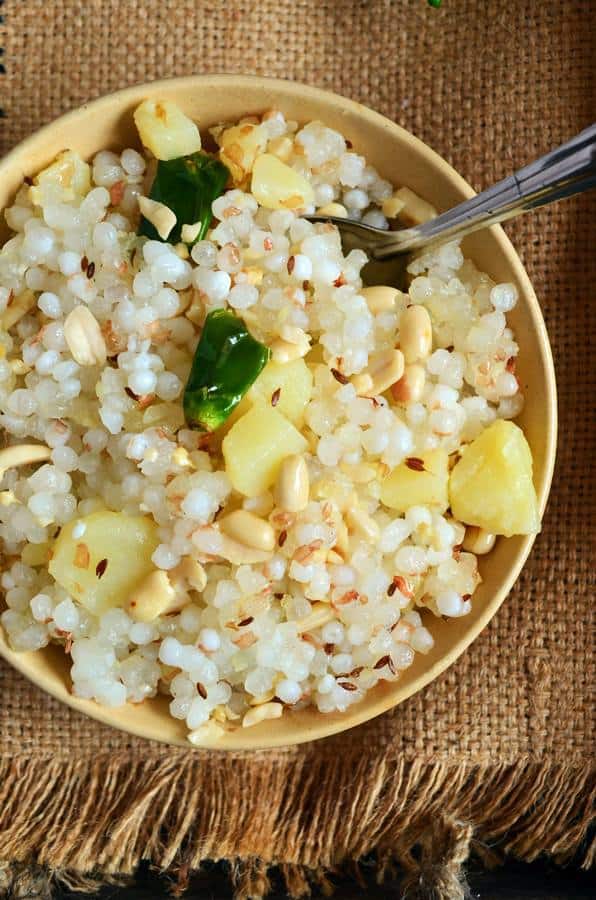 Serve sabudana khichdi hot , garnished with coriander leaves and a squeeze of lemon juice.
How to make sabudana khichdi for fasting with step by step photos.
1. Measure and rinse sabudana pearls once or twice. Add enough water just to cover the pearls. Let aside for 5-6 hours. Note that water will be absorbed completely and the pearls will turn soften. Still if some water is remaining after 6 hours drain the water completely. Check if the pearls have turned soft by pressing a few between your fingers. once done set aside till you prepare the other things for khichdi.
2. Pressure cook 2 medium sized potatoes. peel and cut into bite size cubes. In the mean time dry roast the peanuts. Then crush the peanuts coarsely with or without skin.
3. Heat a pan and add 3 teaspoons oil. Add the cumin seeds and let it crackle. Add the slit green chilies and saute well. Add the cubed boiled potatoes and mix well. Cook for 5-6 minutes.
4. Add the drained sabudana pearls and mix well. keep the flame low and keep stirring. Add required rock salt.You can add 1 teaspoon oil at this stage if needed. You should keep stirring to avoid the sabudana pearls getting stuck in the bottom.Cook in low flame for 5-6 minutes until the sabudana pearls turn glossy and soft.
5.Once done switch off the flame. Add crushed peanuts and mix gently. Add the lemon juice and mix well.
6.Serve sabudana khichdi hot.
Sabudana khichdi recipe card below:
Sabudana khichdi recipe | how to make sabudana khichdi
Sabudana khichdi recipe, learn how to make maharashtrian sabudana kichdi for fasting with easy step by step recipe with photos.
1 CUP = 250 ml
Ingredients
1

cup

sabudana pearls

2

medium potatoes

1

teaspoon

cumin seeds

2-3

green chillies

1/2

tablespoon

lemon juice

1/4

cup

peanuts

rock salt
Instructions
Soak sabudana pearls in water for 6 hours. Drain and set aside.

Heat 3 teaspoons oil in a kadai and add cumin seeds. Once the cumin seeds crackle add green chillies and saute well.

Pressure cook potatoes,peel and cube into bite size pieces. Dry roast and crush the peanuts coarsely.

Add the cubed potatoes and saute well for 5-6 minutes.

Next add the drained sabudana pearls and mix well. Keep stirring to avoid sticking at the bottom.

Add rock salt and mix gently. Cook in low flame till the sabudana pearls turn glossy.

Remove from flame and add crushed peanuts.Add lemon juice,mix and serve sabudana khichdi hot.
Notes
1. Add just enough water to cover the pearls while soaking, if you add more water the pearls will turn mushy.
2. You have to stir continously while cooking else the pearls will stick to the bottom of the kadai.
3. You can add mustard for tempering and normal salt if not fasting.
Nutrition
Tried this recipe? Snap a pic and share 🙂
Mention cookclickndevou or tag cookclickndevour