Cheese burst pizza recipe with step by step photos. learn how to make delicious, loaded with cheese dominos style cheese burst pizza with this easy recipe today.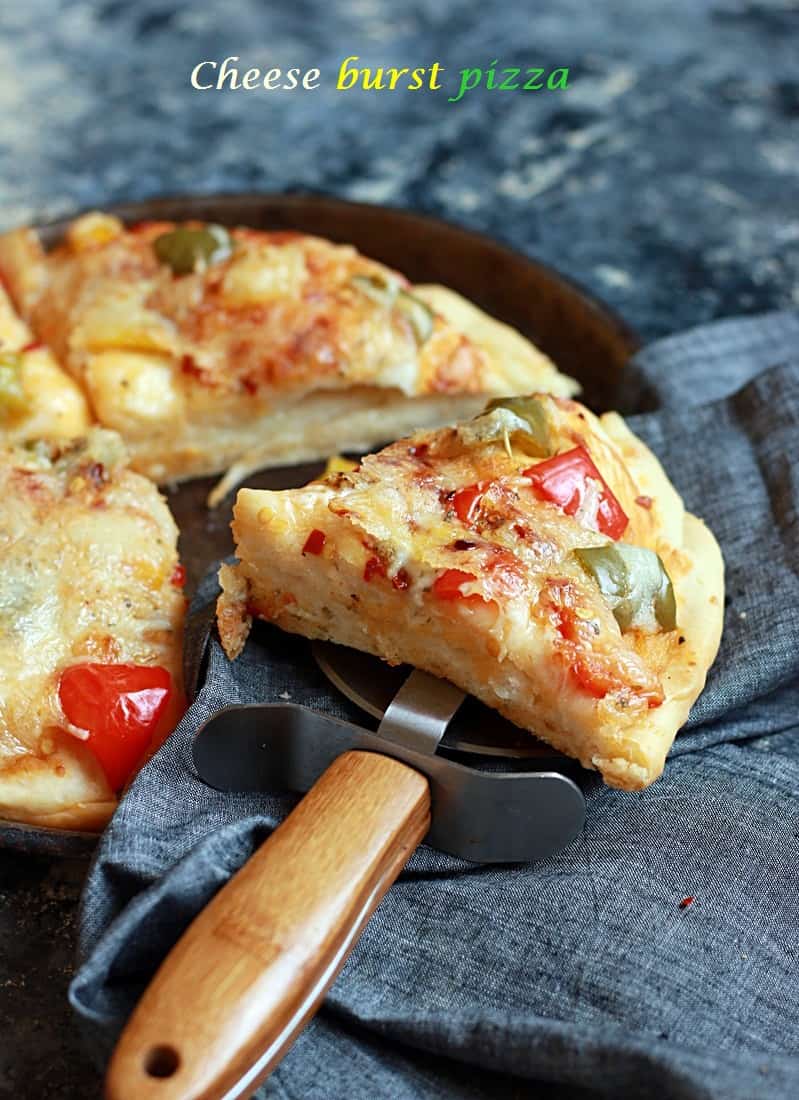 Pizza is our family favorite and I bake it once or twice a month. I try to keep the flavors and taste different by making slighrt changes in toppings, sauce or the base. I make with whole wheat flour or maida as per choice. If I am making pizza as afternoon snack i always make healthy multi grain pizza.
I had many requests for this cheese burst pizza recipe so i mad it last week to share it here. I have tasted this cheese burst pizza long time before in dominos and kind of liked it. It was to much cheese for me but it can always be reduced right. That is what I did in homemade cheese burst pizza. I added less cheese in base and it turned out to be perfect for our taste.
To make cheese burst pizza recipe at home, I used my whole wheat pizza dough recipe, colored bell peppers and onions as toppings, amul mozzeralla cheese and homemade pizza sauce. This cheese burst pizza tastes really good with a nice flavorful cheesy crust.
Serve cheese burst pizza hot, cut into wedges
Here is how to make cheese burst pizza recipe with step by step photos. Love pizza ? I have a collection of pizza recipes here like paneer pizza, homemade pizza from scratch, veg pizza, grilled pizza, instant pizza. Do check out!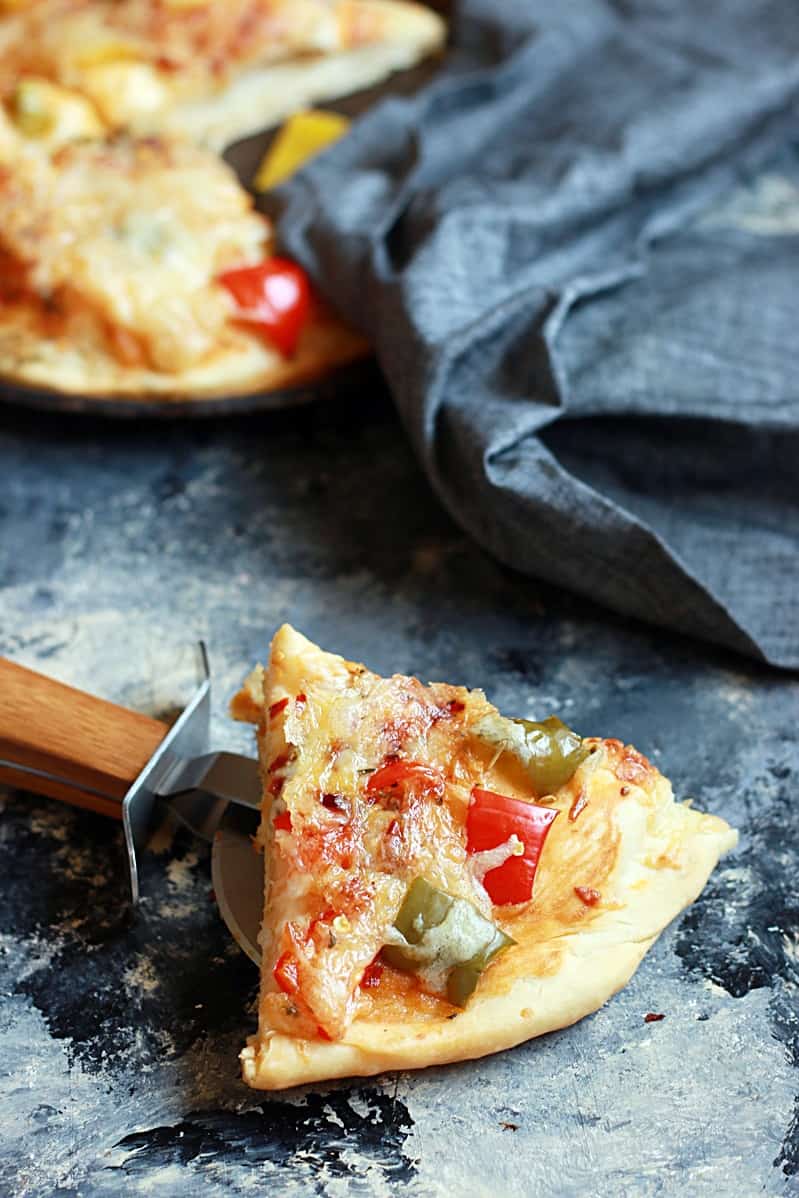 Step by step cheese burst pizza recipe
1. Get your pizza dough ready as mentioned here. Once the dough has raised and ready, punch it back and knead sightly.
2. keep shredded cheese, toppings, sauce and seasoning ready.
3. Take 3/4 of the prepared dough and roll into a circle. Sprinkle some pizza seasoning and chili flakes over it. Now spread 1/4 cup grated cheese over it.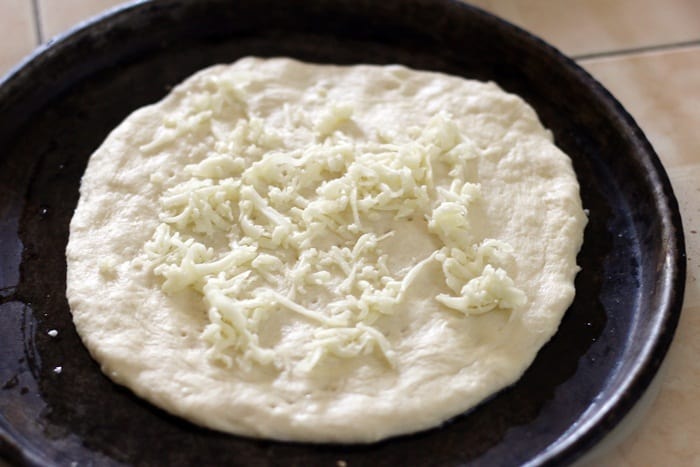 4. take the remaining dough and roll into a circle, same size as base. Cover the base and press gently.
5. Seal the edges in desired pattern. You can make some designs with fork or as in pie crust. Preheat oven at 180C
6. Now spread some sauce over the base. Arrange the toppings and cheese as required. Bake in preheated oven for 25-30 minutes at 180C till the base is slightly browned, edges turn crispy and cheese melts. Serve cheese burst pizza hot.
For pizza base recipe click here
Cheese burst pizza recipe card below:
Cheese burst pizza recipe | Whole wheat veg cheese burst pizza recipe
Cheese burst pizza recipe. Easy homemade veggie cheese stuffed dominos style pizza recipe
1 CUP = 250 ml
Ingredients
1

recipe whole wheat pizza dough

1/2

cup

+ 1/4 cup grated cheese

Cubed bell peppers

onions

Pizza seasoning

olive oil

Chili flakes
Instructions
Get your pizza dough ready as mentioned here. Once the dough has raised and ready, punch it back and knead sightly.

keep shredded cheese, toppings, sauce and seasoning ready.

Take 3/4 of the prepared dough and roll into a circle. Sprinkle some pizza seasoning and chili flakes over it. Now spread 1/4 cup grated cheese over it.

Take the remaining dough and roll into a circle, same size as base. Cover the base and press gently.

Seal the edges in desired pattern. You can make some designs with fork or as in pie crust. Preheat oven at 180C

Now spread some sauce over the base. Arrange the toppings and cheese as required. Bake in preheated oven for 25-30 minutes at 180C till the base is slightly browned, edges turn crispy and cheese melts
Notes
1. You can use maida base too.
2. Use desired toppings
Nutrition
Tried this recipe? Snap a pic and share 🙂
Mention cookclickndevou or tag cookclickndevour