Pineapple juice recipe with video and step by step pics. Juice made with fresh pineapple at home. You can easily make refreshing pineapple juice at home without a juicer. It is one of the best nutrient rich fruit juice that is a true tropical delight.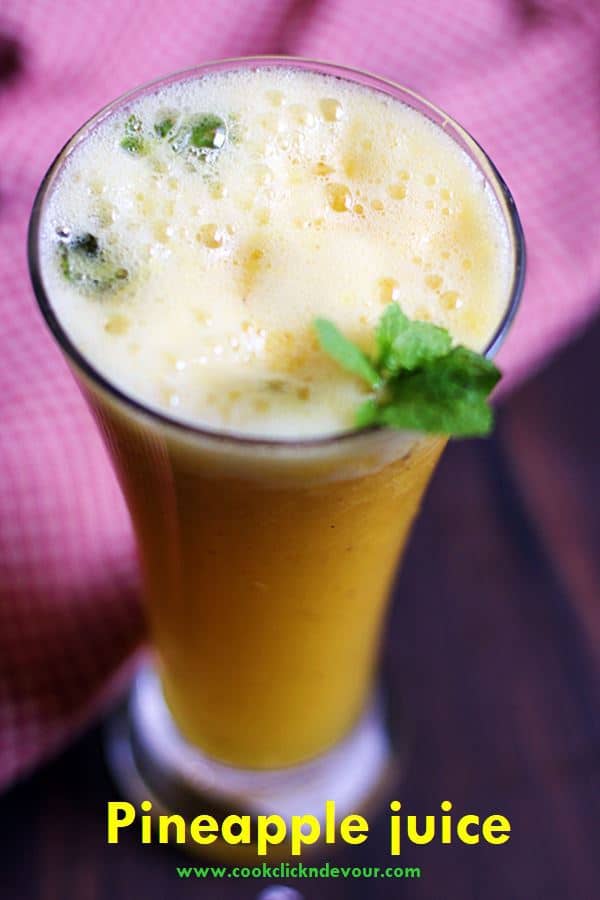 This is the season for fresh pineapples in India. I have been making our favorite pineapple recipes like pinacolada, pineapple rasam, pineapple mojito, pineapple pops recipes. One of my favorite recipes with fresh ripe pineapple is this homemade pineapple juice. So tasty and refreshing this is one of the best ways to consume fresh pineapple.
I prefer to buy fresh organic pineapple that is semi ripe. I leave it in the kitchen counter for 2-3 days and once the fruit turns yellow at the top and bottom it is ripe.
To peel and core the pineapple:
I usually cut the top and bottom of the pineapple first. The peel the fruit from sides and core it. Then you can slice into rings or chop as required. Once peeled it is better to consume the fruit as soon as possible.
Preparing pineapple juice is easy once the peeling and cutting is done. Even though it is a bit time consuming I recommend you use fresh pineapple for making pineapple juice. While canned pineapple is good in dessets and cakes, it does not taste good in fresh juice.
While making pineapple juice I do not add water as I prefer to serve it with ice cubes. Adding both water and ice cubes will dilute the juice more than our preference.
Uses, health benefits of pineapple juice:
Pineapple juice is packed with vitamins, minerals and antioxidants. Use ripe and sweet pineapple to reduce the quantity of sugar in your juice.
It is a very good laxative as it is full of fiber so pineapple juice does helps in treating constipation.
Pineapple juice helps in lowering the cholesterol and helps in loosing weight also. However store bought pineapple juice from a carton is far from healthy.
This juice also helps in strengthening the immune system. It is widely used for treating cough in kids.
Fresh pineapple juice can be used as base for making smoothies like pina colda or coolers like mojito.
Furthermore this juice is widely used as a substitute for fish sauce in vegetarian recipes. it is also used a meat tenderizer.
Finally this pineapple juice freezes well for 2-3 months when stored properly.
You can serve pineapple juice with ice cubes as drink. Also You can dilute the drink with chilled water or sparkling water or even light rum for adults. This juice can be used as base for smoothies and mock tails.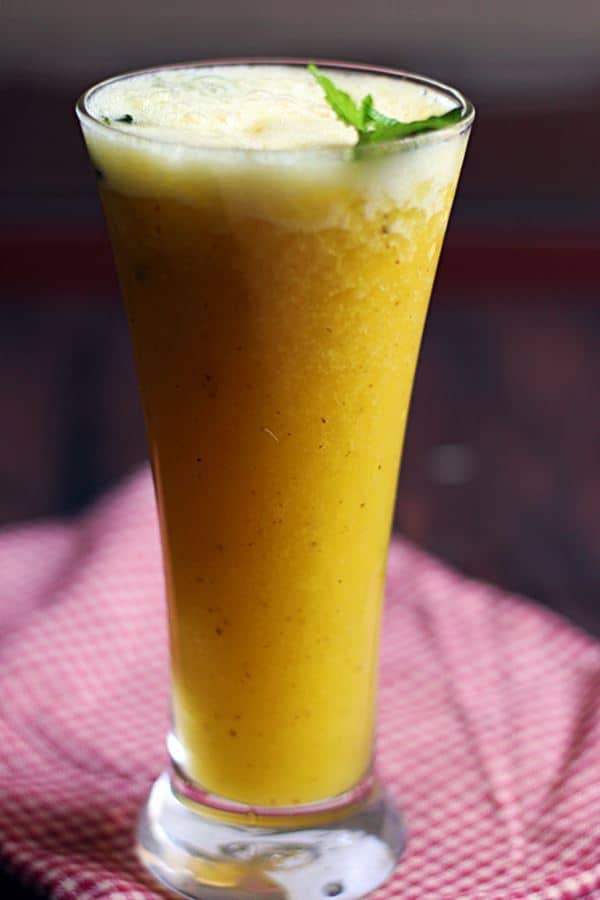 More drink recipes:
mango juice, watermelon juice, fruit punch, mango lassi recipes
Fresh pineapple juice video recipe
Making homemade fresh pineapple juice with step wise photos.
1. First of all peel, core and chop the pineapple.
2. Add the pineapple cubes to a blender jar along with required sugar.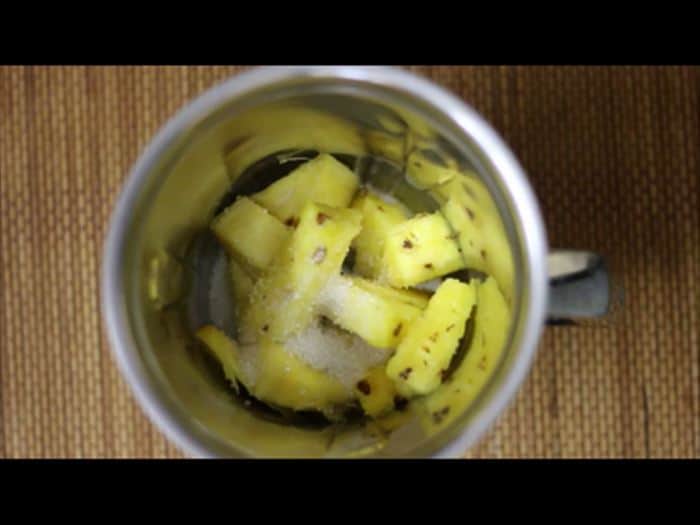 3. Blend smooth. Add water or club soda to thin the juice. Finally serve with ice cubes.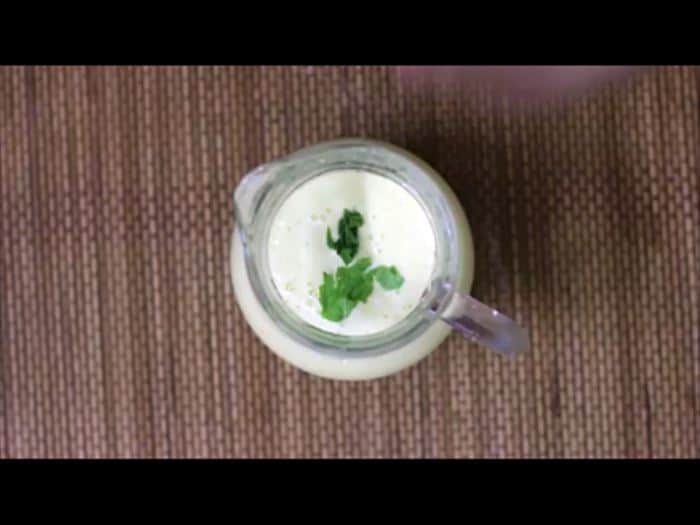 Pineapple juice recipe card:
Fresh Pineapple Juice Recipe
Homemade fresh pineapple juice with fresh ripe pineapple and sugar.
1 CUP = 250 ml
Ingredients
1

small

pineapple

ripe

Sugar

to taste

Mint leaves

optional
Instructions
Peel, core and chop the pineapple.

Add the pineapple cubes to a blender jar along with required sugar.

Blend smooth. Add water or club soda to thin the juice. Serve with ice cubes.
Nutrition
Tried this recipe? Snap a pic and share 🙂
Mention cookclickndevou or tag cookclickndevour