Garlic knots recipe– garlic knots are popular Italian pizzeria snack. You can easily make garlic knots with pizza dough, some garlic butter and herbs. Tastes wonderful and perfect afternoon snack with tea!
What are garlic knots:
Garlic knots are popular Italian snack made with pizza dough. The dough is just rolled and knotted, baked till done and then brushed with garlic butter.
It is a very simple yet tasty and satisfying snack you can make in no time. Here in this garlic knot recipe, I have made it a bit elaborate by stuffing the garlic butter inside and then made knots.
To make garlic knots recipe you can use leftover pizza dough if you have. Else just make a fresh batch of your favorite pizza dough recipe and proceed with the recipe.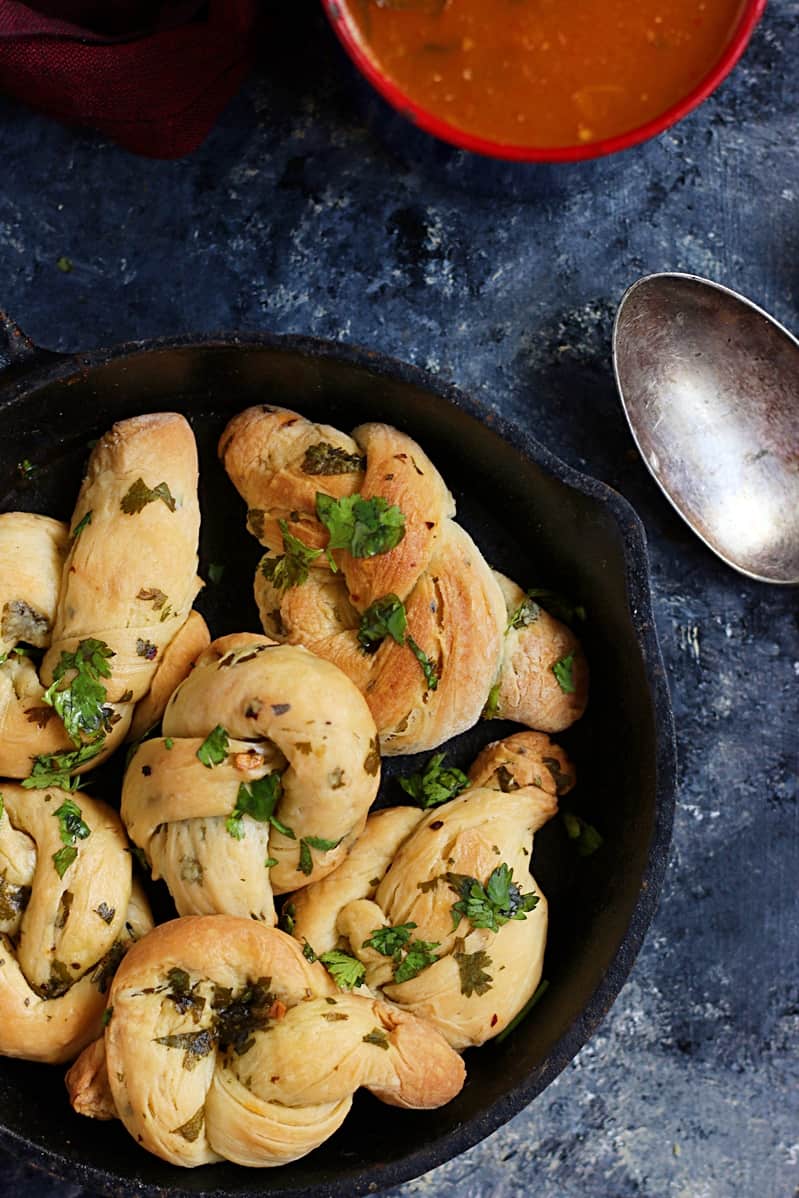 I made these garlic knots to go with tomato basil soup on a cold day and it was too good of a combo. You can pair these garlic knots with any soup or serve with a dip too.
More garlic bread recipes:
garlic rolls, garlic bread, garlic loaf, garlic braided bread recipes
How to make garlic knots recipe (step by step)
1.Get the dough ready following this or this recipe
2. Take soft butter in a mixing bowl. Add dried parsley, cilantro leaves, pepper, chili flakes and ix well until fluffy.
3. Roll the dough into thick circle. Apply half of the prepared butter on one part of dough as seen in pic.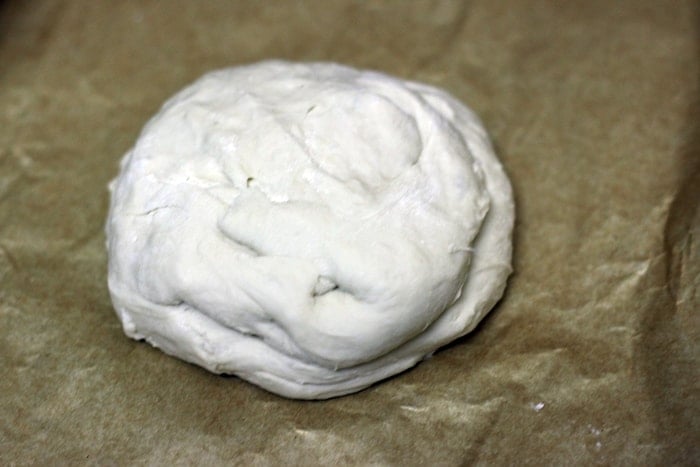 4. Close with the other side.
5. Make thin strips over the folded disc.
6. take each strip and make a knot.
7. Arrange the prepared knots in a baking tray. Let it rest for 30-40 minutes.
8. Preheat oven at 200C. Just before baking brush the shaped knots with remaining garlic butter.
9. Bake in the preheated oven for 10-12 minutes. Serve garlic knots warm.
Garlic Knots Recipe | How to make garlic knots recipe
Fluffy, soft and delicious garlic knots recipe made easily with pizza dough!
1 CUP = 250 ml
Ingredients
1

recipe pizza dough

3

tablespoons

soft butter

2

teaspoons

chopped cilantro leaves

1/2

teaspoons

dried parsley

Chili flakes to taste

pepper powder to taste
Instructions
Get the dough ready following this or this recipe

Take soft butter in a mixing bowl. Add dried parsley, cilantro leaves, pepper, chili flakes and mix well until fluffy.

Roll the dough into thick circle. Apply half of the prepared butter on one part of dough as seen in pic.

Close with the other side.

Make thin strips over the folded disc.

take each strip and make a knot.

Arrange the prepared knots in a baking tray. Let it rest for 30-40 minutes.

Preheat oven at 200C. Just before baking brush the shaped knots with remaining garlic butter.

Bake in the preheated oven for 10-12 minutes. Serve garlic knots warm
Nutrition
Tried this recipe? Snap a pic and share 🙂
Mention cookclickndevou or tag cookclickndevour