Last updated on October 7th, 2017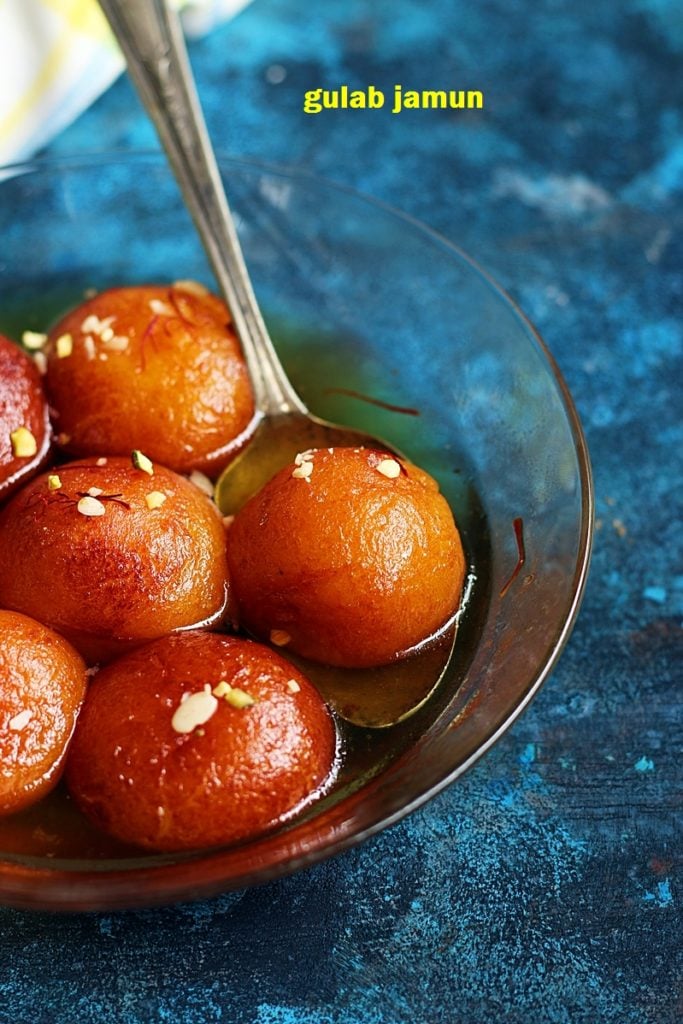 Gulab jamun recipe with khoya with step by step photos. Sharing my tried and tested easy gulab jamun recipe with khoya today on the occasion of gokulashtami. Gulab jamun is a classic Indian dessert that most of us prefer after a lavish Indian meal. Gulab jamun literally translates to rose (gulab) berry (jamun). Small jamuns , deep fried in ghee and dunked in rose flavored sugar syrup is the traditional gulab jamun. As opposed to common thought, making gulab jamun from scratch is not difficult, just a bit tricky. We should just get the knack of making the dough, the correct temperature of oil and making perfect sugar syrup. This gulab jamun recipe I am sharing is a very easy one and perfect gulab jamun recipe too. I have made this so many times with perfect melt in mouth gulab jamun every single time 🙂 Gulab jamuns just like you get in north Indian sweet stalls like shri mithai 🙂 I would say this is the gulab jamun recipe for beginners.
Now there are many ways to make a gulab jamun. The one I am sharing here is gulab jamun with khoya or milk solids. The popular variants are milk powder gulab jamuns and the easiest is gulab jamun with gulab jamun mix 🙂 . There are also some innovative and interesting gulab jamuns like bread jamun, sweet potato jamun, paneer gulab jamun etc. You may try these for a different yet delicious sweet. But the real one is always the authentic gulab jamun with khoya. Khoya is milk solids that is obtained by simmering milk for hours together and scrapping the solids. You can easily make mawa at home by simmering full fat milk or khoya is readily available in shops too. Few other delicious sweets you can try using khoya are dodha burfi, chocolate burfi, coconut ladoo, mawa cake etc.
To make gulab jamun with khoya we need khoya, maida, sugar, cardamom, rose essence etc. In some recipes a tablespoon or 2 of milk is used just to bring the dough together and I have used fresh cream for that here,  and that yields super soft gulab jamuns. If you do not have fresh cream in hand, just take the malai from the top of the milk and use it. You can also add milk in gulab jamun dough.
Serve gulab jamun chilled as dessert or warm jamuns can be served with a scoop of ice cream too.
If you are looking for more such north Indian sweets do check besan ladoo, jalebi, coconut ladoo etc
Frequently asked questions in making gulab jamuns – trouble shooting gulab jamun
1. My gulab jamuns are hard?
The reason is the dough was very hard and there was not enough moisture. Though you should not knead the dough like roti, the dough should be easily pliable. Also the if the balls where made with pressure the gulab jamun will be hard.
2. My gulab jamuns break while frying?
The reason for jamuns break while frying is possibly the dough was very soft. You may have to add a tablespoon maida extra and this depends on the quality of khoya used. Also if excess baking soda is added the jamuns will break.
3. My gulab jamuns are uncooked inside.
if you fry the gulab jamuns in high heat the outer part will get cooked very fast and inside will remain uncooked. You should always cook gulab jamun in low flame.
4. My gulab jamuns break after adding in sugar syrup?
If you add very hot gulab jamun in very hot sugar syrup this happens. Rest the gulab jamun for 30 seconds after removing from oil and then dunk in syrup. Also the sugar syrup should be warm and not hot.
Step by step gulab jamun recipe with khoya
1. Mix water and sugar in a deep pan. Add crushed cardamom or cardamom powder and saffron strands. You can add rose essence to stay true to the name "gulab jamun", I always prefer saffron though. Cook this mixture to make sugar syrup. There is no need to check for consistency, just make a thick sugar syrup. The syrup should not form even one strong consistency. let the sugar syrup cool a bot before we make the jamuns. You can add few drops of lemon juice to prevent crystallization.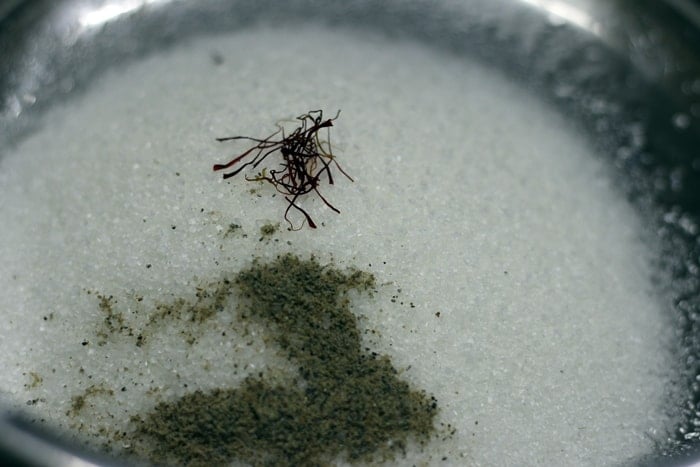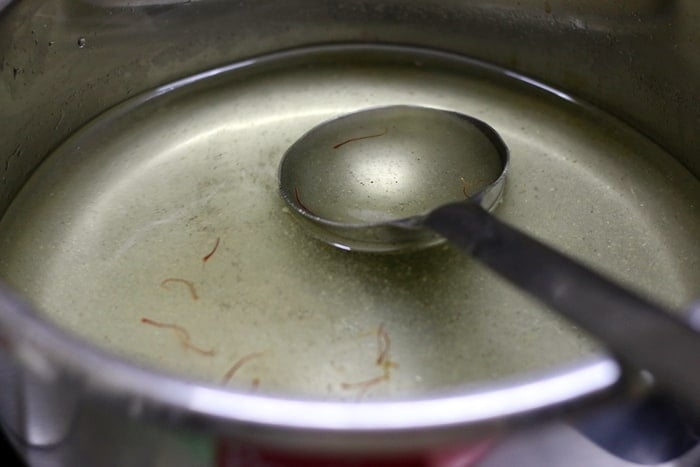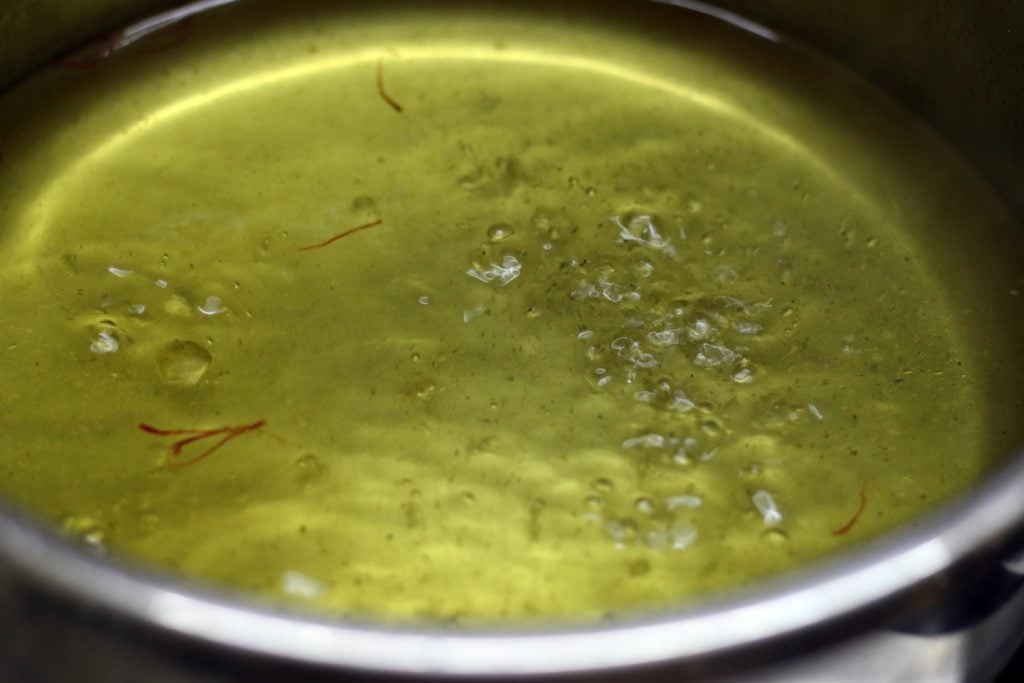 2. Now to make gulab jamuns, take khoya in a mixing bowl and crumble it very well. To that add maida, baking soda and a very tiny pinch of salt. Mix well. Add fresh cream and mix well. Mix and bring everything together.Do not knead the mixture. If kneaded roughly, the gulab jamuns will turn hard.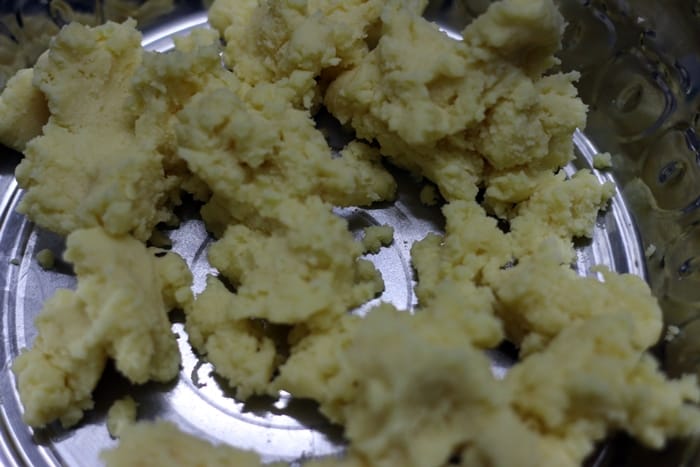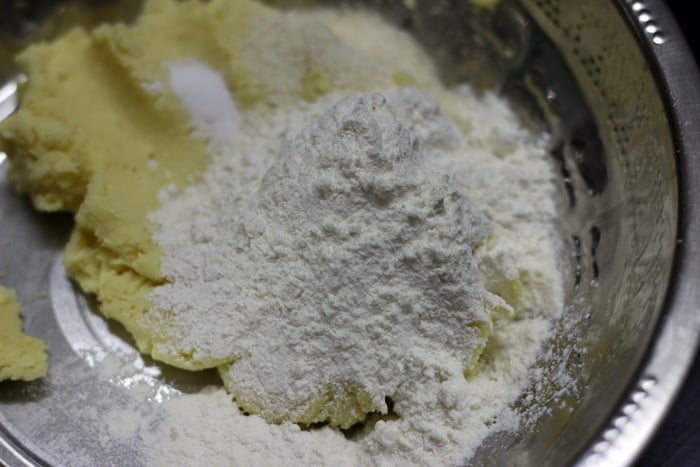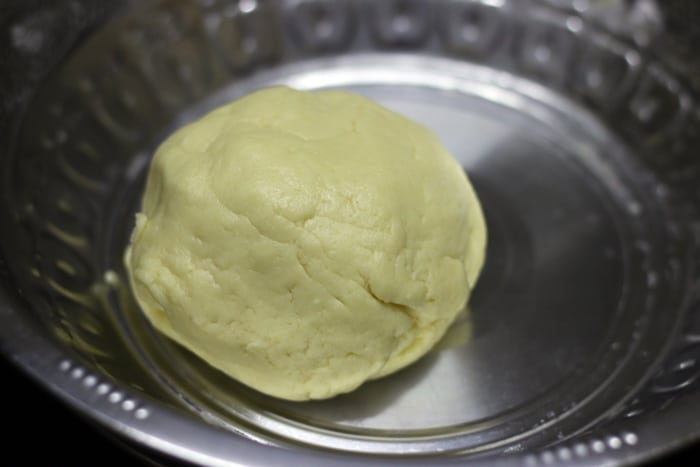 3. Divide the mixture into 15-16 equal parts and shape them into ball very gently. Do not apply pressure while making balls.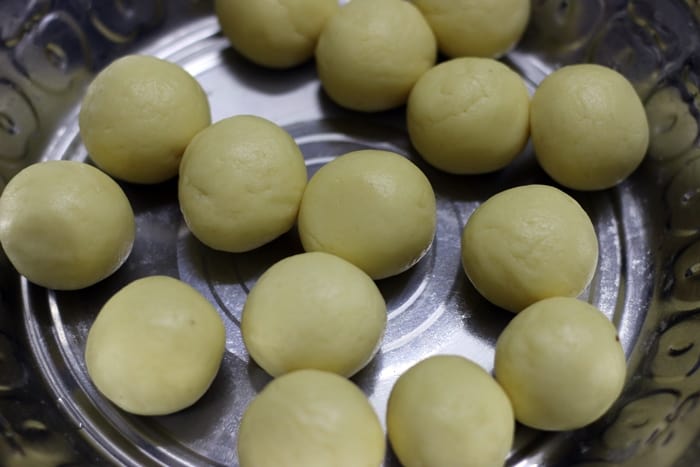 4. heat ghee or oil for deep frying. Do not let the oil or ghee smoke, just make sure it is hot. Before frying the jamuns do a test by dropping a small piece of dough in the oil. If it raises immediately, oil is very hot, if it sinks and does nit rise, oil is not hot enough. The dough ball should rise after a second or 2 and get fried, that is the correct temperature.
5. Slide the prepared balls and deep fry in low flame till they turn golden brown. Remove to a plate lined with kitchen towel.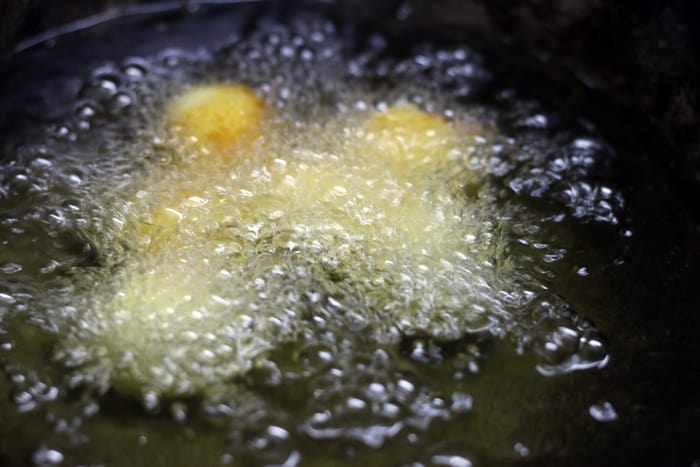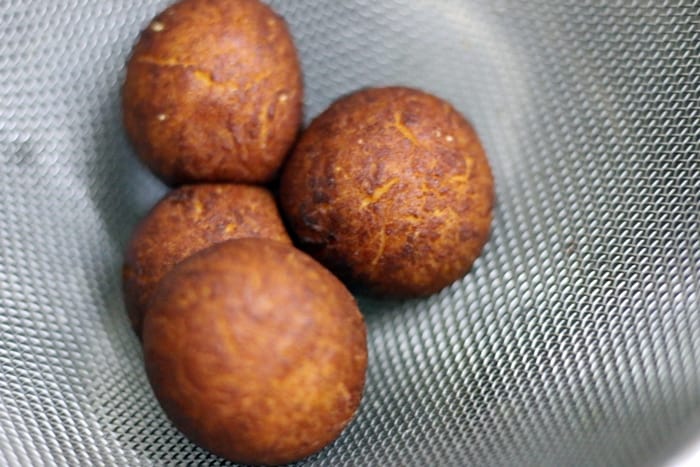 6. Dunk in sugar syrup after resting the balls for 30 seconds. let the gulab jamuns soak in sugar syrup for at least an hour before serving. Serve gulab jamun as dessert or snack.