Gulab jamun is a classic Indian sweet made of milk powder or khoya (milk solids), sugar, flavorings like rose water, cardamom powder, saffron. These are deep fried balls dunked in sugar syrup and served warm or chilled.
In this post I am sharing with you not one but two traditional ways to make gulab jamun at home with complete step by step photo guide for easy following.
No festivals or celebrations are complete without this classic sweet. It is an absolute favorite at our home and I hope you will try this out enjoy as much as we do 🙂
Indian cuisine is not only famous for flavorful curries but also rich desserts and sweets. Visit any sweet shop or halwai or even some restaurants you will find array of delicious and tempting sweets like besan ladoo, jalebi, rasgulla, kaju katli and of course these jamuns.
What some of us might not know, it is totally possible to make these Indian sweets at home. Homemade sweets are more clean, economical and fresh 🙂
Today I have this best gulab jamun recipe for you all with two delicious variations so that you may choose whichever method is feasible for you. Both these recipe are tried and tested so many times by myself, my family and my readers. If you are looking for a fool proof recipe of gulab jamun, do give this one a go and I am sure you will be pleased 🙂
So let's begin with more details about this dish, few pointers that will help you along with step by step photos recipe. Let's go!
What Is Gulab Jamun
Gulab jamun is a classic Indian sweet prepared widely for festivals and celebrations like Diwali, Holi, Navratri. They are basically soft berry sized balls that are deep fried and then dunked in sugar syrup. Traditionally rose water was used as flavoring in this dessert.
The term gulab means rose and jamun means berries in Hindi. So the literal translation of the name would be fried berries soaked in rose flavored sugar syrup.
This sweet is a crowd favorite and immensely popular in Indian sweet shops or halwai. It is also one of the very commonly made sweets in Indian homes. It is a best dessert to serve after a lavish Indian meal and also perfect for parties, wedding feasts.
At out home we absolutely love this dish and I make it occasionally to treat out sweet cravings. I make this sweet with both khoya or milk powder depending on the availability of the ingredients. Khoya means milk solids which is also known as mawa.
Authentic way of making gulab jamun uses khoya, making it at home is quite laborious and takes time and that's when people started using milk powder as substitute.
In this post I am sharing both the methods with you. Both are easy and straight forward recipes that you can make perfectly at home. Just follow the recipe after and tips. These gulab jamuns are
Absolutely delicious & melt in mouth
Soft and moist
Very easy to make
better than any sweet shop jamuns
Vegetarian
Absolutely kid friendly
Delicious choice for festivals and celebrations
About These Recipes
Making Khoya Gulab Jamun
Traditionally gulab jamun is made with khoya or mawa or evaporated milk solids. Khoya or mawa is a very prominent ingredient used in Indian cooking. It is obtained by simmering whole milk for hours and collecting the milk solids.
Khoya is used in many recipes, mostly in curries and sweets. Along with khoya gulab jamun, peda, burfi, ladoo, mawa cake and few halwa recipes use mawa.
You can make this sweet with khoya if you can make it at home or get it easily from stores. Khoya is available in Indian grocery stores or some sweet shops sell them too. Look for it in frozen foods section or dairy section. You will need unsweetened khoya for this recipe. My secret ingredient for softest jamuns using khoya is cream or malai. Just adding 1/2 tablespoon of it lends wonderfully soft and melt in mouth jamuns, try it!
Try to get soft khoya also known as chikna khoya which is easy to mash and knead.
Making Gulab jamun with milk powder
This is a very widely popular and easy method to make gulab jamun followed in most Indian homes when khoya is not available.
It is a very process compared to former one. All you have to do is mix milk powder and plain flour with few other ingredients and your dough is ready.
Both of these methods are tried and tested multiple times and will yield you best results. If you are a beginner I suggest the milk powder recipe for you. Once you get the hang of it, you can try khoya recipe.
My recipe of gulab jamun is something I have been making for decades and it is such a keeper. If you are looking for a tried and tested recipe of this classic Indian sweet, do give this one a go and I am sure you will be pleased with your homemade gulab jamuns 🙂
How To Make Gulab Jamun With Khoya
Ingredients
1.5 cups khoya or mawa
3 tablespoons plain flour or all purpose flour or maida
1/4 teaspoon baking powder
1 teaspoon fine semolina
1/2 tablespoon fresh cream
1-2 tablespoons milk
2 cups sugar
2 cups water
1 teaspoon cardamom powder
Few saffron strands
1 teaspoon rose syrup
Making The Dough
Crumble or grate 1.5 cups khoya well and place in a large mixing bowl. Just crumble it well, no need to keep mashing it now, it will come together as we mix other ingredients and make a soft dough.
Add 3 tablespoons plain flour or maida and 1/4 teaspoon baking powder to it.
Add 1 teaspoon fine semolina, 1/2 tablespoon fresh cream to it.
Mix everything well and add 1-2 tablespoons milk to bring the dough together. If you knead the dough vigorously the gulab jamun will turn hard.
Once you have a smooth dough that looks uniform and moist, cover it and set aside for 20 minutes. While the dough is set aside, we will make the sugar syrup for gulab jamun.
Preparing Sugar Syrup
Add 2 cups water to wide and deep pan. To that add 2 cups sugar. 1 teaspoon cardamom powder and few saffron strands.
Begin to cook this in medium heat. We need a slightly thick syrup with sticky consistency
Cook this mixture to make sugar syrup. There is no need to check for string consistency, just make a thick sugar syrup. Add rose water now and mix. The syrup should not form one strong consistency. Let the sugar syrup cool a bit before we make the jamuns. You can add lemon juice to prevent crystallization.
Let the syrup cool down a bit. It has to be warm when we add the fried jamuns. If you add fried jamuns to very hot sugar syrup, sometimes they will disintegrate.
Shaping & Frying The Dough Balls
Bring back the resting gulab jamun dough and knead it very gently for few seconds. Divide the mixture into 15-16 equal parts and shape them into ball very gently. Do not apply pressure while making balls.
Heat ghee or oil for deep frying. Do not let the oil or ghee smoke, just make sure it is medium hot. Before frying the jamuns do a test by dropping a small piece of dough in the oil. If it raises immediately, oil is very hot, if it sinks and does not rise, oil is not hot enough. The dough ball should rise after a second or 2 and get fried, that is the correct temperature.
Slide the prepared gulab jamun balls and deep fry in low flame till they turn dark brown.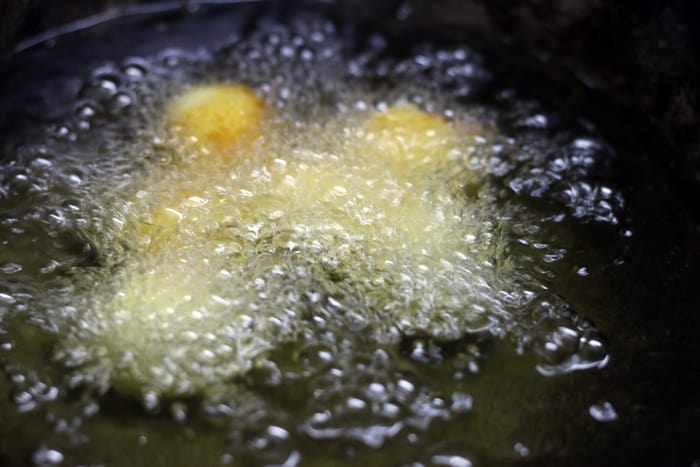 Remove the fried jamuns using a slotted spoon to a plate lined with paper towels or a strainer. Cool slightly for a minute or two.
Soaking In Sugar Syrup
Dunk the deep fried jamuns in hot sugar syrup after resting the balls for 30 seconds. Let the jamuns soak in sugar syrup for at least an hour before serving. Serve gulab jamun warm or chilled.
Milk Powder Gulab Jamun Recipe
Make Gulab Jamun Dough
Combine 1 cup milk powder, 1/4 cup all purpose flour, 2 teaspoons ghee, 2 tablespoons curd and big pinch of baking soda in a mixing bowl.
Mix well first. Add milk little by little and form a smooth dough. Do not knead the dough. Set aside for 15 minutes.
Make Sugar Syrup
Combine water and sugar in a thick bottomed pan. Mix slightly and start heating. Add 3 crushed cardamom pods and few saffron strands. I have used raw sugar here so the color of the syrup is dark.
Cook until a sticky syrup is formed. Switch off the flame and remove from heat before it reaches one string consistency.
Add few drops of lemon juice. Mix well and set aside.
Preparing Jamuns
Bring out the prepared dough and make 20 small balls out of it. Do not roll them very hard or tight.
Heat oil or ghee for deep frying. The ghee or oil should not be smoking hot. Just hot. Slide the prepared jamun balls gently and deep fry until golden brown.
Deep fry in low flame so that the gulab jamun gets cooked well inside. They should turn dark golden brown in color. Drain the jamuns and rest for 30 seconds in a plate.
Dunk the fried jamuns in warm sugar syrup and rest for 2 hours before serving.
Serving Suggestions
Serve gulab jmauns along with some syrup chilled or at room temperature.
You can serve gulab jamun both warm or cold. These taste delicious both ways.
Serve warm gulab jamun with a scoop of vanilla ice cream as dessert. You can enjoy gulab jamun chilled topped with few almond slivers or chopped pistachios.
Expert Tips
Making best gulab jamuns at home is super easy and simple provided we get few pointers right.
Getting the dough right– This is the first and most important tip for making gulab jamun. If your perfect, rest is really easy. You need a soft and smooth dough that is not heavily kneaded. Treat this as your pastry dough and do not over knead. Just add all the ingredients and mix well. Add milk little by little and bring the dough together. Knead just for 2-3 minutes.
If you feel the dough mixture is very soft, you can add more milk powder to bring the dough together.
Shaping the jamun balls– the rule of thumb while working with gulab jamun dough is feather touch handling. Be very soft while kneading or shaping.
Also you should shape the dough into balls without any cracks. If there are cracks, oil will get into it and the balls will disintegrate while frying.
Frying the jamun balls– Always fry in lowest flame until the balls turn dark golden. If you cook in high flame, the outer layer will turn dark very soon but the inside will remain uncooked.
I usually heat the oil for few minutes, once it is hot lower the flame and fry the jamuns.
Making sugar syrup– All you need here is a sticky sugar syrup prepared with equal parts of sugar and water. No need to check for consistency. If the sugar syrup is very thick they will just coat the jamuns and will be absorbed.
Also make sure to prepare the sugar syrup first and let it cool down a bit before adding the jamuns. If the syrup is very hot, the jamuns will break.
Storing the gulab jamuns- Store refrigerated dunked in sugar syrup. Serve jamuns with a some sugar syrup.
Serve gulab jamun warm with a scoop of ice cream or chilled as dessert. Gulab jamun with vanilla ice cream is a classic hit combo! You can garnish with fresh rose petals.
Frequently Asked Questions
More Indian Sweets
Are you making this recipe? I would love to see a snap of your creation too. Do snap a pic and share on Instagram with hashtag #cookclickndevou and please give a star rating ★ in the recipe card above. Follow us on Pinterest , Instagram, Facebook for more recipes and ideas.
Recipe