Gulab jamun recipe with milk powder with step by step photos. Gulab jamuns are the most popular Indian dessert/ sweet that is loved by every one. Gulab jamuns are berry sized deep fried balls dunked in sugar syrup. Gulab jamun means rose berries. The authentic way of preparing gulab jamun is with khoya or milk solids. This milk powder gulab jamun recipe is a quick alternate way to make gulab jamun. This recipe is similar as how to make gulab jamun from store bought mix. I have made mini gulab jamuns with milk powder in this post.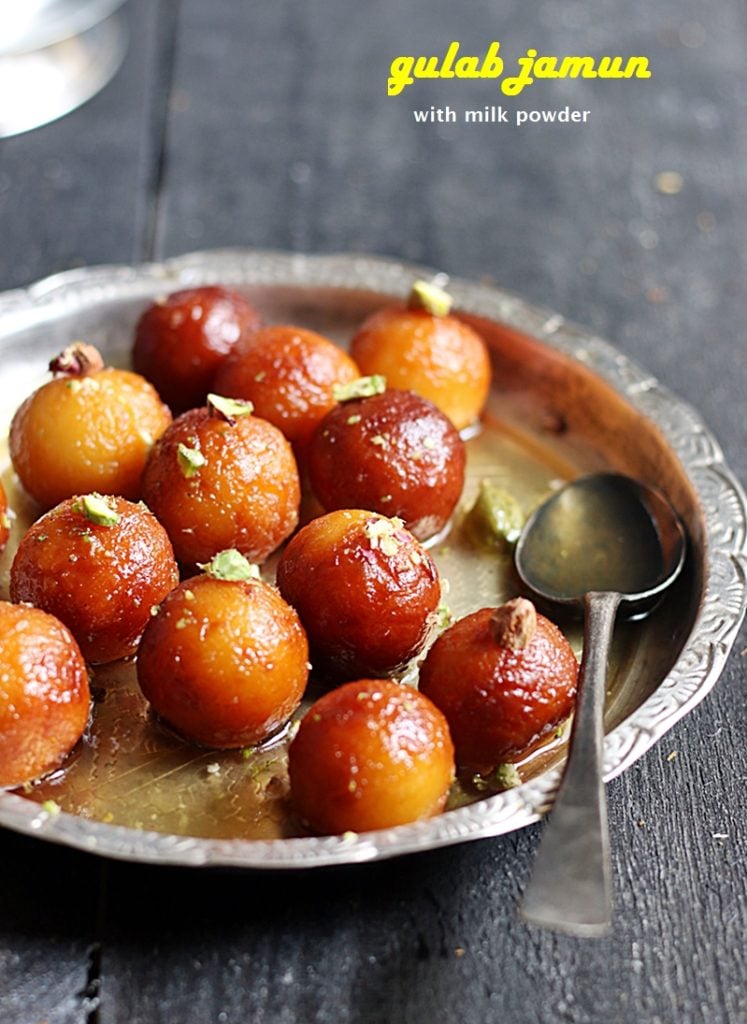 It is very easy and simple to make milk powder gulab jamun. I would say this gulab jamun recipe is for beginners. Just few tips and tricks to take care of and you will be rewarded with melt in mouth, delicious and addictive gulab jamuns. Since khoya is not readily available year around ( I get khoya in shops only during diwali, navratri, times) this easy gulab jamun recipe witj milk powder will come handy. Gulab jamuns are typically made during festivals like holi, Eid, navratri etc. This dessert is popular in Nepal. pakistan too other than India. Ready made gulab jamuns from sweet stalls and some North Indian restaurants like shri mithai are also very popular. These are perfect dessert after a grand meal for guests or any special occasions too. Few other Indian mithai that are served during festivals are jalebi, besan ladoo, coconut ladoo, badusha etc.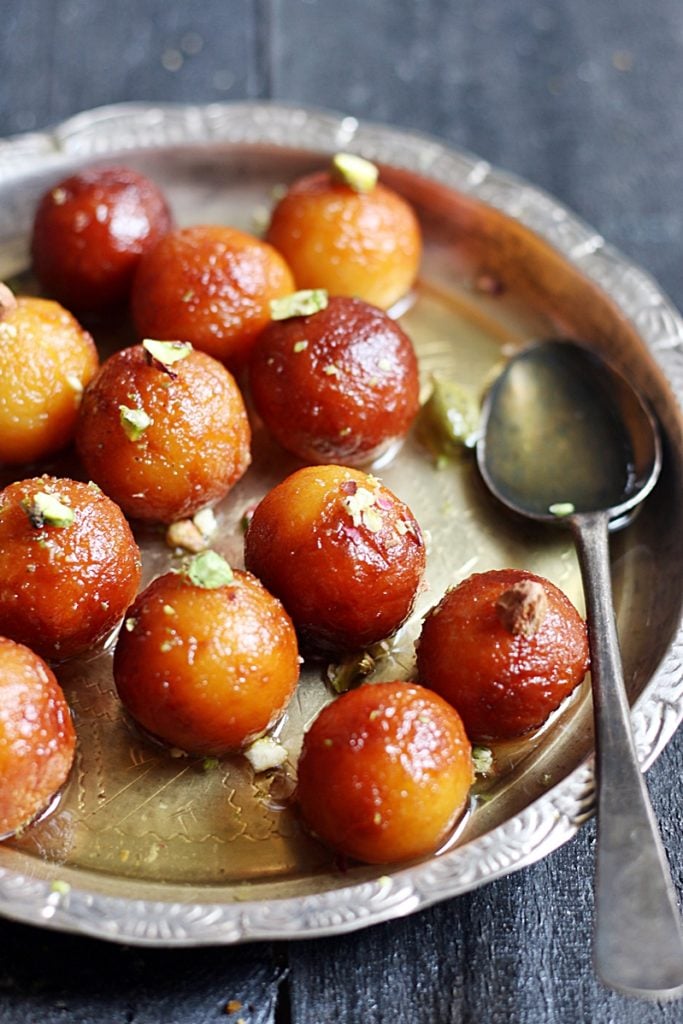 The gulab jamun dough is the most important one to get perfect gulab jamuns. The gulab jamun dough should be made properly to get good melt in mouth gulab jamuns. I like to use ghee and curd in gulab jamun dough. You can even use unsalted butter in gulab jamun dough but curd yields very soft and fluffy jamuns as far as I noticed. I like to flavor my sugar syrup for gulab jamun with saffron and cardamom. You can very well use rose essence to make real "gulab" jamun.
To make gulab jamun recipe with milk powder we need few simple ingredients. Milk powder, maida, curd, ghee and a pinch of baking soda. For sugar syrup we need water, sugar, cardamom powder and saffron.
Serve gulab jamun warm with a scoop of ice cream or chilled as dessert. Gulab jamun with vanilla ice cream is a classic hit combo! Apart from khoya gulab jamuns I have shared paneer gulab jamun, bread gulab jamun and vegan sweet potato gulab jamun recipes too.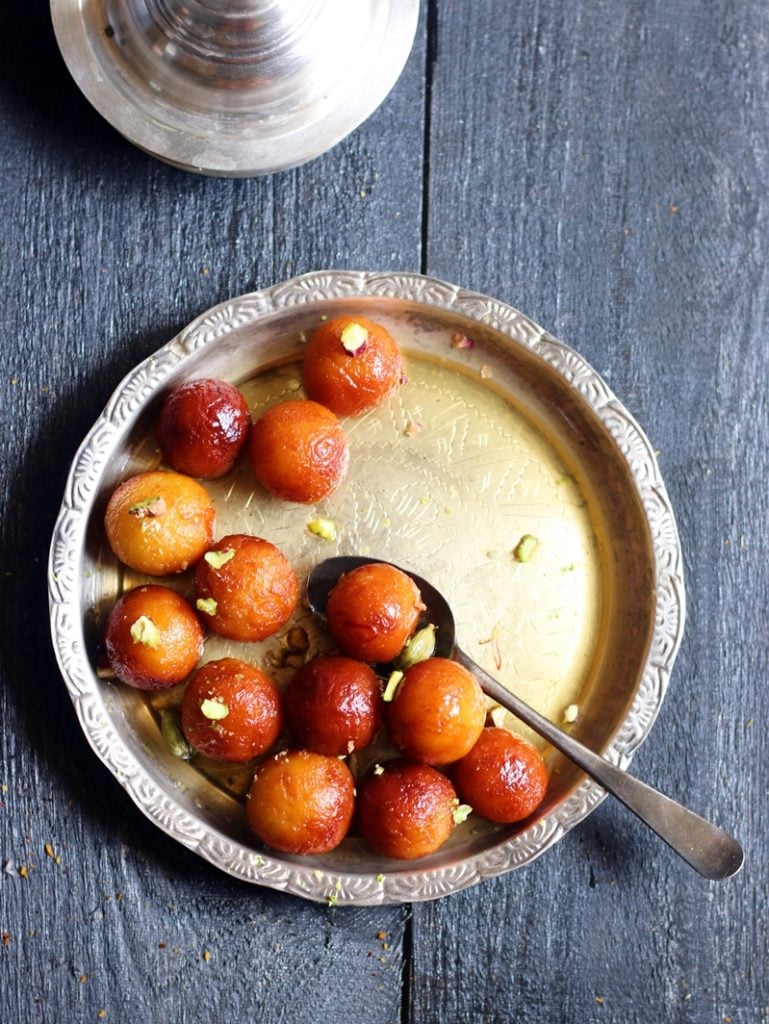 Tips and tricks for perfect milk powder gulab jamun recipe
1. Proportions are very important. Please do not alter the recipe until you master it.
2. After adding all the ingredients, do not knead the dough. Just bring everything together and mix very gently with finger tips. The gluten should not develop in the dough. If the dough is kneaded harshly, the gulab jamuns will turn hard.
3. The consistency of sugar syrup should be something close to half string.We do not need a one string sugar syrup for gulab jamun.
4. The sugar syrup must be warm but not hot for jamuns to absorb it well.
Gulab jamun recipe with milk powder card below :
How to make gulab jamun recipe with milk powder with step by step photos.
Making sugar syrup for gulab jamun:
Take water and sugar in a thick bottomed pan. Mix slightly and start heating.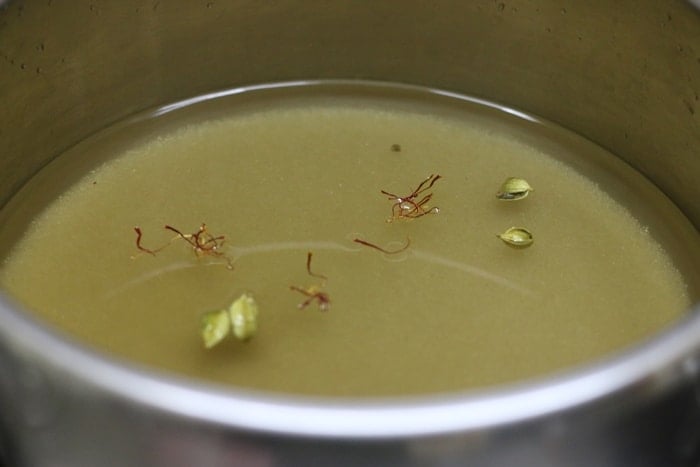 Cook until a sticky syrup is formed. Switch off the flame and remove from heat before it reaches one string consistency.
Add few drops of lemon juice, saffron and cardamom powder. Mix well and set aside.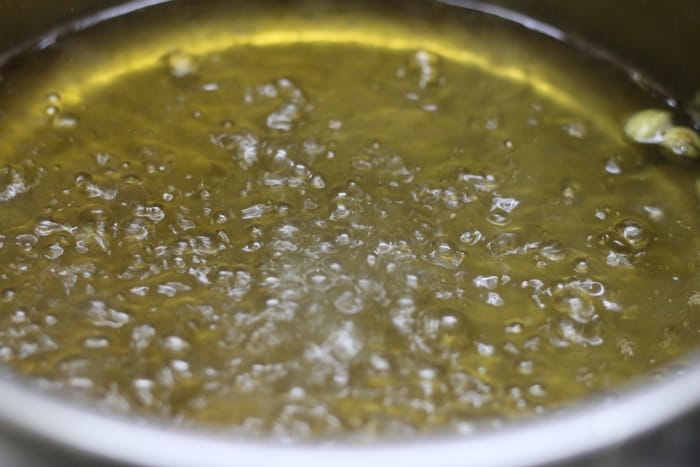 Making the gulab jamun dough and frying the jamuns:
Take all the ingredients except milk mentioned for dough in a mixing bowl.

Gently mix with your finger tips and bring the dough together. Do not knead. rest the dough for 10 minutes.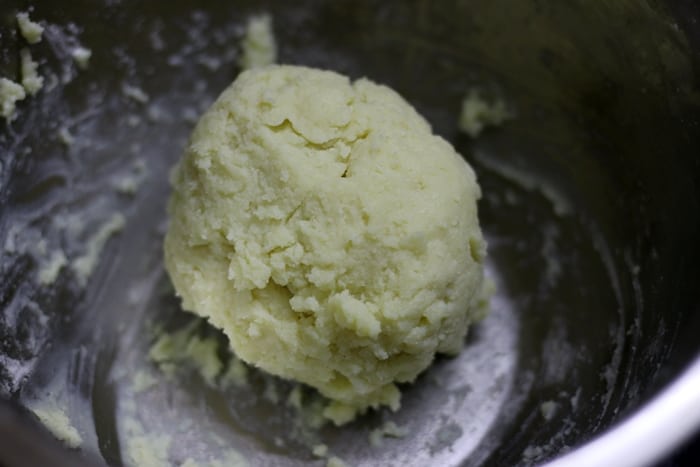 Make 20-25 tiny balls or 15 normal sized balls. Roll the balls gently.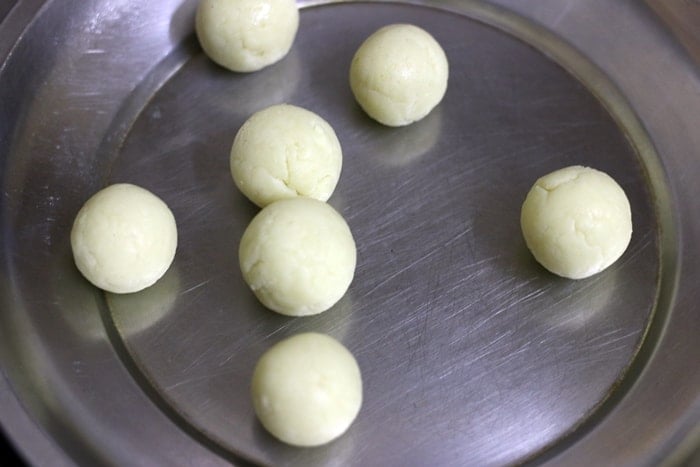 Heat oil or ghee for deep frying. The ghee or oil should not be smoking hot. Just hot. Slide thwe prepared jamun balls gently and deep fry until golden brown. Deep fry in low flame so that the gulab jamun gets cooked well inside. Drain the jamuns and rest for 30 seconds in a plate.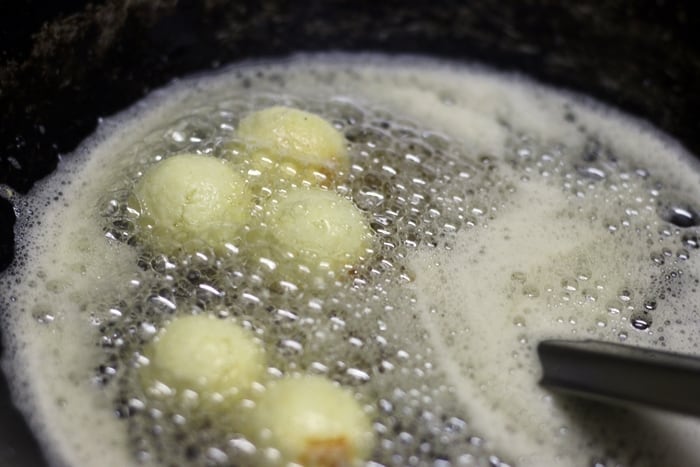 Dunk the fried jamuns in warm sugar syrup and rest for 2 hours before serving. Serve gulab jmauns along with some syrup chilled or at room temperature.