Kulfi is a traditional frozen dessert from the Indian sub continent. It is one of the most popular summer dessert and it comes with many flavor variations like kesar pista, badam, rose kulfis
Kulfi is often referred to an traditional Indian ice cream but this frozen dessert is very much different from ice cream. This dish is much denser, less creamy, melts very slowly and has a delightful bite.
In this post I am sharing the most traditional method of making this Indian dessert with khoya or mawa, the evaporated milk solids, rice flour and full fat milk. Adding heavy cream, milk powder, sweetened condensed milk, bread etc are cheat's version and are not a part of authentic kulfi recipe.
In India summers are super harsh and we all take respite on ice creams and frozen desserts. Even before there were so many varieties of fancy ice creams were introduced, Indians had their fix of frozen dessert in the form of kulfi.
The sight of kulfi wallah or the person selling kulfi in a large earthen pot covered with a rug to keep it frozen was the most awaited one for us during summers. I have fond memories of relishing this dessert day after day during summer holidays.
He would carry many flavors like kesar pista kulfi, malai kulfi, rose kulfi and I always loved kesar pista mawa kulfi.
Today I am sharing this dessert with a very detailed step by step tutorial along with a cheat's version or instant malai kulfi recipe using fresh cream and bread.
Before going into the recipe, here are more details about the dish and let's also discuss the ingredients and substitutions in depth.
What Is Kulfi?
Kulfi is a popular and traditional Indian dessert made with milk as main ingredient. It is very rich, dense and has a wonderful bite as opposed to ice cream which melts in mouth. We may call it kulfi ice cream for brevity sake 🙂
To make this traditional kulfi first we will be thickening milk with rice flour to which we will add sugar, flavors like cardamom powder, saffron and some nuts for crunch. Khoya or mawa or evaporated milk solids is also added for that wonderful rich texture and flavor which cannot be mimicked by any other ingredient.
The thickened milk or rabdi is then frozen in kulfi molds. There are many variety of kulfi molds available in earthen ware or matka, plastic molds, aluminum molds. I always use matka or earthen ware ones as I do not use plastic or aluminum ones. If kulfi moulds are not available you can use muffin cups, paper cups, popsicle molds or even steel cups to freeze kulfi.
There are so many flavors of kulfi available in shops and Indian restaurant but the base for any flavor is thickened milk. So once you master the base recipe, making different flavors is a a breeze. You can even make kulfi falooda by layering it with falooda sev, rose syrup, fresh fruits etc.
I have already shared thandai kulfi, mango kulfi and paan kulfi recipes in the blog.
About This Recipe
This is my tried and tested recipe for making absolutely delicious, authentic and rich yet easy kulfi recipe at home.
I have not taken any shortcuts with this recipe, as I wanted to you all to get the taste of real deal. Here we are simmering full fat milk for good 20 minutes to reduce it a bit, the first and important step to make rich and creamy kulfi.
Next to thicken the milk we will add a paste made of rice flour and a wee bit of cold milk. Just like corn flour to the west, rice flour is used for thickening desserts and curries in India. If rice flour is unavailable you can also use corn flour but I feel it makes the dessert a bit pasty and very homogenous. That grainy texture signature to kulfi can be achieved only by using rice flour.
Once the milk is thick enough, we will add crumbled khoya, powdered nuts, flavorings and sugar. The whole kulfi mixture is simmered for flavors to come together, cooled to room temperature and then finally frozen.
It does take some time to make kulfi, especially when you take the traditional route but trust me t is so worth the time and effort.
It tastes just like the ones sold by street vendors, the flavor, taste, rich and creamy texture are just so good.
Though simmering milk takes some time, the other steps are super quick and the recipe itself is pretty straight forward. You can simmer the milk parallelly while cooking any other dish.
I hope you will make this easy recipe and enjoy as much as we do. This delicious kulfi is
made in the traditional way for that authentic taste
Rich and creamy
absolutely tasty and addictive
best summer dessert
super easy to make
Ingredients & Substitutions
Milk– Always try to use full fat whole milk to make any Indian dessert and also for this kulfi recipe. Simmering full fat milk lends that super rich texture to the kulfi. If you want to make light version you can use low fat milk though.
Rice flour– it is added to thicken the milk and add some body to the dessert. If rice flour is unavailable you can use corn flour or corn starch or arrowroot powder.
Khoya– khoya or mawa is Indian name for evaporated milk solids. It is obtained by simmering full fat milk for hours until all the liquid evaporates and milk solids are collected. It is readily available in India and used in many desserts and some curries. In the United States and other countries you may find khoya in frozen section of Indian grocery stores.
If khoya is not available you can use fresh cream in a pinch but it is not the same. You may just skip the mawa as well.
Sugar– This recipe yields moderately sweet kulfi so you can always increase or decrease sugar in this recipe. You can also use powdered coconut sugar. I will not recommend adding palm sugar or jaggery here as it is a different recipe. Adding jaggery to hot milk will curdle it.
Flavorings– The traditional flavoring agents used in kulfi are cardamom powder and saffron strands. These spices lend that rich and authentic flavor to the kulfi. I always use either homemade cardamom powder or pound fresh cardamoms for my desserts. You can add saffron directly as I do in saffron milk recipe or if you want to add some color, then you can soak the kesar in warm milk for few minutes and use.
Nuts– We are using almond and pistachios here in two stages. Coarsely powdered nuts are added to the simmering milk as a part of kulfi mixture and also chopped nuts as garnish just before serving. You can also use cashews here.
How To Make Kulfi
Preparation
Take 1 tablespoon rice flour or corn flour in a bowl. I have used super fine rice flour here.
Add 3 tablespoons cold milk to it.
Mix very well into a thick slurry without lumps.
Add 2 tablespoons roasted almonds and 2 tablespoons roasted pistachios to a small mixer grinder jar or spice grinder or food processor.
Grind to a coarse powder.
Take 1/4 cup khoya in a bowl.
Crumble it well so that there are no big lumps. I do not like to grate it or grind it. If you do so that grainy texture for kulfi will be lost.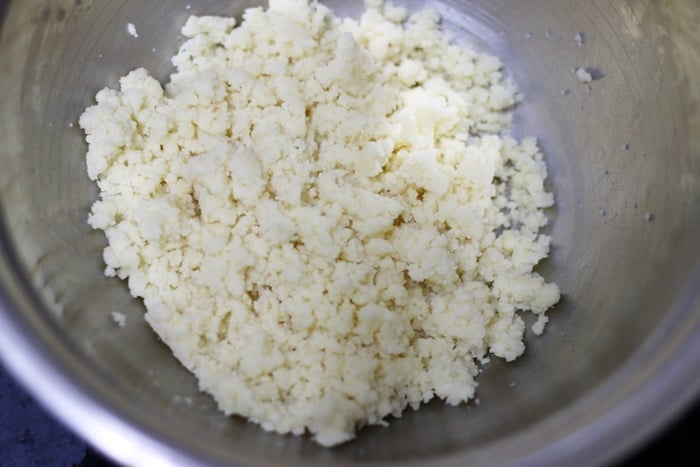 Making Kulfi
Measure and add 2 cups full fat whole milk in a sauce pan and bring it to a boil in medium heat.
Once the milk reaches a boil, simmer it and place a ladle in the pan. It will prevent milk from boiling and spilling over. Now let the milk simmer for 20 minutes. Keep stirring and scraping any cream that gets collected once in a while and add it back to milk.
Once the milk has simmered for 20 minutes and reduced a bit, add the prepared rice flour slurry.
Mix well using the same ladle and simmer for another 3 minutes. The milk will be very thick and almost like custard now.
To the thickened milk add crumbled khoya and mix thoroughly. Maintain low heat throughout the process.
Next add the prepared nuts powder and mix.
Add cardamom powder and saffron threads.
Finally add 1/4 cup sugar and mix well. Sometimes when we add sugar at first, gauging the quantity may be difficult. So I prefer to add it after adding khoya.
Now stir everything very well and simmer for another 5-6 minutes. Sugar should be dissolved completely.
Remove from flame and let this mixture cool completely to room temperature. Now fill the kulfi moulds with this mixture. Cover with aluminum foil or parchment paper. You can insert an ice cream stick or popsicle sticks into each mold if you want.
Freeze these for 12-14 hours or until completely frozen.
To serve, gently dip the moulds in bowl containing water water for 10 seconds or rub them between your palms or you can even loosen the edges with a knife. Add some dried rose petals and chopped pistachios and serve kulfi immediately. You can also slice kulfi like they do in shops. It stays well in shape for quite sometime.
If you set kulfi in matka or Earthen pot you can serve it as such with a spoon too.
Pro Tips
Use full fat milk or whole milk for best taste and texture. While you can make this low fat milk, the taste and texture is simply not the same.
Simmering milk for at least 20 minutes is very important to get the right texture.
Use freshly pounded cardamom powder for best flavor. Instead of saffron you can also use rose water.
This recipe makes 4 small servings or 3 regular servings. You can double or triple the recipe.
If kulfi molds are unavailable you can use popsicle molds, dixie paper cups or even shot glasses for kulfi. If using glassware just make sure they are freezer safe.
You can store kulfi in freezer for a month.
Variations
Malai Kulfi
Malai means the cream that is collected from the top of the milk as it boils in Hindi. It is usually collected and stored for making butter, adding in desserts etc. Kulfi made with this malai is called malai kulfi.
These days not every home has malai and the closest substitute will be cream. For malai kulfi recipe simply add 4 tablespoons fresh or heavy cream to the kulfi mixture instead of khoya. No need to whip the cream, just add it to the simmering milk and mix gently. Freeze as mentioned in the recipe.
Mango Kulfi
Prepare the kulfi mixture as mentioned in the detailed recipe and let cool to room temperature. Add 1 cup mango pulp to the kulfi mixture and mix well. Now you will have to add 2 tablespoons more sugar for the mango puree.
Easy Bread Kulfi
If khoya or cream are unavailable you can add 3 tablespoons powdered bread to the simmering milk to thicken it.
Vegan Kulfi
To make kulfi recipe use
almond milk instead of corn flour
2. dairy free cream instead of khoya.
Do not boil almond milk, just add the rice flour slurry, other ingredients and simmer gently.
This recipe is naturally gluten free.
Frequently Asked Questions
More Dessert Recipes
Are you making this recipe? I would love to see a snap of your creation too. Do snap a pic and share on Instagram with hashtag #cookclickndevou and please give a star rating ★ in the recipe card above. Follow us on Pinterest , Instagram, Facebook for more recipes and ideas.
Recipe