Saffron milk recipe or Indian kesar milk is a healthy and delicious drink for winters. Kesar milk is whole milk insured with the goodness of saffron. It is widely consumed across India for health benefits. You can easily make saffron milk at home with just 3 ingredients. Here is how to make Indian kesar milk with step by step photos.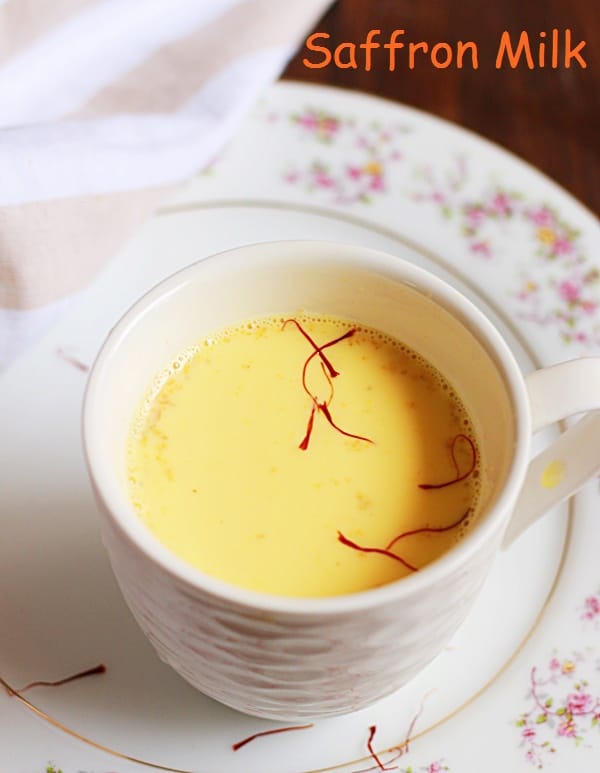 This kesar milk is my favorite one among flavored milks. I prefer to have it chilled but usually it is recommended that you drink it warm.
Few other favorite flavored milks of us are cardamom milk, haldi dhoodh, pistachio milk, badam paal, masala paal, rose milk 🙂
What is Saffron Milk?
Kesar means saffron in India. It also goes by the name kungumapoo in Tamil and jafron in some places. Basically saffron milk is milk that is infused with saffron and sweetened. It is one of the widely recommended drink for women during pregnancy.
kesar milk can be made plain or you can add some crushed nuts for some texture. Also You can add some cardamom powder for extra flavor. I however do not add any other flavoring as that will overpower the delicate flavor of saffron.
Indian kesar milk can be made by soaking the saffron in milk for 15 minutes or by simmering the milk after mixing saffron for 5-7 minutes. I prefer the later method as it is quick.
Always use whole milk for making saffron milk as it improves the taste. I have also seen recipes using condensed milk but do not use it if you are consuming saffron milk for health reasons.
This Saffron Milk Recipe Is
Delicious, rich and flavorful
Quick & easy to make
Requires only 3 ingredients
Vegetarian & gluten free
Can be made vegan by using dairy free milk
Very healthy beverage for toddlers, kids & adults.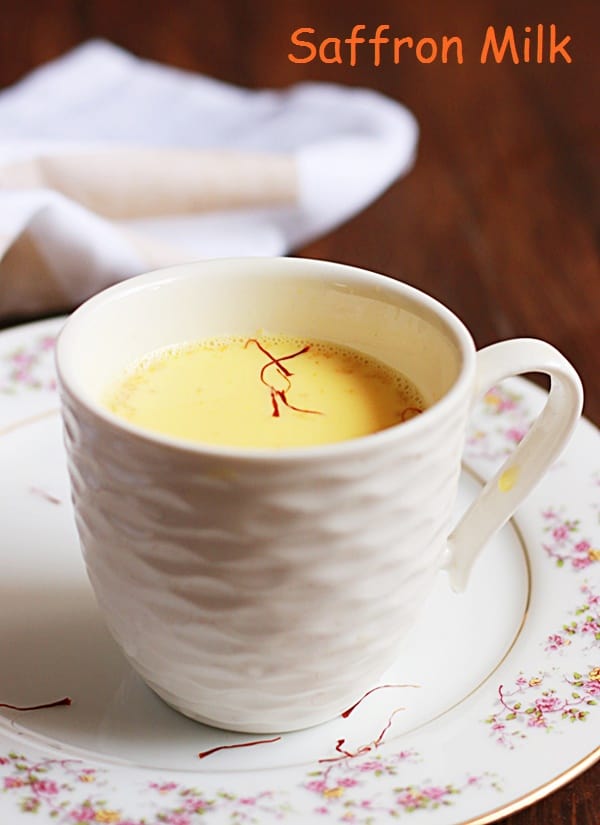 Saffron Milk During Pregnancy?
One very big myth prevailing in India is that saffron or kesar will improve the complexion of baby. That is pregnant women are often made to consume saffron milk in the belief that will improve the skin tone of baby.
Well it is a myth and drinking kesar milk will not alter the complexion of baby. But drinking saffron milk during pregnancy is very good and has its own benefits.
Saffron Benefits for Female
Induces good sleep
It helps in digestion
Decreases morning sickness
Regulates blood pressure
relaxes the muscles
Reduced chance of allergies
How To Prepare Saffron Milk For Pregnant Ladies?
It is important to make and consume this drink knowing well that drinking saffron milk is not going to improve the complexion of the baby but it does has its own health benefits for he pregnant woman.
But you should never consume in excess. Not more than 4 strands a day is what I have heard. Saffron milk is best consumed at night during pregnancy.
Saffron also increases body heat so it is a good drink for toddlers and kids during winters. Again not is excess and just 3-4 strands in milk. When you consume it with milk it is actually very good for health.
Not only for pregnant women or kids, this kesar milk is a delicious drink that everyone can sip on along with
You can serve this milk hot or warm or even chilled. Just chill the prepared milk for few hours and serve it cold. It tastes equally delicious just like warm milk.
What could be more comforting than a cup of warm saffron milk during winters 🙂 Indulge yourself in a glass of flavored milk with world's most expensive spice 🙂
How To Make Vegan Saffron Milk?
You can easily make this kesar milk vegan by using non dairy milk. I suggest using almond milk for this recipe.
Just gently warm the almond milk first.
Add sugar, saffron strands and mix well.
Keep on gentle simmer for 3-4 minutes. Serve
Do not vigorously boil the almond milk.
Drinking Saffron Milk Everyday Benefits
Saffron milk is not only delicious but it is also loaded with health benefits. Some of the excellent health benefits of saffron are
Helps in curing insomnia and promotes good deep sleep
Reduces stress and tackles mood swings & acts as a mood booster
Increases memory power and maintains good brain health.
Warms the body, helps in fighting sore throat, common cold
Rich in anti oxidants and anti inflammatory too.
Recipe Notes and Tips
Do not add too much sugar if you are consuming this milk during pregnancy or making for toddlers and kids.
You can add 1 tablespoon almond slivers while serving.
Along with saffron you can add 1/4 teaspoon cardamom powder per serving
The recipe can be doubled or tripled.
More Saffron Recipes
How To Make Saffron Milk Or Kesar Milk
Bring milk to a boil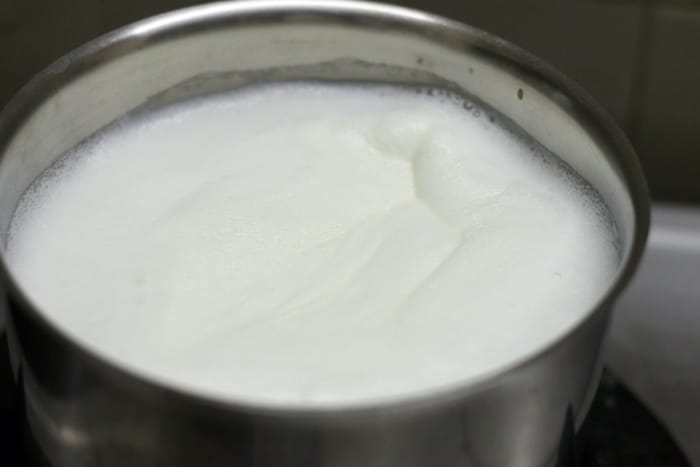 Add sugar, saffron strands and mix well.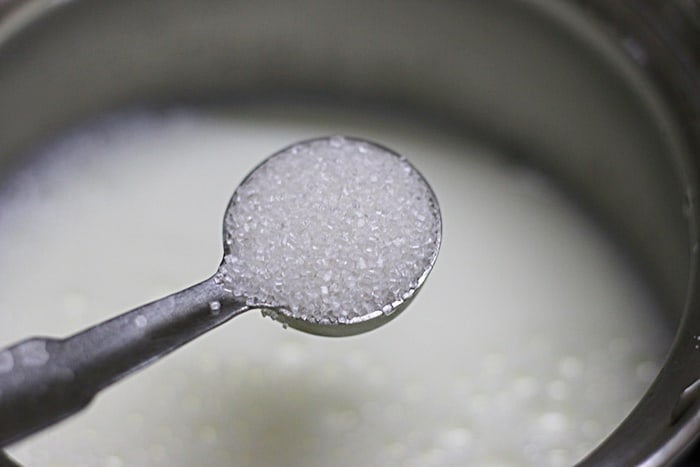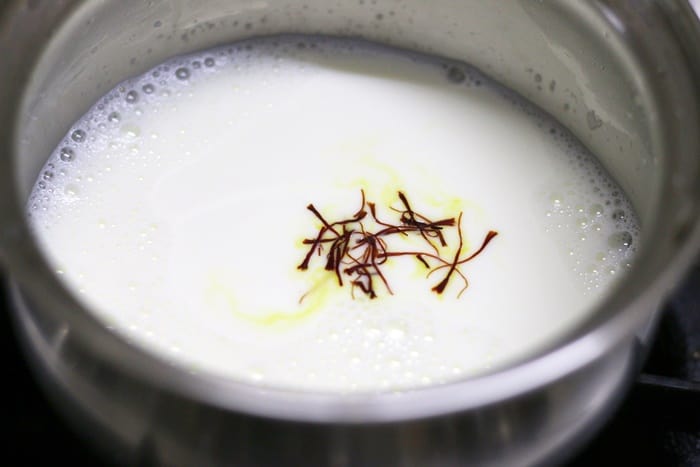 Simmer for 3-5 minutes. You can also add a pinch of badam milk powder.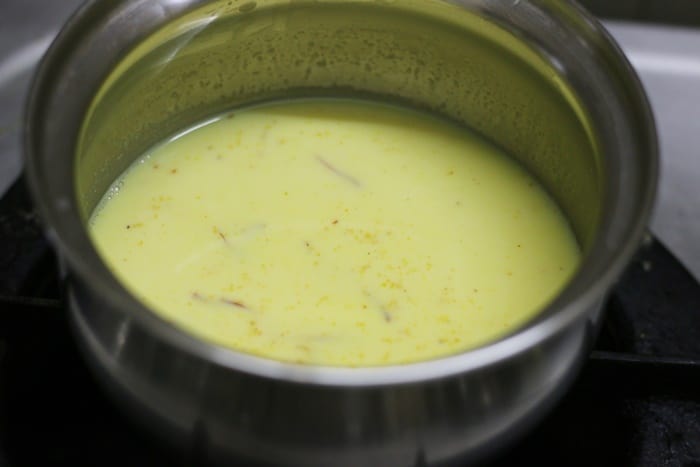 Serve kesar milk hot or warm.
I hope you will try this saffron milk recipe and enjoy as much as we did. Please give a star rating ★ in the recipe card below. Follow us on Pinterest , Instagram, Facebook for more recipes and ideas.
Saffron Milk Recipe Card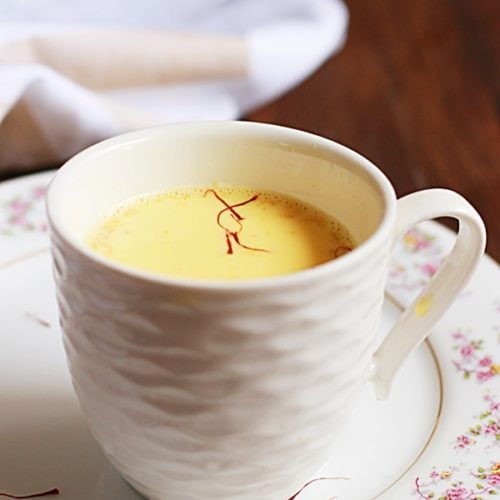 Saffron Milk Recipe | Indian kesar Milk Recipe
Saffron milk recipe is a delicious and healthy flavored milk infused with saffron strands. healthy warming drink for pregnant woman, toddlers and kids.
1 CUP = 250 ml
Ingredients
3

cups

whole milk

15

saffron strands

a tiny pinch for each cup

3

teaspoons

sugar
Instructions
Bring milk to a boil

Add sugar, saffron strands and mix well.

Simmer for 3-5 minutes.

Serve kesar milk hot or warm.
Nutrition
Tried this recipe? Snap a pic and share 🙂
Mention cookclickndevou or tag cookclickndevour