Ladoo recipe with gond and dry fruits for winters. Wheat flour ladoo recipe with dry fruits and edible gum are energy dense little treats to keep you warm and cozy during cold winters. This ladoo recipe can be made in less than 30 minutes without prior preparation.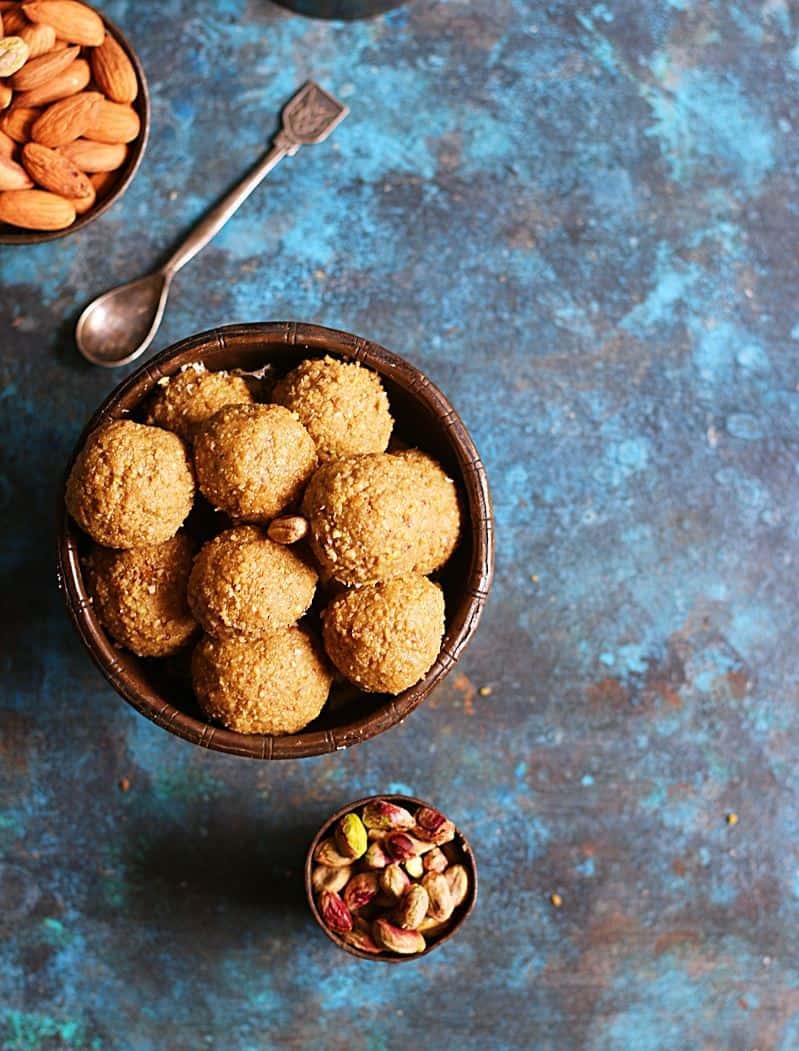 Ladoo recipe with gond known as gond ke ladoo in Hindi is a north Indian winter favorite. This ladoo is very dense in nutrients and helps to keep us warm during cold months. I wanted to try this ladoo recipe from last year. I got to taste these ladoos few days back and I just loved them. The flavor of whet flour and dry fruits along with the nutty flavor of edible gum was too good. I was very keen on making homemade gond ki ladoo recipe. I tried an easy ladoo recipe with gond from an old cook book. The ladoos turned out to be very good. one or two ladoos with a glass of milk is a great breakfast for winters.
It is easy to make ladoo with gond. You can nuts of your choice in this ladoo. I have added cashews, pistachios and almonds. You can even add various seeds like pumpkin, melon seeds too. This ladoo is given for lactating mothers in India. This laddu is very good for growing toddlers and kids. It gives stamina and required energy.
It is best to use homemade desi ghee in ladoo recipe. The flavor and taste of laddu depends on the quality of ghee. Many of the Indian sweets depends on the quality of ghee like badam halwa, mysore pak, dhodha burfi.
You can serve this ladoo as snack or breakfast with milk.
If you are looking for more ladoo recipe do check atta ladoo, ragi ladoo, dry fruits laddu, besan ladoo, motichoor ladoo, coconut ladoo, malai ladoo recipes
How to make ladoo recipe with gond and wheat flour
1. Heat a pan well. Add the nuts and dry roast them for 3-5 minutes. Transfer to a bowl and let cool. Add the roasted nuts to a mixer jar. Add chopped dates and grind to coarse or fine paste. Set aside.
2. Heat 2 tablespoon ghee in the same pan. Add the edible gum (gond) and saute till it puff up. Cool and powder it.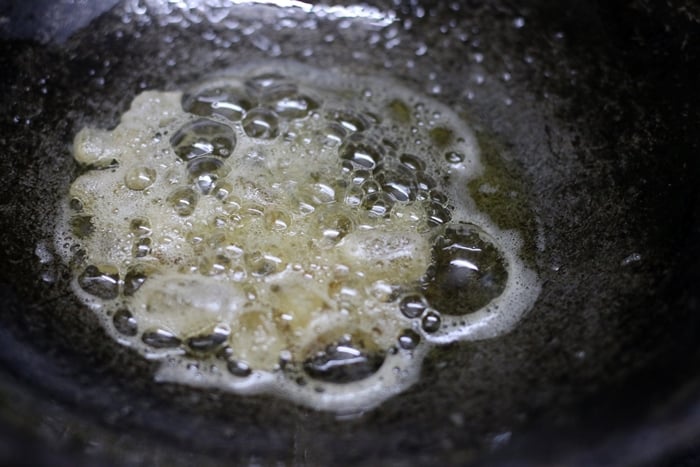 3. Add the wheat flour to same ghee and roast in low flame till it turns into slight golden color. Add more ghee if required.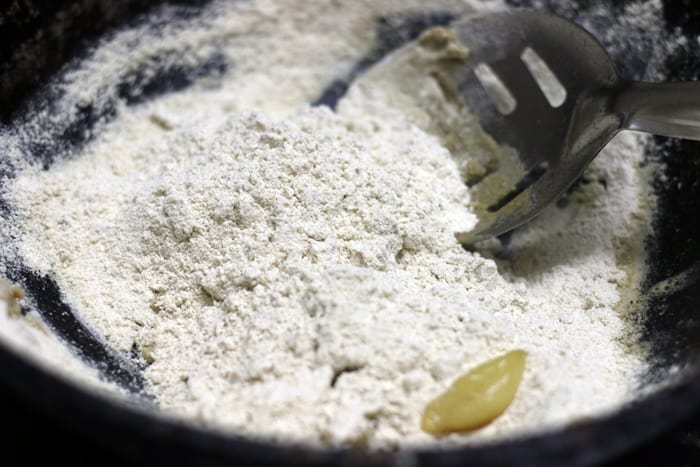 4. Add the powdered gum, dry fruits paste and powdered jaggery to the roasted wheat flour. Add 4 tablespoons ghee and mix well.
5. Saute in low flame for 6-9 minutes.The mixture should be slightly greasy so that you can shape. Add one more tablespoon of ghee if needed. The mixture should be of holding consistency.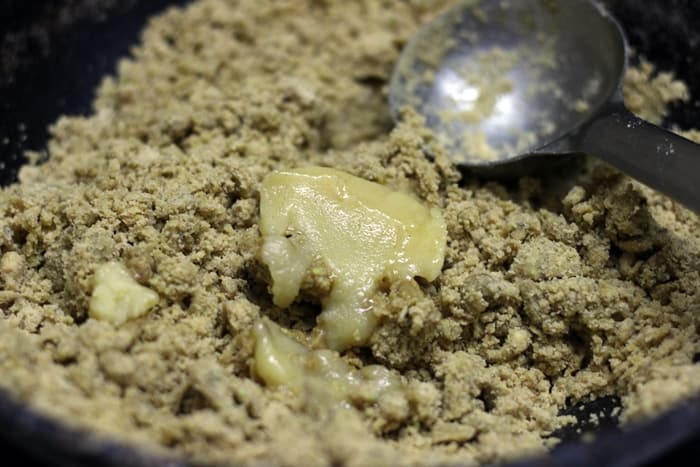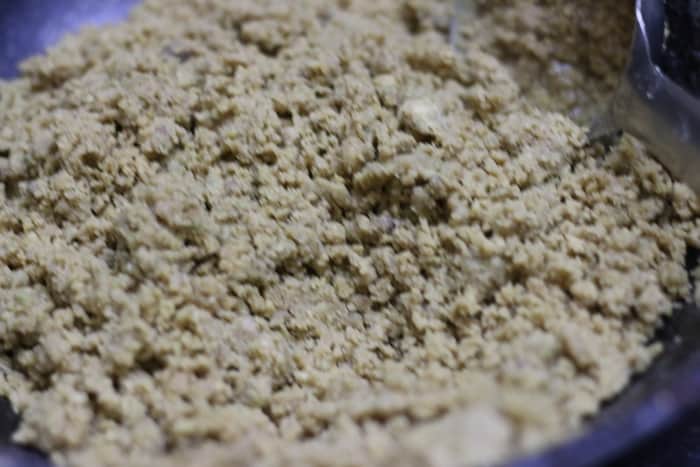 6. Shape into ladoo when the mixture is still warm. Let cool thoroughly before storing. Serve gond ki ladoo as snack.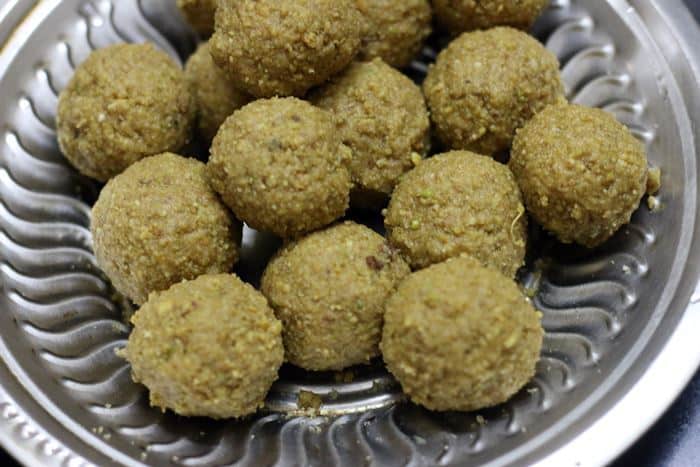 Ladoo recipe with gond and wheat flour: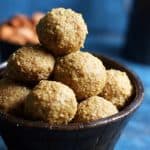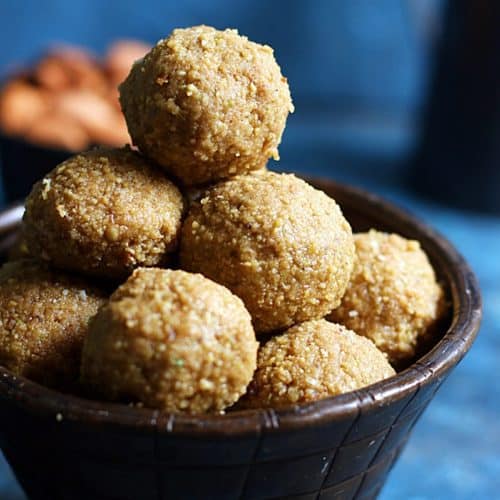 Ladoo recipe with gond | Gond ke ladoo recipe
Ladoo recipe with gond- Healthy and warming energy dense Indian ladoo with wheat flour, dry fruits and edible gum
1 CUP = 250 ml
Ingredients
1

cup

whole wheat flour

2

tablespoon

edible gum

1/4

cup

mixed nuts

3/4

cup

powdered jaggery

3

dates

chopped

1/2

cup

ghee

can add up to 3/4 cup

1/2

teaspoon

cardamom powder
Instructions
Heat a pan well. Add the nuts and dry roast them for 3-5 minutes. Transfer to a bowl and let cool. Add the roasted nuts to a mixer jar. Add chopped dates and grind to coarse or fine paste. Set aside.

Heat 2 tablespoon ghee in the same pan. Add the edible gum (gond) and saute till it puff up. Cool and powder it.

Add the wheat flour to same ghee and roast in low flame till it turns into slight golden color. Add more ghee if required.

Add the powdered gum, dry fruits paste and powdered jaggery to the roasted wheat flour. Add 4 tablespoons ghee and mix well.

Saute in low flame for 6-9 minutes.The mixture should be slightly greasy so that you can shape. Add one more tablespoon of ghee if needed. The mixture should be of holding consistency.

Shape into ladoo when the mixture is still warm. Let cool thoroughly before storing. Serve gond ki ladoo as snack
Notes
You can use any kind of edible gum like badam gond
Nutrition
Tried this recipe? Snap a pic and share 🙂
Mention cookclickndevou or tag cookclickndevour