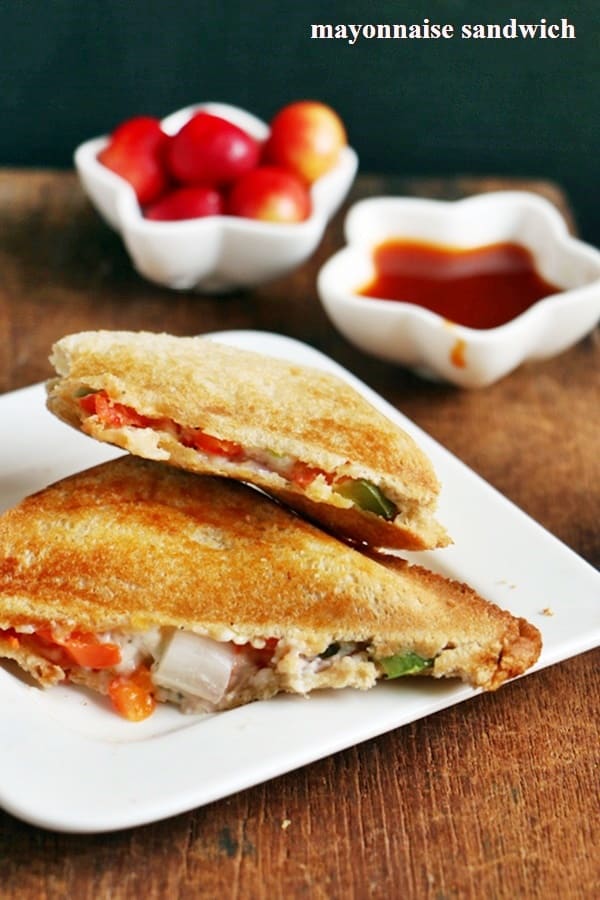 Mayonnaise sandwich recipe with step by step photos. Sharing some easy sandwich recipes is something I like to do once in a while. Sandwich recipes are so versatile, easy to make, comfortable to pack and carry in a tiffin and not to forget it is loved by kids and toddlers too. I do make various sandwich and toast recipes for breakfast or snack and I have shared a few here too like eggless french toast, bread besan toast, creamy corn toast. I made this simple and easy mayonnaise sandwich recipe with the homemade eggless mayonnaise recipe and it was so so tasty. When I made eggless mayo at home I made a list of recipes I would be trying with it. This veg mayonnaise sandwich recipe was first in the list.
To make mayonnaise sandwich at home you need onions,bell peppers, tomatoes and few spices. If you have mayo at hand you can make this mayonnaise sandwich recipe in just 15 minutes. You can grill or toast the sandwich in a sandwich maker or grill if you have one. Else toast the sandwich in tava, you can even serve mayonnaise sandwich plain without toasting too.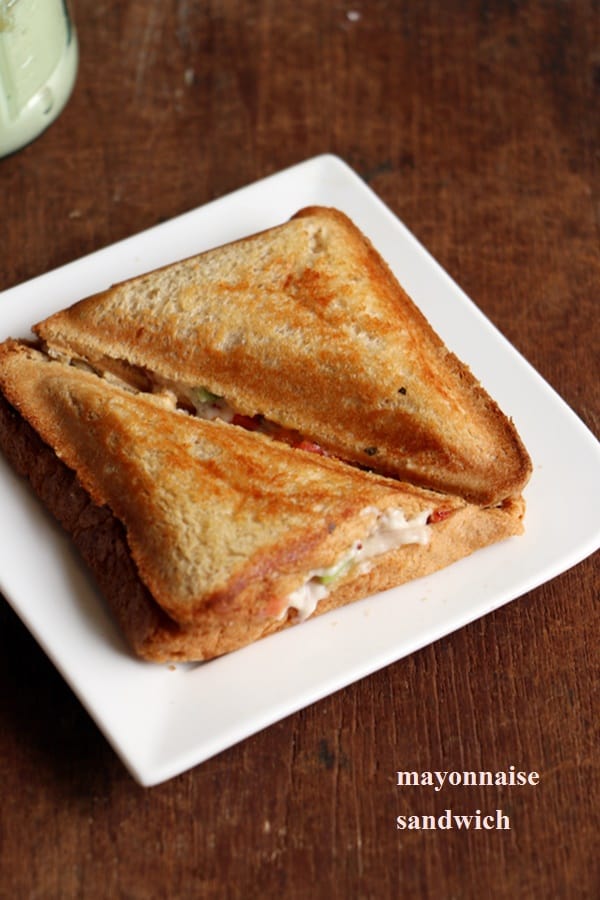 I have used whole wheat bread to make mayo sandwich, you can use plain white bread, multi grain bread or brown bread too. While making for toddlers and kids, use good amount of butter to make crisp and perfectly made sandwich. If making for adults you can reduce or leave out butter completely or use oil. You can serve mayonnaise sandwich for breakfast with fresh fruits and milk or pack it in a tiffin too. Here in mayonnaise sandwich recipe I have added vegetables. You can make mayo sandwich with just onions too. You can make open toast too with mayonnaise. This will be an attractive an dtasty snack or breakfast for toddlers and kids.
Serve veg mayonnaise sandwich with coffee or juice.
Here is how to make mayonnaise sandwich recipe with step by step photos.
If you are looking for more easy sandwich recipes do check grilled bombay sandwich, sprouts sandwich recipe, aloo methi sandwich, vegetable cheese sandwich
Step by step mayonnaise sandwich recipe
1. Take the eggless mayonnaise in a mixing bowl. Whisk well.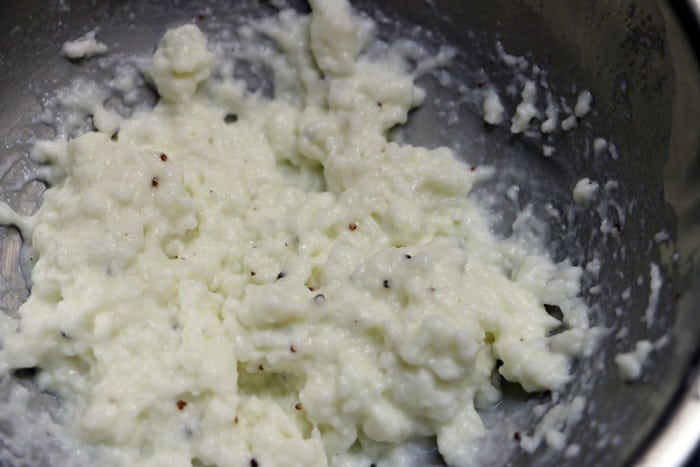 2. Add all the veggies, chopped onion, tomato, bell peppers and mix well.
3. Add a pinch of salt (there is salt in mayo already), dried oregano, chili flakes. Mix well.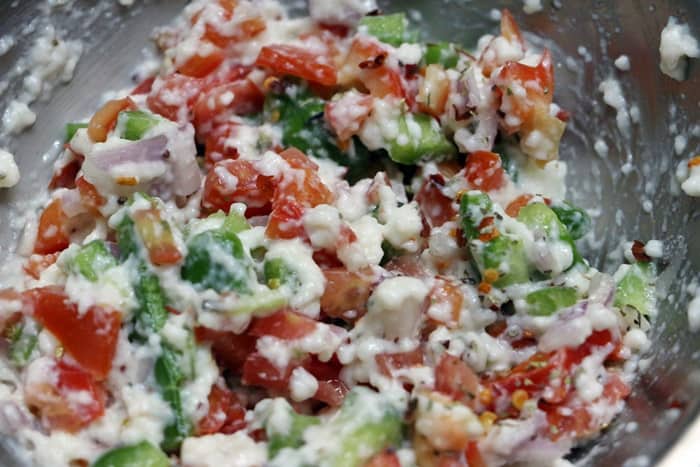 4.Take 2 bread slice. You can cut the edges or leave it as such. Apply some butter on both sides.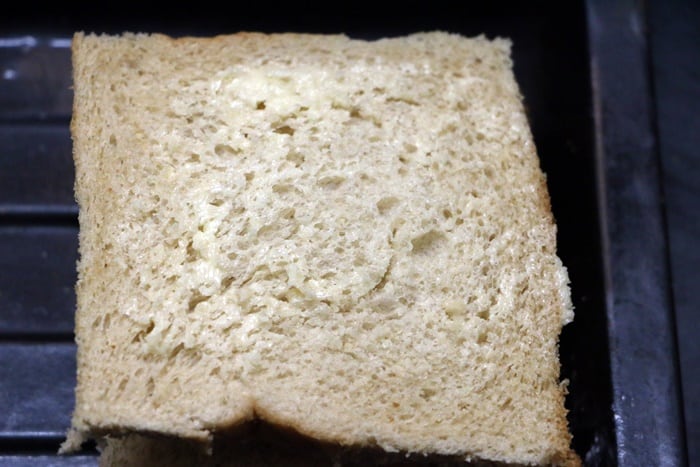 5. Spread a thick layer of mayo veggie mixture.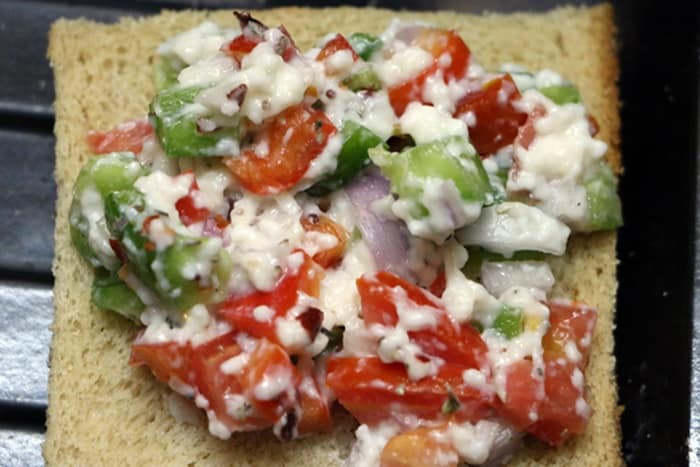 6. Cover with other bread slice. Apply some more butter on top side.
7. Repeat the same with other bread slices. Toast or grill the prepared sandwich in electric toaster or tava. Serve mayonnaise sandwich hot or pack in tiffin.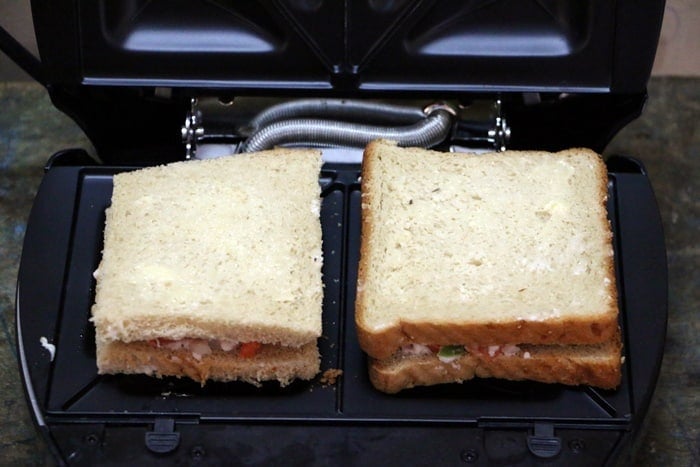 Mayonnaise sandwich recipe card below: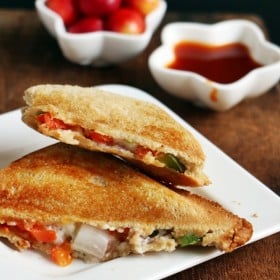 Mayonnaise sandwich recipe | Easy sandwich recipes
Mayonnaise sandwich recipe, easy and tasty sandwich recipe with veggies and homemade mayo!
Ingredients
6

bread slices

whole wheat or white or brown

3

tablespoons

mayonnaise.

1

small onion

chopped fine

1

medium tomato

chopped fine

1/2

red bell pepper

chopped fine

1/2

green bell pepper

chopped fine

1/4

teaspoon

chili flakes

1/4

teaspoon

dried oregano

Butter

Salt
Instructions
In a mixing bowl take the mayo and whisk well.

Add all the chopped vegetables,salt,chili flakes,oregano. Mix well

Take a buttered bread slice and spread a thick layer of prepared vegetable mixture. Cover with another buttered bread slice.

Toast or grill the sandwich. Repeat the same with all the bread slices. Serve mayonnaise sandwich hot or pack it in a tiffin.
Recipe Notes
1. You can add finely chopped cilantro leaves in the filling
2. Instead of chili flakes you can add pepper powder
3. You can cucumber in the filling too.
4. If using homemade egg less mayo, be sure to whisk it very well before using.