Medhu vadai recipe is a popular south Indian snack or breakfast often during festivals like Diwali, Pongal also. These are round shaped deep fried fritters that have soft texture with crispy edges. Here is how you can make best medu vada with step by step photos, tips and tricks.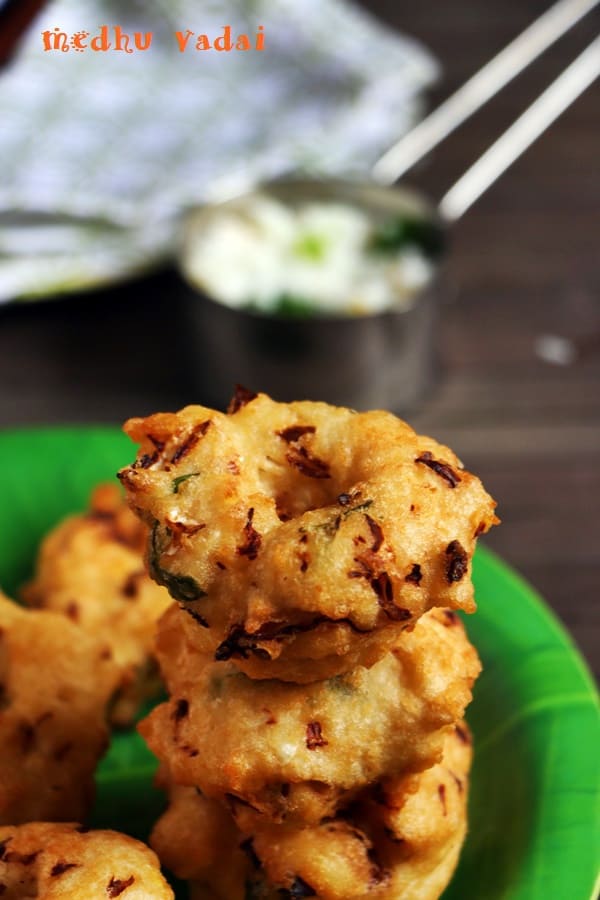 Medhu vadai with idli and sambar is the most loved breakfast combo here in Tamil nadu. For me personally I like to have vada as snack with tea instead of breakfast. You can easily make perfect medu vada at home with this recipe.
To make medhu vadai, you need to plan at least 2 hours before by soaking urad dal/ ulutham paruppu. There is no need to soak the dal overnight or 8 hours.
Once soaking is done you can make this vadai with your preferred flavorings and serve piping hot along with coffee for snacks. Medhu vadai is best served with tiffin sambar and coconut chutney. You can also serve vadai with coriander chutney.
Whenever we make ulundu vadai, we soak just a teaspoon of toor dal along with urad dal, this gives a nice flavor to the vadai.
Other ingredients for medhu vadai recipe
1. There are so many variations in the other ingredients that go into the making of medhu vadai. In few places crushed black peppercorns along with asafoetida is used. You can also add finely chopped coconut pieces.
2. You can mix finely chopped onions in the batter before frying the vadai.
3. You can add finely chopped greens (keerai) to the batter.
4. You can add chopped cabbage to the batter as I have done here. especially you can add cabbage when you are making medhu vadai for festivals or as offering as we will be avoiding onions. Cabbge in the vadai tastes just like onion.
Tips to make a perfect medhu vadai/ulundu vadai.
1. Wash or rinse the dal only once or twice before soaking.
2. Soak for at least 2 hours.
3. Grind the urad dal very slowly, the mixer or grinder should not get heated up while grinding. Grind in low speed, leave for 1-2 minutes in the middle while grinding.
4. Add water ONLY when the mixer is not able to grind. For 1 cup of urad dal not more than 1/8 cup of water will be needed.
5. You can use ice cold water for grinding.
6. Grind the dal until very fluffy and light. If you add more water, the vadai will not retain shape and soak up more oil. If the batter is dense and not ground properly the vadai will turn very hard.
7. After grinding take a small bit of batter and drop in a bowl of water.if it floats atop that is the correct stage of batter.
8. You can add 2 teaspoons of rice flour to the ground batter for making crispy medhu vadai.
9. The oil used for deep frying should be at right temperature, less vadai will soak up more oil.
With all these said, here is the recipe for medhu vadai with cabbage. Do try out!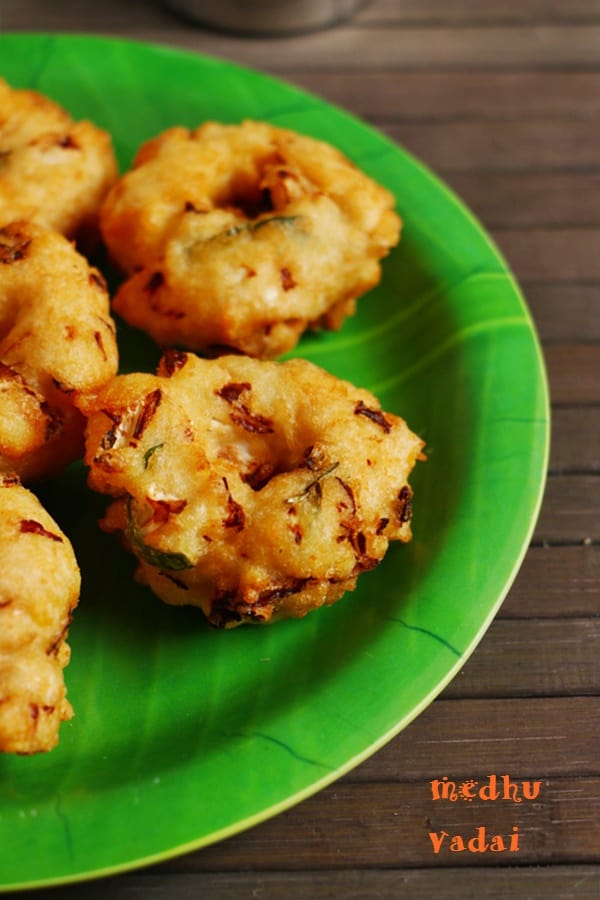 How To Make Medhu Vadai Recipe Step by Step
1. Wash and rinse the urad and toor dal. Soak urad dal/ulutham paruppu/husked black gram and toor dal if using in plenty of water for 2-3 hours.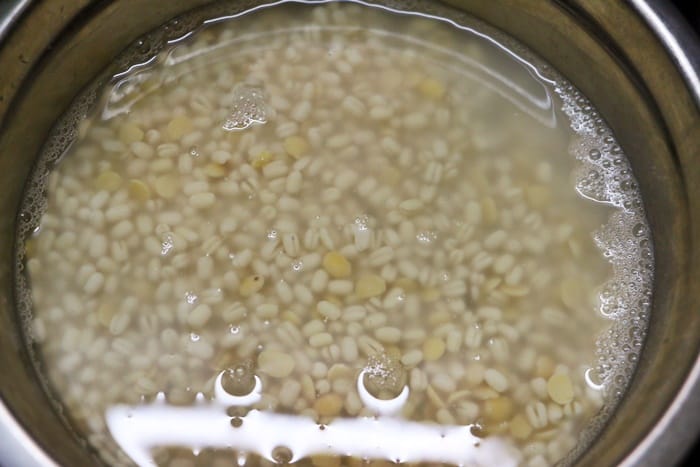 2. Drain the soaked dal and take it a mixer jar.
3. Run the mixer in slowest speed, first grind without any water for few minutes.
4. Add very little water, one tablespoon at a time and grind the dals very smooth. The batter should be very smooth,light and fluffy.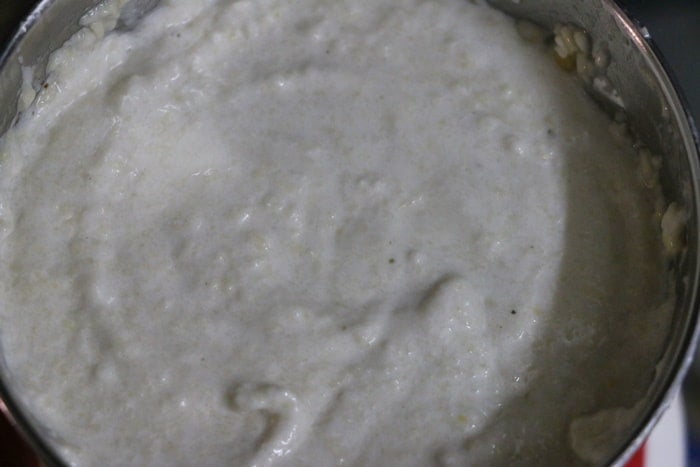 5. Remove the batter to a mixing bowl. Add salt and rice flour and mix well.
6. Add chopped green chilies, curry leaves and chopped cabbage.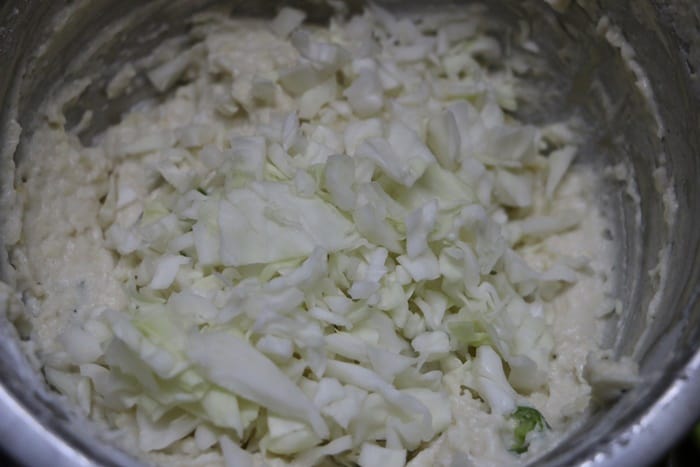 7. Heat oil for deep frying. Wet your palms and take some batter in the hand (according to the size of vadai you prefer. I always make small vadai). Make a hole in the center with the thumb and slide the vadai to the hot oil very carefully. The oil should be hot else vadai will soak up oil and not get cooked properly.
8. Deep fry the vadai 2-3 at a time (depending on the size of the pan) until golden brown and remove to a plate.
9. Serve ulundu vadai hot with sambar and chutney.
Medhu Vadai Recipe
Medhu vadai-Ulundhu vadai(urad dal)
Medhu vadai/ulundu vadai, deep fry fritters made with husked black gram. Highly addictive snack!
1 CUP = 250 ml
Ingredients
1

cup

husked black gram/ ulutham paruppu/ urad dal

1

teaspoon

pigeon peas/ thuvaram paruppu/ toor dal.

2

teaspoons

rice flour

3/4

cup

finely chopped cabbage

2-3

green chilies

chopped

10-12

curry leaves

torn

1/8

cup

water for grinding

Salt

Oil for deep frying
Instructions
Soak both dals in enough water for 2-3 hours.

Drain and grind to a very fluffy, light and smooth batter with just 1/8 cup water.

Mix salt,rice flour to the batter and mix well.

Add green chilies, curry leaves and chopped cabbage to the batter.

Heat oil for deep frying.

Wet your palm and take some batter. Shape it like a ball and make a hole in the center with the thumb. Slide the shaped vada into the hot oil and deep fry until golden brown. Repeat the same with the remaining water.

Serve medhu vadai with chutney or sambar.
Notes
1. You can use moong dal instead of toor dal.
2. Ensure there is enough oil for deep frying. else the vadai will turn flat.
Nutrition
Tried this recipe? Snap a pic and share 🙂
Mention cookclickndevou or tag cookclickndevour