Puran poli recipe with step by step photos. Puran poli is the traditional Maharastrian recipe made during festivals. Puran poli is usually made during Ganesh chaturti, diwali etc . Puran poli literally translates into stuffed roti. Puran means stuffing and poli means roti.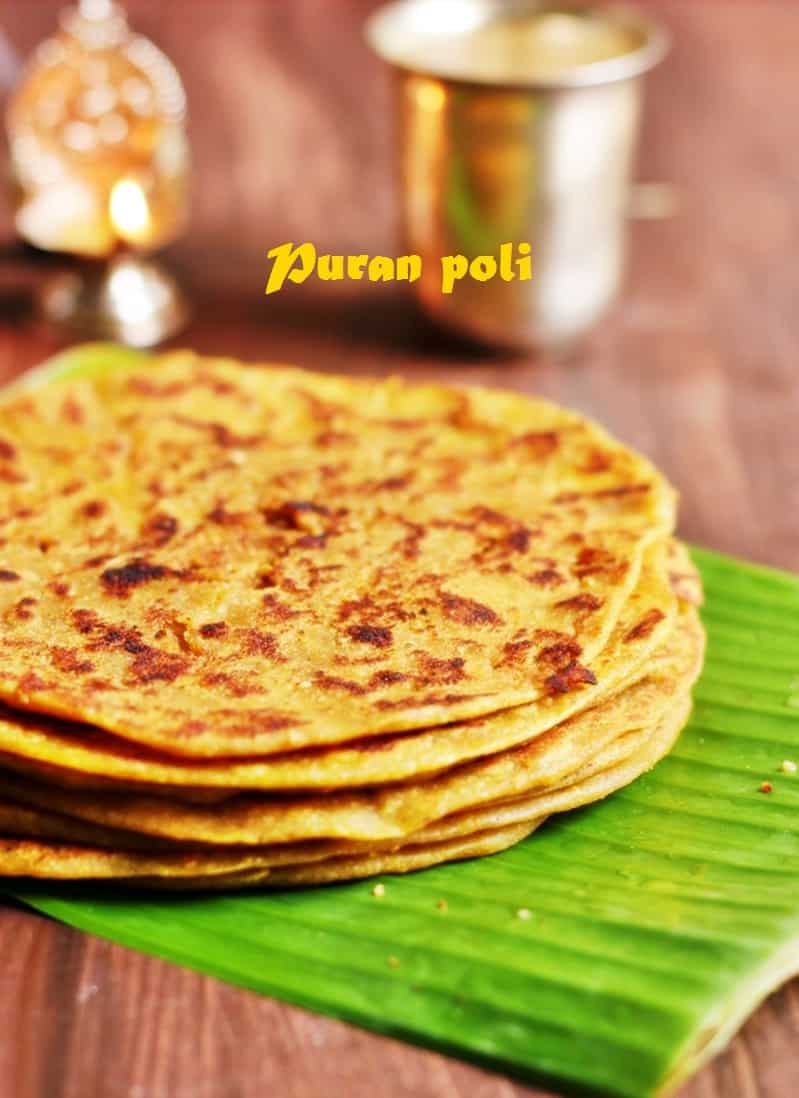 Puran poli goes by many other names across India. In Tamilnadu it is called paruppu poli as the filling in channa dal. In Tamil nadu paruppu poli is mostly prepared during bohi festival before pongal. It is known an obattu in karnataka. Whatever is the name puran poli recipe is a very traditional Indian recipe that is delicious.
Every year during ganesh chaturti my friend prepares this puran poli along with modakam, ukadiche modak or ulundhu poorana kozhukattai, kheer, besan ladoo , vadai. Last I was craving this puran poli and made immediately. Usually paruppu poli is made with all purpose flour or maida. I am making sincere efforts to eliminate maida from our diet these days. So I tried out this puran poli with whole wheat flour. I was really skeptical about the results though. For puran poli or paruppu poli the dough should really soft and flexible. We should be able to pat the dough really thin on banana leaf to get soft polis. I was really successful in making super soft puran poli with wheat flour I should say. We really did not feel any difference in texture. I kneaded the dough very soft and added 1 tablespoon extra oil to the dough. Making puran poli is really easy just we need some time in hand.
To make puran poli stuffing or filling we need channa dal, grated coconut and jaggery. I use 1: 1 ratio of grated coconut and channa dal. Jaggery can be added to taste. I usually add a little less than 3/4 cup as we like it slightly on the side. You can add anywhere from 1/2 cup to 3/4 cup jaggery. This puran poli with whole wheat flour is a good wholesome meal for toddlers and kids.
Serve puran poli as snack.
If you are looking for more ganesh chaturthi recipes do check, kala channa sundal, paal payasm recipes.
How to make puran poli recipe with step by step photos.
To make outer cover-poli
Take all the ingredients except oil and water in a mixing bowl. Mix well, add water gradually and make a soft slightly loose dough. The dough should be really soft and non sticky. Knead for at least 15 minutes. Now add oil and knead for 5 minutes. Set aside for 5-6 hours.

To make pooranam or puran for poli
Dry roast channa dal until fragrant.

Soak in plenty of water for 45 minutes
Drain and take the channa dal in a mixer jar. Add grated coconut, grated jaggery, cardamom powder and make a smooth paste. Set aside

To make puran poli
Divide the dough and stuffing into 9-10 equal portions.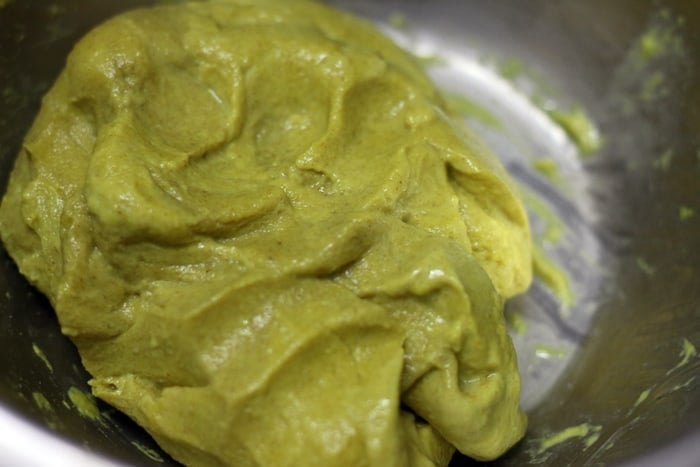 Grease a banana leaf with ghee. Wet your hand well with water.
Take a dough ball and pat into a small circle
Place a portion of stuffing. Bring the edges together and seal.

Pat and make a really thin roti. If it is difficult to pat wet your palm again.
Invert the banana leaf over a hot tava. Cook in medium flame for 10 seconds. Now you will be easily able to peel off the banana leaf.

Now cook the poli from both sides until golden. Smear some ghee and stack the polis. Serve puran poli hot or warm.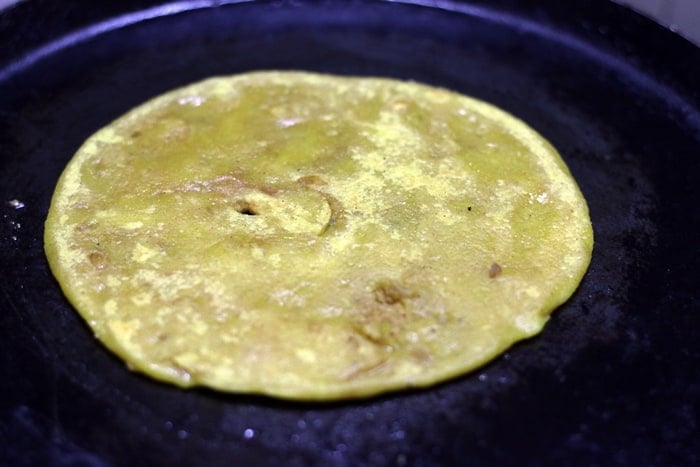 Puran poli recipe below:
Puran poli recipe | How to make puran poli recipe | paruppu poli recipe | Obattu recipe
Puran poli recipe with step wise photos. Traditional puran poli recipe with whole wheat flour, channa dal, coconut.
1 CUP = 250 ml
Ingredients
For outer dough:

3/4

cup

whole wheat flour

4

tablespoon

oil

A pinch of turmeric powder

A pinch of salt

Water

For puran /pooranam /stuffing:

1/4

cup

channa dal

1/4

cup

grated coconut

1/2-3/4

cup

jaggery

1/4

teaspoon

cardamom powder

A piece of banana leaf to make polis

Ghee for smearing
Instructions
To make outer cover-poli

Take all the ingredients except oil and water in a mixing bowl. Mix well, add water gradually and make a soft slightly loose dough. The dough should be really soft and non sticky. Knead for at least 15 minutes. Now add oil and knead for 5 minutes. Set aside for 5-6 hours.

To make pooranam or puran for poli

Dry roast channa dal unti fragrant.

Soak in plenty of water for 45 minutes

Drain and take the channa dal in a mixer jar. Add grated coconut, grated jaggery, cardamom powder and make a smooth paste. Set aside

To make puran poli

Divide the dough and stuffing into 9-10 equal portions.

Grease a banana leaf with ghee. Wet your hand well with water.

Take a dough ball and pat into a small circle

Place a portion of stuffing. Bring the edges together and seal.

Pat and make a really thin roti. If it is difficult to pat wet your palm again.

Invert the banana leaf over a hot tava. Cook in medium flame for 10 seconds. Now you will be easily able to peel off the banana leaf.

Now cook the poli from both sides until golden. Smear some ghee and stack the polis. Serve puran poli hot or warm
Notes
1. Using banana leaf makes the job much easier. Also it gives nice aroma to the puran poli. You can even milk cover but it is not a safe option. You can even use parchment paper.
2. Increase or decrease jaggery as per taste
Nutrition
Tried this recipe? Snap a pic and share 🙂
Mention cookclickndevou or tag cookclickndevour