This is a clean pumpkin soup recipe that is simple, fast yet delicious and big on flavors. Creamy, vibrant, rich yet very low in calories devoid of any cream or butter is this best pumpkin soup for you. Serve with some croutons or toasted walnuts as starter or with a toast and salad to make a meal out of it!
Pumpkin or yellow pumpkin as we call it in India is one of the healthiest veggie that we should include in our diet. it is a power house of nutrition. It is a good source of vitamin a, c, beta carotene. It also boosts the immune system. In India pumpkin sambar, halwa, chutney recipes along with soup.
The Best Ever Pumpkin Soup That You Will Love
Pumpkin soup is one of the most popular soup recipe across the globe. There are many variations with pumpkin soup recipe. You can make it as a simple home style soup or something exotic too. This is the recipe of easy and delicious soup made with yellow pumpkin.
The best part of the recipe shared here is you can make it one pot or a pressure cooker in 20 flat minutes. If you have a hand blender you can blend soup in the same pot too. This is one of the rich and creamy soup that tastes wonderful without any cream or butter.
This pumpkin soup tastes wonderful on a cold rainy day when had piping hot. Also this is a low cal recipe and suitable for weight watchers too. It tastes very smooth, airy and creamy and just delicious.
Serve pumpkin soup hot with a garnish of toasted walnuts as I did here or with croutons. While serving for toddlers and kids you can add a swirl of sour cream or fresh cream or even a drizzle of hung curd will be good.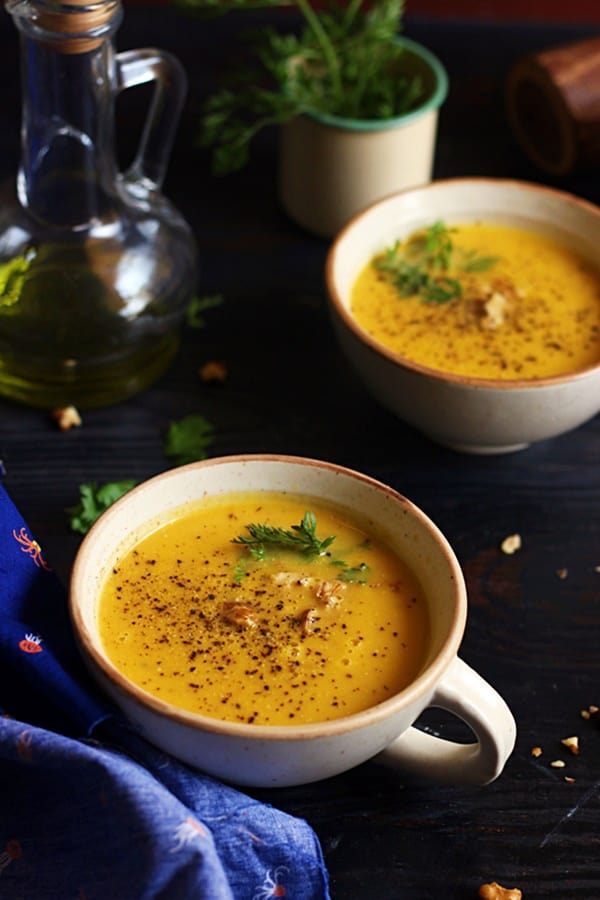 Pumpkin Soup Ingredients:
To make this simple pumpkin soup you need 6 ingredients straight. No frills, no fancy ingredients and no complicated steps involved in this recipe.
Yellow Pumpkin– You need pumpkin to make pumpkin soup, no one told you that 🙂 Yellow pumpkin or what we call sweet pumpkin in India is used in this soup recipe. If you don't have fresh pumpkin you can use canned pumpkin puree.
Olive oil– The fat content of this soup is olive oil. I like to use extra virgin olive oil in my most soup recipes. Olive oil especially works great in this pumpkin soup.
Onion– The flavor for this soup comes from cubed onion and garlic.
Salt and Pepper– Two ingredients we use for seasoning the soup
Water/ Broth– I have used water in this recipe but if you have good veg stock handy, do use it for more flavor.
Which Pumpkin Is Best For Pumpkin Soup?
The star ingredient is yellow pumpkin that is firm and fresh. You can use the regular Indian pumpkin or yellow pumpkin that is not very tender.
In US you can use butternut squash or sugar pumpkins or pie pumpkins also.
Next use good quality olive oil as we are using a very small amount and we need the best.
Can You Add Fresh Cream In This Soup?
You can absolutely add a swirl of fresh cream while serving or just towards the end of making the soup. While the cream is not really necessary to make this soup creamy or thick, a dollop of fresh or sour cream will add some richness. I would recommend adding a dash of cream to this pumpkin if you are making this for guests. Also a swirl of cream would interest the toddlers and kids.
By and far this is the simple and easiest pumpkin soup recipe you will find. Chop, cook, blend, season and serve. 6 ingredients, 4 steps and 20 minutes, how do you like it
How To Serve Pumpkin Soup?
Serve pumpkin soup piping hot with a swirl of sour cream or fresh cream. This is a hearty and creamy soup that you can serve very well as main course. Just serve with some fresh dinner rolls or garlic bread.
You can serve this soup topped with croutons, handful of toasted seeds or nuts also.
Recipe Notes, Variations and Tips:
You can use any squash in this recipe
For Indian flavored pumpkin soup you can use roasted cumin powder, curry powder and turmeric powder for seasoning. Also you can add 1 green chili along with garlic.
To make this soup richer you can use milk or coconut milk to thin down the soup instead of water.
Instead of cream you can serve this soup with a sliver of butter.
More Soup Recipes
How To Make Pumpkin Soup Recipe Step by Step
Peel and chop the pumpkin into cubes.
Heat a pressure cooker base with 1 tablespoon olive oil.
Add chopped onions and saute till it turns a bit soft. Add peeled and chopped garlic and saute for a minute.
Now add the cubed pumpkin and saute for 4-5 minutes. Saute well to coat the oil all over the pumpkin.
Add just 1/4 cup water and pressure cook for 4 whistles. Let the pressure settle on its own.
Open, let cool for few minutes. Blend into a smooth puree.
Return to the same vessel and add 2 to 2.5 cups water.
Season with salt and pepper. Simmer the soup for 3-4 minutes.
Correct seasoning and serve hot with a garnish of micro greens or toasted walnuts or croutons.
Are you making this recipe? Do snap a pic and share on Instagram with hashtag #cookclickndevou.
We love to see your creations on Instagram, Facebook, & Twitter! Follow us on Pinterest for more recipes and ideas.
Pumpkin Soup Recipe
Pumpkin Soup Recipe- low cal, vegan, simple and best
Best ever pumpkin soup recipe- 6 ingredients, 4 steps and 20 minutes are all you need to make this fall classic pumpkin soup to dunk that toast!
1 CUP = 250 ml
Ingredients
500

grams

pumpkin

or 2.5 cups cubed pumpkin

1

tablespoon

olive oil

1

big

onion

or 1/2 cup chopped

3

garlic cloves

peeled and chopped

2

cups

water

1/2

teaspoon

pepper powder

adjust

salt

to taste
Optional Finishes
3

tablespoons

toasted walnuts

croutons

1/2

teaspoon

fresh cream

for each serving

1/2teaspoon

butter

for each serving
Instructions
Peel and chop the pumpkin into cubes.

Heat a pressure cooker base with 1 tablespoon olive oil.

Add chopped onions and saute till it turns a bit soft. Add peeled and chopped garlic and saute for a minute.

Now add the cubed pumpkin and saute for 4-5 minutes. Saute well to coat the oil all over the pumpkin

Add just 1/4 cup water and pressure cook for 4 whistles. Let the pressure settle on its own

Open, let cool for few minutes. Blend into a smooth puree.

Return to the same vessel and add 2 to 2.5 cups water.

Season with salt and pepper. Simmer the soup for 3-4 minutes.

Correct seasoning and serve hot with a garnish any one of the optional finishes
Notes
Adjust the quantity of water as per desired thickness
You can use white pepper powder for mild flavor
Nutrition
Tried this recipe? Snap a pic and share 🙂
Mention cookclickndevou or tag cookclickndevour