Veg pizza recipe with step by step photos. Tried and tested recipe for making perfect veg pizza at home. Delicious homemade vegetable pizza recipe from scratch! I had many readers ask me for this perfect veg pizza recipe from scratch and here it is.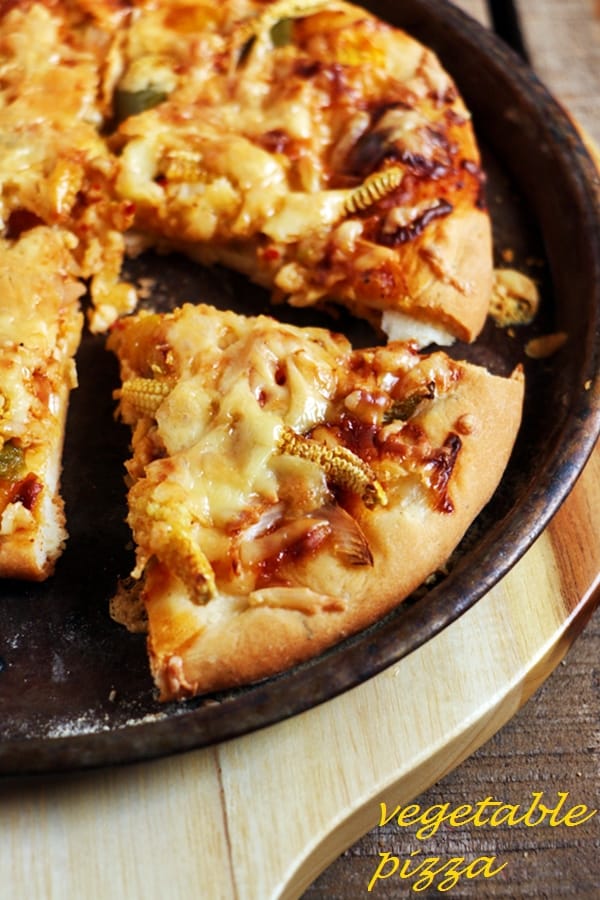 This is a tried and tested vegetarian pizza recipe and tastes just like pizzeria pizzas. This vegetarian pizza can be easily made with simple ingredients. I had few readers request for dominos veg pizza recipe specifically. Well this veg pizza recipe I am sharing here is far better in taste, freshness and flavor compared to dominos, pizza hut pizzas. Homemade veg pizza is clean, no junk and full on flavors.
I love veggie pizza and before learning this veg pizza recipe I used to have this sometimes from a pizzeria. I refer Tarla dala's veggie pizza recipe too.Once I got this veggie pizza recipe and tried at home, we have never ordered a one from the shop yet :). This homemade vegetable pizza recipe is so easy, doable and simple, the finished veg pizza is incomparably hygienic, tasty and flavorful. Though not something very healthy (contains maida), this home made veg pizza is far far better than shop ones that you can even feed the younger ones without a fear, but yeah once in a while.
Here I have used all purpose flour to make the base for vegetable pizza as many readers asked. But I highly recommend you use whole wheat flour to make pizza especially when making for toddlers and kids. Maida is totally unhealthy and best avoided. You can use unbleached all purpose flour if you get it else stick to whole wheat flour in bread recipes. You can make delicious vegetarian pizza with whole flour. It all depends on kneading and proofing the dough. I recently made even puran poli with whole wheat flour and it was too good.
Coming to this homemade vegetable pizza recipe it can be divided into 3 parts.
Making of pizza suce
Making of pizza base
Arranging and baking the veg pizza
You can make the sauce and base a day before to ease the work. For toppings in this vegetable pizza recipe I have used onions, baby corns, bell peppers. You can use olives, jalapenos etc.
To make this vegetable pizza recipe a bit healthy and guilt free you can use whole wheat flour instead of maida. You can even use 50% maida and 50% wheat flour. But if making as a meal for toddlers and kids definitely use wheat flour. You can use this dough recipe and make thin crust or regular veg pizza as per taste.
As I said before the base for this vegetarian pizza is made of maida. I have added a dash of dried oregano and thyme to the base and it really does wonders to the pizza. Adding a pinch of dried herbs to the base takes the pizza to one new level. You can even add crushed garlic flakes to the base instead of herbs. I usually buy organic mozzarella cheese, but this time it was out of stock so I have used Britannia pizza cheese, I would say it is ok, if you can get good quality mozzarella definitely go for that.
One very important ingredient for making a good veggie pizza is good quality olive oil. Add good quality olive oil to the dough and to the rolled pizza base.
If you are looking for more vegetarian pizza recipes do check paneer pizza, homemade pizza, whole wheat grilled pizza, instant thin crust pizza, bread pizza
How to make veg pizza recipe with step by step photos.
Kneading and leavening the dough for veg pizza recipe:
1. Begin veggie pizza recipe by preparing the dough. Take 1/2 cup lukewarm water in a small bowl. Add 1 tablespoon sugar and dissolve it. Sprinkle 1 1/4 teaspoons active dry yeast over it. Let the yeast raise for 10-15 minutes.
2. After 15 minutes the yeast would have fermented and water will be bubbly and slushy like this.
3. Take 1 1/2 cups maida/flour in a mixing bowl.
4. Add dried thyme,oregano, olive oil and salt. Mix well with a spoon.
5. Add the yeast water and mix well.
6. Add 1/4 cup water and start kneading. The dough wil be very sticky now.
7. Add remaining 1/4 cup flour and knead well to form a very soft and pliable dough.
8. Add 1/2 teaspoon olive oil and coat the dough well. Let it rest for 1-1.5 hours OR till the volume doubles up.
9. The raised dough will be like this.
Preparati0n of pizza sauce:
1. Refer here for a basic pizza sauce recipe
OR
2. You can try this easy pizza/pasta sauce recipe too
Assembling and baking the veg pizza:
1. Preheat your oven at 220C for 15 minutes.
2. While the oven is preheating, we can get the toppings and base done. Slice or cube the veggies as per your choice. Grate the cheese. keep the sauce ready.
3. Take the raised dough and punch it back gently. Divide the dough into 2 equal portions.
4. Dust the working surface with some flour. Place one portion of dough and roll into a 8″ circle.
5. Transfer the rolled disc very carefully into a pizza plate or stone. Prick the base with a fork in multiple places. Apply 3/4 teaspoon olive oil on the rolled dough and spread well with a pastry brush or back of a spoon.
6. Add 2 tablespoons pizza sauce and spread well. Add some grated cheese.
7. Arrange the veggies, add some salt and dried basil.
8. Top with more cheese. Sprinkle some more dried herbs. Add few drops of olive oil.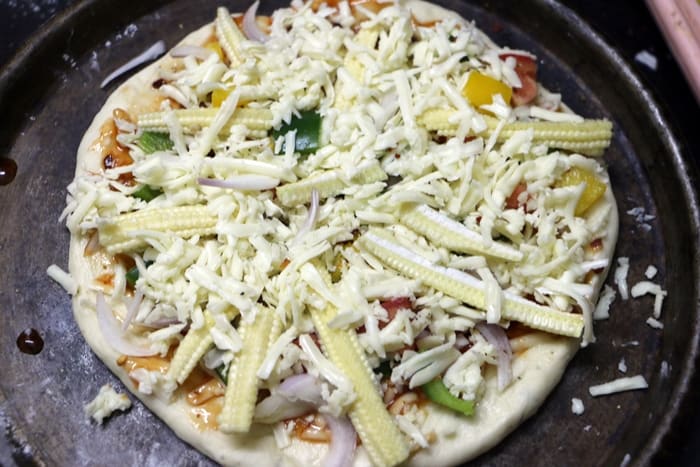 9. Place the pizza plate in the preheated oven and bake for 15 minutes. After 15 minutes the crust will be of light golden brown and not very crispy. We like crispy crust so I have baked my pizza for 20 minutes.
10. Serve veg pizza hot sliced into wedges.
veg pizza recipe / veggie pizza recipe card below: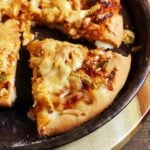 vegetable pizza recipe |how to make veg pizza recipe, vegetarian pizza recipe.
Vegetable pizza recipe, easy step by step for making vegetarian pizza from scratch at home!
1 CUP = 250 ml
Ingredients
For the dough:

1 1/2

+ 1/4 cup all purpose flour/maida

1 1/4

teaspoon

active dry yeast

1

tablespoon

sugar

1/2

cup

1/2 cup water

1/8

teaspoon

dried thyme and oregano

2

tablespoons

olive oil

Salt

For topping:

2

tablespoons

pizza sauce

1

medium onion

sliced

1/2

green bell pepper

cubed

1/2

yellow or red bell pepper

cubed (optional)

2

baby corns

sliced

1

small tomato

seeds removed and cubed

Grated mozzarella or pizza cheese

3/4

teaspoon

+ 1/2 teaspoon olive oil

salt

dried basil and oregano
Instructions
To make dough for veggie pizza:

Take 1/2 cup luke warm water in a bowl and add sugar to it.

Add dry yeast and let it ferment

Take all the other ingredients mentioned for dough except 1/2 cup water in a mixing bowl.

Add yeast water and mix well.

Add the remaining water and knead to a soft pliable dough. Let it rest for 1.5 hours

To assemble and bake pizza

Preheat oven at 220C

Punch back and slightly knead the raised pizza dough. Divide into 2 equal portions.

Take one portion on a dusted working surface and roll into a 8inch circle.

Transfer the rolled base into pizza plate. Prick with fork in many places.

Apply 3/4 olive oil on the base and spread well.

Apply pizza sauce and spread well. Add some grated cheese.

Arrange the vegetables. Sprinkle some dried herbs and salt.

Add more grated cheese and add few drops of olive oil

Bake in the preheated oven for 15-20 minutes.

Serve vegetable pizza sliced into wedges, hot.
Notes
1. Adding cheese after adding sauce is optional step. If you want to reduce the amount of cheese skip this step.
2. You can add any other herbs or even crushed garlic to the base.
3. Bake for 20 minutes only if you want a very crispy crust. Else 15 minutes should suffice.
Nutrition
Tried this recipe? Snap a pic and share 🙂
Mention cookclickndevou or tag cookclickndevour