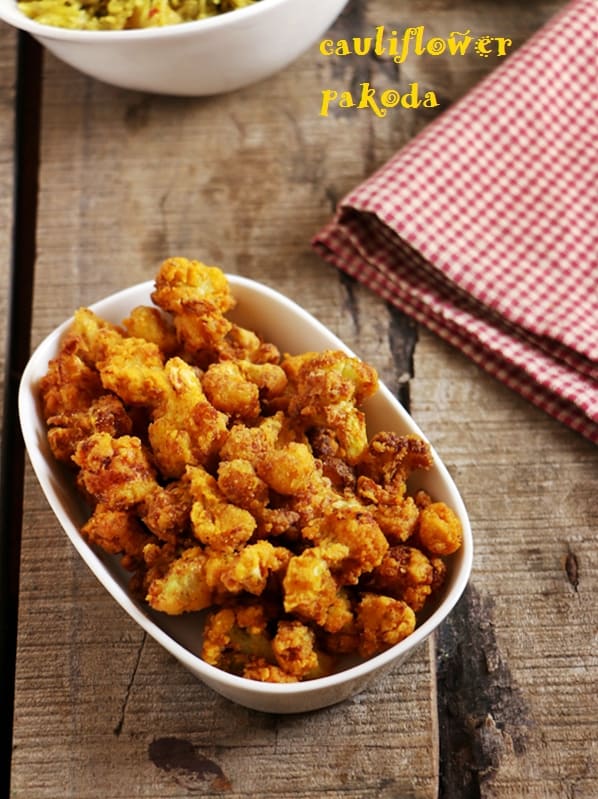 Cauliflower fritters recipe or cauliflower pakoda recipe with step by step photos. Sharing a very easy to make Indian cauliflower fritters recipe on request here. This cauliflower pakoda recipe was requested by 3-4 readers last week.I am so happy that I am able to post 2-3 recipes per week on request here. If you are in quest for a certain vegetarian recipe please do write to me through this recipe request page. I shall and try and post the same at my best.
Now coming to this easy cauliflower pakoda recipe, it is a very easy to make deep fried snack. Call these as Indian cauliflower fritters recipe. You need very few ingredients to make this crispy cauliflower pakoda recipe. You can whip the pakoda batter by the tine oil is getting hot. these cauliflower fritters can be made in less than 20 minutes. Piping hot cauliflower pakoda with a chilled drink will be a great starter.
To make cauliflower pakoda recipe, you need cauliflower florets, gram flour and rice flour. For seasoning you can use carom seeds, asafoetida, chili powder, chaat masala powder etc. You can use any of your favorite seasoning in this cauliflower pakoda recipe. To make very crispy cauliflower fritters you cann add 2 tablespoons of hot oil in the pakoda mix.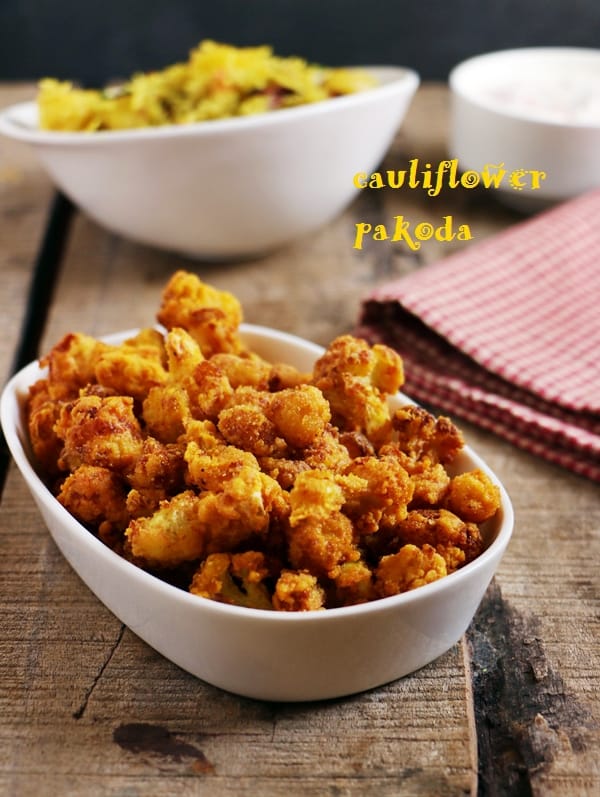 Here is how to make cauliflower pakoda recipe with step by step photos. Do try this out!
If you are looking for more easy cauliflower recipes do check cauliflower tikka, cauliflower manchurian, gobi 65, gobi paratha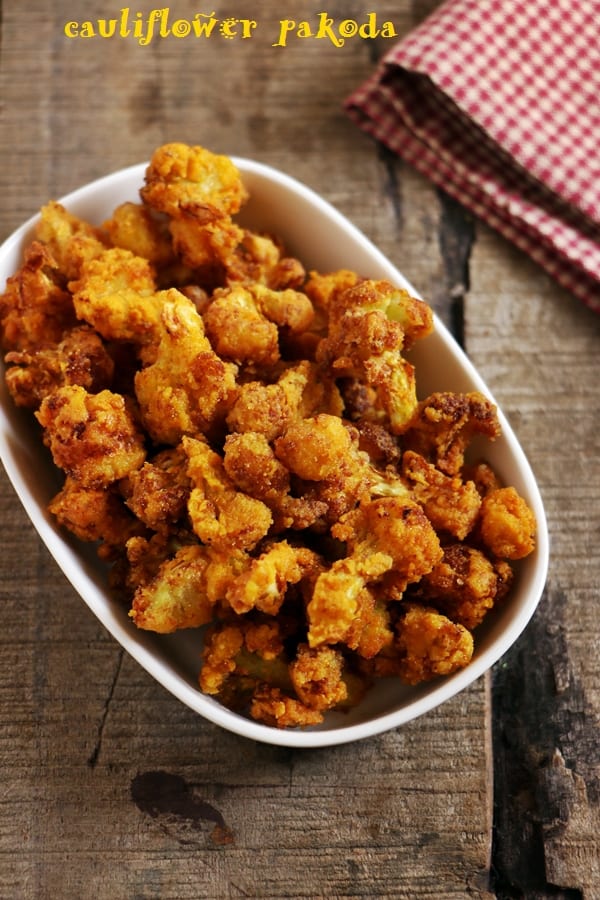 step by step cauliflower pakoda recipe.

1. To begin making cauliflower fritters, separate the cauliflower into bite size florets.
2. Bring plenty of water to boil. Add the florets and pinch of turmeric powder and salt. Boil for 3-5 minutes. Drain the excess water and let the cauliflower florets be damp.
3. Heat oil for deep frying. While the oil is heating, take the florets in a mixing bowl. Add gram flour, rice flour, salt, chilli powder, asafoetida and carom seeds. First mix well without adding water.
4. Now just sprinkle 2-3 tablespoons water and bind well.
5. Sprinkle the florets in the hot oil in batches. Deep fry until golden brown from all sides. Drain on a kitchen towel.
6. Repeat the same with remaining mixture. Serve cauliflower pakoda hot with coffee.
Cauliflower pakoda recipe or cauliflower fritters recipe card below:
cauliflower fritters recipe, cauliflower pakoda recipe
Cauliflower pakoda recipe, very easy to make tasty deep fried cauliflower fritters within 20 minutes
Ingredients
1

small whole cauliflower

separated into bite sized florets.

3

tablespoons

rice four

3

tablespoons

gram flour

1/2

teaspoon

chili powder

1/2

teaspoon

carom seeds

1/4

teaspoon

asafoetida

Salt

3

tablespoons

water

Oil for deep frying
Instructions
Keep separated cauliflower florets in boiling water along with a pinch of salt and turmeric for 5 minutes.

Drain and take the damp florets in a mixing bowl.

Add all the other ingredients except oi. Mix ell.

Heat oil for deep frying

Sprinkle the cauliflower mixture and deep fry till golden from all sides.

Serve cauliflower pakoda hot.
Recipe Notes
1. You can add green chilli-ginger paste along with flour mixture.
2. You can add some chaat masala while serving.
3. Adding equal amount of rice flour along with gram flour makes pakoda crispy and it will not soak up oil