Eggless waffle recipe with step by step photos. Delicious and fluffy basic waffle recipe without eggs. You can serve this eggfree waffle with desired sauce and also ice cream. Furthermore you can use this basic waffle recipe and change the flavorings too.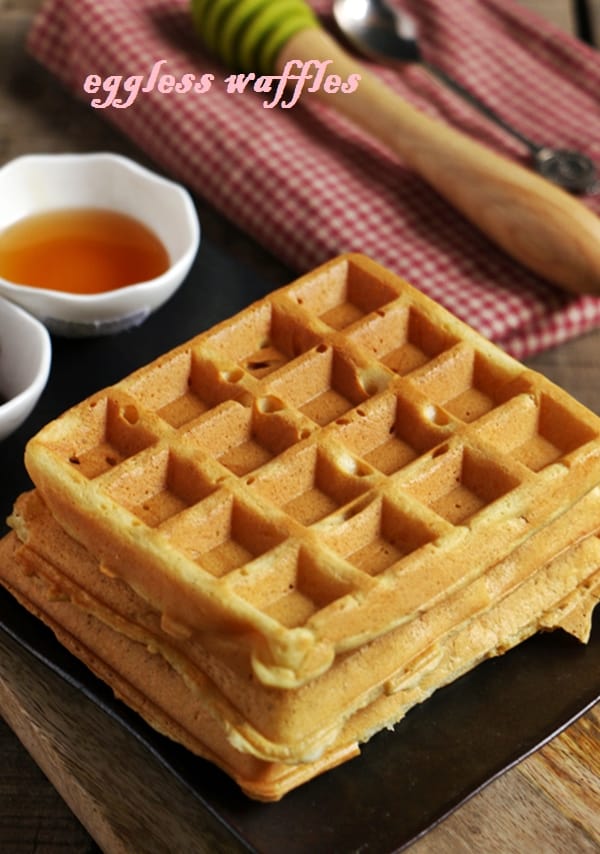 A waffle is a typical breakfast dish with batter with flour and eggs, read more about waffles here. In this recipe I have replaced eggs with milk,vinegar and baking soda.
To make waffle you need a waffle iron or an electric waffle maker. In this waffle recipe I have used a combination of whole wheat flour and all purpose flour. You can also use just wheat flour or plain flour.
The batter used in this eggless waffle recipe is basically a pancake batter. If you have keeper recipe for eggless pancake, you can prepare the same batter and cook in a waffle iron.
This is a plain waffle just flavored with vanilla, you can be creative and add flavorings of your choice like cinnamon etc. Waffles are usually served with honey, jam along with fresh fruits.
In this waffle recipe the fluffiness comes from baking soda and vinegar. This combination replaces eggs and the waffles come out very fluffy and tasty. You will not be able to make out that this waffle is eggfree.
I have eaten waffles many times before in bistros and cafes but this recipe shared here makes seriously best eggless waffles. I like to cook them for a bit longer for crispy edges. While the edges are crispy and golden these waffles are airy, fluffy and spongy in the center.
Making waffle is easy and quick. You can whip up the batter by the time your waffle maker is getting heated. This batter comes together in minutes as you do not have to even whip up eggs. This is a mildly sweet waffle so you can increase sugar proportionally. The recipe can be doubled or halved.
Variations with waffle recipe:
You can make this waffle recipe healthier by replacing sugar with honey or powdered jaggery or pal sugar or coconut sugar.
Instead of wheat flour you can use a mix of millet flours like ragi flour, amaranth flour etc.
To make fruity waffles you can mash a banana or add sliced bananas to the batter.
Also you can flavor the batter with cinnamon powder instead of vanilla. Just add 14 teaspoon of cinnamon powder.
You can top the waffles with sliced strawberries, blueberries, whipped cream, toasted nuts, honey, maple syrup, pancake syrup and also choco chips.
If you do not have a waffle iron you can use the same batter and make spongy pancakes on stove top too.
More breakfast recipes:
Eggless carrot cake, vegan banana bread, breakfast cookies, vegan breakfast muffins
How to make eggless waffle recipe with step by step photos.
1. Preheat the waffle maker ( Switch it on, the red light will glow and after few minutes the green light will glow indicating that the machine is ready.
2. Now take all the liquid ingredients in a mixing bowl. Add sugar and scrapped vanilla pith to it. Mix well.
3. sift wheat and maida, baking powder,soda and salt to the wet ingredients. Mix very well.
4. The batter should be thick yet flowing without lumps. When poured it should be able to spread.
5. Now brush both sides of the waffles maker with butter liberally. Pour a ladle full of batter in the hot waffle maker.
6. Close the lid and cook till done ( the green light will glow for few minutes and once the waffle is ready orange light will glow in my machine). It would take around 4-5 minutes for waffles to cook.
7. Once the waffle is ready remove with a cake lifter or spatula and serve eggless waffle hot with jam, honey and fresh fruits.

Eggless waffle recipe card below: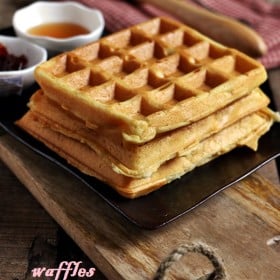 Eggless waffle recipe | eggless waffles recipe
eggless waffle recipe, easy to make crispy outside and soft inside vanilla waffles!
1 CUP = 250 ml
Ingredients
Dry ingredients
1/2

cup

all purpose flour

1/2

cup

whole wheat flour

1 1/2

teaspoons

baking powder

1/8

teaspoon

baking soda

1/4

teaspoon

salt
Wet Ingredients
1.5

cup

milk

3

tablespoons

melted butter

2

teaspoons

sugar

1/2

teaspoon

vinegar

scrapped vanilla pith
Instructions
Heat a waffle iron or preheat an electric waffle maker.

Take all the wet ingredients in a mixing bowl and mix well. Add sugar and vanilla pith,mix very well.

Sift the dry ingredients to the wet ingredients.Mix well.

Pour the batter in the hot waffle maker and make waffles. Serve hot
Notes
1. You can lemon juice instead of vinegar.
2. You can replace milk with curd,adjust the quantity
3. make sure to fill the waffle maker proper as we will not be able to spread like we do dosa.
Nutrition
Tried this recipe? Snap a pic and share 🙂
Mention cookclickndevou or tag cookclickndevour