Roasted cauliflower is a quick, super delicious and easy side dish or snack made under 40 minutes. This is my go-to cauliflower recipe these days and I keep playing around with the seasoning.
This recipe will yield you perfectly roasted cauliflower with crispy edges, packed with flavor and absolutely addictive. What's more? It is ridiculously easy to make, vegan and gluten free too. Try this out today and enjoy! Pairs well with any dip or as side dish too.
For more cauliflower recipes please check baked cauliflower bites, cauliflower nuggets, easy cauliflower fry, aloo gobi recipes.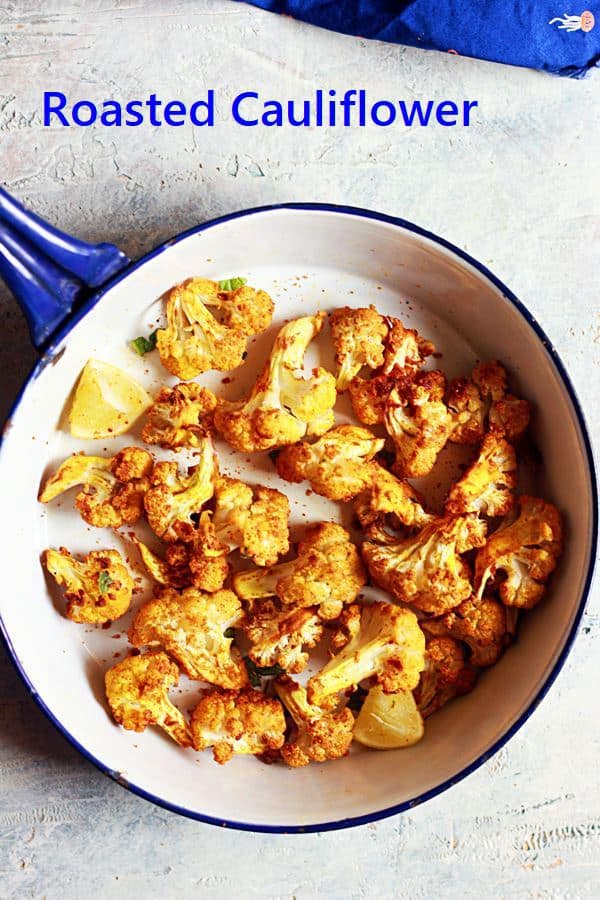 Do you like cauliflower? I love this vegetable in almost any form and use it in cooking very often. However, I have been noticing cauliflower is often considered as bland and boring with many people. If you are one of them, todays recipe is for you 🙂
I love roasted vegetables, roasting makes the veggies more delicious, makes them tender, crispy and juicy too and they are one of the guilt free snacks I often make. Oven roasted vegetables are a good after school snacks too. Roasted potatoes, sweet potatoes, okra, cauliflower are a favorite at home. We especially love roasted cauliflower a lot.
Oven roasted cauliflower is a wonderful way to prepare cauliflower. Roasting the cauliflower florets bring out the best in them 🙂 Raw cauliflower on roasting turns into a golden beauty with caramelized edges, soft and juicy perfectly seasoned little bites.
This is an extremely versatile recipe and you can vary the seasonings as you like. On some days I make this curry roasted cauliflower with Indian spices and sometimes I make parmesan roasted cauliflower with sour cream dip. That is not all though, I have mentioned many variations you can try with this recipe.
After roasting the cauliflowers you can serve them as such as snack or use it in several other ways.
These Roasted Cauliflower Florets Are
Best ever way to prepare cauliflower
Easy, quick and delicious snack or side
mess free recipe to prep cauliflower
vegan and gluten free
versatile
highly customizable.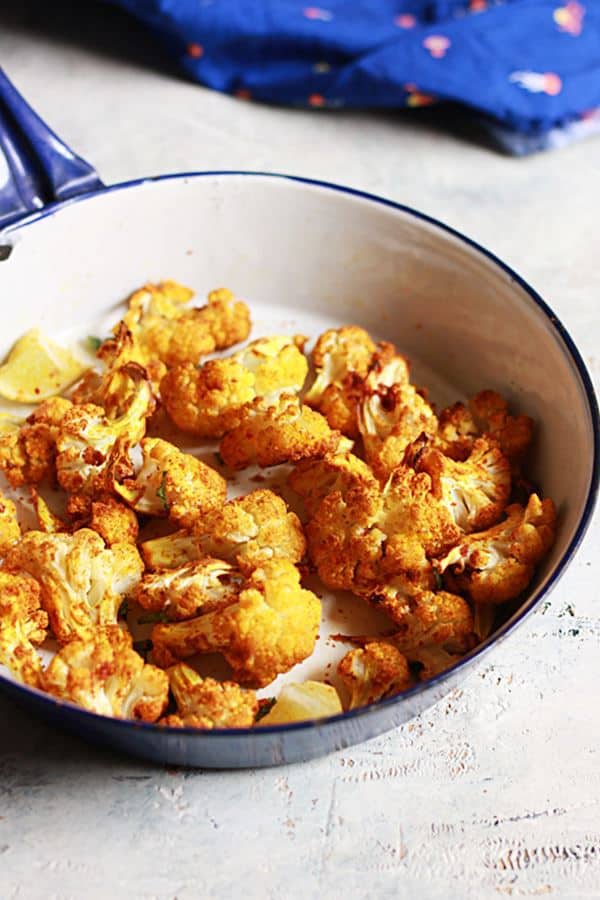 What Do you Need For This Recipe?
The ingredients you need to make roasted cauliflower are very basic and mostly pantry staples. These are ingredients you need for making basic roasted cauliflower.
Cauliflower- Pretty obvious right 🙂 Choose fresh, tender and dense ones for best flavor and taste. Please read through to learn how to select can cut cauliflower perfectly for recipes.
Oil– you will need just around 2 tablespoons oil for 3-4 servings. You can use any oil as per your preference like extra virgin olive oil, avocado oil, sesame oil etc.
Ground turmeric– Just a pinch of good quality ground turmeric elevates the flavor and taste of this curry roasted cauliflowers. If you want to keep the recipe basic, leave this out,
Chili powder– a dash of red chili powder adds the much needed spice and color to this dish.
Garam masala powder– I have just used a dash of it to give curry flavor. Instead you can also add curry powder. To make basic roasted cauliflower, just leave this out.
Minced garlic– It adds a wonderful flavor and goes well with all the variations. You can use freshly minced garlic or garlic powder too.
How To Choose Cauliflower?
While choosing a cauliflower always look for white florets without any brown or black spots. The flower should be heavy for its weight.
The florets should be dense and tightly packed and leaves should be bright green and fresh looking. The head of cauliflower should be super firm and no signs of softening.
Once picked, store the cauliflower in your crisper drawer of refrigerator in a cotton bag for 3-4 days.
How To Cut Cauliflower?
For roasting cauliflower perfectly we need bite size florets of uniform size. To cut the cauliflower first of all remove the leaves and the thick stalk.
Now you will have the cauliflower head with a flat base. Using a sharp knife slice into 2 vertically. Now further slice each piece into 4. You will be left with 4 wedges.
Next remove the inner core and then separate the florets. If any floret is very big, just break into two.
Step By Step Method
Preheat oven at 425 F or 220 C. Prepare a large baking sheet by greasing it with oil or cooking spray or line with a foil.
Prepare the cauliflower florets as mentioned above. Bring a large pot of water to rolling boil with a fat pinch of crystal salt. Add the florets and close. Let sit for 2-3 minutes. Drain thoroughly.
Place the florets in a large bowl.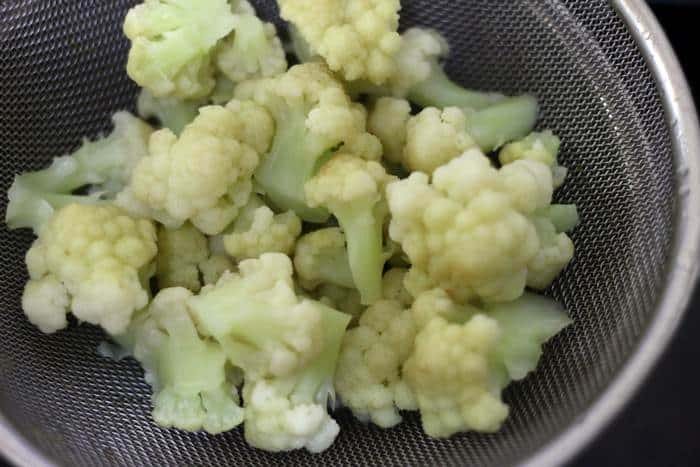 Toss salt, chili powder with other seasonings.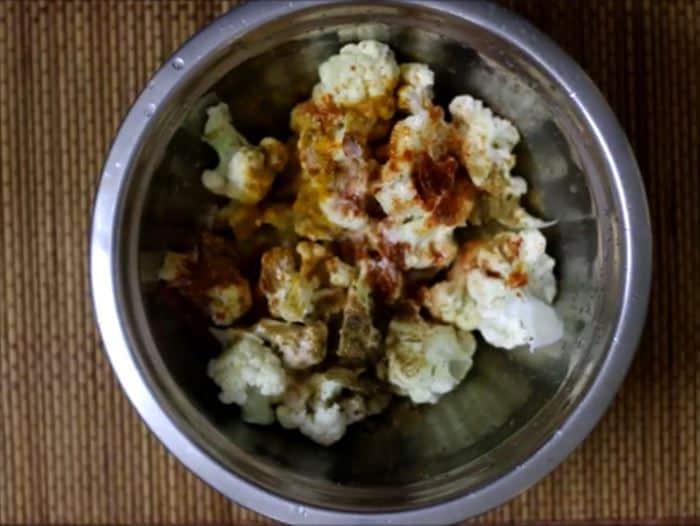 Spread the seasoned florets on the prepared baking sheet as a single even layer. Roast in the hot oven for 15-22 minutes, as crispy as required. You may have to gently flip the florets after 10 minutes.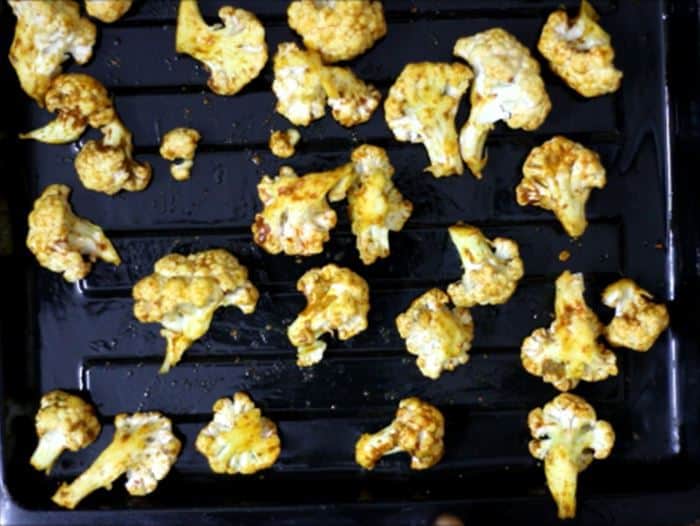 Once done, serve immediately with lemon wedges.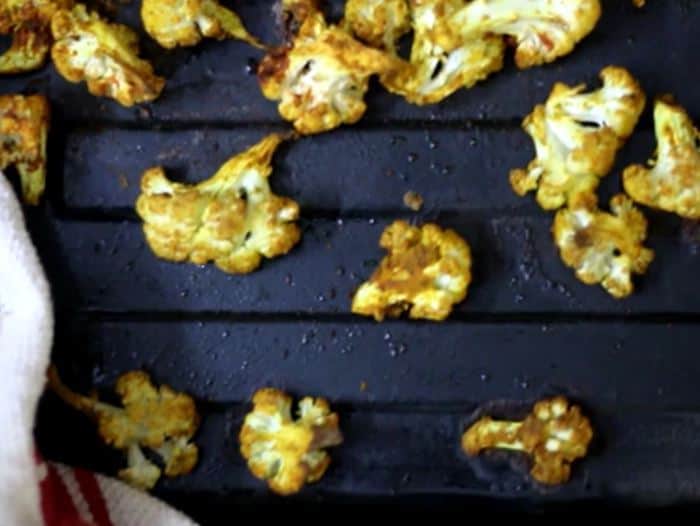 Can I Roast Cauliflower on Stovetop?
Yes by all means. Just prepare the cauliflower as mentioned and season as you like.
Now heat a cast iron skillet or grill pan with few drops of oil or cooking spray. Place the florets and cook for 8-10 minutes. Flip and cook until they are crispy and caramelized.
Recipe Variations
You can make roasted cauliflower in many other ways. Here are few options for you.
Parmesan Roasted Cauliflower
It is one of the most popular ways to make roasted cauliflower. Parmesan cheese adds a wonderful nutty taste and rich flavor to this dish.
To roast cauliflower with parmesan cheese, prepare the cauliflower as mentioned in the recipe and toss it with extra virgin olive oil, salt and chopped fresh parsley or basil. Bake for 12 minutes in preheated oven.
Once done, sprinkle grated parmesan cheese over baked cauliflower and return to the oven. Bake for the remaining time or until the cheese melts. Serve with more fresh herbs, some lemon juice or zest.
If you are a vegetarian, make sure you pick the vegetarian parmesan cheese.
Curry Roasted Cauliflower
The recipe I have shared here is more of an curry version only. To roast cauliflower with curry powder, just add 1-2 teaspoons curry powder in the given recipe along with chili powder and proceed.
Serve thus Indian version with some finely chopped cilantro leaves, raw onions and lemon wedges.
Mexican Roasted Cauliflower
To give this dish a Mexican touch just add 1/2 teaspoon roasted ground cumin instead of garam masala powder in this recipe.
Serve with a dash of lime juice and fresh coriander or cilantro leaves.
More Seasoning Ideas
Zartar
Cajun
thyme
garlic butter
Sumac
Smoked Paprika
Red pepper flakes
Ground black pepper
Plain salt pepper
lemon pepper
Expert Tips To Roast Cauliflower
To make perfectly roasted cauliflower here are few tips that will help you.
Use the right baking sheet– A good sturdy baking sheet is important for roasting vegetables. Invest in a quality one if you often roast vegetables in oven.
Do not over crowd the sheet– It is important to spread the seasoned vegetable in a even layer on the baking sheet. Spread it in a single layer and leave some space between the veggies to prevent sweating.
Roast in a high temperature- whenever you are roasting vegetables like in oven, maintain a high temperature. It helps to quickly caramelize the edges yet keeps the vegetable juicy in the center.
Flip the florets halfway– After baking for half the time, flip the florets once to ensure even roasting.
How To Serve This Dish?
As snack with any dip of your choice like hummus, tzatziki, cream cheese dip, sour cream dip, ranch dressing, mayonnaise etc.
As side dish with any continental meal.
Other Uses Of Roasted Cauliflower
Apart from serving as snack or side dish you can use these roasted cauliflowers in many other ways too. Here are few of my favorite ways to use this.
As filling in wraps– We love curry roasted cauliflower as filling in wraps made with whole wheat flatbread. Place a flatbread on counter. Spread some green chutney and place a generous portion of these baked cauliflowers. Sprinkle finely chopped onions, roll and serve.
In tacos– You can add these in tacos along with your favorite salad and sauce.
On pizza- It may sound weird but it tastes very good, try it!
In salad– Just a few pieces of this roasted cauliflower will take any salad one level up. Just toss them before serving to retain the crispiness
Based on the seasoning you have used these are an excellent side dish in any Asian, continental or Italian meal. This dish pairs very well with fried rice, pasta, veg bake etc.
How To Store Leftovers?
The leftovers can be stored in airtight containers for 2-3 days. Just gently reheat before serving.
Alternately you can season a large batch and store the florets in freezer, bake as required.
Are you making this recipe? Do snap a pic and share on Instagram with hashtag #cookclickndevou. Do leave a ⋆ rating along with your feedback! Let us connect on Instagram, Facebook, pinterest & Twitter for more fun recipes and stories!
Recipe Card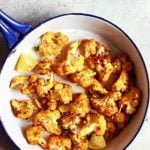 Oven Roasted Cauliflower Recipe With Indian Spices
Oven roasted cauliflower recipe- easy way to roast mildly seasoned cauliflower florets in oven. The seasonings can be easily changed as per taste.
1 CUP = 250 ml
Ingredients
1

cauliflower

large

1

tablespoon

Oil

more to grease the tray

1

teaspoon

chili powder

1/2

teaspoon

garam masala powder

1/2

teaspoon

turmeric powder

2

tablespoons

lemon juice

Salt

to taste
Instructions
Core and cut the cauliflower into bite size florets. Bring a large pot of water to rolling boil with a fat pinch of crystal salt. Add the florets and close. Let sit for 2-3 minutes. Drain thoroughly. In the meantime preheat oven at 220C (420F)

Take the cleaned florets in a wide bowl. Toss salt, chili powder, garam maslala powder and turmeric powder.

Roast in the hot oven for 15-22 minutes, as crispy as required. You have to gently flip the florets after 10 minutes.

Once done, serve immediately with lemon wedges.
Video
Notes
You can vary the seasonings as per taste.
Nutrition
Serving:
3
g
Calories:
94
kcal
Carbohydrates:
11
g
Protein:
4
g
Fat:
5
g
Saturated Fat:
1
g
Sodium:
69
mg
Potassium:
586
mg
Fiber:
4
g
Sugar:
4
g
Vitamin A:
198
IU
Vitamin C:
96
mg
Calcium:
42
mg
Iron:
1
mg
Tried this recipe? Snap a pic and share 🙂
Mention cookclickndevou or tag cookclickndevour