cumin powder known as bhuna jeera powder is a quintessential Indian spice powder. Cumin both as whole and powdered is very widely used in Indian cooking. Roasted cumin powder is a must in most Indian curries and it sure elevates the taste and flavor.
Making bhuna jeera powder at home is really easy and hygienic too. Learn to make cumin powder at home with this easy recipe. I have also listed many health benefits of cumin and how to use cumin powder day to day.
About Cumin Seeds & Jeera Powder
Cumin seeds from cuminum cyminum known as jeera in India are staple in the pantries of Indian homes. You will find most of the Indian curry recipes like palak paneer, butter paneer, tikka masala , tandoori gobi, paneer tikka and many more. We also use this roasted cumin powder to perk up the flavor of chaat recipes like jhal muri, bombay sandwich, pani puri etc.
Apart from using whole cumin seeds for making jeera rice, aloo jeera, jeera rasam, I also use cumin powder in raita, spiced jams, in some chutneys, in some soups, in masala pasta recipes too. Basically cumin is a spice with loads of medicinal values that we should not miss.
There are three types of cumin seeds
cumin from cuminum cyminum
black cumin or black seed or nigella sativa (kalonji)
bitter cumin or shahi jeera.
Here I am sharing the recipe for cumin powder from regular cumin seeds
Cumin is dried seed of the flowering plant called cuminum cyminum from apiaceae family. It is a plant of parsley family. It is a native crop of India, Middle East and North Africa and widely used there too.
Cumin, both as whole spice and powder is very widely used in various cuisines, especially in Indian, Mexican, Latin American and Middle Easter recipes. Cumin powder is now widely used in United states too.
In Indian kitchens, ground cumin powder and whole cumin seeds are indispensable and used in dozens of recipes just like black pepper.
Cumin not only has loads of health benefits but also adds so much flavor to the food. It imparts a wonderful Earthy, sharp, slightly pungent, smokey flavors to the food and immensely increases the flavor profile.
Cumin Seeds Vs Ground Cumin
Indian recipes treat cumin powder and seeds in different ways. Whole cumin seeds are always fried in oil or ghee there by releasing all the essential oils which brings out the flavor.
Ground powder on the other hand is used in curries, chaats, beverages like lemonade, salads, soups etc. It is also very much a part of spice powders like curry powder, garam masala powder.
Roasted cumin powder is one of the staple ground spices in Indian kitchens. Traditionally roasted cumin was pounded in a mortar and pestle just as much required for the recipe. It tastes so much good with potent flavor when crushed in a mortar and pestle.
However these days when it is so much convenient to grab a pack from store, we can at least make it at home using a mixer grinder or spice grinder right 🙂
Why Make Homemade Cumin Powder?
Why should we make roasted cumin powder at home while it is easy to grab a pack from the stores? Well as with any spice powder from the stores, this bhuna jeera is also prone to adulteration.
Next homemade spice powders are class apart in flavor and taste, not to forget they are economical and more potent. Given to that how easy it is to make cumin powder at home, we may reap these benefits as well.
Moreover roasted cumin powder has such a wonderful flavor and taste that takes any dish a level up. If you have never tried making ground cumin at home I really urge to try once. The flavor and taste is nothing like what you get in stores.
Also while making at home you can use the finest quality of cumin and make it small quantities so that it stays flavorful and fresh. Ground spices loose their flavor over time due to oxidization.
I have a batch of homemade cumin powder, pepper powder, milk masala powder, tea masala powder, badam milk mix, hot chocolate, idli podi and other spice powders like cardamom, fennel seeds as homemade is more flavorful and clean.
Always check any whole spice for freshness before making powder. You can taste few cumin seeds to know if they are fresh or not.
This Homemade Roasted Cumin Powder Is
Clean, hygienic and pure
Vegan & gluten free
Prime ingredient for making Indian curries
Flavorful & fresh
Quick & easy to make.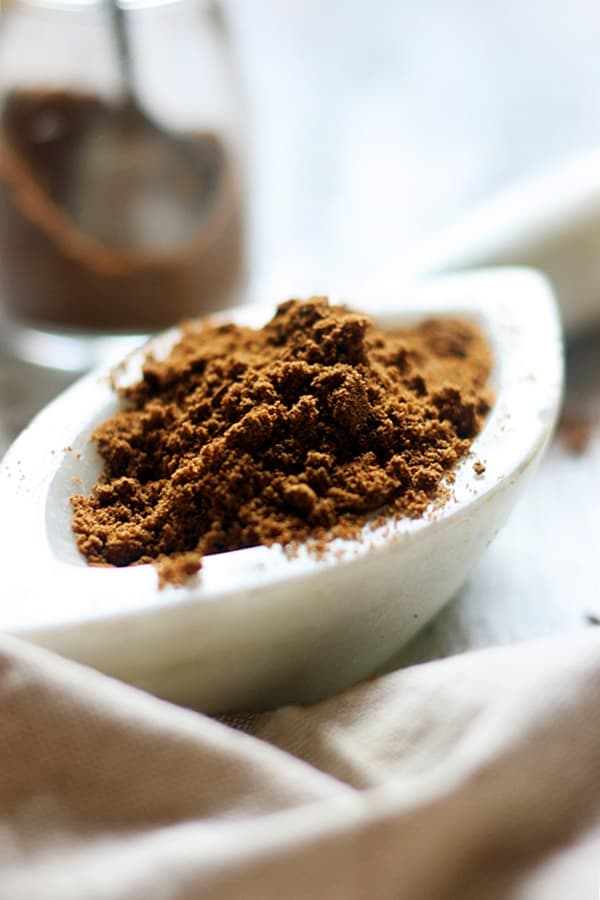 Bhuna means roasted and bhuna jeera simply means roasted ground cumin. The flavor of roasted and plain cumin seeds are entirely different.
We use plain ground cumin with pepper in making rasam recipes whereas bhuna jeera or roasted ground cumin totally elevates the flavor and taste of dishes like aloo gobi, dahi bhindi, green chutney, paneer fry and many more.
With all these said let us quickly learn how to make best roasted cumin powder at home that way better than store bought stuff. Here are few of the frequently asked questions regarding ground cumin answered.
How Do You Roast Cumin Seeds?
Cumin seeds are very delicate and they burn very easily. Always make sure to a heavy cast iron pan or skillet that withstands heat for roasting cumin.
Take the required quantity of cumin and spread on a plate first. Check for any impurities. Heat a heavy pan and transfer the cumin seeds. Over low flame roast until the color changes slightly and nice aroma wafts out. stir very frequently.
Cumin seeds go from roasted to burnt very easily so make sure to do the roasting in low flame only until the color changes slightly.
Which Grinder Is Best For Grinding Spices
We usually use our Mixer grinder with small jar for making powders. You can use any good quality mixer grinder or spice grinder or coffee grinder for making ground cumin.
How To Make Cumin Powder
Pick and measure 1/2 cup cumin seeds.
Spread on a plate to check for any grit or other impurities. Heat a pan and transfer the cumin seed.
Roast in low flame until color changes slightly and cumin seeds turn aromatic. The time takes varies depends on the quantity of cumin seeds used. 1/4 cup cumin seeds need around 3-5 minutes of roasting in low flame. Roasted cumin will impart.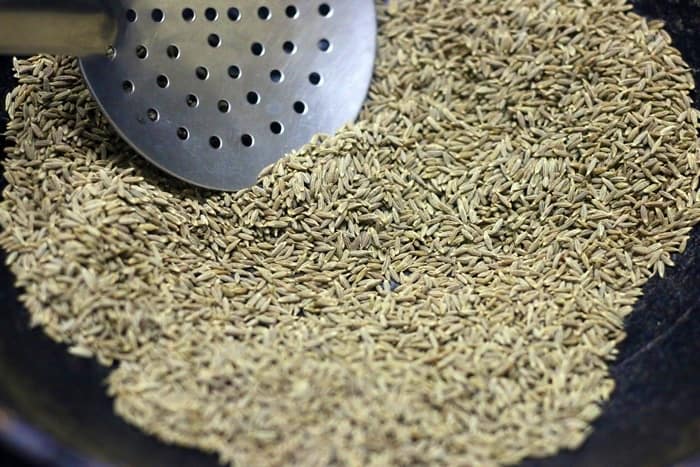 Let cool thoroughly.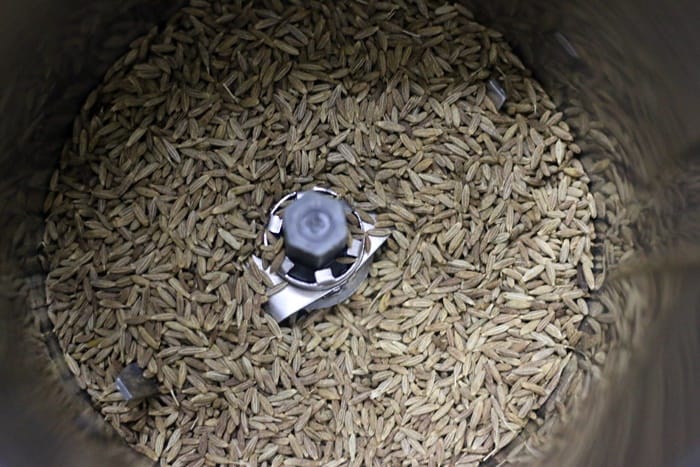 Transfer to a mixer jar or spice grinder and grind to a very fine powder. Grind in intervals of 30-40 seconds until the powder is very fine. Scrape the walls of the jar with a dry spoon as you grind.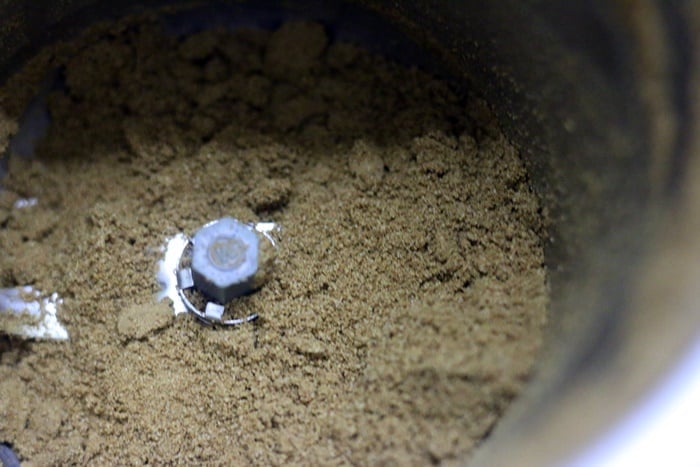 Spread on a plate again for few minutes before storing in clean bottle. Use ground cumin as required in the recipe.
How To Use Ground Cumin
You can use it any chaat recipe to perk up the flavor. Just a pinch will go long way.
Use it to flavor your chaas, butter milk. This powder can be used in various seasonings like taco seasoning, sumac, curry seasoning, berbere etc.
Use it in juices like watermelon punch, ganga jamuna juice, lemonades to perk up the flavor. Use it in all raita or salad for flavor
Ground cumin is mainly used in Indian curries and gravies. along with coriander powder, garam masala powder, chili powder.
You can add a pinch in baked beans, barbeques etc.
Tips To Make Ground Cumin Or Jeera Powder
Picking cumin seeds– Always make sure the cumin seeds or any whole spice you choose for grinding is fresh and has not passed its prime. Make sure you pick up cumin seeds from fresh stock from your grocery store. Always taste few seeds before making a big batch.
Roasting Cumin seeds- Use a heavy cast iron pan or iron griddle to roast cumin seeds. These are very delicate seeds that burn very easily. Always roast whole spices in low flame continuously. Roasted cumin has a wonderful Earthy nutty flavor and the color is slightly darker than the raw seeds. These are the signs you should be looking for. Roasting cumin helps in releasing the essential oil from it.
Powdering cumin- You will need a high powdered mixer grinder or spice grinder for making cumin powder. Here we use the smallest jar of mixer grinder for making spice blends. An Indian mixer grinder does an excellent hob of grinding whole spices. In the united states and other countries you can use spice grinder or coffee grinder too.
After grinding make sure to spread the cumin powder make sure to spread it on a plate and let dry for 10-15 minutes. This will let the powder shed off the heat from the machine and prevents it from clumping in the jar.
Storing- Always store ground spice blends in a clean dry jar. Preferably use a wooden spoon to take put the spice powder. This one keeps well for 2-3 weeks at room temperature and up to 6 months in freezer.
If you are making a big batch of cumin powder, portion out and store in small jars. Store and freezer and use as required. By storing in small jars, the flavor remains intact in other batches while we use one.
Recipes Using Cumin
Benefits Of Cumin
Digestion– By far it is one of the most effective spice for treating indigestion. It increases the release of bile from the liver. It helps in stimulating digestive enzymes and speeds the process. Cumin is also very helpful in treating bloating. It is a common practice in India to chew some cumin seeds or have cumin water when one suffers from indigestion.
Helps in lowering cholesterol– Cumin has hypolipidemic properties that controls in the levels of fats and cholesterol levels and blood sugar.
Weight loss- Cumin is diuretic helps in flushing out excessive water as well as controls the level of lipids in the blood there by reducing fat.
Lactation– Consuming water boiled with cumin seeds or chewing cumin seeds helps in increasing the supply of breast milk in lactating mothers. I helps in fighting infections.
Improves Immunity– cumin seeds along with pepper is a known home remedy for improving immunity. It helps in fighting infections, common cold and also cumin in rich in antioxidants, helps in fighting free radicals.
Diabetics– Cumin helps in controlling the fluctuations of blood sugar and there by helps in treating diabetics. It helps in maintaining blood sugar levels.
Cumin seeds are helps in regulating bowel movement and treat IBS or irritable bowel syndrome.
Improving memory-Cumin helps in stimulating central nervous system there by helps in improving memory. It also helps in treating nervous disorders.
How To Make Cumin Tea?
Bring 1 cup of water to boil wit 1/2 teaspoon roasted cumin powder. Drink with or without honey.
Though called as tea it is basically water boiled with cumin powder. You can also use cumin seeds but remember to strain the tea before consuming.
Cumin extracts and cumin supplements are also widely available these days.
Frequently Asked Questions
What Flavor Does Cumin Add To Dishes?
It has a wonderful warm earthy and nutty flavor to the dishes. It also lends a wonderful mild citrus notes to the dishes.
How to grind cumin seeds without a grinder?
You can use a mortar and pestle or rolling pin and board to grind cumin if you do not have a grinder.
Where to buy cumin seeds
It is one of the easily available spices around the world. You should be able to find cumin seeds in the spice section or spice aisle of any grocery stores. Buying cumin from Indian stores or Middle Eastern Stores may be economical too.
Are you making this recipe? I would love to see a snap of your creation too. Do snap a pic and share on Instagram with hashtag #cookclickndevou and please give a star rating ★ in the recipe card above. Follow us on Pinterest , Instagram, Facebook for more recipes and ideas.
Recipe
Cumin Powder
Learn to make cumin powder at home with this easy step by step recipe. Homemade jeera powder or cumin powder is economical, flavorful, healthier and hygienic.
Equipment
mixer grinder or coffee grinder or spice grinder
1 CUP = 250 ml
Instructions
Pick and measure 1/2 cup cumin seeds

Spread on a plate to check for any grit or other impurities. Heat a pan and transfer the cumin seed.

Roast in low flame until color changes slightly and cumin seeds turn aromatic. Let cool thoroughly.

Transfer to a mixer jar or spice grinder and grind to a very fine powder.

Spread on a plate again for few minutes before storing in clean bottle.
Nutrition
Serving:
50
grams
Calories:
4
kcal
Carbohydrates:
1
g
Protein:
1
g
Fat:
1
g
Saturated Fat:
1
g
Sodium:
2
mg
Potassium:
18
mg
Fiber:
1
g
Sugar:
1
g
Vitamin A:
13
IU
Vitamin C:
1
mg
Calcium:
9
mg
Iron:
1
mg
Tried this recipe? Snap a pic and share 🙂
Mention cookclickndevou or tag cookclickndevour