Paneer kulcha is a popular and delicious variation of classic kulcha recipe with a spicy paneer stuffing. These are a variation of delicious Amritsari style aloo kulcha. These flatbreads are super delicious, filling and makes for a hearty comforting meal on a winter evening.
In this post you will learn how to make best paneer kulcha recipe that is delicious, flaky bread with crispy edges and absolutely moreish. Serve with some piping hot chole and you got yourself a best meal:)
Let's make kulcha today! Not any ordinary kulchas but Amritsar style crispy and flaky paneer stuffed kulchas 🙂 Are you ready? Let's go!
About This Recipe
Paneer kulcha is a Indian flatbread made of plain flour with a flavorful paneer filling or spiced Indian cottage cheese filling. It is a popular variety of kulcha from Amritsar just like aloo kulcha, butter kulcha and masala kulcha.
Kulcha is a variety of leavened flatbread from Indian subcontinent. This Indian bread can be said as a cross between naan and paratha. It has that wonderful chewy texture and flavor of naan but with crispy edges and flaky layers just like lachha paratha.
There are two broad types of kulcha- plain and stuffed. You can make stuffed kulchas with variety of fillings and here I am sharing a super detailed recipe of paneer kulcha.
Making stuffed kulcha is similar to making stuffed paratha like aloo paratha, paneer paratha expect that the dough is leavened here.
For the filling I have used soft grated paneer, fresh ginger garlic, lots of chopped coriander leaves, some spice powders, salt and freshly cracked black pepper. There are many ways to make paneer filling but this simple one is our most favorite.
In this post I am also sharing one more variation of paneer filling with roasted and powdered spices. It is more robust and spicy. You can choose the one you like. Unlike naan, kulcha is leavened with baking soda. I also like to a pinch of baking powder for texture.
Traditionally kulcha is cooked in a tandoor or clay oven in restaurants and dhabas in a very high heat. Both the clay surface and high heat lends a wonderful unique smoky flavors and a charred surface with crispy edges to these kulchas.
At home we can achieve very close results by using right equipment and cooking technique. While many recipes suggest baking kulcha in oven, I prefer to cook them on stovetop in a heavy pan and finish by cooking in open flame briefly. I have also mentioned brief instructions for baked paneer kulchas.
You will need a heavy pan with handle for frying these kulchas. You can also use a cast iron tawa or griddle. I prefer to use a pan with handle as I can easily flip the pan to cook the kulcha in open flame.
Ingredients & Substitutes
Flour
Traditionally plain flour or all purpose flour known as maida is used for making kulcha. You can also use wheat flour but the taste and texture will be different.
Baking Soda & Baking Powder
These two are the leavening agents used in paneer kulcha recipe. Baking soda helps in making the bread super light and soft while baking powder lends a wonderful soft and chewy texture. I recommend you add both of them.
Yogurt
A small quantity of yogurt is added to kulcha dough makes the bread super soft. I have used plain dairy yogurt but you can also use any plant based yogurt.
For making the dough you will also need a pinch of sugar, salt, warm water and some oil.
Paneer
For making the stuffing you will need paneer or Indian cottage cheese. I prefer to crumble it thoroughly but you can also grate it.
I have used fresh organic paneer which is easily available but you can use any brand paneer you like. If you have homemade paneer, it is ideal. I usually make kulcha with homemade paneer but this time around I used store bought one.
Spice powders for stuffing
For this easy paneer kulcha stuffing you will need regular spice powders like garam masala powder, amchur powder or dry mango powder, black pepper. You can also add red chili powder.
Other Ingredients
For filling we will also use a minced mixture of coriander leaves, ginger, green chillies, onion and garlic.
How To Make Paneer Kulcha Recipe
Making Kucha Dough
Add 2.5 cups plain flour or maida to a large mixing bowl. To that add 1/4 teaspoon baking soda, 1/4 teaspoon baking powder, salt to taste & 1/2 teaspoon sugar.
Mix thoroughly with a spoon & make a well in the center.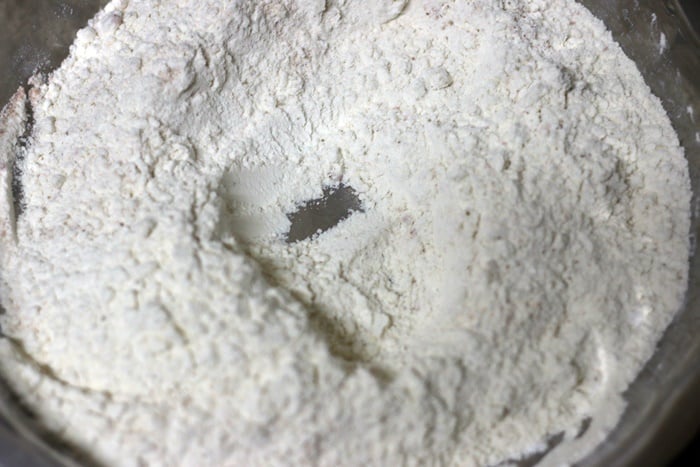 Add 1/2 tablespoon oil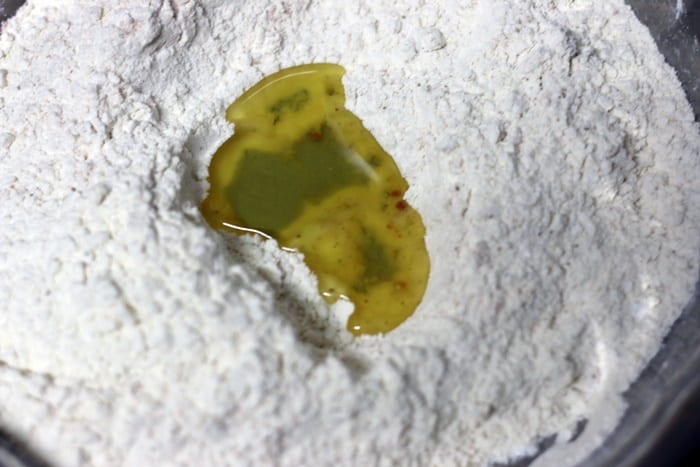 Next add 2 tablespoons yogurt. Mix well thoroughly. Start adding water gradually and make a dough. I added around 1/2 cup water.
Knead the dough well for 5-7 minutes. The dough should soft and supple and a bit loose. We are not going for a very stiff dough. We need a smooth and soft dough here.
Set the dough aside for 2-3 hours, keep covered with a damp kitchen towel.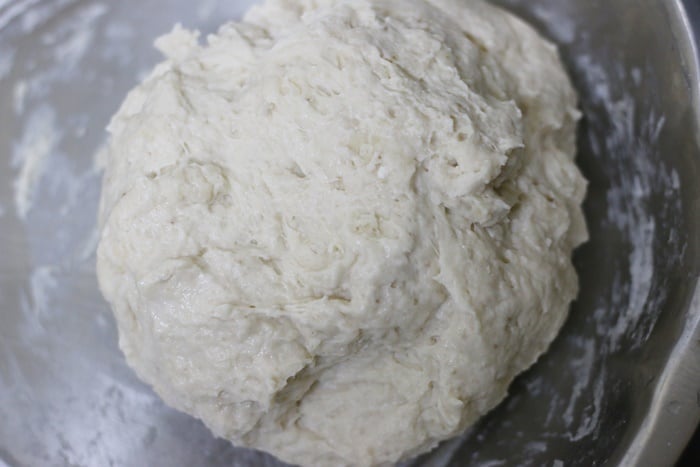 Making Paneer Stuffing
Thaw the block of paneer for few minutes if it is refrigerated. Once it is a bit soft, crumble it well or grate it and set aside.
Next finely chop one medium onion, a small bunch of coriander leaves, peel and mince 1 inch ginger,2 green chilies and 3 garlic cloves. I have used a food processor for this.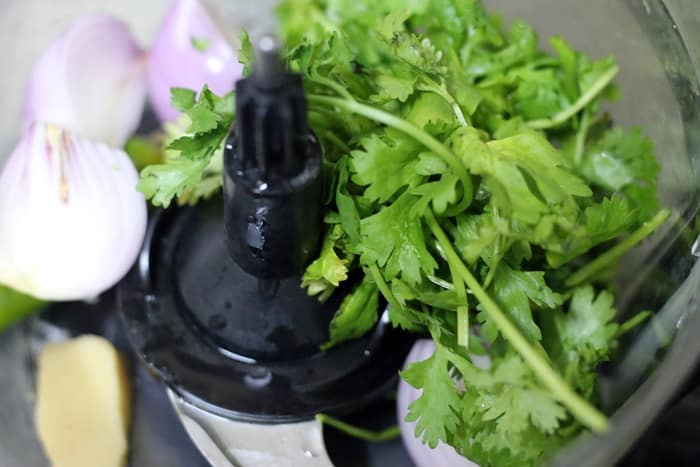 Process until everything is well minced and combined.
Add the minced to the crumbled paneer. Also add 1/ teaspoon garam masala powder, 2 teaspoons kasuri methi, 1/2 teaspoon amchur powder, salt to taste and a pinch of black pepper. You can also add 1/2 teaspoon coriander powder.
Mix everything thoroughly. The mixture should resemble a sticky dough. Now make 12 equal sized balls out of it. Each portion should be of about 2 tablespoons worth mixture.
Shaping Paneer Kulcha
Bring out the prepared dough and knead it again slightly. Divide the dough into 12 equal sized balls.
Dust a working surface or countertop with some loose flour. Also dust a dough ball with some flour.
Place the dough ball on the surface and roll it into a thick small circle with a rolling pin.
Place a portion of filling in the center.
Bring the edges together.
Seal the edges well and slightly flatten the ball. You can sprinkle some seeds like black sesame seeds or nigella seeds now as topping.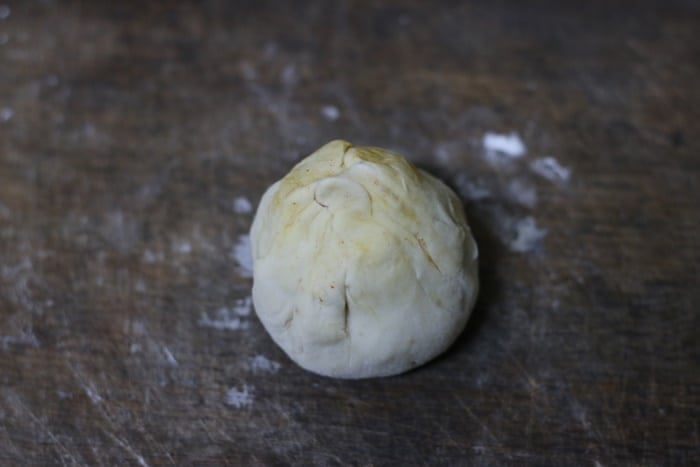 Now gently roll it again to a thick circle very carefully without breaking it. Now spread some water on the top using a basting brush or fingers.
Frying Paneer Kulcha
Heat a heavy pan or tawa with handle over medium heat. Do not apply any oil or butter. Place a rolled kulcha with watered side sticking to the pan. Increase the flame and cook for 30-40 seconds. Cooking in high flame at this point is necessary as water creates steam and lends that smoky flavor.
As it gets cooked, many bubbles will be formed on the surface.
Now flip the pan and let the other side get cooked on direct flame. Cook for another 40-50 seconds.
Now revert the pan and gently flip the kulcha.
Once both the sides are well cooked with slight char and golden brown spots, remove from flame and place on a plate. Spread salted butter liberally.
Prepare kulchas from remaining dough balls in the same way. Serve paneer kulcha hot.
Stuffing Variation
This is a delicious variation of paneer filling with all complex roasted spices and a bit of semolina or rava used as binding. This recipe of stuffing is from a friend from Punjab and I sometimes make this when I have more time.
Ingredients
200 grams paneer
2 teaspoons roasted semolina or rava
1/2 teaspoon each roasted whole spices- fennel seeds, cumin seeds, ajwain seeds, nigella seeds, coriander seeds, red chili flakes or red chilli powder.
2 green chilies
1 medium onion
1/2 teaspoon amchur
1 teaspoon ginger garlic paste
Salt to taste.
Method
Combine all the ingredients except paneer in a food processor jar and mince thoroughly. Add crumbled or grated paneer and mince again until everything is well combined and uniform.
Mix well with hands to make a dough like mixture. Use this as filling tp make the kulchas.
Baked Paneer Kulcha
To make baked Amritsari paneer kulcha prepare the dough, filling and shape into round kulcha as mentioned in the detailed recipe.
Preheat oven at 220 C or 425 F. Brush a baking sheet with oil or cooking spray. Brush some butter or milk on shaped kulchas and arrange them on the baking sheet. Bake bread for 18-22 minutes or until the kulchas turn golden brown.
Serve baked kulcha hot.
Other Options For Stuffing Amritsari Kulcha
Aloo kukcha- potato stuffed flat bread.
Matar or green peas stuffing- Just use 2 cups cooked and coarsely mashed green peas instead of paneer.
Tofu- Grate and use instead of paneer
Mushrooms
Cooked and coarsely mashed lentils or dal
Finely chopped Onions
Expert Tips
Flour– Traditionally plain flour or maida is used for making this kulcha in north India. If you want to make it healthier you can use whole wheat flour too but the taste and texture will be very different.
Paneer-Use fresh and fine quality paneer for best results. I prefer to use homemade paneer or good quality organic paneer. You can grate it, crumble it or even pulse in a mixer grinder.
Spices– You can vary the quantity of any ingredient in the filling to suit your taste. Add more or less green chilies as per taste. When making for kids you can leave out green chilies and just add a pinch of black pepper.
Vegetables- You can reduce paneer to half and add vegetables like grated carrots, cooked and mashed peas, cauliflower to make it more interesting and delicious.
Make Ahead & Storing Leftovers
You can make both the filling and dough two days ahead and make kulchas as required. Store the filling and dough in airtight containers in refrigerator.
If you have leftover kulchas or want to make a large batch and freeze you absolutely can. Cool the cooked kulchas thoroughly and stack them by alternating between sheets pf parchments. Store in freezer bags and freeze for 2-3 months.
Frequently Asked Questions
More Flatbread Recipes
Are you making this recipe? I would love to see a snap of your creation too. Do snap a pic and share on Instagram with hashtag #cookclickndevou and please give a star rating ★ in the recipe card above. Follow us on Pinterest , Instagram, Facebook for more recipes and ideas.
Recipe