Semiya upma is a delicious, easy and popular south Indian breakfast recipe made with vermicelli, vegetables, lentils, peanuts and some basic spices. It is simple, easy to make one pot recipe that gets ready in less than 15 minutes. This vermicelli recipe is vegan and very versatile.
In this post I am sharing 2 ways to make semiya upma recipe- one on stove top and second recipe is making easy vermicelli upma in instant pot.
Upma is an easy and traditional Indian breakfast made with semolina, peanuts, lentils etc. There are also many variations of upma recipes using semiya, rice rava, wheat rava, oats, sabudana and even quiona. Today we will learn how to make best vermicelli upma recipe.
Vermicelli is known as semiya in south India and seviyan in north India. It is a very widely used ingredient in Indian cooking. There are many savory as well as sweet preparations with vermicelli like semiya biryani, meethi seviyan, semiya payasam, curd semiya along with this vermicelli upma.
You can serve semiya upma for breakfast on its own or topped with ghee, coconut chutney, tomato chutney or even curd. A well made vermicelli upma is not sticky, has a amazing soft texture, not mushy and not overly glossy.
What Is Vermicelli?
Vermicelli is a type of pasta that are hard and looks like super thin sticks. It is an Italian word meaning little worms. But the vermicelli or semiya we get in Asian countries are very very thin similar angel hair pasta.
It is made of refined wheat flour or maida mostly. These days you also get millet semiya, wheat flour vermicelli etc.
It is known as semiya, Shemai, shevighe, seviyan in India. Even before various pasta recipes became common, vermicelli recipes are very widely made in Indian homes.
Given to its ease of storing and quick cooking nature, many traditional Indian recipes like upma, kesari, payasam were made with semiya too.
You will usually find unroasted and roasted vermicelli in shops. While you can use either of them for upma, roasted vermicelli is prefered for many recipes.
About Semiya Upma
Semiya upma recipe also known as vermicelli upma is a delicious variation of rava upma. It is made by cooking vermicelli in boiling water until turns soft. It is a popular Indian breakfast dish.
You can use both roasted semiya and unroasted vermicelli for making semiya upma recipe. I will discuss the differences shortly.
This upma is seasoned with just salt and flavored with ginger. I always make vermicelli upma with added vegetables. I usually add chopped onions, green peas, beans, carrots and corn. Vegetables are optional and you can make semiya upma without them too.
The traditional tempering or tadka used in south Indian cooking is done for this upma too with mustard seeds, urad dal, chana dal, curry leaves, peanuts and green chillies. Spices like cumin seeds, fennel are not used in traditional south Indian semiya upma recipe.
Vermicelli upma is one of the easy and quick breakfast recipes that will come handy when you don't have much time or no batter for making idli, dosa 🙂 Also kids make less fuss with this upma rather than rava upma 🙂
How To Choose Vermicelli For Upma & Other Recipes?
The most common variety of semiya you will find in stores are made of all purpose flour. These days healthier options like millet semiya, whole wheat semiya are available too. You can choose the one you prefer.
Next you will find both roasted and unroasted varieties. If you buy roasted semiya you can skip the frying part in any recipe. Unroasted vermicelli needs a quick roasting in oil or ghee. Many people prefer to buy unroasted variety as pre roasted vermicelli has a dark color and very nutty flavor which is not suitable for all recipes. Here I have used unroasted semiya only.
You can also use rice vermicelli known as instant sevai but it needs to be boiled separately, see notes.
I have used and liked vermicelli from bambino, MTR brands. For upma I also like to Anil semiya. The amount of water and cooking time varies from brand to brand so you need to experiment a bit to get the knack.
Ingredients
Vegetables
Adding vegetables in semiya upma is optional but I highly recommend it. Vegetables improve the nutrition profile, taste. I like to add chopped carrot, green peas, beans, capsicum, sweet corn in this recipe.
Onion
Thinly sliced onions add wonderful flavor and taste to semiya upma. I like to add onions in all upma recipes. If you want to skip onions you can do so and add a pinch of asafoetida instead.
Ginger- Green Chili
These ingredients are used for flavor and spice. You can use more green chilies for spicier upma. I hav never tried adding garlic in this recipe, you can add if you like.
Tempering Ingredients
Mustard seeds
Use small black mustard seeds used in south Indian tempering. Take care not to burn it as will turn very bitter on buring.
Lentils
Lentils like urad dal, chana dal lend a wonderful flavor and crunch to this upma. If you are not adding vegetables, you can double the quantity of lentils in this recipe.
Peanuts
Peanuts or groundnuts are always added to Indian dishes like upma, sabudana khichdi, coconut rice, tomato rice etc as garnish or as tempering. They lend a nice crunch and nutty flavor to this upma. Along with peanuts you can also use cashew nuts.
Oil
I like to use peanut oil or sesame oil for tempering but you can also use ghee or any vegetable oil, canola oil. I have never seen or heard of any south Indian upma tempered with cumin seeds, they totally change the flavor, you can add if you want but it is not there in the traditional recipe 🙂
Other ingredients
Lemon juice or lime juice, water, salt to taste. We do not use coriander leaves in this recipe but you can add chopped coriander leaves if you like. You can add a pinch of turmeric powder but again we don't add turmeric powder in semiya upma at our home.
How To Make Semiya Upma Recipe
Roasting Semiya
Skip this part if you are using pre roasted semiya. I have used around 2 cups of semiya (180 grams) for this recipe.
Measure unroasted semiya and set aside.
Heat oil in a heavy pan. Add about 2 teaspoons oil. You can also use ghee for richer flavor.
Add semiya and mix gently.
Keep roasting in low flame until oil coats well and vermicelli turns aromatic. Do not go by the color change and do not let it brown a lot. Once done remove the roasted vermicelli to a plate.
As the semiya gets roasted chop 1 medium carrot, 12 beans. Also keep 1/4 cup fresh or frozen green peas ready. If you want to make this upma very quickly, you can skip adding vegetables or use frozen vegetables too. You will need about 3/4 cup of mixed vegetables.
Making Vermicelli Upma
Heat the same oil again in the same pan. Add mustard seeds, 1 teaspoon urad dal,1 teaspoon chana dal and 1 tablespoon peanuts. Saute and fry for a minute.
Add 12 curry leaves, 1 teaspoon minced ginger and saute well.
Add thinly sliced onions and saute for another minute or till they a turn a bit soft. Do not let the onions brown for any upma recipe.
Now add slit green chilli and saute again.
Add finely chopped vegetables and saute. Cook in medium heat for 2 minutes.
Now add 2 cups water, salt to taste and 1/4 teaspoon oil. Mix well and let the salt dissolve.
Bring water to a rolling boil.
Lower the flame and add roasted semiya. It will not form lumps like rava, so you can add everything at once.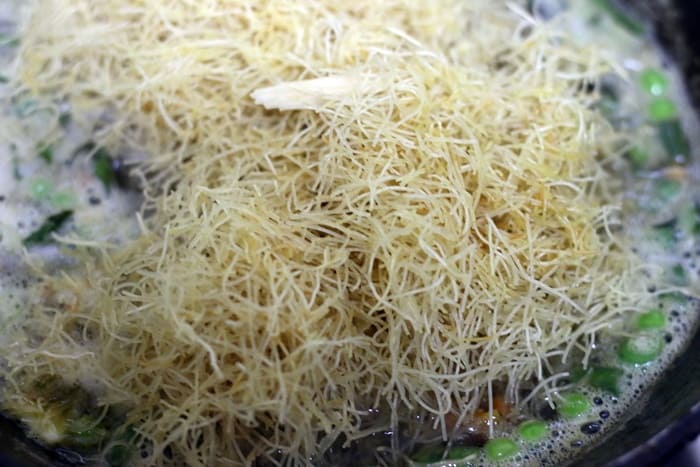 Mix very well.
The semiya will absorb water and get cooked. Maintain medium heat.
Cook keeping the pan open until all the water is absorbed.
Once all the water is absorbed and vermicelli looks soft, cover the pan and simmer. Cook covered for for 2-3 minutes.
Remove from flame, add lemon juice and 1/4 teaspoon sugar. Mix gently to fluff up the semiya. Serve semiya upma hot.
Semiya Upma Without Vegetables
You can also make this upma without vegetables. The procedure remains the same. Just reduce water to 1.75 cups for given quantity of vermicelli.
Using Rice Semiya Or Sevai
If you are using rice semiya you will have to cook it boiling water for 2-3 minutes or keep it soaked in very hot water for 3-4 minutes according to package instructions. Saute the vegetables as mentioned and once they are cooked, add the cooked semiya and toss well. Do not add water while cooking vegetables.
Instant Pot Vermicelli Upma
For ingredients and quantity please refer recipe card or step by step photos above. With this instant pot recipe you can make vermicelli upma in minutes.
Place your steel insert inside your instant pot and switch it on. Press saute and once it displays hot add 2 teaspoons oil. Add semiya and roast for 2 minutes. Remove to a plate.
Add 1 teaspoon more oil. Temper with mustard seeds, urad dal, chana dal and peanuts. Saute well till lentil turns golden brown. Next add ginger, green chilies and few curry leaves. Saute well for another minute.
Once the raw flavor of ginger is gone, add sliced onions and saute for a bit until they turn soft. Now add chopped vegetables like grated carrots, chopped green beans and saute for 2-3 minutes.
Add 1.75 cups water and add salt to taste (IP needs less water compared to stovetop method)/
Add vermicelli, mix gently and close the IP. Cancel saute, press pressure cook or manual and set timer for 1 minute to let the semiya cook. Set pressure valve to seal position.
Once the Instant pot beeps, release pressure immediately with caution. Fluff up the vermicelli, add lemon juice, mix well and serve hot.
Variations
Lemon semiya
Follow this lemon rice recipe and instead of rice we will add semiya. Heat 2 tablespoons oil in a pan. Add 1 teaspoon mustard seeds, add chana dal, 2 teaspoons urad dal, 1 tablespoon peanuts, few cashews, 12 curry leaves and 2 slit green chilies. Saute well.
Add 1. 75 cups water, 1/2 teaspoon turmeric powder and salt to taste.
Curd Semiya
This is an easy method to make thayir semiya in minutes.
Heat 1 tablespoon oil in a pan. Temper with 1 teaspoon mustard seeds, chana dal, 12 curry leaves, 1 dried red chili, 2 green chilies, 1/2 teaspoon chopped ginger and 12 broken cashews. Saute well for 2 minutes.
Add 1. 5 cups water, salt to taste and bring to a boil. Add roasted semiya and cook till all water is absorbed. Let cool to room temperature.
Whisk 1/4 cup milk and 3/4 cup fresh thick curd well. Add it to the cooked semiya. Mix well and adjust salt. Add 2 tablespoons grated carrots, 1 tablespoon coriander leaves, 2 tablespoon pomegranate arils. Mix well and serve. You can also add roasted peanuts & chopped raw mangoes
Expert Tips
Semiya– You can use both roasted or unroasted vermicelli in this recipe. If using roasted vermicelli, skip the roasting part in the recipe.
Also do note that pre roasted vermicelli is dark in color and has a very nutty aroma. I usually buy unroasted semiya and roast briefly.
Water ratio– The quantity of water required varies with the thick and thin variety of vermicelli. Thinner ones need less water and thicker semiya needs more water. I have used thin variety and if yours is thicker use 2.25 to 2.5 cups water.
Always bring water to a vigorous boil before adding the semiya. If you add semiya before water boils properly, vermicelli will not bloom and will be a bit hard and mushy.
Cook in open pan until all the water is absorbed. Do not close the pan while the semiya is cooking. It will the upma mushy. Only cover and cook in low flame for 2-3 minutes after all the eater is absorbed.
Frequently Asked Questions
More Popular Breakfast Recipes
Are you making this recipe? I would love to see a snap of your creation too. Do snap a pic and share on Instagram with hashtag #cookclickndevou and please give a star rating ★ in the recipe card above. Follow us on Pinterest , Instagram, Facebook for more recipes and ideas.