Idli recipe with step by step photos. This post is for all my dear readers who asked how to make soft and fluffy idli at home :). Learn how to make soft idlis at home easily with this recipe. This is my tried and tested recipe for soft and fluffy idlis at home with loads of tips and tricks.
Idli is the traditional breakfast prepared in south Indian homes on every single day. Soft, steaming white idlys served with sambar and chutney is a typical scene. Idli sambar, chutney combination with filter coffee is delicious and healthy. Idli is packed with carbs and protein. It is the most preferred food for all ages. Fermentation improves the nutritional value. Further idli is steamed for a very brief time. It preservers the nutrition. Fermentation and steaming makes idly suitable for even babies older than 6 months. In fact in most of the Tamil homes idly is the most preferred weaning food for babies. Idli is also very popular outside India as south Indian steamed rice cakes 🙂
If you are in short of time for making traditional soft rice idli there are many instant idlis like poha idli, sago idli, rava idli, ragi idli recipes too.
To prepare soft idli batter there are two ways. You can either use idli rice or idli rava. I always make soft idli batter with idli rice. Using idly rava is very convenient as we need to just grind the urad dal. You can definitely use idly rava. Few optional ingredients are added to make soft idli.
Optional ingredients used in making soft idli batter:
rice flakes :The most commonly used ingredient for soft idlis. You can use up to 1 cup for making soft idli batter. Generally if you want to keep the batter for 2-3 days and still make idly poha can be added.
cooked rice: This is the most commonly used ingredient in restaurants for making soft idli. I do nit recommend this as it is very unhealthy and unhygienic to ferment cooked rice. The traditional idli recipe followed for ages never used cooked rice.
Baking soda: A pinch of baking soda is added to the idli batter just before steaming. Again I never do this nor recommend.
To make super soft idli we need just 3 main ingredients. Idli rice or par boiled rice, methi seeds and urad dal. Methi seeds yields super soft idli. Methi seeds are also excellent coolant. I usually use 1 tablespoons methi seeds for 4: 1 rice dal proportion. One more tip I follow is I add 2-3 drops of gingely oil in the batter just before steaming. This yields very flavorful soft idly. I prefer wet grinder for making idli batter as it does not get heated up easily. However idli recipe using mixer is also possible. Now to make really soft idli we need to consider the following points.
Salt: Always used non iodized crystal salt for idli batter. Salt helps to prevent over fermentation of idli batter. So during summers it is better to add salt before fermenting the idli batter. While in winters the fermentation is already slow add salt later.
Urad dal: Use very good quality fresh round urad dal. The urad dal should be white and fresh for soft idli. Wash the urad dal thoroughly before soaking. Use the water used for soaking to grind the urad dal. Make sure to use unpolished urad dal. Do not add all the water while grinding urad dal. Just sprinkle 1 or 2 teaspoons water at a time. The urad dal should be ground into a very soft, fluffy and smooth batter. The urad batter should have the texture of butter.
Rice: Idli rice is best used here. if idli rice is not available one can use par boiled rice.
Consistency of idli batter: The idli batter should be thicker than dosa batter.If the idli batter is very thick the idlis will turn hard. If the batter is runny the idlis will be flat. Finally do not over steam the idlis. Maximum of 10 minutes are sufficient for making idlis.
Serve soft Idlis piping hot with sambar, chutney or podi or vadacurry
When packing in tiffin podi idli is the only way to go 🙂 Soft idlis smeared with podi and gingely oil any day!
Also check out my 40 side dish recipes for idli collection:
If you are looking for more south Indian breakfast recipes do check dosa, paniyaram, idiyappam, appam, upma, masala dosa, poori, pongal, kara bath recipes.
How to make idli soft, video:
How to make soft idli recipe and idli batter with step by step photos.
Soak urad and methi seeds together for 3-4 hours

Soak rice separately for 4-6 hours.

Drain the soaked urad and reserve the water.
Add the urad dal to the wet grinding stone and grind to a very smooth batter. Sprinkle reserved water as and when needed. The batter should be soft, thick.
Remove the batter to a big deep vessel.

To the same grinding stone add rice and grind to a smooth paste with minimum water.
Now mix both the batters together with hand. Add salt now if the climate is hot. Mix very well and leave for fermentation. It will take 8-14 hours.

Once the batter is ready take the top most fluffy batter for idly. Make idli using an idli pot or steamer with idly plate.
Soft idli recipe card below- Learn to make soft idli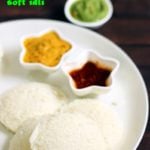 Idli recipe | soft idli recipe | How to make idli batter for soft idli recipe
soft idli recipe with step by step photos. learn how to make super soft, fluffy white idli-South Indian rice cake with this recipe
1 CUP = 250 ml
Ingredients
4

cups

idli rice or parboiled rice

washed

1

cup

whole urad dal / black gram

washed

1

tablespoon

methi seeds

non iodized crystal salt

water

few drops of gingely oil
Instructions
Soak urad and methi seeds together for 3-4 hours

Soak rice separately for 4-6 hours.

Drain the soaked urad and reserve the water.

Add the urad dal to the wet grinding stone and grind to a very smooth batter. The batter should be soft, thick.

Remove the batter to a big deep vessel.

To the same grinding stone add rice and grind to a smooth paste.

Now mix both the batters together with hand. Add salt now if the climate is hot. Mix very well and leave for fermentation. It will take 8-14 hours.

once the batter is ready take the top most fluffy batter for idly. Make idli using an idli pot or steamer with idly plate
Nutrition
Tried this recipe? Snap a pic and share 🙂
Mention cookclickndevou or tag cookclickndevour