Last updated on June 18th, 2018
Avarakkai poriyal recipe is easy Tamil nadu style broad beans stir fry with freshly grated coconut. We often make this avarakkai poriyal for lunch to serve with sambar or rasam. This broad beans poriyal gets ready in 15 minutes and tastes wonderful also. A very popular recipe in Tambrahm homes.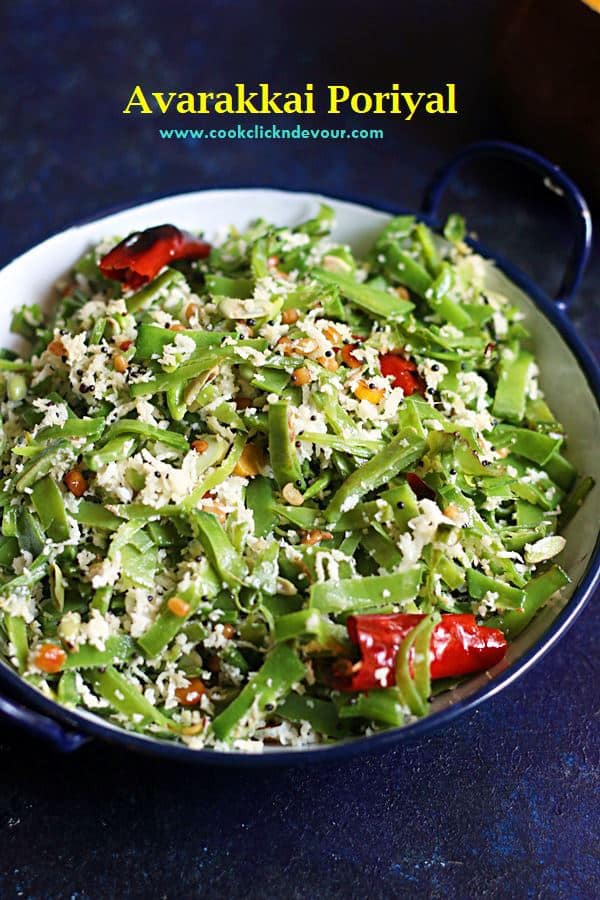 We make poriyal with various vegetables to serve for lunch. Poriyal recipes with coconut are a home favorite and I often make cabbage poriyal, poriyal with beans, carrot etc.
Avarakkai is a vegetable rich in nutrients. In Tamil homes this vegetable in used for making poriyal, poricha kuzhambu, sambar and also kootu. Young tender ones have a slight sweet taste and very delicious. If your broad beans are not tender then you will have to string them before cooking.
Tips For Making Tasty Avarakkai Poriyal.
First of all rinse and clean the avarakkai thoroughly.
Snap of an end of a broad bean and pull the string. Remove and discard it. Repeat this with all the broad beans. This is a very important step as the strings are very hard and chewy when cooked.
Along with urad dal I like to add some channa dal for tempering avarakkai poriyal as it adds to the taste.
Do not add lot if water while cooking. For 200 grams of avarakkai I prefer to add 1/4 cup water. You may add 2 more tablespoons. However when you add more water the vegetable gets overcooked and turns mushy.
Be generous with coconut. as it highly added to the taste.
You can also first cook the broad beans in pressure cooker and finally do the tempering.
Serve vegan, gluten free, no onion garlic avarakkai poriyal with rice, sambar and rasam. If packing for lunch you may have to avoid coconut depending up on the weather.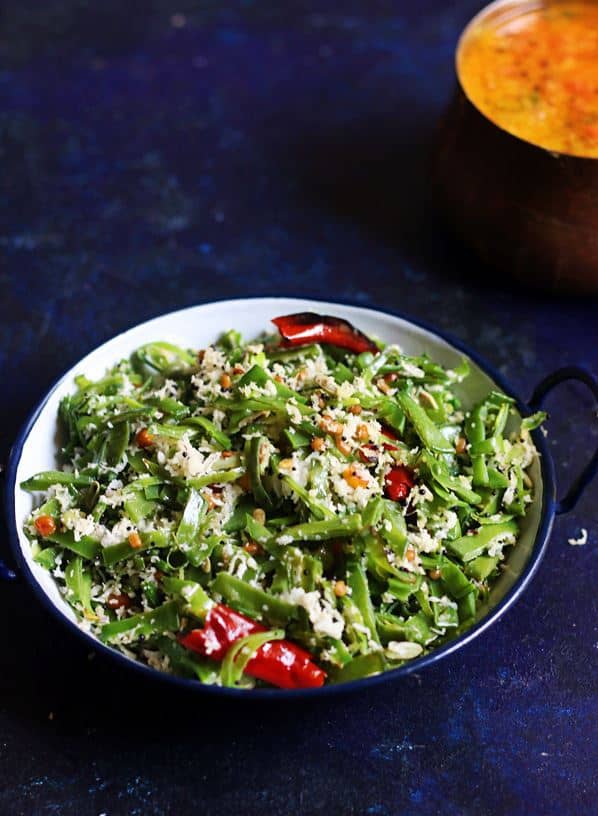 More Poriyal Recipes:
Potato poriyal, Cauliflower poriyal, vendakkai poriyal recipes
Avarakkai Poriyal Video Recipe:
How To Make Avarakkai Poriyal Recipe (Step By Step)
1. First of all rinse and clean the broad beans well. String the beans and chop finely. Make sure to chop in uniform size for even cooking.
2. Heat oil in a pan. Temper with mustard seeds, urad dal, channa dal, curry leaves, dried red chilies. Saute well for minute.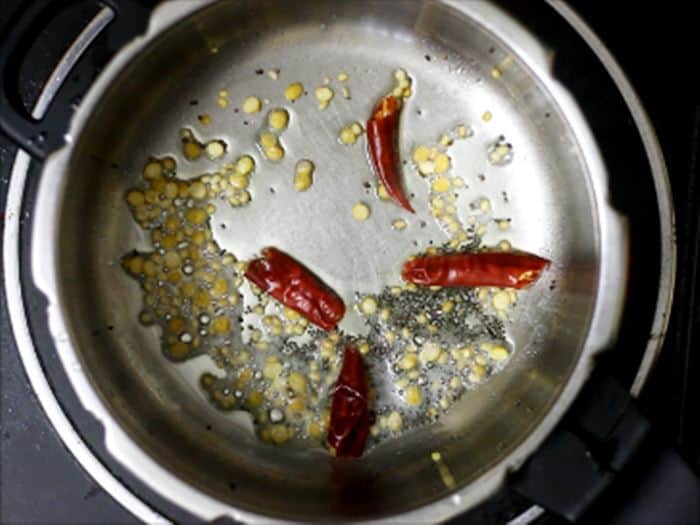 3. Add the chopped avarakkai and saute quickly. Season with salt.
4. Now add 1/4 cup water, cover and cook for 7-8 minutes in medium flame.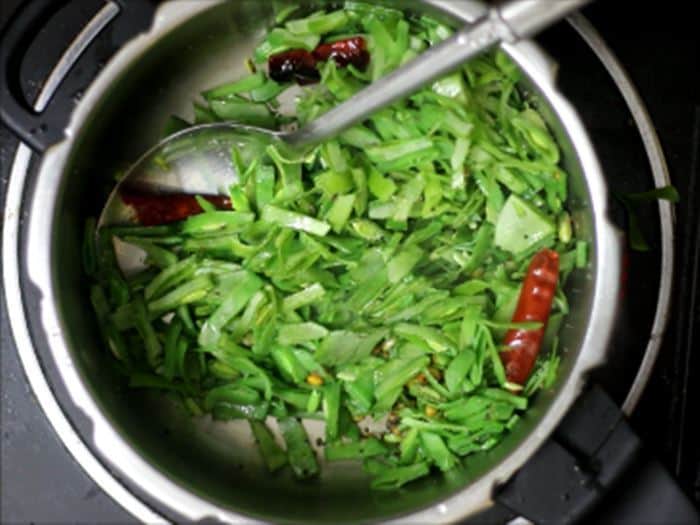 5. Once done check if the vegetable is cooked, else add few tablespoons water and cook for 3-4 minutes. Do not over cook.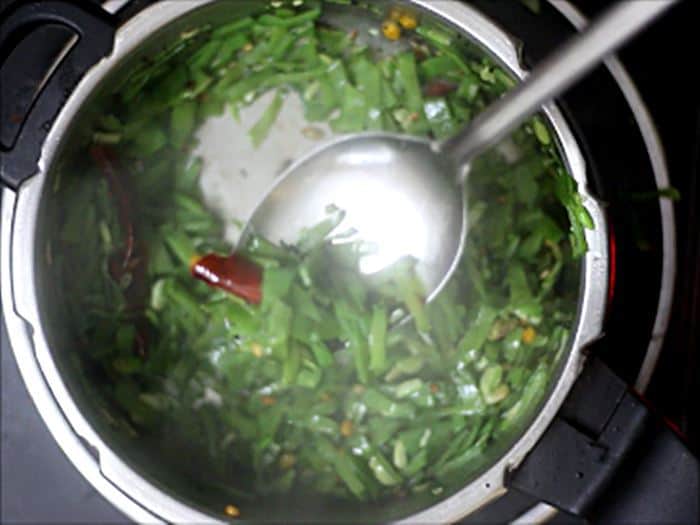 6. Finally add freshly grated coconut and mix well. Serve with rice and sambar or rasam.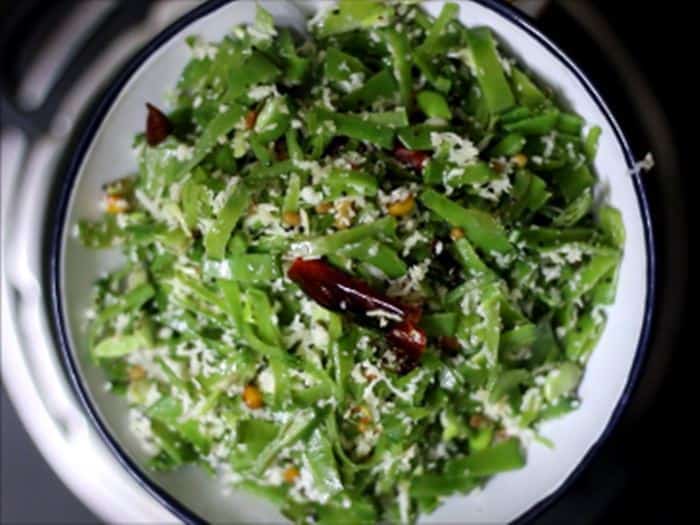 Avarakkai Poriyal Recipe Card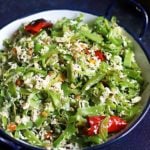 Avarakkai Poriyal Recipe (With Coconut)
Avarakkai Poriyal Recipe- easy and healthy south indian style broad beans stir fry recipe with fresh coconut garnish. Tastes best with rice and sambar!
Cuisine:
Indian, south indian, Tamil
Ingredients (1 cup=250 ml)
250

grams

avarakkai

Broad beans

1/4

cup

water

3/4

cup

grated coconut

fresh or frozen

salt

to taste
To Temper Avarakkai Poriyal
2

teaspoons

oil

1

teaspoon

mustard seeds

1

teaspoon

urad dal

1

teaspoon

chana dal

3

dried red chilies

10

curry leaves
Instructions
First of all rinse and clean the broad beans well. String the beans and chop finely. Make sure to chop in uniform size for even cooking.




Heat oil in a pan. Temper with mustard seeds, urad dal, channa dal, curry leaves, dried red chilies. Saute well for minute.

Add the chopped avarakkai and saute quickly. Season with salt.

Now add 1/4 cup water, cover and cook for 7-8 minutes in medium flame.

Once done check if the vegetable is cooked, else add few tablespoons water and cook for 3-4 minutes. Do not over cook.

Finally add freshly grated coconut and mix well. Serve with rice and sambar or rasam