Sambar is the popular south Indian lentil stew or gravy made with vegetables and ground spices. This classic dish is best served with hot rice, south Indian tiffin like idli, dosa, vada, pongal. Vegan recipe.
In this post I am sharing with you our family recipe of making easy and best south Indian traditional sambar that is so delicious, flavorful with all the tips and variations. Recipe includes step by step photos and video.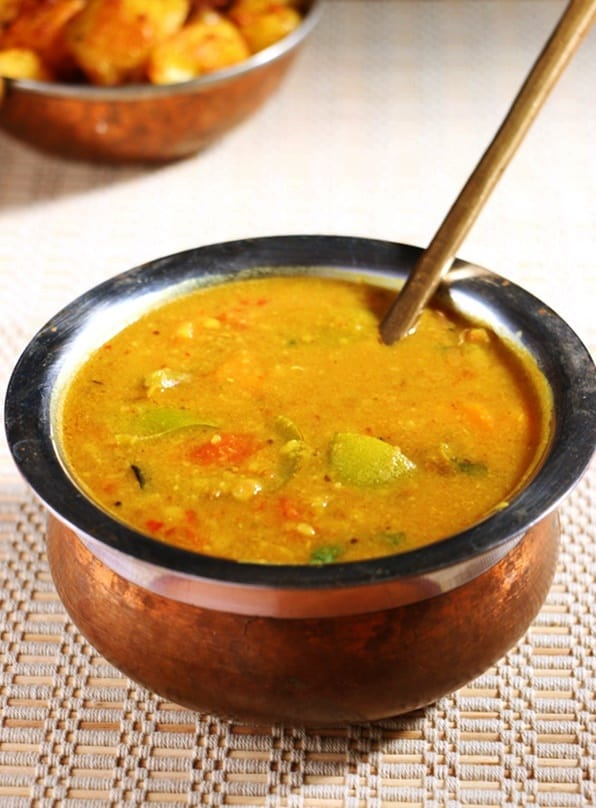 Today I am sharing with you all a recipe that truly capture's the essence of south Indian cooking. Easy to make, balanced and wholesome food that tastes delicious 🙂 This lentil stew has got it all. It is very popular and widely made in south Indian states – Tamil nadu, Karnataka, Kerala, Andhra & Telugana.
Sambar recipe is one of the balanced food that provides complete nutrition to the body. The lentils used in this dish provides the protein while the vegetables and spices take care of vitamins and micro nutrients. When eaten with carbs like rice, it is a wholesome balanced diet.
Sambar is the first course of south Indian meals served with rice and ghee. It is also served as side dish for breakfast like idli, dosa. In restaurants and tiffin centers idli dosa sambar chutney is the popular and most loved breakfast combos.
Lentils are one of the main source of protein for Indians. Be it south Indian sambar or north Indian dal fry, dal tadka we consume lentils several times a week if not daily.
Now every south Indian family has a recipe for sambhar. While the base remains the same, there will be minor variations in the spices used, choice of vegetables etc.
This south Indian sambar recipe I am sharing today is our family recipe that we have been making for many decades. It has been passed down to many generations and a keeper recipe that I am sure you will love too 🙂
Ladles of piping hot sambar mixed with freshly steamed rice, some ghee and a vegetable dish is my idea of hearty meal any day 🙂
So here we go with more details on the dish, step by step sambar recipe with video and all the tips and tricks you need to know!
What Is Sambar?
Sambar is a south Indian stew or gravy made of lentils, tamarind pulp, vegetables and a fresh spice paste or pre made spice powder called sambar powder.
Most of the south Indian homes make sambar powder in bulk and store. So making this sambhar is a breeze and all you need to do is chop vegetables and cook lentils.
The taste and flavor of sambar is directly proportional to quality of sambar powder or fresh spice paste you use. I always make and store homemade sambar powder which is best in terms of flavor, ingredients used and also cost.
If making a big batch of sambar is not feasible for you, you can make it in small quantities just enough for 2-3 times. I am sharing the recipe for small batch sambar powder in this post.
Our method of this making this lentil stew is what followed in most south Indian homes. We do not boil the vegetables separately. Sautéing and simmering them in the stew will make them perfectly cooked and not mushy.
Boiling the vegetables separately and then adding them to the sambar is more time consuming and more utensils clean 🙂 You do not want that do you 🙂
This is my Mom's sambar recipe that I have been making for more than a decade. Sometimes I make it in instant pot to save time. In this post I am sharing the method of making sambar in instant pot.
It is so tasty, thick and lush and has perfect flavor. I use whatever vegetables I have in hand and it turns out so good.
This Sambar Is
Authentic & traditional south Indian recipe
Made easily in instant pot
very delicious and flavorful
loaded with vegetables
vegan and gluten free.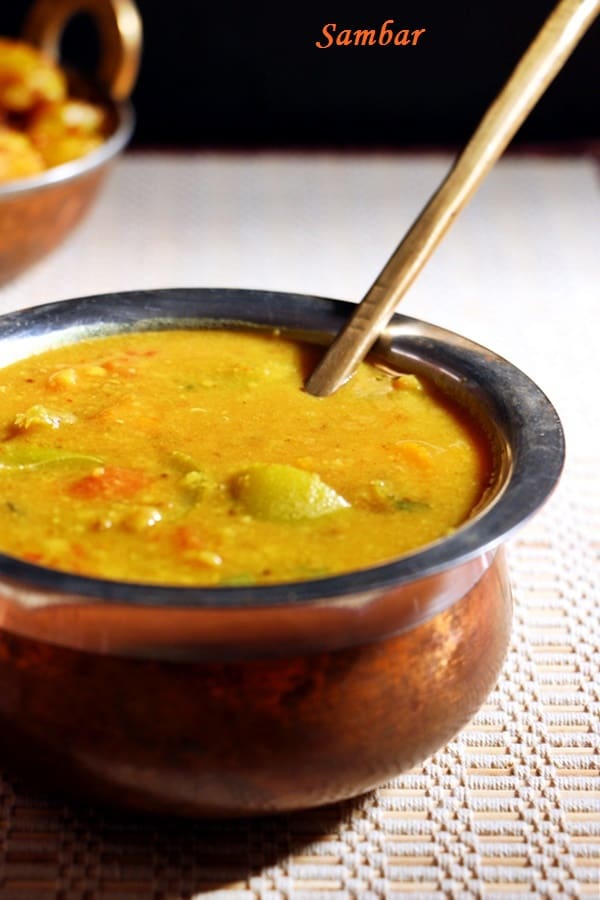 Vegetables
Traditional south Indian sambar recipe can be made with one or combination of many vegetables. Depending on the region and community, the vegetables used in this recipe varies.
Most popular combination of vegetables used in vegetable sambar recipe are
shallots or pearl onions or sambar onions
drumsticks
tomatoes
carrot
capsicum
eggplants
Sometimes we also make sambhar with just one vegetable like white pumpkin or ash gourd, yellow pumpkin.
Other vegetables that you can add in this recipe are
radish
potatoes
okra
Greens like amaranth
Beans.
Sometimes when no vegetables are available we make sambar with just tomatoes or onions too. Here I have made this sambar recipe with eggplants or baingan, carrots, beans, tomatoes and onions.
Basically you can add any vegetable you like and that is available. Please note that the taste and flavor of sambar varies with the vegetables used.
Homemade Sambar Powder
Sambar powder is the typical spice blend used for flavoring sambar. In Tamil homes where sambar is a daily affair, we make this as dry spice powder and store for months.
This is the sambar powder recipe I use and this is the one we have been making in the family for years.
There is one more variation with this masala, a spice paste with chilies, coriander seeds, peppercorns and coconut used for arachuvitta samabar literally meaning sambar with fresh ground spices. This version is mostly made for special occasions.
Here is my recipe for making small batch sambar powder that you can make using a spice grinder or mixer grinder and use for 2-3 times.
Dry roast the following spices until they turn aromatic, let cool and make a fine powder.
10 dried red chillies
2 tablespoons tur dal
1 tablespoon chana dal
1/2 teaspoon black peppercorn
1/2 teaspoon fenugreek seeds
2 tablespoons coriander seeds
These are the ingredients traditionally used in this spice powder. Adding ingredients like urad dal will make the sambar pasty.
If you are using store bought sambar powder use 2-3 tablespoons for this recipe.
Choosing Lentils Or Dal
Traditionally south Indian sambar recipe is made with fresh tuvar dal or tur dal or arhar dal only. I mean the authentic recipe calls for only tuvar dal.
However there are many variations with this recipe made in restaurants, wedding feasts etc. Usually when making in high volume such as restaurants or for wedding feasts, a mix of tuvar dal and masoor dal (pink lentils ) to cut the cost.
Pink lentils make the sambar thick and increases the volume. Sometimes we also use moong dal or split green moong to make samba. Moong dal is used for making tiffin sambar mostly.
You can try different combinations of lentils and arrive at the best one you like. Moong dal is light on tummy, easy to digest and has cooling effect compared to toor dal. So you can try and use it once in a while.
Make sure to cook the lentils really well using a pressure cooker, instant pot or on stove top until completely mushy.
There are some special sambar recipes that use whole moong beans, butter beans, black eyed peas, black chickpeas instead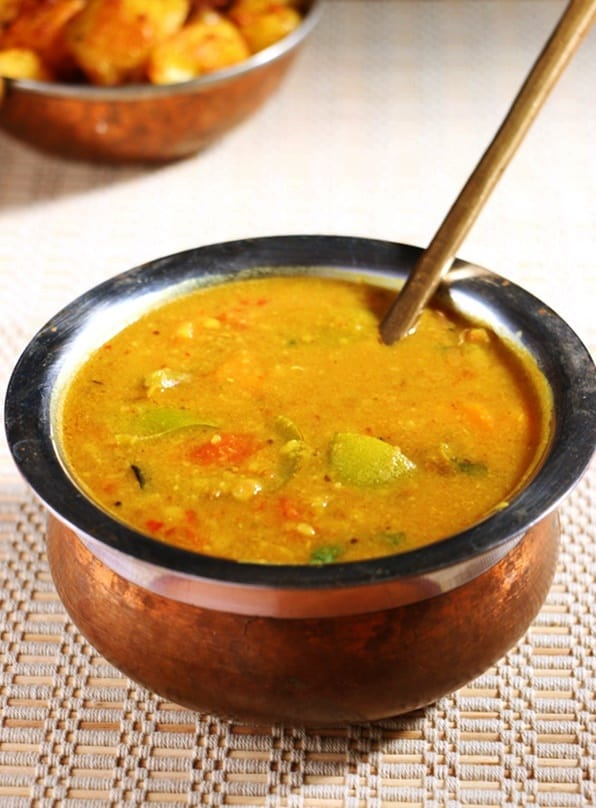 How To Make Sambar Recipe
Preparation
Pick and rinse split pigeon peas well. Add 3 cups of water and soak the lentils for 30 minutes before cooking dal.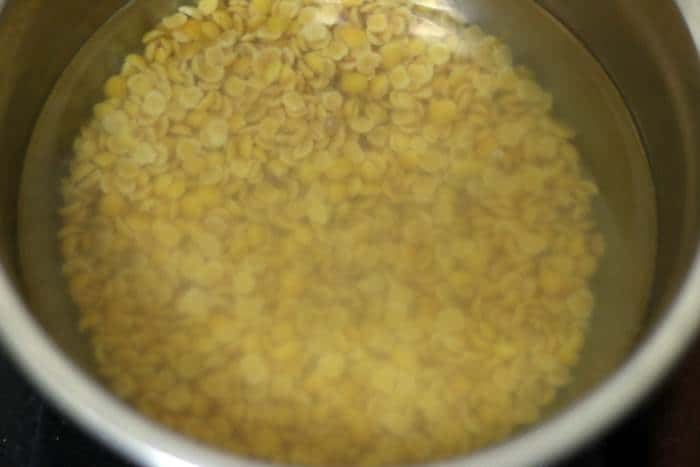 Pressure cook 1/2 cup toor dal with 2 cups water in medium flame until completely mushy. Once pressure is released mash the dal very well. In pressure cooker cook for 4 whistles, in instant pot cook for 8 minutes.
Use the back of ladle or a potato masher and mash the dal until very smooth. This is very important for making perfect sambhar. You can mash the dal only if it is completely cooked. So adjust water and cooking time according to the quality of your dal. You can also grind the also to make it smooth.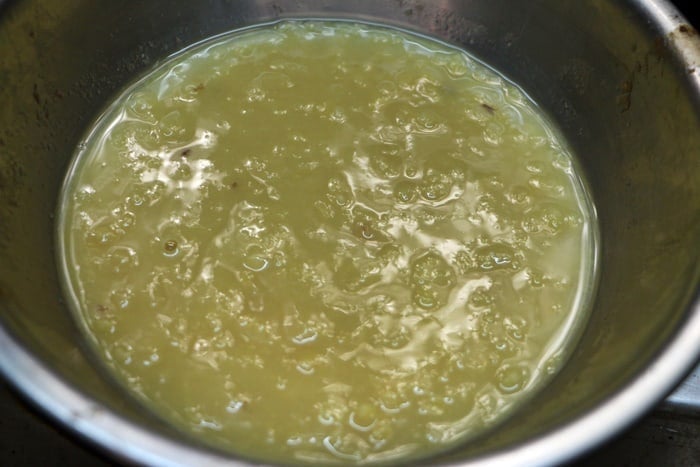 Soak tamarind in warm or hot water for 15 minutes.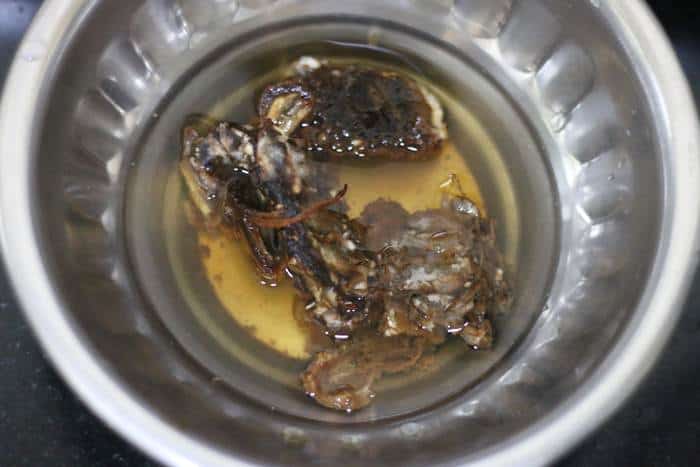 Squeeze and extract thick pulp, discard the peels.
Rinse, peel and chop the vegetables.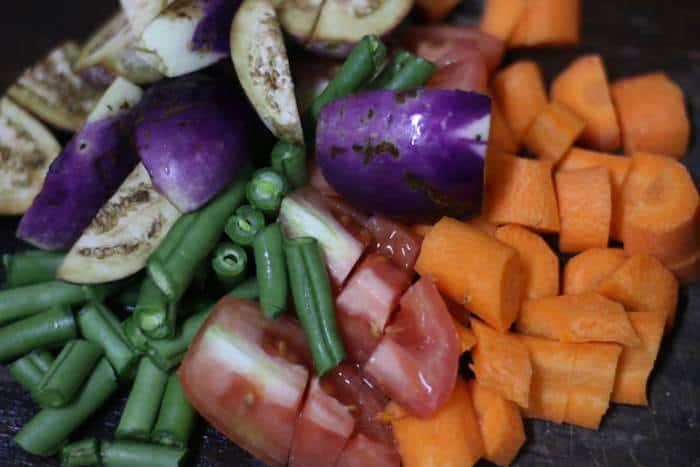 Peel and rinse the pearl onions.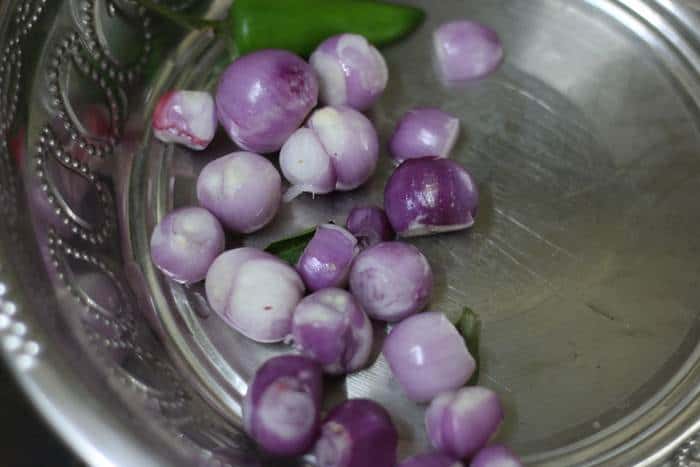 Making South Indian Sambar
Heat 2 tablespoons in a heavy pan or pot. Once the oil is hot add mustard seeds, urad dal (optional) methi seeds and few curry leaves. Let the seeds splutter.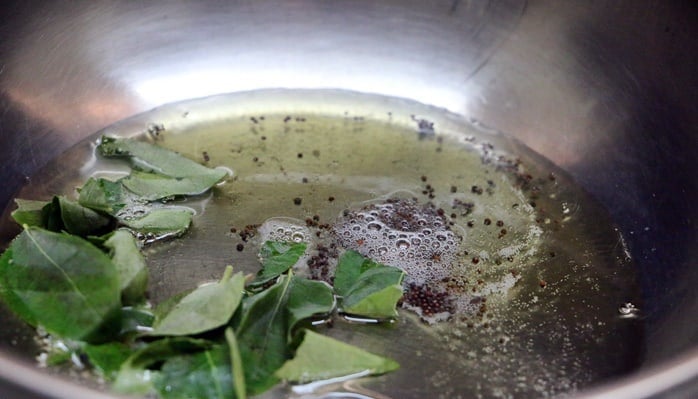 Add pearl onion and saute till it changes color slightly in medium heat.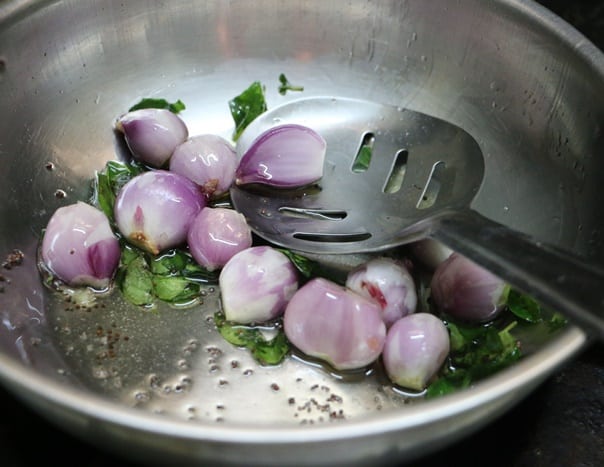 Next add all the chopped vegetables, saute and cook the vegetables for 3-4 minutes. Then add sambar powder, turmeric powder to the cooking vegetables and mix well. Saute well. Saute well after adding spice powders to coat them well in veggies.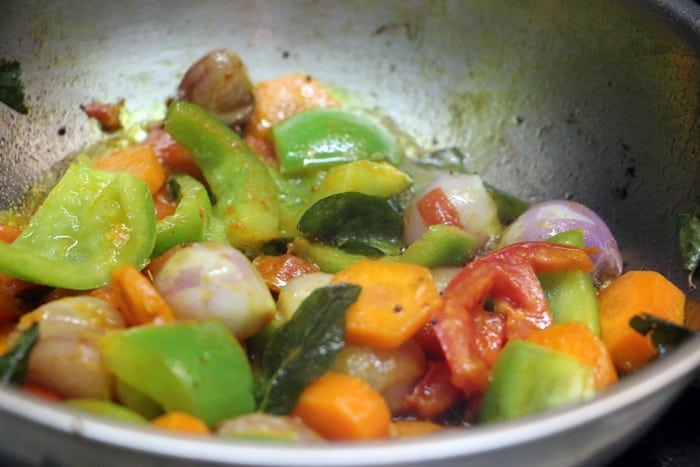 Now add 1- 1.25 cups of water and cook the vegetables for 3-4 minutes. After that add the thick tamarind extract to the cooked vegetables and mix well. Cook well for 5-7 minutes. Rinse the bowl with 1/2 cup water and add that tamarind water too.
Add cooked and mashed dal, season with salt and add a small bit of jaggery. Cook for 3-5 more minutes. Finally add cilantro leaves to the simmering sambar. Remove from flame. Serve hot.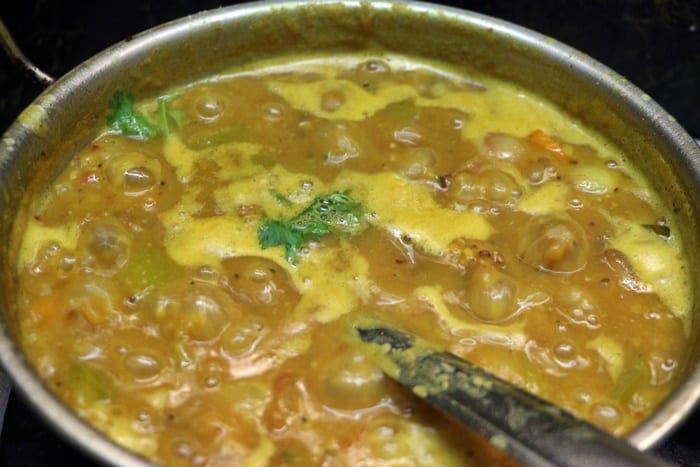 Serve sambar hot with rice. Goes well with okra fry or brinjal fry or cauliflower poriyal or carrot curry or potato fry.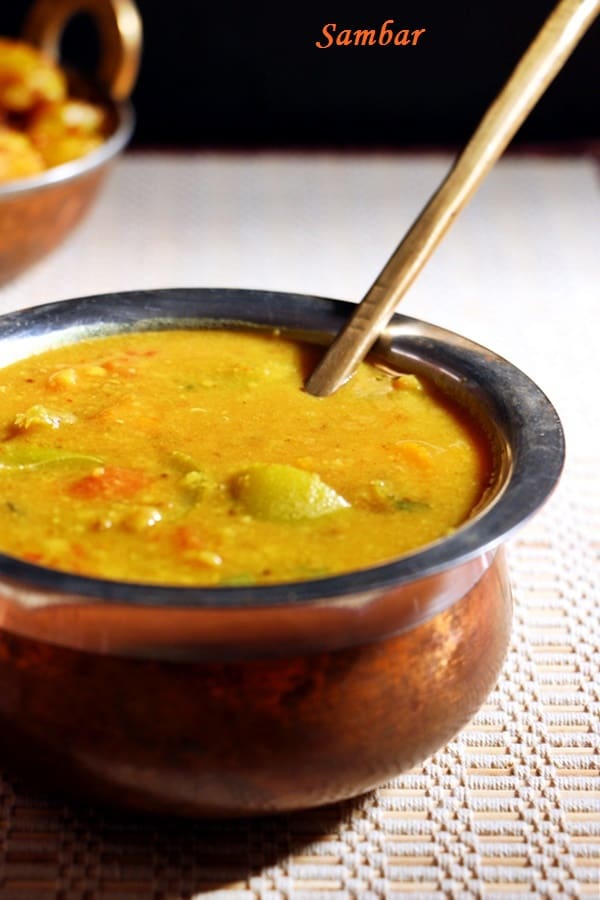 Serving Suggestions
This traditional south Indian sambar is best served with short grained rice or brown rice freshly steamed. Serve hot with a dollop of ghee. A vegetable side dish like potato fry, arbi fry, raw banana fry, okra fry, vazhakai poriyal, carrot poriyal goes very well with this dish.
Instead of vegetables you can also serve with papad, raita etc.
You can also serve sambar with idli, dosa, vada, ven pongal, uthappam. You could also serve this as a hearty delightful lentil soup or vegetable stew.
Expert Tips
Though a very simple and straight forward recipe, few tips and tricks listed here will let you make best flavorful sambar ever. Do not miss these tips especially you are beginner.
Sambar powder– The sambar powder you use can make or break your sambar. The spice blend should be a perfect balance of all the ingredients so that it lends wonderful taste, flavor, color and texture to the sambar.
It is made of coriander seeds, red chilies, chana dal, coriander seeds and few other ingredients.
This is my tried and tested homemade sambar powder recipe that yields best results every time. You can also use your trusted brand's store bought powder if making at home is not an option.
Here in the recipe card I have given recipe for making sambar powder in small quantity. You can use that too. Along with sambar powder some turmeric powder is always added for flavor.
Toor dal- Use fresh, unpolished tuvar dal to make sambar. Good toor dal will not be shiny and will not be in uniform size. Unpolished dal cooks faster, mashing up is easy and very flavorful. Here you can also soak the split pigeon peas for 30 minutes for faster cooking.
Make sure that the dal is properly cooked and thoroughly mashed. One of my aunt's just grind the cooked dal before adding to the sambar. I always use a pressure cooker or instant pot for faster cooking of dal.
For hotel style sambar you
Tamarind– In south India we always use aged tamarind that is dark in color to make kuzhambu and sambar. Aged tamarind lends a nice deep color. Aged tamarind is less sour too. Use Indian tamarind for best taste.
You can also use store bought tamarind paste, I have given measurement in the recipe. There are few recipes for sambar without tamarind where tomato puree is used.
Soak dried in tamarind in warm or hot water to extract pulp easily. Always add tamarind pulp only after the vegetables are cooked well. For more sour taste you can increase tamarind.
Consistency– Consistency of sambar should be of thin curry. It is thick, lush yet you should be able to pour and mix well with rice. Do note that this stew thickens on cooling. So if you make it very thick, it will become thicker on cooling. However reheating sambar is really easy and does not reduce the taste, so you can add 1 to 1.5 cups water and adjust the consistency as desired.
Tempering– Tempering is what lends a wonderful flavor and rounds off the taste of this stew. Unlike many recipes on internet, sambar is not tempered twice as far as I know. You start with the tempering, saute veggies with samabr masala, add tamrind pulp and finally add the dal. These are the steps.
For tempering sambar you will need mustard seeds, methi or fenugreek sees, curry leaves, green chilies. Asafoetida is added if onions are not used. Here in this recipe I have used shallots, so no asafoetida.
Add mustard seeds, fenugreek seeds and curry leaves only after oil turns hot. Fry mustard seeds and curry leaves in low flame else they may turn bitter. Fresh curry leaves add a unique flavor to this recipe, so do add them.
For authentic flavor use sesame oil to temper. Ghee is not used for tempering sambar, it is used for tempering rasam only. However you can drizzle a teaspoon of ghee before removing the sambar from flame. If you temper the sambar with ghee, sometimes it gives an unpleasant flavor.
Jaggery– To enhance the flavor of sambar, you can add a small bit of grated jaggery or jaggery powder after while the samabr is simmering. If jaggery is unavailable just skip it, do not sugar.
Sauteing sambar powder– Usually sambar powder is added after adding tamrind pulp. But I always saute sambar powder with veggies so they get to fry in oil for somtime. This small step really elevates the flavor of the stew.
Do not boil the sambar for long time after adding cooked dal. Just simmer gently for 5-6 minutes.
Cilantro leaves or coriander leaves is a must for flavorful sambar. Add finely chopped cilantro leves, just before removing the stew from flame and close the lid for 3-4 minutes. This infuses the flavor very well.
Refrigerating sambar– This is a recipe that you can make well ahead and store for 3-4 days in refrigerator. Just prepare the recipe as mentioned and divide among small containers. It is better to store in small serve containers rather than one large one to retain favor.
When required, remove and reheat gently. Chances are the the stew has well thickened, so add 1 cup or 2 cups water mix and reheat until it bubbles. To enhance flavor, add few drop of oil or even a fresh tempering of mustard seeds and curry leaves.
Variations With Sambar Recipe
Sambar is the most popular south Indian stew and every region, in fact every home has its own minor and major variations and special touches. Here are few common variations you can try with this recipe.
idli sambar– A delicious and easy recipe especially prepared as side dish for breakfast like idli, vada etc. Made with moong dal, this has a different taste and flavor.
Kerala special varuthacha sambar– In this recipe, the spices are well roasted and made into a paste. This spice blend is used to flavor the stew.
Udupi sambar– This is one more very popular version from Udupi city, karnataka. Made with vegetables like ash gourd and special spice blend, this is super flavorful with a slight sweet taste, one of my favorite.
Arachuvitta sambar– Instead of pre made spice blend, you will have to make a spice paste with ingredients like coriander seeds, peppercorns and freshly grated coconut. The flavor of this sambar is so good and tastes wonderful. Apart from this there are so many recipes with onions, drumsticks, tomato etc.
Frequently Asked Questions
Is sambar good for health?
Yes, sambar is a wholesome balanced food and it a good source of proteins, vitamins and micro nutrients.
Why is my sambar not tasty?
The taste and flavor of homemade sambar depends on good sambar powder. Key to good samabr is sambar powder, choice of vegetables, quality and quantity of tamarind used. Make sure to use fine quality unpolished toor dal for best flavor.
Is sambar vegan?
Yes this recipe is vegan as I have not used ghee to make this stew.
Which oil is best suited to make sambar?
Traditionally we make this dish with sesame oil for authentic flavor. If it is unavailable you can use peanut oil, coconut oil or any vegetable oil or ghee.
How to make sambar spicy?
Add 1 teaspoon Kashmiri red chili powder or regular red chilli powder along with sambar powder to make this dish spicier. You can also add 1 green chilli along with vegetables.
Can I add cumin seeds in this dish?
Yes if you like, add while tempering.
Is sambar gluten free?
Yes if you use gluten free asafoetida or skip it. Here I have skipped asafeotida as we do not mix it with onions, so this is a gluten free recipe.
I hope you will try this recipe and enjoy as much as we did. Please give a star rating ★ in the recipe card below. Follow us on Pinterest , Instagram, Facebook for more recipes and ideas
Recipe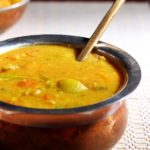 Sambar Recipe | South Indian Sambar Recipe
Sambar is the popular south Indian lentil stew or gravy made with vegetables and ground spices. This classic dish is best served with hot rice, south Indian tiffin like idli, dosa, vada, pongal. Vegan recipe.
In this post I am sharing with you our family recipe of making easy and best south Indian traditional sambar that is so delicious, flavorful with all the tips and variations. Recipe includes step by step photos and video.
1 CUP = 250 ml
Ingredients
For sambar:
1/2

cup

pigeon peas

toor dal

3

tablespoons

Tamarind pulp

from small gooseberry sized ball.

10-12

shallots

1

small carrot

peeled and chopped

1/2

green bell pepper

cubed

1

small tomato

finely chopped

1/2

teaspoon

turmeric powder

3

tablespoons

sambar powder

salt

to taste

1/2

teaspoon

jaggery
To temper sambar
1

teaspoon

mustard seeds

10-12

curry leaves

2

tablespoons

oil
Instructions
Soak tamarind in water for 15 minutes and extract thick juice.

Peel the onions, chop the vegetables.

Heat a pan and add 2 tablespoons oil to it. Temper with mustard seeds and curry leaves.

Add pearl onions and saute well.

Add the veggies and saute for 3-4 minutes. Add turmeric powder, sambar powder and saute well. Add 3/4 cup water and cook the veggies for 5 minutes.

Add tamarind juice and cook for 3-5 minutes.

Add the cooked dal and mix well. Add salt and jaggery. Cook for 5 more minutes.

Add cilantro leaves and serve sambar hot with rice or dosa.
Video
Nutrition
Serving:
3
g
Calories:
158
kcal
Carbohydrates:
19
g
Protein:
4
g
Fat:
7
g
Sodium:
10
mg
Potassium:
339
mg
Fiber:
5
g
Sugar:
5
g
Vitamin A:
150
IU
Vitamin C:
67.3
mg
Calcium:
56
mg
Iron:
1.9
mg
Tried this recipe? Snap a pic and share 🙂
Mention cookclickndevou or tag cookclickndevour