Rasam recipe– make easy, delicious and flavorful best south Indian rasam at home with my easy recipe. This is a quick and easy recipe without rasam powder than gets ready in 20 minutes. It is a clear soup served as second course with rice in south Indian meals. This dish is known as charu in Telugu and saaru in Kannada.
Serve with mashed rice , potato fry or raw banana fry for a comforting meal! My south Indian rasam recipe is made without rasam powder and adding dal is optional too. You can make this dish in flat 20 minutes and it tastes absolutely delicious.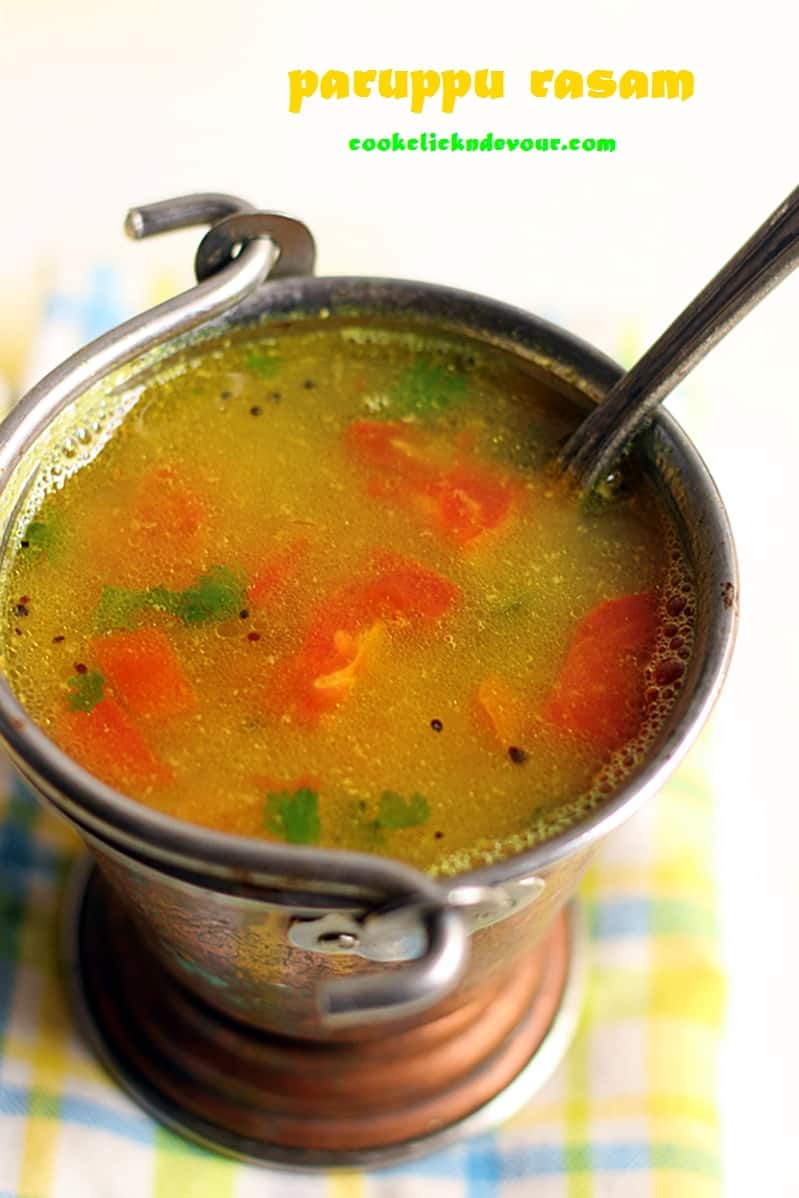 Looking for easy, quick and light summer meal? Try this super delicious and easy south Indian traditional recipe rasam.
It is one of the most sought dish that is loved by many in India. There are many varieties with this dish and here I am sharing the most basic recipe that you can make very easily at home.
A good homemade rasam is assessed by its flavor. This recipe will help you make the most flavorful rasam that is absolutely delicious and tastes excellent with rice.
Let's quickly learn more about this dish along with variations and tips.
About This Recipe
Rasam is a south Indian clear soup made with tamarind, lentils and tomatoes and spices & herbs. Black pepper , mustard seeds, cumin seeds, turmeric are the main ingredients for this recipe. All these are not only delicious but all rich in nutrients.
The word rasam means juice or extract in Tamil. It is the south Indian staple main dish served with rice as second course after sambar. There are many varieties of in this dish like milagu rasam, mysore rasam, lemon rasam, garlic rasam.
It is also an excellent healing food for colds. It is known as chaaru in Telugu and saaru in kanada which again means juice. This is a very popular dish in south India and known to clean the palate after first course.
It is a family favorite and I make this dish at least thrice times a week. Especially during winters we all crave for hot rasam with mashed rice.
You can make rasam in so many ways. The traditional rasam recipe is made with a special powder which is a dry blend of various dal, spices, dried chilies, coriander seeds etc. Every family has its own blend of this powder. You can also make this dish without rasam powder.
This dish is very popular in tambram weddings along with vetrilai rasam, pineapple rasam. It is an integral part of any south Indian meal.
I often make this easy rasam recipe without rasam powder as we like it very much. A very flavorful and tasty dish that is suitable for all ages right from babies to elders. This is a simple recipe that even beginners can easily make.
We typically introduce this to babies above eight months. Healthy, light on tummy and easy to digest.
In this recipe I have added some mashed toor dal or split pigeon peas. Adding cooked lentils is optional and you can leave it out if you prefer. Do try out this quick recipe of simple rasam. It is
Healthy, light & palate
Vegan & can be made gluten free by skipping asafoetida
Very delicious & flavorful
Kids friendly & easy to digest
Made with pantry staples within 20 mins
This recipe is easy to make no grind one. This is much suitable for babies, toddlers and kids too as it is spiced with pepper. It is the most basic dish of south India that every one seeks comfort from.
Serve rasam with fresh steamed rice, ghee and vegetable fry. You can pair spicy potato roast, brinjal fry, carrot curry, cauliflower roast, aloo gobi, keerai masiyal or some kootu with this dish.
To make rasam we will first make a mix of crushed peppercorns and cumin seeds. Just use a mortar and pestle and make a coarse powder.
If you want to make this recipe gluten free add 3-4 garlic cloves along with pepper corns and skip asafoetida from the recipe. You can also use gluten free asafoetida if available.
This is a very simple and easy quick rasam recipe that bachelors and students can also make easily. With just some steamed rice and papad you will have a healthy homemade meal.
How To Make Rasam Recipe
Preparation
Pick, rinse and soak 3 tablespoons toor dal or split pigeon in water for 5 minutes. This step is optional and helps in quick cooking of the dal.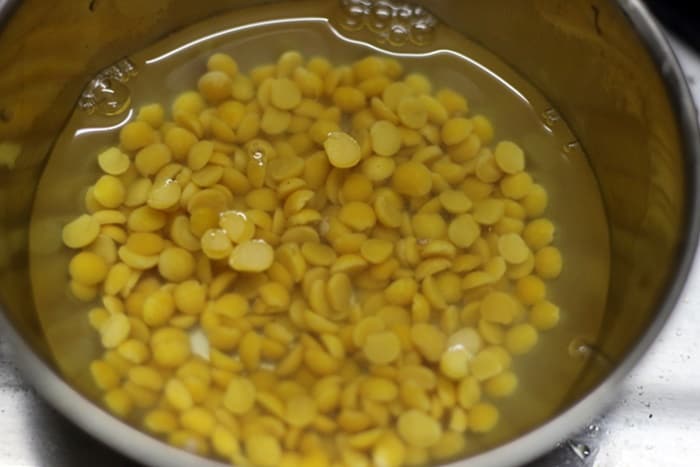 Add 3 cups water to the soaked dal and cook it until thoroughly mushy. To cook the lentils pressure cook for 4 whistles in medium heat or cook for 8 minutes in instant pot in manual mode. Once the lentils are cooked, drain excess water in colander and set aside. We will use it to make rasam. Mash the cooked lentils thoroughly and set aside too.
If you want to make rasam without dal you can skip this step and use 3 cups plain water instead.
Crush black peppercorns and cumin seeds well using a mortar and pestle. If you want a fine powder use a spice grinder or mixer grinder.
Soak tamarind in 1/2 cup water for 15 minutes. Squeeze gently to extract pulp. If you have readymade tamarind paste just add 1-2 teaspoons of it. Also chop tomatoes and set aside.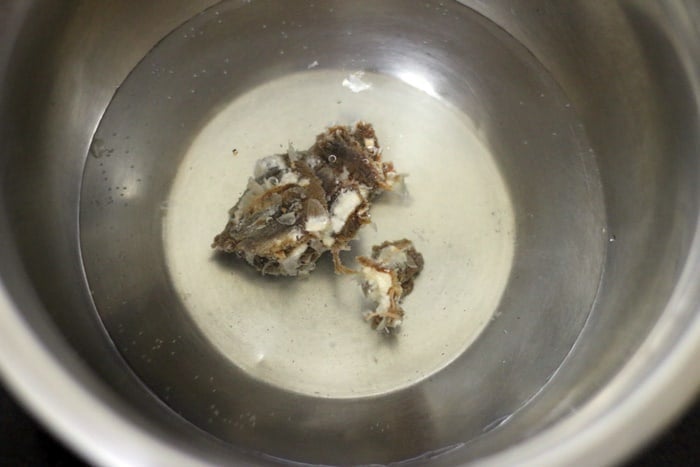 Making Rasam
Now take the reserved water after cooking lentils in a heavy pan or pot. To that , add turmeric powder, salt, curry leaves, asafoetida, crushed pepper cumin, chopped tomatoes and tamarind pulp.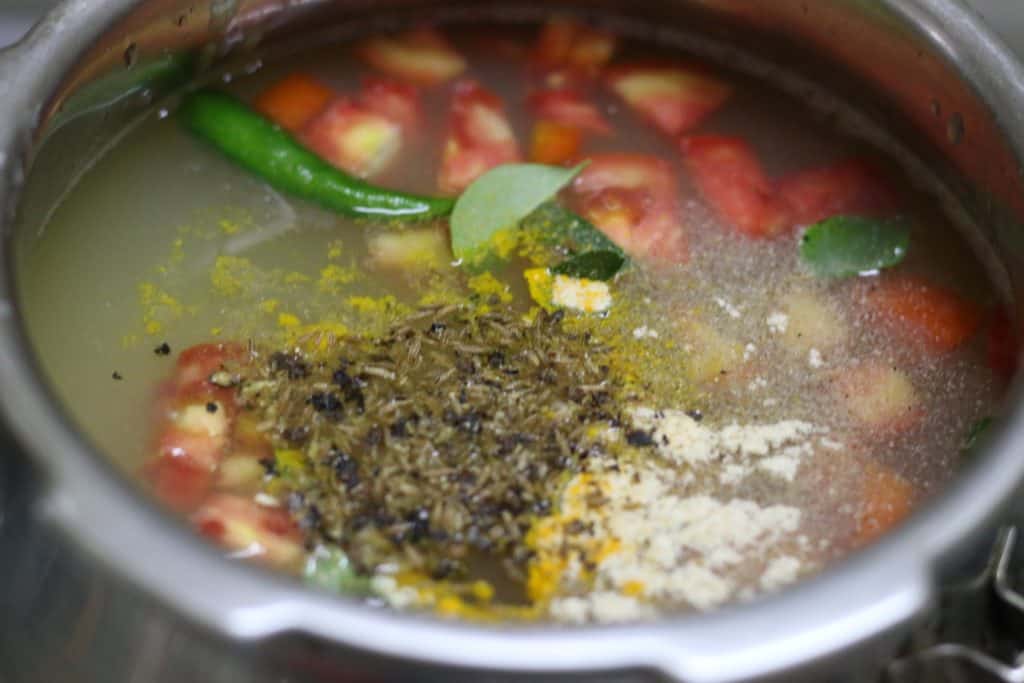 Mix well and cook for 3-4 minutes.
Cook and bring the mixture to a gentle boil in medium flame until nice aroma wafts out.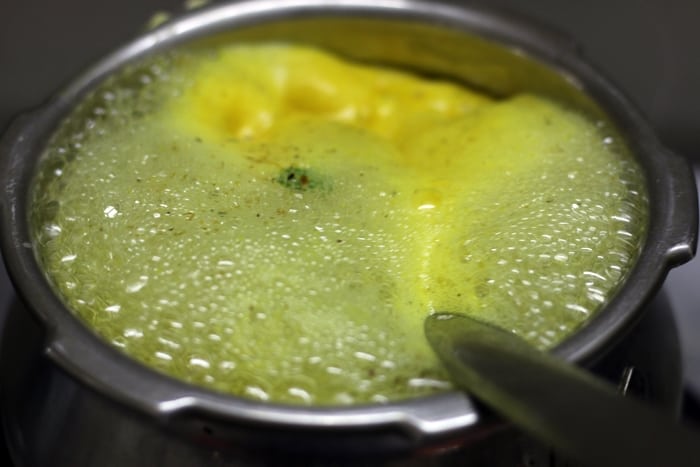 Add pressure cooked dal and simmer till the rasam turns frothy. Do not boil the rasam after adding lentils.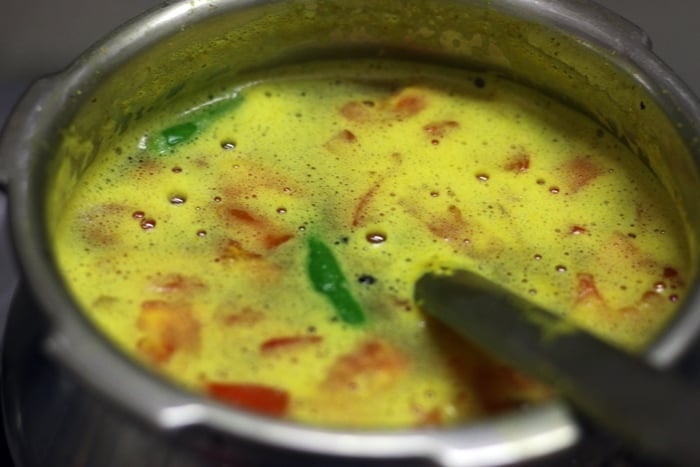 Tempering
Heat 2 teaspoons ghee in a small pan. Add mustard seeds, cumin seeds and curry leaves. Fry for a minute in low flame.
Add to the simmering rasam and mix well.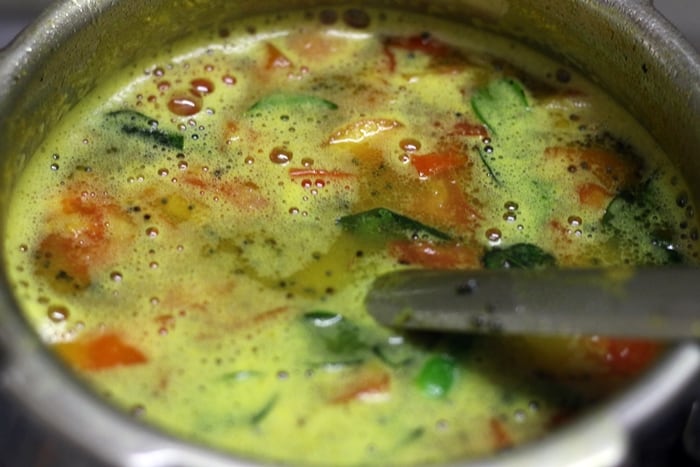 Garnish with chopped coriander leaves.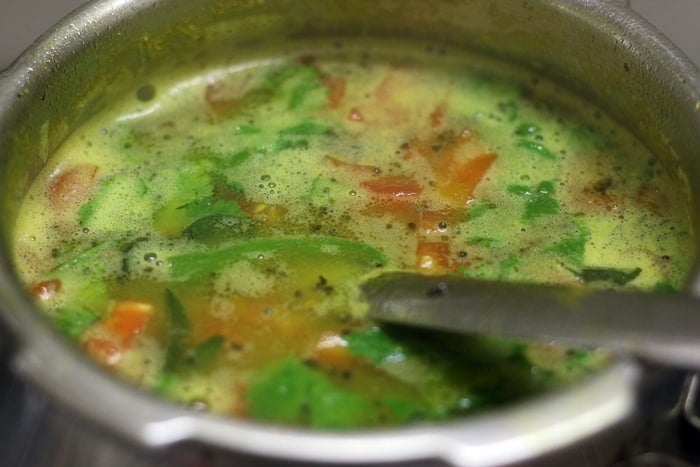 Serve rasam hot with rice.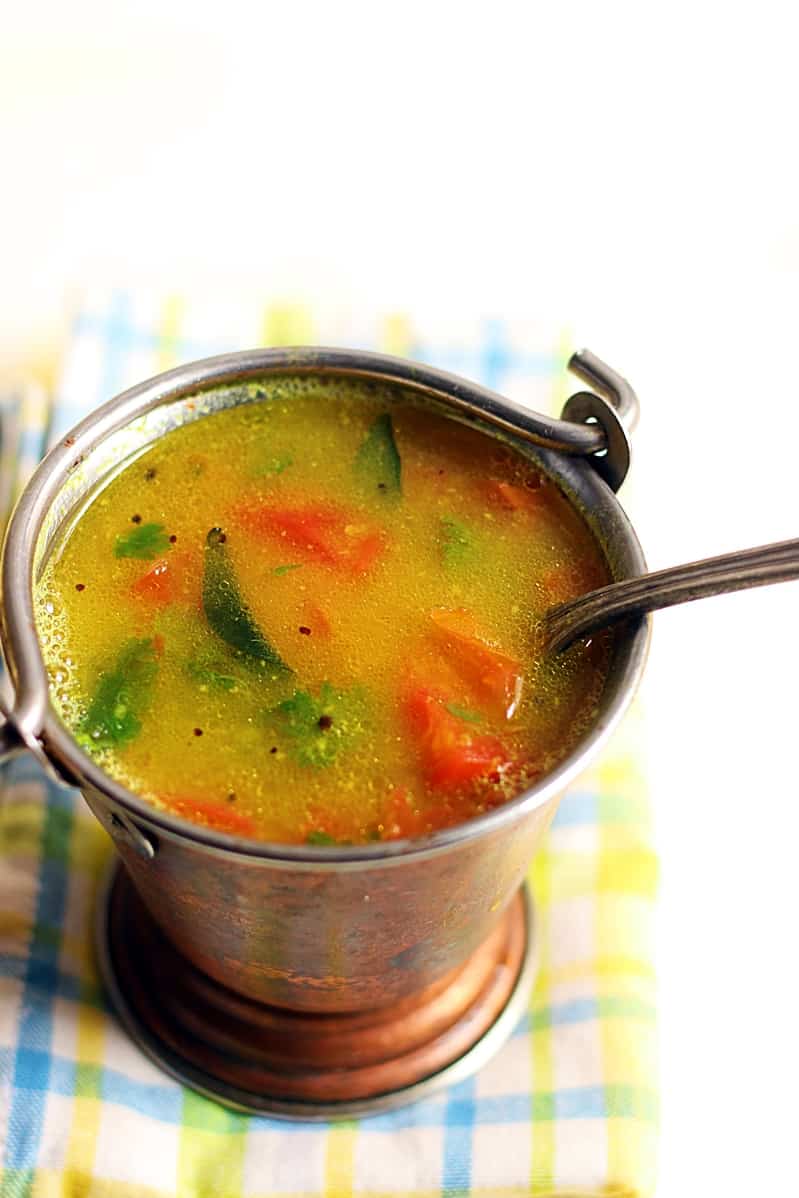 How To Make Garlic Rasam?
If you wish to add garlic to this basic rasam recipe you can easily do so. Just pound 4-5 peeled garlic cloves along with pepper and cumin.
You can also add 1/2 teaspoon finely chopped garlic while tempering rasam.
Serving Suggestions
Rasam is always served as second course with plain steamed rice in south Indian meals. Steamed hot rice is mashed with some ghee to which we add generous amount of rasam and mix well. It is a wonderful comforting and satisfying meal.
Rasam rice is best served with spicy vegetable sides like potato fry, plantain fry, cauliflower poriyal. You can eat this with papad, vadam, potato chips.
Another way to serve this dish is as clear soup at the beginning of a meal. Some restaurants also serve a delicious dish called rasa vada where a crispy medu vada is drenched in flavorful rasam and eaten as snack. You can also try this with idli.
Expert Tips
Use ripe plump tomatoes for this recipe. Use desi tomatoes preferably.
Make the tamarind extract very thin. The consistency of this dish is very thin and light.
Instead of chopped tomatoes, you can puree 2 small tomatoes and add or add 1 tablespoon plain tomato paste.
Do add a small piece of jaggery as it rounds off the flavor very well.
If you want to avoid tamarind extract you can leave it out and add 2 tablespoons lemon juice while serving.
To make this dish spicier you can add 2 green chillies along with other ingredients. You can also add 1/4 teaspoon fenugreek seeds.
Never let any type of rasam to boil vigorously as all the flavor will be lost. Just let it froth a bit after adding dal and remove from flame.
Tempering with ghee elevates the flavor of this dish. Vegans can use sesame oil
Use a tall vessel with converging neck for this recipe as it keeps the flavors intact.
Cook the rice little mushy to serve with this dish so that rice will absorb it well.
Stays good in refrigerator for 2 days.
Health Benefits
Healthy, easy to digest and palate cleansing
If you are fighting cold rasam is your best bet to have
Helps you if you are trying to loose weight
Helps in treating constipation.
It is a rich source of antioxidants.
Frequently Asked Questions
Is rasam good for health?
Yes it is a very healthy dish. Rasam is often used for healing and boosting immunity in south India. The spices used in this dish like pepper, cumin, garlic are good for boosting immunity and flushing toxins out.

There are many special medicinal rasam recipes made very widely made across south India.
Can I skip tamarind in this recipe?
Generally tamarind is added for sourness in typical rasam recipe. However there are many rasam varieties with out tamraind. If you want to skip tamarind just add 2-3 tablespoons lemon juice to the rasam after removing it from flame. Do not add lemon juice while the rasam is boiling though.
Why should rasam not be boiled?
One important tip to make best rasam that is flavorful and delicious is not to over boil it. Boiling it vigorously will lessen the flavor and taste.
What do you eat with rasam?
It is typically eaten with rice.
Is Tomato Rasam Different From basic Rasam?
While you can tomatoes to most rasam recipes, restaurant and wedding feast style tomato rasam is a different and elaborate recipe with premade rasam powder.
What is the taste of rasam?
A well made rasam is delicious, absolutely flavorful and has a perfect balance of sour taste, spice and very mildly sweet. The flavor and taste of this dish varies according to the ingredients added.
Can I add store bought rasam powder in this recipe?
Yes, you can add 1 tablespoon of it along with pounded pepper cumin.
I hope you will try this tandoori chai recipe and enjoy as much as we did. Please give a star rating ★ in the recipe card below. Follow us on Pinterest , Instagram, Facebook for more recipes and ideas.