Chakli is a traditionally Indian snack that goes by various names like murukku, chakralu, chakkuli across the country. It is the most popular and commonly made snack for Diwali across the country.
Chakli is a spiral shaped deep fried snack made of flours like rice flour, urad dal flour, gram flour, roasted gram flour, herbs & spices. The ingredients and flours used for this dish varies from region to region.
It is a crispy, crunchy, delicious, flavorful & addictive snack that is loved by all and a big batch will be over before you know 🙂
Here in this post I am sharing a super easy instant chakli recipe or murukku recipe that you can make in minutes with store bought rice flour or homemade rice flour. With very few simple ingredients this snack can be made and stored for weeks. Perfect evening snack with coffee for monsoons.
About This Recipe
Chakli or murukku is a traditional and classic Indian deep fried savory snack. It is mostly spiral shaped but sometimes also made as just rings or long strips.
Most Indian homes used to make this in large batch and store for weeks if not months during festivals like Diwali, Krishna Jayanthi. It comes handy for evening snacks & after school snacks or even as quick side dish.
Now just like any traditional Indian recipe, there are so many variations with chakli recipe too. Some variations take a long route like soaking & grinding rice while some recipes are instant like using rice flour.
In the same way traditionally in south India, murukku is shaped by hand. The dough is spread in spiral fashion but it takes lots of practice and easiest option is to use a chakli press.
In this post I am sharing a best and easy chakli recipe made with rice flour that beginners too can make with great ease. It uses premade rice flour, chickpea flour or besan, some roasted gram flour & regular spices used in chakli recipes.
This rice flour chakli recipe will yield you super light, crispy, golden brown chaklis that are crunchy, crispy and absolutely delicious. These are not vegan as I have used butter but do check my notes to make them vegan and gluten free.
Do try this best chakli recipe and enjoy. All you need are chakli maker and few basic pantry staple ingredients!
Ingredients & Substitutes
Rice Flour
The main ingredient for this recipe of chakli is rice flour. Ideally homemade rice flour or rice flour that is super fine from a flour mill is prefered but store bought rice flour used for idiyappam also yields excellent chaklis.
The idea is to use super fine rice flour that is easy to pipe in a chakli press.
Gram Flour
Besan or gram flour is added in chakli recipe for flavor and texture. Chickpea flour is known as besan or gram flour and it lends a wonderful authentic flavor and taste to many fried snacks in Indian cooking.
Roasted Gram Dal
Roasted gram dal is also known as fried gram or chutney dal. It is used in chakli recipes for crispiness. Fried gram makes these chaklis amazingly crispy, light and crunchy.
Hot Oil Or Butter
Butter or oil is the fat we will add in the chakli dough. Adding some fat is essential for making super crispy chakli. While traditionally homemade white butter was used but we can easily use soft salted butter or unsalted butter.
In some regions hot oil is added to the chakli mix instead of butter. Hot oil also makes the chakli super crispy and light.
Oil For Deep Frying
You can use any good quality cooking oil for deep frying chakli. We always use peanut oil or groundnut oil as it lends the best flavor and taste. You can also coconut oil but the flavor will overpower.
You can also use any other good quality vegetable oil, canola oil or sunflower oil too. If the quality of oil is not good or rancid, chaklis will go stale faster.
Other Ingredients
Water, salt to taste, hing or asafoetida, sesame seeds, cumin seeds or ajwain seeds, red chili powder. You can also use a pinch of turmeric powder in the dough.
How To Make Chakli Recipe
Making Chakli Dough
To begin with instant rice chakli recipe make sure the butter you use is soft but not melted. If you are using oil, heat it in a small pan until it starts to smoke. Cool down slightly.
In the mean time add 3 tablespoons gram dal to a small mixer grinder jar.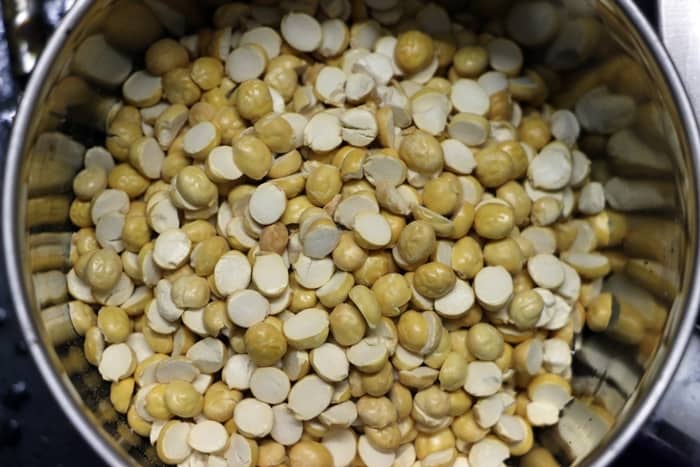 Grind it to a fine powder.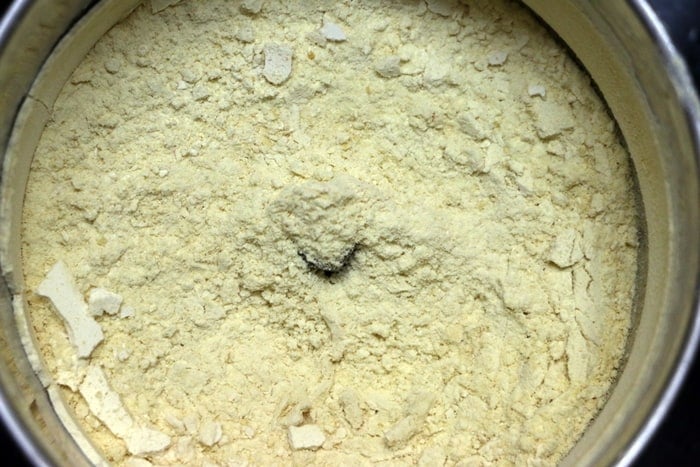 Place a sieve over a large mixing bowl add 1 cup rice flour, 1/2 gram flour, powdered fried gram red chili powder, asafoetida or hing and salt to taste. Sift well. If you use homemade flour you can skip sieving.
Add hot oil or soft butter to the sifted flours. Also add sesame seeds, carom seeds or ajwain. Mix everything well until the mixture resembles coarse crumbs. The oil or butter should coat all the flours.
Now slowly add water and make a soft and smooth dough. You don't have to heavily knead the dough, just bring everything together and make a smooth and soft dough. I added around 1/4 cup plus few tablespoons water. The quantity of water depends on the flour used.
Once the dough is made, keep it covered throughout the cooking. If the dough dries out, it will be very difficult to press into the oil.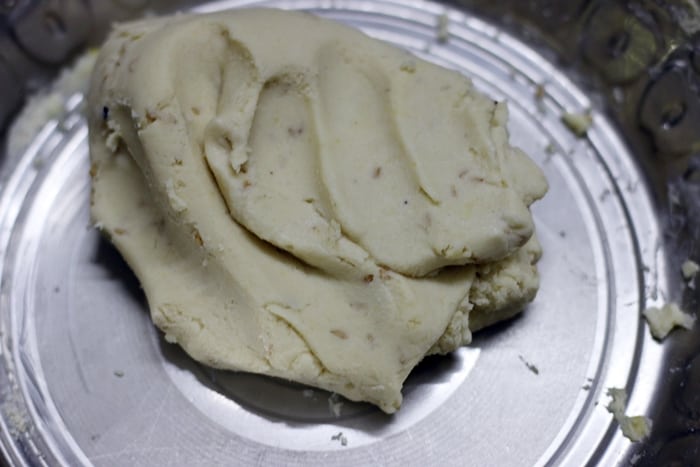 Shaping & Deep Frying Chakli
Heat oil for deep frying in a heavy deep pan. The oil should be hot but not smoking. If using a thermometer it should read 190 C / 375 F. Once the oil is hot maintain medium flame throughout frying chakli.
For shaping chaklis you will need a traditional chakli press or murukku achu with one star plate. It comes in steel, iron (rare to find), wood etc. It is basically an equipment with three parts. A plate or nozzle with desired shape, a body to hold the dough and another piece to push the dough into required shape.
Grease the chakli maker well and place the base plate with shape inside it. Divide the dough into 4-5 equal parts and put one part of the dough into the greased chakli mould. Cover the remaining dough balls and set aside.
Now you can directly pipe the chakli into hot oil or press it on a greased surface and transfer into hot oil. I directly pipe but have shown here how to do it on a surface for reference.
Grease a small plate or back of a flat ladle. You can also use a piece of greased parchment paper. Press the chakli maker to release the dough. Press into concentric circle starting from center. You can do two- three rounds.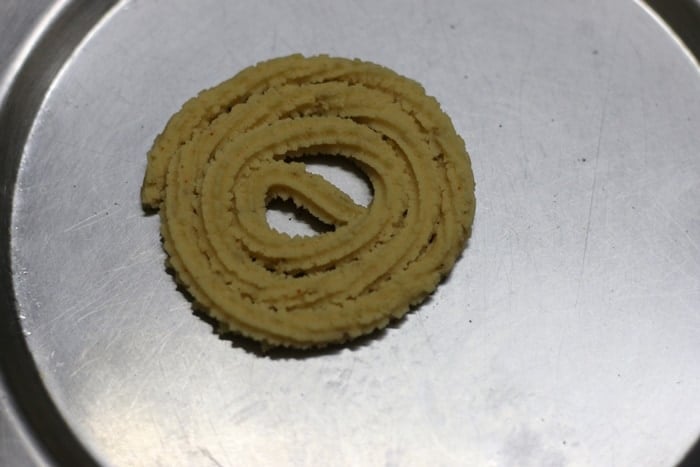 Now slowly transfer the shaped chakli into hot oil. If the oil is hot enough, the dough will sizzle and raise after 2-3 seconds. Do not disturb the dough for few seconds. After that flip and cook from both sides. Once the chakli is completely cooked it will turn golden brown, sizzling will stop and the cooked chaklis will float on top.
Remove the fried chakli to a plate lined with kitchen towels to absorb excess oil. Let them cool thoroughly before storing. Store in clean dry air tight container and store at room temperature.
If you store them before they cool down, chaklis will turn soggy.
Expert Tips
Below I have listed few tips to make best chakli recipe at home. These tips are helpful to make chaklis that are perfect, crispy, light and delicious especially for beginners.
Serving Suggestions
You can serve chakli as snack with tea, coffee or even as a side dish in south Indian meals or rice recipes like lemon rice, coconut rice, tomato rice.
You can also break these murukkus and use them for making Madras mixture.
Flours Used
The quality of flours used is the key to make best chaklis. Make sure all the flours used that is rice flour, gram flour & roasted gram flour are fine without lumps. Also the flours should be very fresh and not rancid at all. You can taste test first before making a big batch.
Gram flour or chickpea flour is an easy substitute for roasted urad dal flour. It lends a wonderful flavor and taste. If you like the taste of urad dal flour murukku, you can just replace it.
Fried gram flour makes these chaklis super crispy and light, do not skip it.
Consistency of Dough
Chakli dough should be smooth, slightly firm yet soft enough to be pressed. It should not be hard, flaky or hard. If the dough is crumbly or hard, the dough will break while pressing chakli.
Always add water in parts and knead simultaneously. If you are making a big batch, keep the extra dough covered with damp cloth to prevent it from drying out.
Spice Levels
You can vary the spice powders or even add few more to make chakli according to taste. Add more red chili powder for spicy chakli or you can reduce it for mildly spiced ones. In some places green chili is coarsely ground and added to dough.
You can also add black pepper powder instead of red chili powder. A pinch of turmeric powder, cumin powder can also be added.
Shaping Chakli Without A Chakli Press
If you do not have a chakli press you can simply fill the dough in a a plastic bag, tie the opening tightly and a cut small hole at the edge for piping. You will get smooth edges chaklis instead of star shaped ones. No change in taste.
Frying Chaklis Perfectly
Always fry chakli is good quality oil in a heavy deep frying pan. Preheat the oil for 4-6 minutes depending on the quantity used. After heating the oil drop a small bit of dough into it, if it raises after a second or two the oil temperature is perfect for frying. On the other hand if the dough raises immediately then the oil is too hot & if it sinks below, the oil is not hot enough.
If using a thermometer it should read 190 C or 375 F.
Storing Chaklis
Murukku or chakli keeps well easily for up to a month if fried and stored properly. Always use a good quality steel or glass jar with airtight lid for storing homemade snacks. You can leave them at room temperature, no need to refrigerate. Store in containers only after the chaklis cool completely.
Frequently Asked Questions
Is chakli good for health?
These are deep fried snacks meant to be enjoyed moderately. While homemade chaklis are so much better than store bought chaklis, these are still deep fried and high in fat.
Why does chakli become soft?
If there is not enough fat in the form of butter or oil, the chaklis will turn soft.

Why my murukku is not crispy?
Murukku will not be crispy if it was fried in very low temperature, if there is not fat in dough, if the proportion of flours are incorrect.
Are murukku and chakli same?
Yes, this snack is called murukku in Tamil and Chakli in Hindi
More Diwali Recipes
Are you making this recipe? I would love to see a snap of your creation too. Do snap a pic and share on Instagram with hashtag #cookclickndevou and please give a star rating ★ in the recipe card above. Follow us on Pinterest , Instagram, Facebook for more recipes and ideas.
Recipe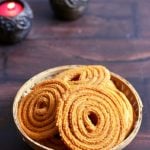 Chakli recipe | Murukku recipe| how to make instant chakli recipe | diwali 2017 recipes
chakli recipe with step wise photos. Easy to make instant no grind chakli recipe with rice flour and gram flour!
1 CUP = 250 ml
Ingredients
1

cup

rice flour

6

tablespoons

gram flour

2

tablespoons

fried gram dal flour

1

tablespoons

soft butter or hot oil

2

teaspoons

sesame seeds

1

teaspoon

chili powder

Salt

Oil for deep frying

Water for dough
Instructions
Take all the ingredients except oil and water in a mixing bowl

Mix well first. Add required water and make a soft yet stiff dough.

Heat oil for deep frying

Grease a chakli press with star nozzle with some oil. Load with a part of dough.

Press into round chaklis either over hot oil or on a ladle and gently shake it over the oil.

Deep fry until the chakli turns golden brown and the sizzling sound ceases.

Cool thoroughly before storing. Serve chakli as snack or side dish.
Notes
1. You can gram flour alone instead of fried gram flour.
2. use butter or oil as per preference.
Nutrition
Serving:
20
g
Calories:
39
kcal
Carbohydrates:
8
g
Protein:
1
g
Fat:
1
g
Saturated Fat:
1
g
Sodium:
3
mg
Potassium:
28
mg
Fiber:
1
g
Sugar:
1
g
Vitamin A:
31
IU
Vitamin C:
1
mg
Calcium:
4
mg
Iron:
1
mg
Tried this recipe? Snap a pic and share 🙂
Mention cookclickndevou or tag cookclickndevour