A quick and easy chocolate burfi recipe for festival season ahead. This 4 ingredients chocolate burfi comes together in 10 minutes and perfect for gifting too. This rich Indian fudge is made without khoya, usually the main ingredient required for burfi. Here is how to make easy chocolate burfi recipe with step by step photos.
Burfi is a popular Indian mithai that can be translated into sweet solid fudge. Traditionally birfi is made by reducing the milk through slow cooking but for quicker versions khoya is used. But again there are also instant burfi varieties that you can make in 15 minutes like this easy chocolate burfi recipe.
This is a very easy to make sweet that perfectly fits for this busy festive season. Also this burfi looks pretty and packs well too. So very much suitable for gifting 🙂 I have another variation of chocolate mawa burfi and a chocolate burfi with khoya.
You can make the slices as thick or thin you want. Store the burfi in airtight container and they keep well for 2-3 days. You can refrigerate for a week and freeze for longer time.
Serve chocolate burfi as snack or dessert.
Chocolate Burfi Ingredients
To make chocolate burfi you need just 4 ingredients. Milk powder, condensed milk, cocoa powder and ghee.
While making burfi recipe traditionally is a bit tricky and time consuming, this easy chocolate burfi is perfect for beginners to try.
You can add vanilla essence or cardamom powder or almond extract for flavor and crushed toasted nuts for garnish.
How To Make Chocolate Burfi?
Making chocolate burfi is easy and quick too. You need a sturdy pan that has a heavy bottom and a good stirrer. Use good quality ingredients for best chocolate burfi.
Combine milk powder, condensed milk and cocoa powder first. Start cooking it in low flame, adding ghee 1 teaspoon at at time after every 3 minutes. Stir and cook for around 10 minutes or until the mixture leaves the sides of the pan. Knead the mixture well while it is still warm and spread into a circle of desired thickness. Make slices with sharp knife and serve.
Recipe Notes and Tips:
Adding ghee is just for flavor. You can reduce or omit it too.
Do not cook the mixture for more than 8 minutes. It will dry out and crumble while kneading.
Knead the mixture well while it is warm else it will dry out and crumble.
If you find the mixture very sticky while kneading, return it back to the pan and stir for 2 more minutes.
If you find the mixture to be very dry means it is over cooked. In that case return it to the pan and add 2-3 tablespoons milk, cook in low flame for 2 minutes and proceed.
This chocolate burfi tastes very good with a mild chocolate and ghee flavor. It tastes just like those little sqaures of homemade chocolate. Do try this out and enjoy!
More Indian sweet recipes you might like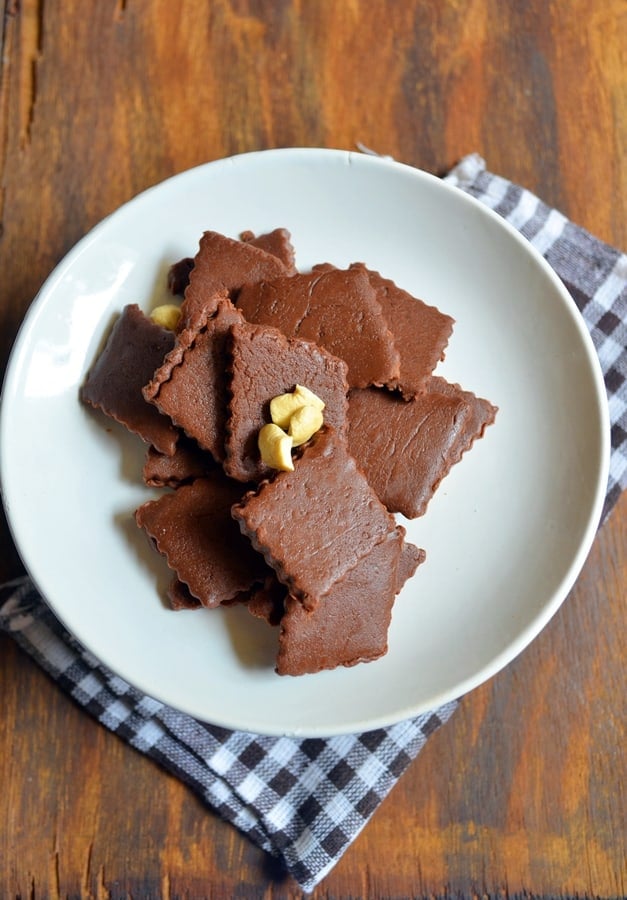 Quick Chocolate Burfi Recipe
Quick chocolate burfi recipe
Quick chocolate burfi recipe. is a quick Indian mithai/sweet with condensed milk,milk powder and cocoa powder.learn how to make quick chocolate burfi recipe.
1 CUP = 250 ml
Ingredients
1/2

tin or 200 grams sweetened condensed milk

3/4

cup

milk powder

1/4

cup

cocoa powder

3

teaspoons

ghee
Instructions
Take condensed milk,milk powder and cocoa powder in a nonstick kadai.Mix well till well incorporated and smooth.

Now heat the kadai,and start stirring in medium flame.Add ghee and stir for 5 minutes.

The mixture will start to leave the sides in 7 or 8 minutes,it will become a soft lump.This may take around 8 minutes and not more than 10 minutes.

Let the mixture become warm to touch.Apply some ghee to your palms and knead the mixture well.Knead it at least for 5 minutes,it should become smooth and supple as you knead.

now roll the kneaded mixture into thin/thick circle.Cut into diamonds and store.
Notes
1.You can add dried fruits and nuts in the mixture if you prefer.
2.You can make them into pedas if you prefer.
Nutrition
Tried this recipe? Snap a pic and share 🙂
Mention cookclickndevou or tag cookclickndevour