Kuzhi paniyaram recipe is one of those easy south Indian breakfast that tastes delicious as well. You can make this super addictive breakfast or snack with leftover idli batter in 20 minutes. Tastes so good with spicy tomato chutney. Here is how you can make easy paniyaram with idli batter.
This paniyaram is a traditional south Indian recipe that goes by various names like paddu. masala paniyaram, guntu ponganalu in various south Indian languages. You need a special pan called paniyaram pan or paniyarakal similar to aebleskiver pan.
How To Make Paniyaram Easily At Home?
To make paniyaram at home we usually use leftover idli batter. The idli batter turns sour after few days and idli will not turn out good in that batter. The sour idli batter is used to make various recipes like paniyaram, uthappam etc.
Making this recipe is very easy and quick. You first prepare a quick tempering of mustard seeds, urad dal, chana dal, chopped green chilies and curry leaves. This tempering cuts off the sourness from the batter and also adds flavor.
Next heat the appe pan and grease every mould with 1/4 teaspoon oil. Once the oil is hot spoon in the batter and cook till done.
Paniyaram is crispy at the edges and has melt in mouth soft texture. It is a very delicious and addictive bite size dish very much suitable for toddlers and kids. You can pack this in their tiffin with tomato chutney or green chutney.
There are also some variations with this recipe that you can check are
How To Make Paniyaram Batter From Scratch?
If you want to make paniyaram from scratch instead of using idli batter you can follow the below mentioned recipe. The batter basically is made of rice, urad dal and methi seeds. You can also add some poha, sago pearls or cooked rice for more soft appe.
Soak 1/2 cup urad dal and 1 teaspoon methi seeds in water for 6 hours. Also soak 2.5 cups par boiled rice and 1/4 cup poha or sabudana in water for 4 hours.
Grind urad dal and methi into a smooth paste with minimum water. Also grind rice and poha well. Mix everything, add salt and let the batter ferment for 8-14 hours depending on the weather.
Once fermented use this batter to make paniyaram as mentioned in the recipe.
How To Make Vegetable Masala Paniyaram?
To make this recipe more healthy and delicious you can throw in some mixed veggies in the batter. I like to briefly saute the veggies in the tempering and then add to batter. You can also add the raw veggies in the batter if you like.
You can use finely chopped onions, grated carrot, beets and chopped capsicums in this recipe.
What To Serve Paniyaram With?
You can serve this dish with tiffin sambar or tomato chutney for breakfast. However you can also serve these as snack with tea.
Tips For Making best Appe
Sour idli batter works well for this recipe
Use sesame oil for tempering as it adds flavor to the appe.
While making for toddlers and kids add more veggies to add flavor, color and taste.
More breakfast recipes you might like
Kuzhi Paniyaram Recipe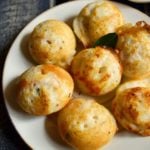 Kuzhi Paniyaram Recipe
kuzhi paniyaram recipe, very easy to make breakfast with very less oil using idli batter and vegetables!
1 CUP = 250 ml
Ingredients
2

cups

idli batter

2

tablespoons

sesame oil

`1/2

capsicum

finely chopped

1

small

onion

chopped fine

1

teaspoon

mustard seeds

2

teaspoons

urad dal

2

teaspoons

chana dal

10

curry leaves

3

green chiles

finely chopped
Instructions
Heat oil in a kadai,temper mustard, urad, channa dal.

Add green chillies and ginger and saute for 2 minutes.

Next add onion,fry till golden brown,add the vegetables,salt and cook for 10 minutes.

Mix the veggie masala to the idli batter well.

Pour in each hole of paniyara kal using a table spoon and cook for 2 minutes

Flip using a skewer and cook on the other side for 2 more minutes.Serve hot
Nutrition
Tried this recipe? Snap a pic and share 🙂
Mention cookclickndevou or tag cookclickndevour
Are you making this recipe? Do snap a pic and share on Instagram with hashtag #cookclickndevou. Do leave a ⋆ rating along with your feedback!
Let us connect on Instagram, Facebook, pinterest & Twitter for more fun recipes and stories!