Lachha paratha also known as lachedar paratha is a popular Indian flatbread made with whole wheat flour, ghee, salt & water.
These lachaa parathas are known for their visible buttery and flaky layers that lends a wonderful crispy texture to them. Lachha means layers in Hindi and this layered paratha is named aptly. These are so delicious with crispy edges, flaky layers that are also soft. It is one of the very popular Indian bread recipes that goes well with all Indian curries.
In this post I am sharing a detailed step by step recipe of making lachha paratha recipe at home with photos.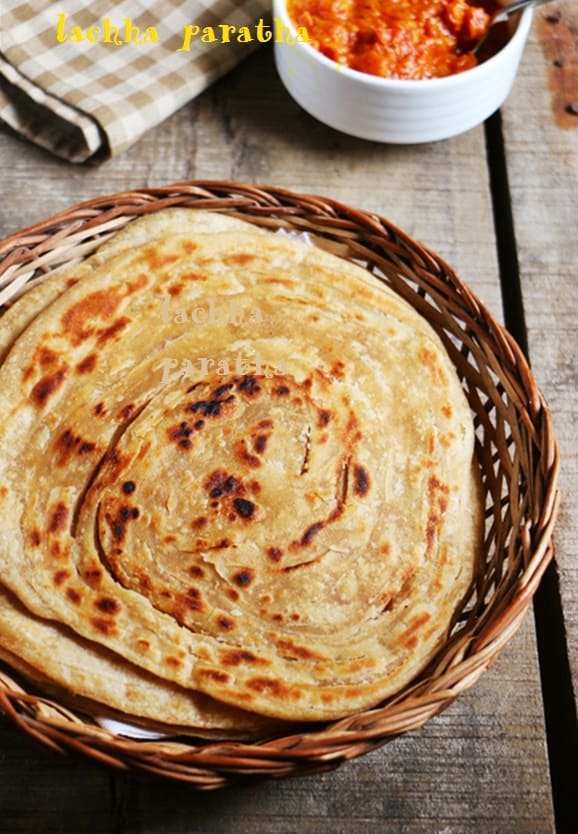 If you love Indian flatbreads with hearty curries, gravies and dal, this layered paratha or lachha paratha are a real treat for you. You will love these delicious parathas with vegetables, curries and dal or lentils.
About This Recipe
Lachha paratha also known as lacherdar paratha is a popular flatbread from Punjabi cuisine. It is also paratwala paratha, parat means layers in Punjabi language.
It is a very simple recipe that you can easily make at home. It just tales some time to pleat the dough multiple times to get layers. Those flaky, buttery crispy layers are totally worth the time though.
Layered flatbreads very common in Indian cuisine. This technique of layering the dough is used in various recipes like lachha paratha, malabar parotta or Kerala paratha, pathir peni etc. Scallion pancakes from Asian cuisine is also a similar preparation.
Pleating the dough after applying some ghee and sprinkling loose flour creates those irresistible buttery layers.
It is super easy to make laccha paratha recipe at home. All you need to make this laccha paratha are whole wheat flour, ghee, salt, water and some oil.
Once you master to work with pleated dough creating layers, you can make more flavors like pudina paratha, dhania paratha with same technique. Here I am showing plain paratha made with parat.
Now there are few ways to create layers for this paratha. Here I am sharing the most easiest method of pleating the dough and rolling it like a pinwheel or swiss roll. This method is what I follow as it is super easy, can be done quickly and creates stunning layers.
For visible flaky layers, keep these parathas a bit thick. If you roll them very thin, the layers will not be visible or flakier. When rolling the parathas thick we should ensure that they are thoroughly cooked. Cook them in medium heat until the layers separate and crispy. This is to make sure there are no uncooked dough beneath the layers.
Now let's go to the recipe and try out making perfect laccha paratha at home, shall we?
Ingredients & Substitutes
Whole Wheat Flour
You can use any brand of whole wheat flour or chakki atta with bran for this paratha. For s very soft paratha you can even use half wheat flour and half plain flour too.
Do note that the taste, flavor and texture of lachha paratha depends on the quality of wheat flour used.
Ghee
Ghee is used for laminating the dough before pleating as well as frying the paratha. I highly recommend using ghee instead of oil unless you want to make the recipe vegan. Ghee lends a wonderful rich flavor and taste to this flatbread. The layers when cooked in ghee becomes super crispy & flaky.
To make vegan lachha paratha you can use oil.
Other Ingredients
Salt, water for kneading the dough and some loose flour for laminating.
You can also use some ajwain or carom seeds for flavor.
How To Make Lachha Paratha
Making Dough
Add 3 cups wheat flour to a large mixing bowl. Add 1 teaspoon oil or ghee and salt to it.
2. Mix well until the oil coats all the flour.
3. Add 3/4 to 1 cup water and knead to a smooth pliable soft dough. The dough should be supple and soft. Cover the lachha paratha dough with a damp kitchen towel and set aside for 20-30 minutes.
Roll Lachha Paratha
At the time of making lachha paratha, divide the dough into 12 equal sized balls.
Take a dough ball, dust it with some flour and press slightly.
Roll into thin disc of 6″ diameter using a rolling pin on a clean surface or rolling board.
Apply some ghee evenly all over the rolled dough and sprinkle little whole wheat flour evenly. You can also use all purpose flour or any dry flour here.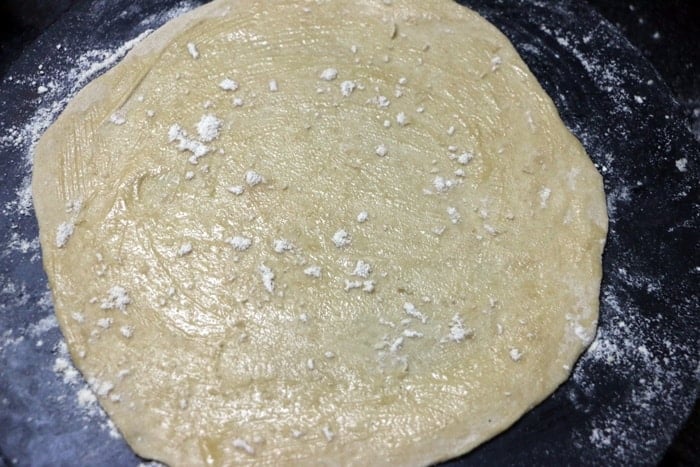 8. Now start pleating the disc from the opposite edge just like saree pleating. We call this as visiri madippu in Tamil.
9. Roll the pleated dough into a circle. Press and join the edges. Heat a heavy pan, preferably cast iron now.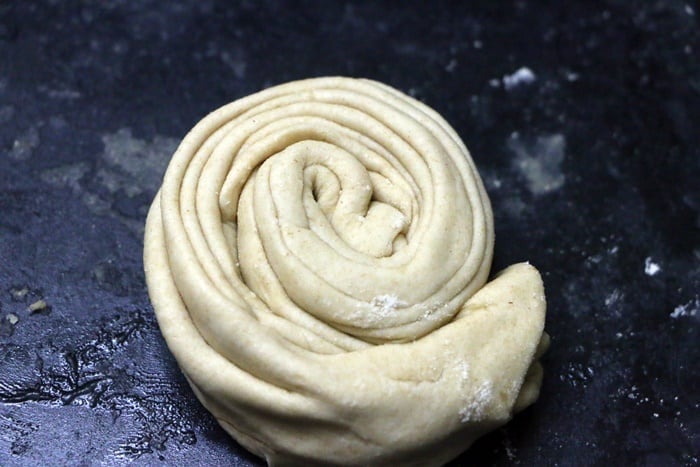 10. Now gently roll this again into a disc. Slightly press the rolled dough. Layers will be slightly visible now.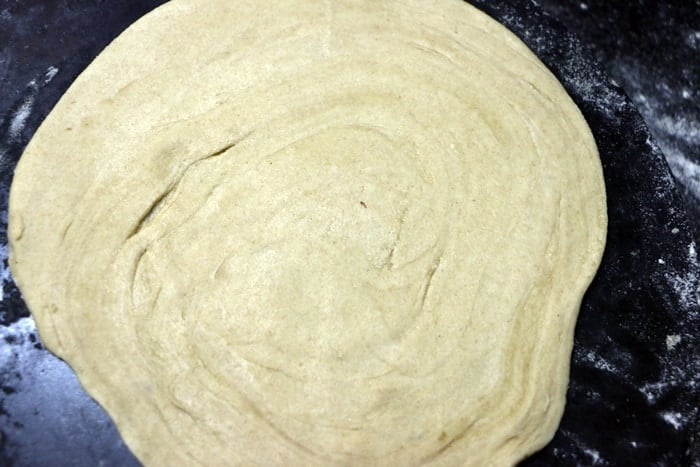 Frying Lachha Parantha
Place the rolled paratha on the hot griddle and cook till completely done from both sides in medium flame. The edges will turn crispy and till golden brown spots will appear. Apply some ghee while cooking & cook well from both the sides. Lachha parathas take some time to get cooked compared to normal rotis.
12. Once done, the laccha parathas will be crispy. Serve lachha paratha hot with side dish of your choice. The layers will be more visible once the parathas are torn. You can brush the cooked parathas with more clarified butter or ghee,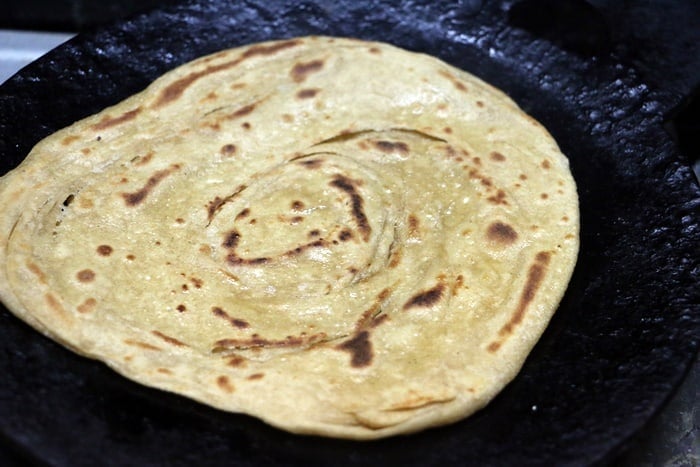 Serving Suggestions
You can serve this laccha parantha with all Indian curries. We love this multi layered paratha with Indian veg recipes like palak paneer, butter paneer masala, dal makhani, kadai paneer, paneer khurchan etc.
You can also cool and pack this lachha paratha in lunch box.
Make Ahead & Storing
These lachha parathas taste best when served piping hot off the stove. They still taste good on colling, I have packed this many times for lunch.
If you leftover parathas you can store them in airtight container for 2 days and reheat as needed. Leftover dough can be stored for 3-4 days.
If you make a large quantity it is best to half cook and freeze them. After rolling all the parathas, cook them for 10 seconds on each side on a hot griddle. Let cool thoroughly. Now stack them alternating between pieces of parchment paper and freeze. They stay good for 3-4 months.
When you are about to serve lachha paratha, cook thoroughly in a hot griddle until they turn crispy and golden brown. Serve hot.
More Paratha Recipes
Are you making this recipe? I would love to see a snap of your creation too. Do snap a pic and share on Instagram with hashtag #cookclickndevou and please give a star rating ★ in the recipe card above. Follow us on Pinterest , Instagram, Facebook for more recipes and ideas.
Recipe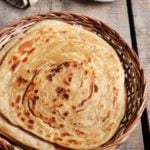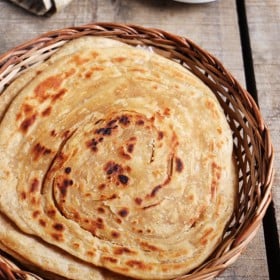 Laccha Paratha Recipe- Indian Layered Paratha
lachha paratha recipe, crispy, flaky and layers flatbread made with whole wheat flour!
1 CUP = 250 ml
Ingredients
3

cups

whole wheat flour

1

cup

water

Salt

Melted ghee
Instructions
Take 3 cups wheat flour, 1 teaspoon oil or ghee and salt in a mixing bowl.

Mix well, add water and knead to a smooth dough. Set aside for 30 minutes.

At the time of making paratha, divide the dough into 6 equal balls.

take one ball and roll into a 6″ thin disc.

Apply some ghee and spread evenly, sprinkle some wheat flour.

Pleat the dough from the opposite side.

Roll the pleated dough into a circle and roll into thin disc again.

Place the rolled disc on a hot tava and cook from both sides with some oil/ghee

Serve paratha hot.
Notes
1. Don't apply much pressure while rolling the pleated disc. The layers will not be seen.
2. Adding ghee makes more tasty parathas.
3. You can slightly crumble the parathas before serving just like parota.
Nutrition
Serving:
12
parathas
Calories:
102
kcal
Carbohydrates:
22
g
Protein:
4
g
Fat:
1
g
Saturated Fat:
1
g
Sodium:
2
mg
Potassium:
109
mg
Fiber:
3
g
Sugar:
1
g
Vitamin A:
3
IU
Calcium:
11
mg
Iron:
1
mg
Tried this recipe? Snap a pic and share 🙂
Mention cookclickndevou or tag cookclickndevour