Palak paneer is a popular paneer dish from Indian cuisine. Paneer or Indian cottage cheese is simmered in a creamy flavorful palak gravy or fresh spinach sauce in this Indian dish. Palak is spinach in Hindi and Paneer is Indian cottage cheese.
This hearty and delicious curry pairs well with naan, jeera rice, roti etc. For more Indian paneer curry recipes please check paneer matar, shahi paneer, paneer do pyaza, paneer korma, kadai paneer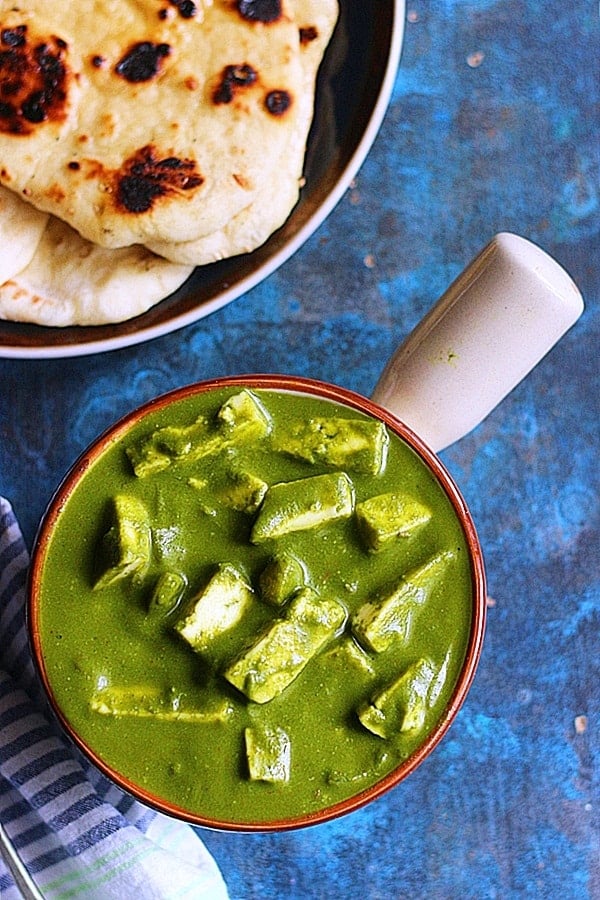 Are you looking to include more spinach in your family's diet? Add paneer to blanched palak puree, season it mildly and make palak paneer 🙂 Easiest and tastiest way to eat some greens undoubtedly 🙂
Paneer with spinach is one of the best combinations. Just like this we can prepare many other veg recipes like palak pulao, palak kabab, hara bhara kabab with these two ingredients.
I prepare this spinach paneer curry very often as it is one of the healthiest. Palak or spinach is full of iron and paneer is rich in calcium. I often prepare this curry home style, that is without dhungar method or fresh cream.
My kid loves paneer and in this curry, she gets good dose of palak too 🙂 Win win for both of us 🙂 Also the total time and cook time for this recipe is very less. It is a favorite with my husband too.
On some days I serve this with rice, ghee and potato fry. Very comforting and healthy meal. Sometimes I also serve this with tehri.
What Is Palak Paneer
Palak paneer is simply a delicious Indian curry with baby spinach leaves and paneer or Indian cottage cheese. You will find this curry in all the popular north Indian restaurant menus.
It is the most popular Indian paneer curry made with palak leaves and paneer. Palak means spinach and paneer is cottage cheese. Soft and fresh paneer cubes are gently simmered in flavorful palak puree in this recipe.
This curry is very mildly seasoned allowing the star ingredients spinach and paneer to shine through.
This Palak Paneer Is
Super delicious and absolutely best
Authentic north Indian recipe
vegetarian & gluten free
Goes well with naan!
Best way to sneak spinach in kids diet 🙂
Mildly seasoned with clean flavors
Ingredients
You will need very few simple pantry staple ingredients to make this curry
Apart from palak leaves, you will just need ginger, garlic, tomatoes, onions and bit of garam masala powder for this curry. Please refrain from adding spice powders like coriander powder, curmin powder in this curry.
For richness and creamy texture in palak paneer we add some fresh cream towards the end. If you want to avoid fresh cream, just leave it out or swap it with any one of the below mentioned ingredients.
You will find palak paneer curry in menu of all popular Indian restaurants. It is one of the most sought after north Indian food recipes with just like
This delicious palak paneer curry can be served with steamed basmati rice, jeera rice, naan or even paratha for a nice restaurant like meal.
I am a big fan of this curry and always make this when I get some good greens. Sometimes I also use a mix of greens for this curry.
This is the best recipe I have perfected over the years. It is truly amazing, easy to make and yields one of the delicious curries you will taste. This is also healthier and clean compared to restaurants ones.
When you spot a bunch of fresh palak do give this easy delicious palak paneer recipe with step by step photos a try and you will love it.
How To Make Palak Paneer
Preparing The Spinach Sauce
Separate the palak leaves from the bunch and wash thoroughly to get rid of any dirt or mud. Chop the onion and tomatoes finely. Peel and crush the garlic cloves or mince them.
Bring plenty of water to a rolling boil in big vessel. To boiling water add 1/2 teaspoon sugar and mix well. Also add the rinsed palak leaves and blanch them for 2-3 minutes.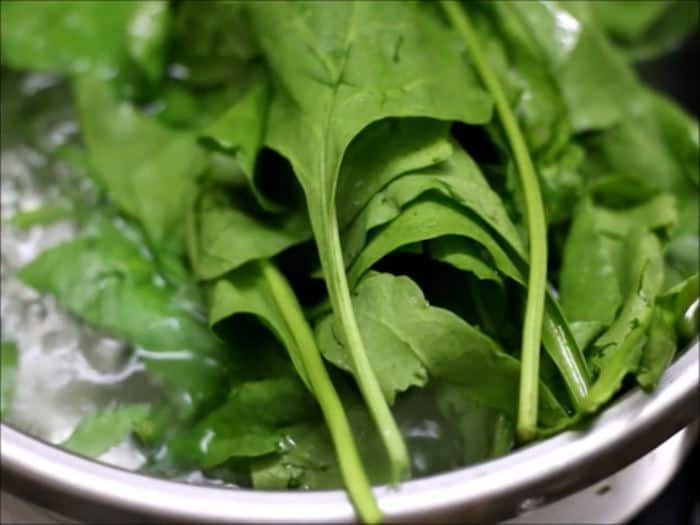 Once blanched wash the greens in cold running water. Allow to cool for few minutes.
Grind the blanched leaves to a smooth puree along with green chilies and ginger garlic. Garlic is optional. This is the base spinach puree for this recipe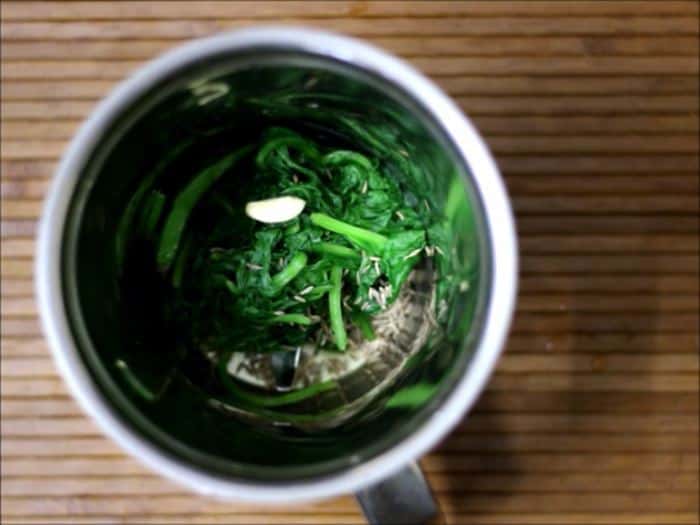 Making The Curry
To begin making the curry heat 2 tablespoon oil or butter in a thick bottomed pan. Add bay leaf and saute in medium heat for 2 minutes. Next add crushed garlic and finely chopped onions. Saute till the onion changes color slightly.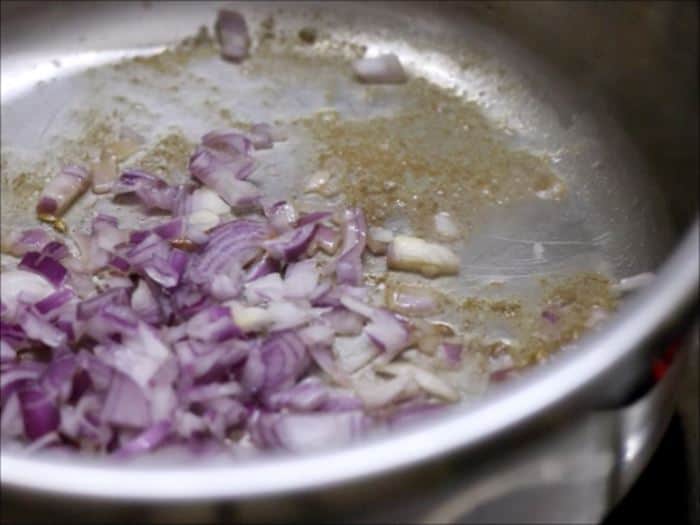 6. Now add the finely chopped tomatoes and saute over medium heat well till the tomatoes turn mushy.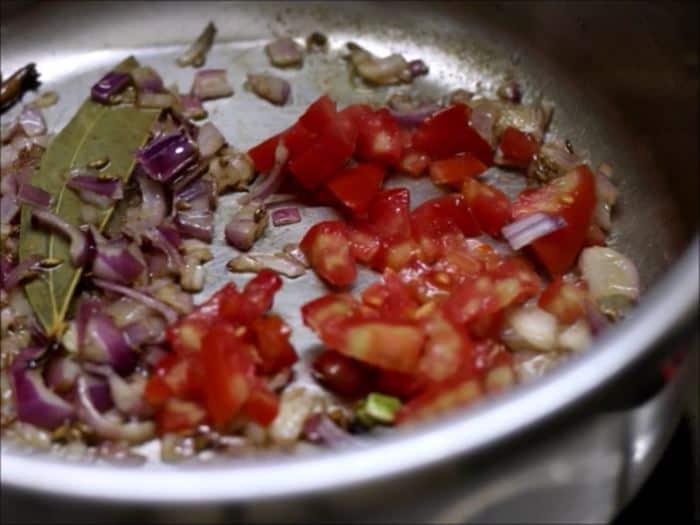 7. Now add the pureed palak or spinach puree and mix well. Add 1/4 cup water. Garam masala is optional.
Also add salt, chilli powder, garam masala powder and sugar.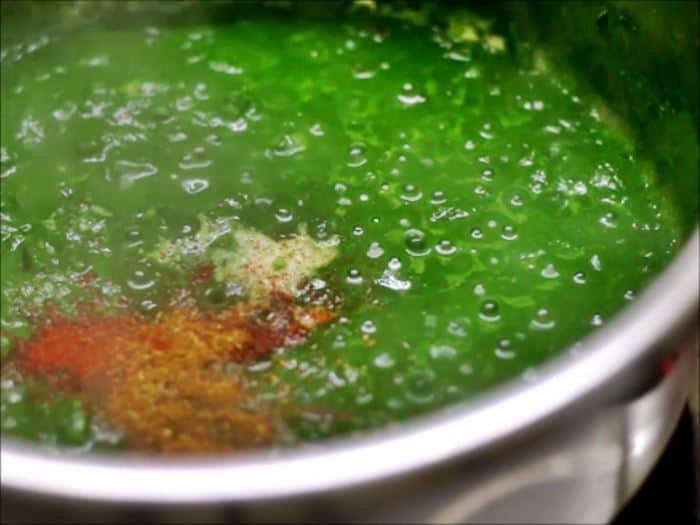 Mix well and cook for 3-4 minutes. Now palak sauce is ready.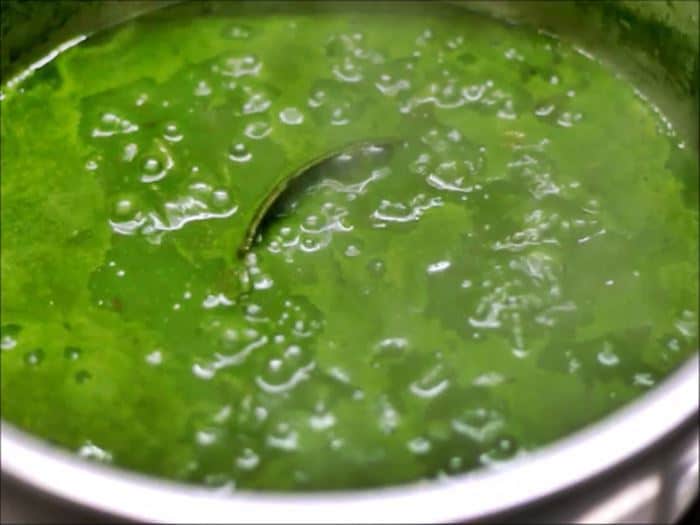 Now add the paneer cubes and simmer for 3-4 minutes.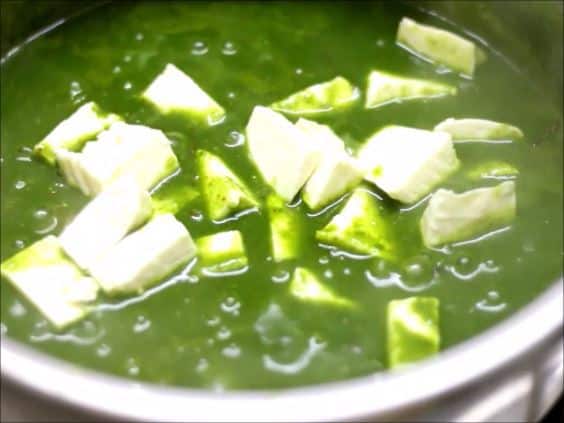 Add fresh cream and mix well. Finally add the lemon juice and mix well. Palak paneer is ready.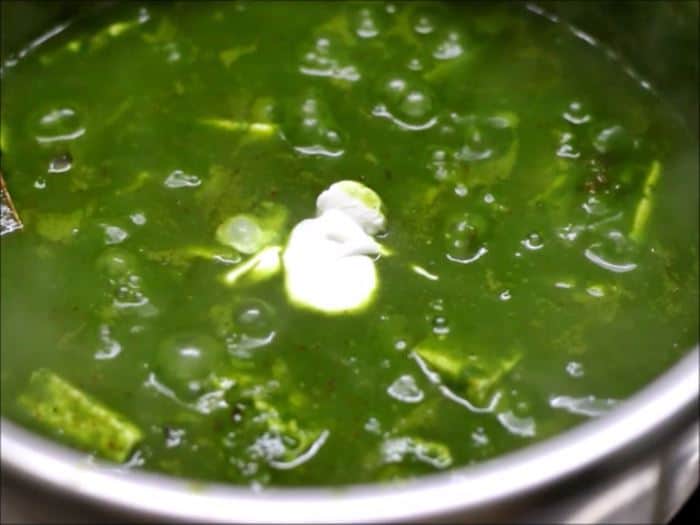 Serve paneer palak hot with naan or roti. This curry also goes well with jeera rice.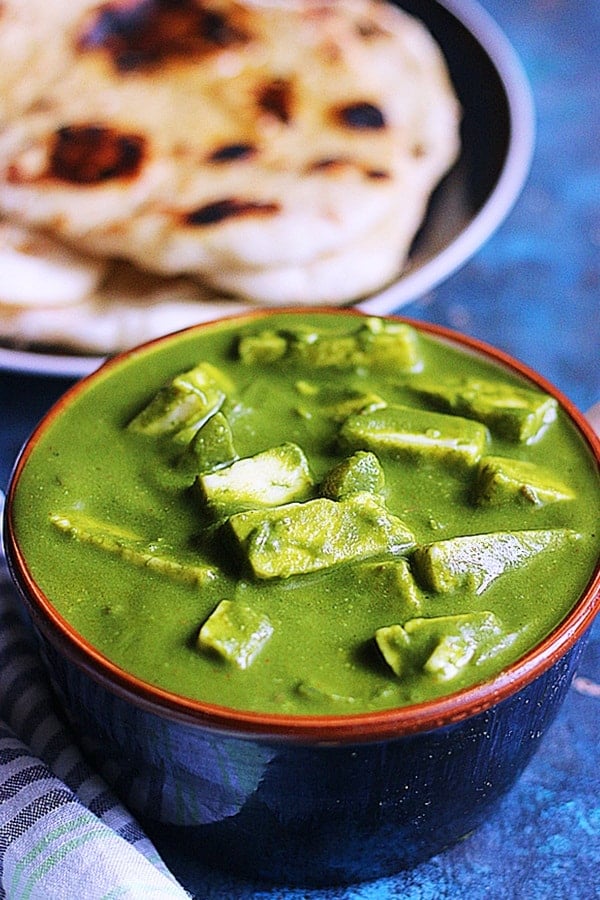 Vegan Version
You can easily prepare this curry vegan, however paneer will have to go 🙂
For vegan version of this curry use
tofu cubes in place of paneer cubes. Use extra firm tofu and press it for 20 minutes.
oil for cooking instead of butter
cashew cream instead of fresh cream.
If you want to make this curry without onions and garlic, just leave them out and make the recipe as given.
You can also prepare this recipe without tomatoes, just use 1/2 cup well whisked curd in place of tomato puree.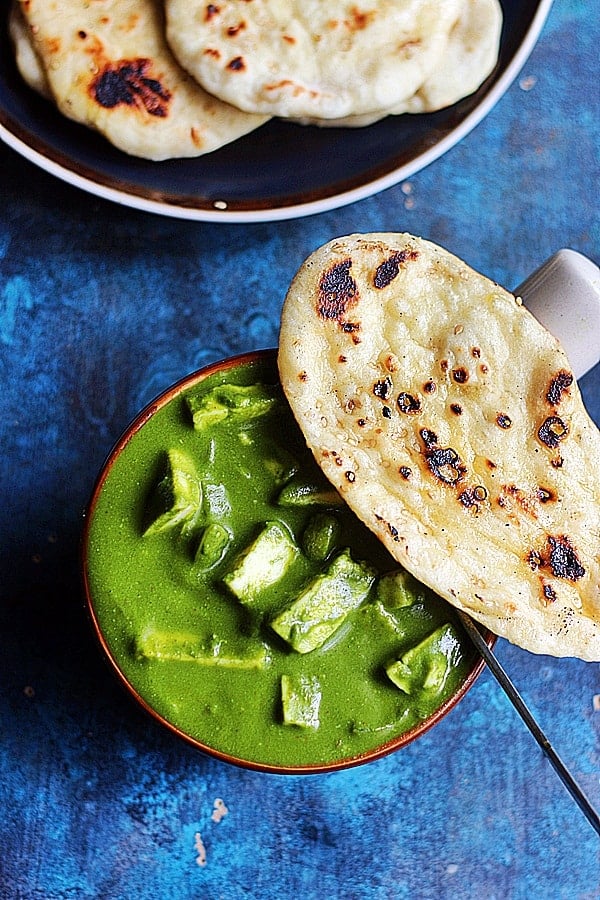 Expert Tips
How to choose palak
Use tender and fresh palak leaves for best texture and flavor. If your palak leaves are not tender they will taste very bitter and just spoil the taste of palak paneer.
You can soak fresh palak leaves in salted for 30 minutes. Soaking the leaves for 30 minutes helps in reducing bitterness
Also do not vary the quantity of greens I have mentioned here to get that perfect smooth consistency.
You can also use frozen palak leaves here. No need to blanch or thaw the frozen palak leaves.
Quality of paneer
The quality of paneer you use can make or break this curry. I mostly use homemade paneer for my paneer recipes. I prepare paneer at home very often so it comes handy.
If using store bought paneer, keep it soaked in hot water for 15-20 minutes to make more soft and melt in mouth.
Store bought paneer is often hard and the above mentioned step makes it softer.
If you wish you can toast or pan fry the paneer for 2 minutes before adding in the palak gravy.
In the absence of paneer you can use, halloumi or cubed tofu to make this recipe.
Tips to make restaurant style palak paneer
You can very easily prepare this curry more rich and creamy for guests or special occasions. Below I have listed some tips for making restaurant way curries.
To make paneer palak with smoky flavor just like restaurants I use dhungar method sometimes.
You do dhungar method in other restaurant curries also to get that characteristic smoky flavor.
Dhungar method is infusing the flavor of hot charcoal into the prepared dish.
Blanching the spinach also helps in attaining restaurant flavor. Blanching the spinach gives the curry a vibrant color especially without any food coloring.
It also removes any possible bitterness from matured spinach. Here I have blanched the palak leaves very briefly so there is no nutrient loss too.
Adding fresh cream towards the end also gives a rich and creamy texture just like in restaurants. You can also add cashew cream for more rich curry. I usually follow this for aloo palak recipe too.
Adding a teaspoon garam masala powder just before removing the curry from flame will add more flavor. Please use very good quality garam masala.
You can also add an additional tadka just before serving.
Heat 2 teaspoons oil and temper with 1 teaspoon cumin seeds, few cloves garlic minced. Add this to the curry, mix and serve.
Furthermore if needed you can add a pinch of baking soda while blanching spinach to retain the color of the greens .
This will retain the color of spinach and more effective than adding sugar. This method is true for all leafy greens.
In some restaurants they add a pinch of kasuri methi to this palak paneer recipe. Kasuri methi is dried fenugreek leaves. If you prefer you can add pinch of crushed kasuri methi just before removing from heat.
To blanch or not the spinach leaves?
I prefer to blanch the palak leaves for making spinach curry. Blanching the spinach leaves helps in retaining the green color in the gravy.
Also raw spinach leaves are high in oxalic acid. So blanching them reduces the oxalic acid to an extent.
By blanching the spinach leaves we can also remove some bitterness and rawness from the palak leaves.
However do not boil the spinach for long time. Just blanch them in hot water for not more than 5 minutes with a bit of sugar. If you boil the leaves for long time some nutrients will be lost.
On a side note you can also prepare the palak sauce without blanching the spinach. It does increase the flavor but I am not very comfortable cooking greens without blanching them.
Frequently Asked Questions
How to retain the green color of spinach?
To retain the vibrant green color of the spinach sauce, blanching the palak leaves with a pinch of sugar is the secret. Blanching just brings out the color of spinach leaves.

Once blanched, immediately drain the hot water and rinse the leaves thoroughly in ice cold water to stop the greens from cooking further. By doing this you will be able to retain the vibrant color of paneer palak.

Also once you puree the blanched palak, use it immediately in the curry. If you keep the pureed spinach for long time as such, it will discolor.
How to make smooth spinach sauce
To make a super silky and smooth gravy instead of chopping, grind onions and tomatoes to a smooth paste and saute them until oil separates.

Add pureed spinach mixture to this tomato onion paste, prepare palak gravy and proceed with the recipe.

Instead of blending the ingredients first, you can prepare the gravy as mentioned and finally puree it in the pan itself using an immersion blender.
Can I Use Frozen Spinach Leaves?
Yes you can easily use frozen spinach leaves in this recipe. Just bring out the leaves and blanch as mentioned and proceed with the recipe.
Why is my palak paneer bitter?
Sometimes this curry turns bitter if the palak leaves are very mature. Spinach leaves can tend be bitter sometimes and this will make your palak paneer bitter too.

The oxalic acid in the greens make it bitter. To avoid bitterness please blanch the spinach leaves well as mentioned in the recipe.
What Is The Difference Between Saag Paneer And Palak Paneer?
Both the recipes are basically paneer simmered in greens sauce o gravy.

In this easy palak paneer recipe we use only spinach whereas in saag paneer a variety of mixed greens are used.

For making saag paneer you can use mustard greens, palak and methi leaves. The recipe procedure is the same.

Methi leaves are fenugreek leaves and have a slight bitter taste. Use tender fenugreek leaves for mild flavor. You can also just make methi paneer.
So it is your preference to blanch or not, I suggest you blanch the leaves while making for toddlers and kids.
If you choose to cook this recipe without blanching the palak leaves, make sure to clean them very thoroughly.
soak your greens in salted water or add few drops of vinegar in the water. Rinse in clear water multiple times before using in the recipe.
This holds good for any spinach recipe
Make ahead & Storing
To prepare this curry ahead I suggest you prepare the palak sauce or gravy a day or two ahead and refrigerate.
At the time of serving, add 1/2 teaspoon butter or oil in a pan and gently heat the palak sauce gravy. You can add some water to adjust consistency.
Add cubed paneer to the heated palak gravy and serve saag paneer.
Storing- If you however have leftover finished curry just transfer into an airtight container and refrigerate. Keeps well for 2-3 days. You can reheat or microwave before serving.
Freezing palak paneer- If you plan to make in large quantities and freeze, I suggest you prepare the gravy without cream and freeze in freezer bags. Just thaw, reheat, add paneer or Indian cottage cheese and fresh cream just before serving
Serving Suggestions
You can serve palak paneer with naan, butter kulchas, cumin rice, steamed basmati rice.
This dish also goes well with roti.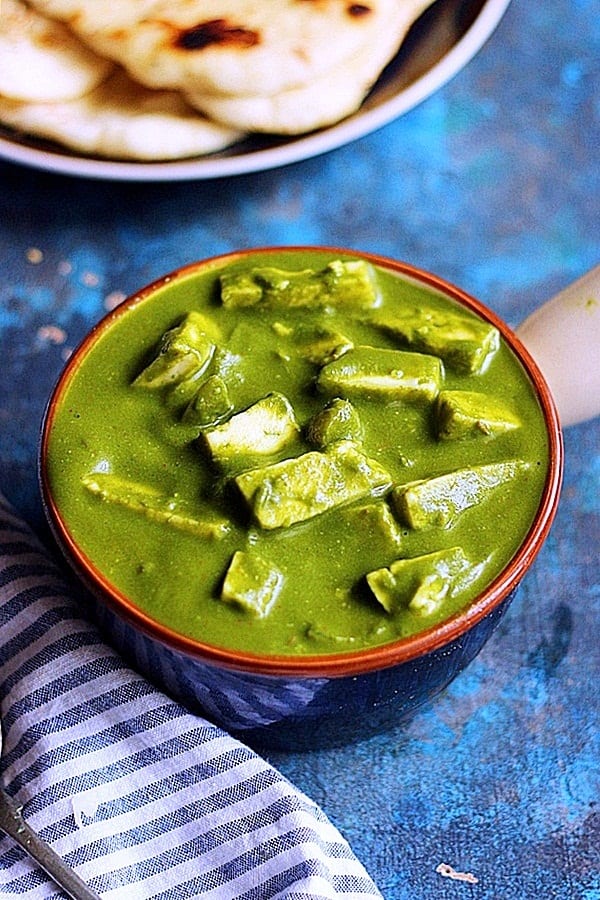 Related Recipes
Restaurant Style Paneer Makhanwala Recipe
I hope you will try this palak paneer recipe and enjoy as much as we did. Do snap a pic and share on Instagram with hashtag #cookclickndevou and please give a star rating ★ in the recipe card below. Follow us on Pinterest , Instagram, Facebook for more recipes and ideas.
Recipe Card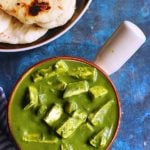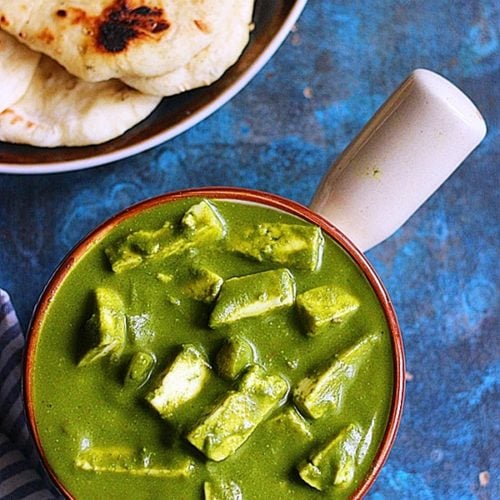 Palak Paneer- Spinach With Indian Cottage Cheese
Easy and best palak paneer a popular paneer curry where soft paneer cubes are simmered in smooth spinach sauce. Best served with naan bread. Vegetarian & gluten free
1 CUP = 250 ml
Ingredients
6

cups

spinach leaves

Palak, tightly packed, fresh and tender

water to blanch spinach

as needed

4

cloves garlic

peeled

1

inch

ginger piece

peeled

2

green chilies

2

tablespoons

butter or oil

1

bay leaf

1

teaspoon

cumin seeds

3/4

cup

chopped onion

1 big

1/2

cup

chopped tomatoes

1 small

1/2

teaspoon

turmeric powder

1/2

teaspoon

chili powder

salt

to taste

1

teaspoon

sugar

2

cups

paneer

cubed

3

tablespoons

fresh cream

or cashew paste

1

tablespoon

lemon juice
Instructions
Separate the palak leaves from the bunch and wash thoroughly to get rid of any dirt or mud. Chop the onion and tomatoes finely. Peel and crush the garlic cloves finely. Bring plenty of water to a rolling boil in big vessel. To the boiling water now add 1/2 teaspoon sugar and mix well. Also add washed spinach and blanch them for 2-3 minutes.

Once the leaves are blanched wash the palak leaves in cold running water. Allow them to cool for few minutes. Now grind the blanched leaves to a smooth puree along with green chilies and ginger. You can also add few garlic cloves.

Heat oil or butter if you like in a thick bottomed pan. Add the bay leaf and saute for 2 minutes. Next add the crushed garlic and chopped onions. Saute them till the onion changes color slightly.

Now add chopped tomatoes and saute well till the tomatoes turn mushy.

Now add spinach puree and mix well. Add 1/4 cup water.

Also add the salt, chili powder, garam masala powder and sugar.

Mix well and cook for 3-4 minutes in medium heat.

Now add paneer cubes and simmer for 3-4 minutes.

Add fresh cream, mix well. Add lemon juice and mix.

Serve palak paneer curry hot with naan or roti. This curry goes well with jeera rice also.
Video
Notes
You can double the recipe.
Use tender spinach else they tend to be bitter.
If you prefer a smoother gravy you can puree the sauteed onion tomatoes too. Once pureed, return to the pan and cook till oil separates.
Nutrition
Serving:
3
servings
Calories:
479
kcal
Carbohydrates:
12
g
Protein:
23
g
Fat:
38
g
Saturated Fat:
23
g
Cholesterol:
67
mg
Sodium:
249
mg
Potassium:
438
mg
Fiber:
3
g
Sugar:
4
g
Vitamin A:
5772
IU
Vitamin C:
27
mg
Calcium:
805
mg
Iron:
3
mg
Tried this recipe? Snap a pic and share 🙂
Mention cookclickndevou or tag cookclickndevour