Mirchi bajji recipe with step by step photos. Sharing a very popular, tasty and addictive Indian street food/ snack recipe today. Mirchi bajji/milagai bajji is a famous deep fried fritter made of long, pale and comparatively lesser hot green chillies, banana chillies also know as ooty milagai or bajji milagai in Tamil. This mirchi bajji recipe is a signature dish that you will find in any exhibition and in beaches here in Chennai.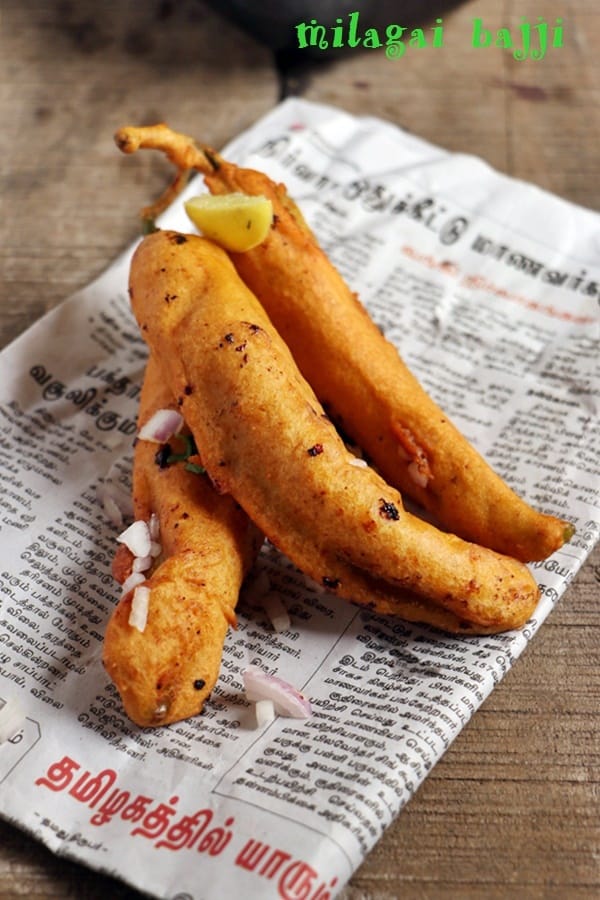 There are many variations in mirchi bajji recipe. There are few stuffed mirchi bajji recipe from North India, Andra etc. The recipe I am blogging today is the one for plain mirchi bajji or milagai bajji.
The batter given in this recipe can be used for making bajji with potatoes, plantains and onions too.
This is a very simple recipe but there are few tips to make perfect bajji that does not soak up much oil. So posting this here as it will be helpful for few.
To make mirchi bajji recipe, select long and pale chillies. The chillies should be blemish free. If you can handle the heat from the chillies, you can use the whole chillies for bajji. Or else you can make a slit and remove the seeds and make bajjis. You can even cut the chillies into wedges and make bajjis.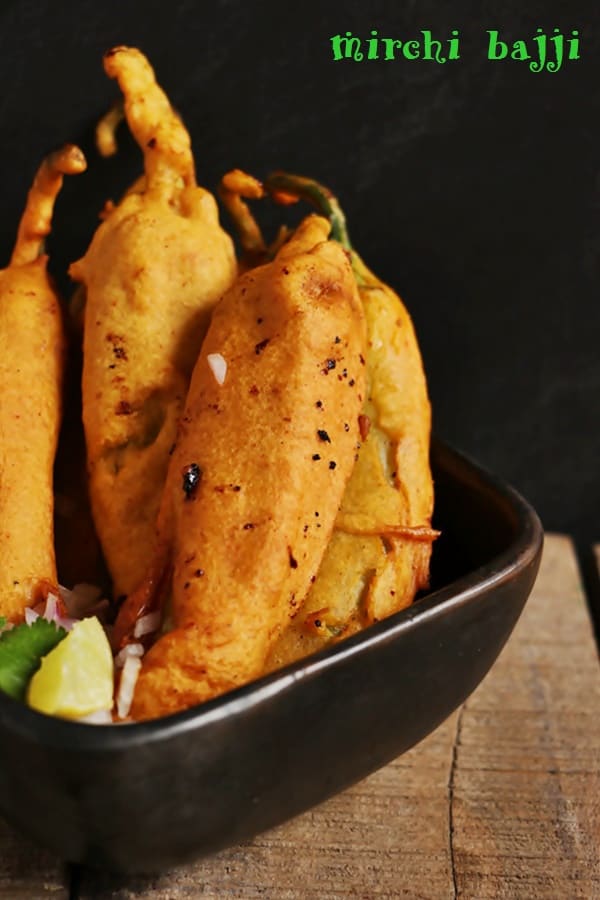 How To Make Best Mirchi Bajji?
I always use 1: 1/3 proportion of gram flour and rice flour in my bajji recipes. If the rice flour is very less and gram flour i more bajji ill be very thick and dense, also soak up much oil.
If rice flour is more the batter will not coat the vegetable well. The correct amount of rice flour makes the bajji crisp and light.
The oil should be very hot while frying the bajjis. If the oil is not hot enough, the frying time will be more and also the bajji will soak up more oil.
You can serve mirchi bajji plain with tea/coffee or with finely chopped onions and lemon wedges to cut the heat.
If you are looking for more easy snack recipes do check batata vada, gole baje, bread rolls, paneer pakora, cheese pakora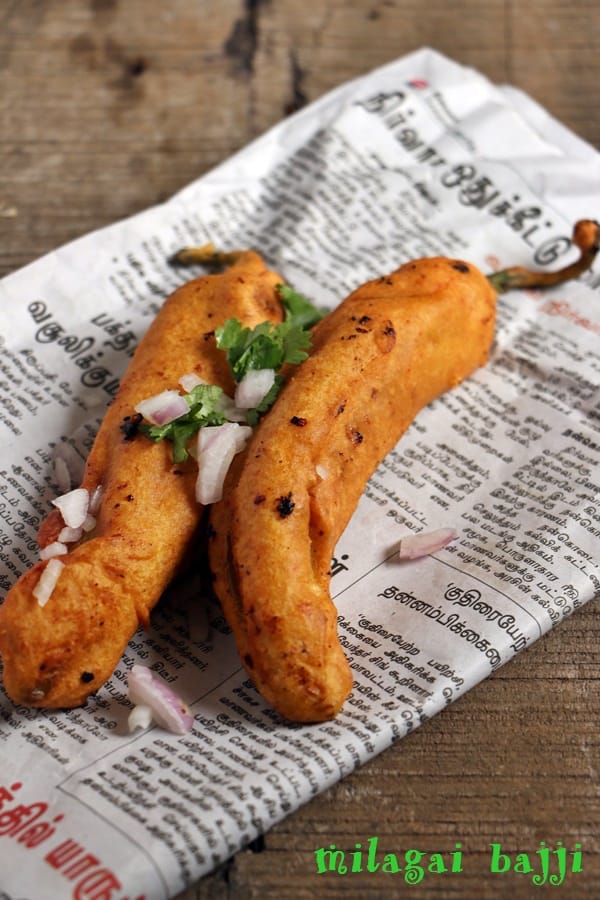 Mirchi bajji recipe with step by step photos.
1. Wash and pat dry the banana chillies. You can make a slit and remove the seeds and cord if needed.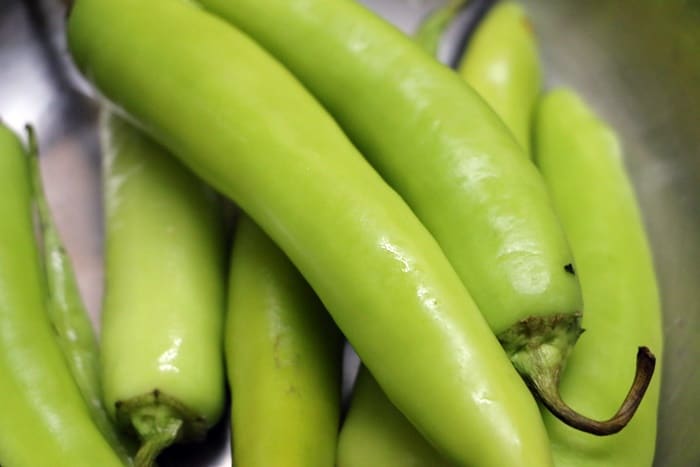 2. Heat oil for deep frying.
3. In a mixing bowl, add 1 cup gram flour/besan/kadala mavu and 1/3 cup rice flour/arisi mavu. Mix well.
4. Add ajwain seeds/omam, chilli powder, asafoetida and baking soda. Mix well. Add 2 teaspoons of hot oil. Mix well.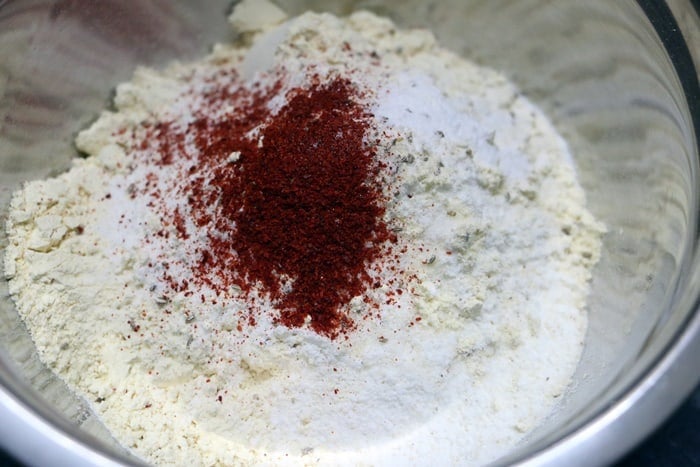 5. Add around 1 cup of water to make thick yet flowing batter. If the batter is too thick, it ill remain uncooked from inside, if very thin it will not coat the vegetable.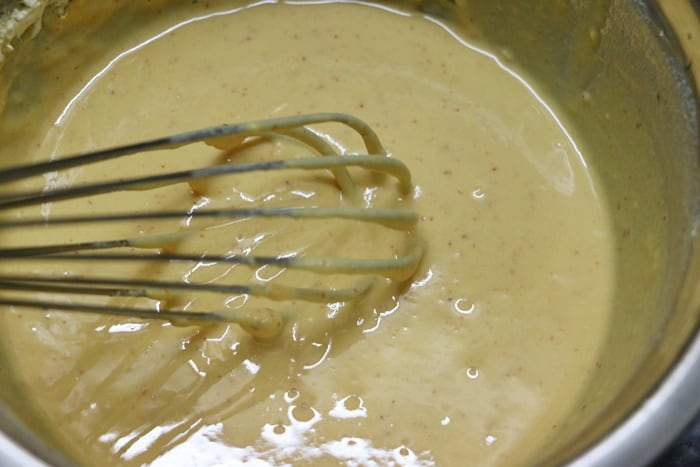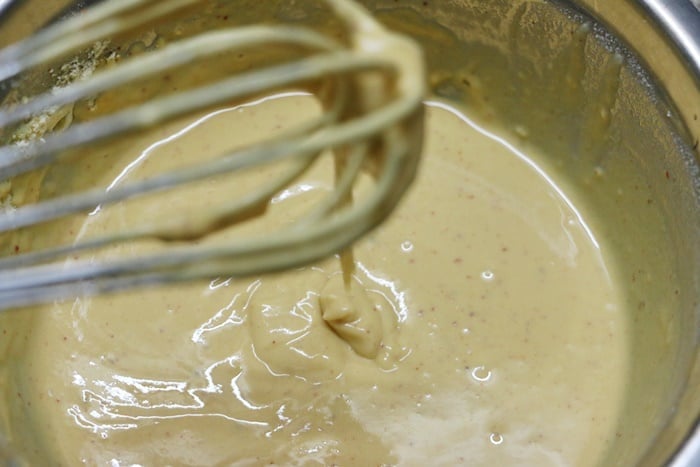 6. Take a banana chilli dip in the prepared batter and coat well. Slide carefully into the hot oil. Wait till the frying noise ceases. Flip to the other side and fry. Deep fry until golden brown. Remove to a kitchen towel. repeat the same with all the chillies.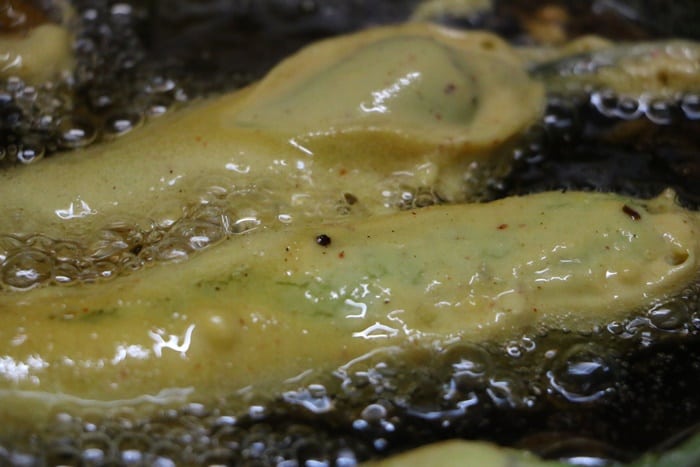 7. Serve mirchi bajji hot with coffee.
Mirchi Bajji Recipe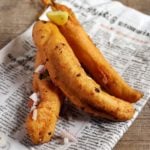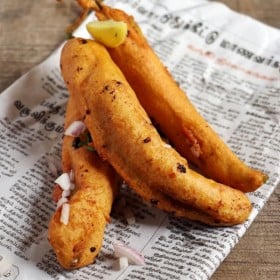 mirchi bajji recipe | Milagai bajji recipe | Chilli bajji recipe
mirchi bajji reciipe, batter coated banana chillies deep fried until golden brown and served as snack!
1 CUP = 250 ml
Ingredients
10

banana chillies/ ooty bajji milagai

1

cup

kadalai mavu/ gram flour/besan

1/3

cup

rice flour/arisi mavu

1/2

teaspoon

chilli powder

1/4

teaspoon

caraom seeds/omam/ajwain

1/8

teaspoon

asafoetida

1/8

teaspoon

baking soda/cooking soda

About 1 cup water

Salt

Oil for deep frying
Instructions
Wash and pat dry the chillies thoroughly.

Heat oil for deep frying

Take all the ingredients except water,oil and chillies in a mixing bowl.

Add 2 teaspoons hot oil and mix well.

Add water and whisk well to form a thick yet flowing batter.

Dip the banana chilies one b one and slide into hot oil

Deep fry until golden brown.

Serve hot.
Notes
1. you can add 1 teaspoon curd to the batter if ou do not want to add soda.
2. You can add 2 teaspoons rava for more crispy bajji
3. You can deep fry 2-3 chillies at a time depending on the size of the frying pan.
4. Make sure you add enough oil so that the whole chilli get immersed and fried up well.
Nutrition
Tried this recipe? Snap a pic and share 🙂
Mention cookclickndevou or tag cookclickndevour