Peanut chikki recipe or Indian peanut brittle made of roasted peanuts, jaggery syrup, sesame seeds and a pinch of cardamom powder. This is a hard candy that you can store for 2 weeks and serve as healthy after school snack or evening snack or even a dessert. It is a most loved candy or sweet among kids in India.
Chikki is a traditional Indian sweet prepared with nuts & jaggery syrup or sugar syrup. This is like hard candy that keeps well for weeks and often prepared as snack for kids. Chikki is also made for Indian festivals like Diwali, Krishna Jayanthi, Karthigai Deepam.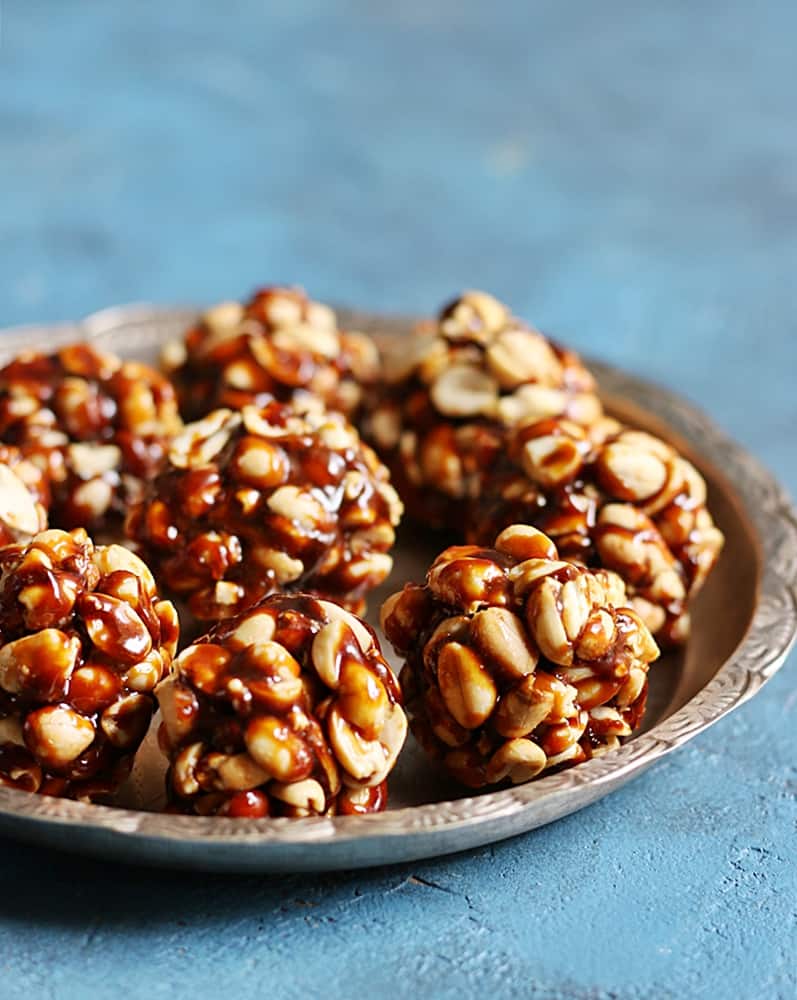 Today I an sharing a child hood favorite, groundnut chikki a healthier protein packed snack that we often used to have as after school snack or for munching at odd hours.
Peanut chikki is an age old traditional recipe often made for kids at home and to keep them away from processed sweets. It is made during winters mostly when good jaggery is in season.
You can make this along with other winter delicacies like panjiri, dry fruits laddu, gond ladoo, jeggery tea, saffron milk
If you have never heard of a chikki, it is a sweet or hard candy similar to peanut brittle. You can make chikki with mixed nuts or just almonds, cashews or peanuts. Many north Indian homes make this for sankaranti or as winter special snacks. Read on to know more about this dish and detailed recipe.
About Peanut Chikki
Peanut chikki is a delicious, crispy and chewy Indian candy or sweet made of roasted peanuts and jaggery syrup.
Few optional ingredients like sesame seeds, few drops of ghee or cardamom powder can be added for taste and flavor boost. Truly you can make peanut chikki with just jaggery and peanuts, they turn out so delicious and hearty.
If you have never heard of peanut chikki it is a candy like sweet similar to peanut brittle. While peanut brittle used sugar, chikki uses jaggery.
Chikki goes by various names like peanut burfi, groundnut chikki, kadalai mittai, kadle mittai in various regions. Making peanut chikki is easy if you use the right kind of jaggery and make the syrup in right consistency.
Yes, while the recipe is pretty straight forward, it takes a bit practice to get the knack of jaggery syrup. I recommend a candy thermometer if you are new to making sugar syrups and jaggery syrups.
We need to cook the jaggery in water until it reaches hard ball stage. Few recipes call for soft ball stage but I prefer to cook few minutes extra here. Easiest way to check this is of course is to use a candy thermometer.
Next we need deskinned roasted peanuts for making chikki. I get absolutely fresh roasted and deskinned peanuts in a near by shop and I have used it. It saves so much time 🙂 If you are using raw peanuts, check my instructions for roasting it.
There are two ways to shape chikki. Easy method is to spread the cooked mixture on a greased tray and quickly draw lines, break them into squares on cooling or make small balls while the mixture is still warm. Kids prefer peanuts balls or ladoos and my daughter loves it too. So I usually shape the chikki mixture into ladoos.
This perfect peanut chikki is not only delicious but also a healthier snack especially for growing kids. Peanuts are rich in protein and jaggery is a very source of iron. These homemade chikkis are so much better than store bought ones.
Most of the store bought peanut chikkis these days use sugar, glucose, corn syrup instead of jaggery making it just another sugar loaded snack. Do try these authentic homemade chikkis and enjoy. Perfect for winters!
Ingredients & substitutes
Roasted Peanuts
You can either use store bought roasted and deskinned peanuts or use raw peanuts after roasting. Ideally I would recommend using raw peanuts which you can roast freshly but if you get good quality roasted peanuts it is great time saver.
If using store bought peanuts, make sure they are super fresh, crispy and unsalted.
Sesame seeds
You can throw in some roasted sesame seeds, flax seeds or even roasted chopped almonds for more taste and nutrition.
Jaggery Syrup
The jaggery syrup can make or break this peanut chikki recipe. It is super crucial to get the right jaggery syrup consistency.
Always use dark colored jaggery for making any chikki. Dark jaggery means it is aged and suitable for making syrup. It is called paagu vellam in Tamil, paagu meaning syrup itself. It is also known as brown or sticky jaggery.
Next do not use jaggery powder available readily in shops, it is not suitable for making syrups. Get the jaggery block and grate it or break it using a heavy object.
Most of the organic or branded jaggery comes in powdered form or very pale in color which will not give you best results. I buy the block jaggery from local stores and it keeps well for months!
If you are unable to source block jaggery, you can go with whatever is available but do note that the taste and flavor will differ.
Optional Ingredients
I like to a add a pinch of cardamom powder in this dish for flavor. Few recipes also add some ghee but I do not use it. So this is a vegan recipe too.
How To Make Peanut Chikki Recipe
Dry Roast Peanuts
Skip this section if you are using store bought roasted peanuts. If you are using raw peanuts, follow these steps to roast peanuts.
Pick and measure 2 cups raw peanuts. Make sure there are no rotten or stale peanuts. Heat a heavy cast iron pan or any heavy pan. Add the peanuts and begin to roast them in medium heat.
As the peanuts begin to roast, nutty aroma will waft out and also the skin will begin to loosen. Once the peanuts are well roasted switch off the flame and transfer the peanuts to a clean large kitchen towel. Cover and rub vigorously to remove the skin. You can do this step in batches too.
Making Jaggery Syrup.
Grate the block of jaggery using a fine grater to a plate. You will need 1.5 cups tightly packed grated jaggery for 2 cups peanuts.
Add jaggery to a heavy bottomed pan and also add 1/4 cup water. Mix very well so that jaggery dissolves well.
Begin to cook the jaggery mixture in medium heat. Keep stirring to prevent caramelizing while cooking jaggery. Add cardamom powder and mix. Jaggery melts as it cooks. Cook till it reaches hard ball consistency. If you are using a thermometer it should read 133 C or 270 F.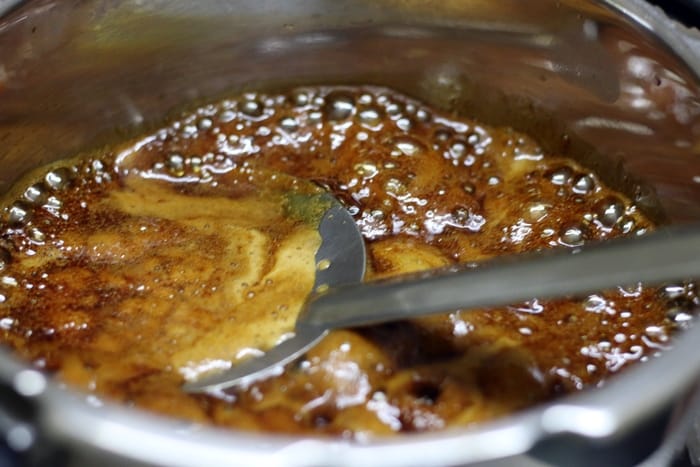 As you cook jaggery will thicken and the syrup turns glossy and will start changing consistencies. It will go from one string consistency to 2 string to soft boil and then hard boil. It will take around 15-18 minutes in low heat. The syrup will be super thick and glossy and that is one way to check.
To check if the jaggery syrup has reached the right consistency, drop a small amount of syrup into a bowl of cold water. If it firms up immediately and snaps on breaking, jaggery syrup has reached perfect consistency. If it is too soft, cook for few more minutes.
Making Peanut Chikki
Once the jaggery has reached the right consistency, add the roasted peanuts and mix very quickly so that the jaggery syrup coats all the peanuts.
Now you can transfer the mixture to a greased plate or a plate lined with butter paper or a marble board .Roll out with a greased rolling pin or spread the mixture evenly using the back of bowl. When the mixture is still warm, draw lines with sharp knife. After cooling you can break into squares.
To make ladoos, make small balls from a mixture and roll in between palms. Serve peanut chikki warm or at room temperature. You can store in airtight container for 2 weeks. Groundnut chikki keeps well for a month in refrigerator.
Variations
You can add 2 teaspoons roasted sesame seeds along with peanuts.
Dry fruits and nuts like chopped almonds, cashews can be added.
For more flavor you can add 1 teaspoon ghee to the chikki mixture.
Expert Tips
Roasting peanuts– Roasting peanuts until crispy and nutty is the key for making best peanut chikki. If the peanuts are not roasted properly the chikkis will become very soggy and chewy on cooling.
De skinning peanuts– After roasting cool the roasted peanuts well and remove the skin from all the groundnuts. Chikki will not turn out very tasty without this step.
Jaggery– Use brown jaggery or sticky jaggery used especially for making syrups. If you use packed jaggery powder the results will not be the same.
Frequently Asked Questions
Is peanut chikki good for health?
Yes if it is made of only jaggery and peanuts. It is a protein packed snack with iron from jaggery. However store bought ones have sugar, liquid glucose, corn syrup which are not very healthy.
How do you store chikki?
In air tight container in refrigerator or at room temperature. You can stack them pieces of parchment paper.
Can I use sugar instead of jaggery?
Yes you can use 1 cup dark brown sugar instead of jaggery.
Is peanut chikki vegan?
Yes when made without ghee.
Is peanut chikki gluten free?
Yes. These peanut chikkis are naturally gluten free.
Are you making this recipe? I would love to see a snap of your creation too. Do snap a pic and share on Instagram with hashtag #cookclickndevou and please give a star rating ★ in the recipe card above. Follow us on Pinterest , Instagram, Facebook for more recipes and ideas.
More Peanut Recipes
Peanut rice
Peanut chutney
Homemade peanut butter
Recipe
Peanut chikki recipe | kadalai mittai recipe | kadalai urundai recipe
peanut chikki recipe with step wise photos. Easy to make [eanut brittle recipe.
1 CUP = 250 ml
Ingredients
2

cups

Peanuts

roasted

1.5

cups

Jaggery

paagu vellam

1/4

cup

water

cardamom powder
Instructions
Combine water and jaggery in a thick pan. Mix and let boil.

Cook in medium flame until hard ball stage is reached. (If you drop a pinch of syrup in a bowl of water, it stays still)

Now mix in the roasted peanuts and cardamom powder. mix thoroughly,

For making squares spread in a greased tin and cut with a sharp knife when still warm. For making balls just shape like ladoos from the warm mixture,.Serve peanut chikki as snack.
Nutrition
Serving:
20
g
Calories:
147
kcal
Carbohydrates:
18
g
Protein:
4
g
Fat:
7
g
Saturated Fat:
1
g
Sodium:
3
mg
Potassium:
109
mg
Fiber:
1
g
Sugar:
15
g
Calcium:
21
mg
Iron:
1
mg
Tried this recipe? Snap a pic and share 🙂
Mention cookclickndevou or tag cookclickndevour