Dosa recipe  with step by step photos or basic dosa batter recipe with step by step photos. Dosa is the most popular south Indian breakfast next to idli. South Indian dosa is basically a thin or thick crepe made of rice and lentils. In south Indian homes always one common batter is made for dosa and idli. I have been getting many queries on how to make dosa batter in mixer grinder and hence this post.
Dosa can be of many types. Ranging from sada dosa, masala dosa, paper roast, ghee roast, resraurant style crispy dosa to humble uthapam which is made usually to finish off the batter. The history of dosa is very interesting. Looks like dosa has its origin from udupi, Karnataka. Till today crispy dosas or sada dosa from udupi restaurants are very popular. Benne dosa, masala dosa, Mysore masala dosa, set dosa are few more popular dosa varieties. Rice, urad dal and channa dal are rich in nutrients and dosa is one power packed breakfast to start the day just like idli.
I make idli or dosa batter at least twice a week and always keep it handy. I always use wet grinder to make the batter and make idli for first two days. I make dosas with the remaining batter for 1-2 days dinner. Here I am sharing with you all the recipe for golden brown crispy dosa as we get in restaurants. A wet grinder is not necessary for dosa batter. A mixer grinder is very much sufficient to make perfect dosa batter. Even the consistency need not be so carefully monitored as in idli recipe.
To make crisp dosa recipe that is golden brown color we usually add some channa dal while grinding batter. Channa dal gives nice flavor and color to the dosa. While the idli rice gives the required softness, raw rice is for crispiness and also some color.
To make dosa batter, select good quality idli rice and raw rice. Same goes with urad dal or ulundu, it should be new and fresh. We add a fistful of aval/poha in both idli and dosa batter, it really makes difference, adding aval adds taste, it will be easy to spread the dosa. Apart form these methi seeds are added and they are natural coolants.
In this dosa recipe, to make perfect crispy dosa it is necessary to grind the batter really well. First grind the batter with less water, by this way you ca grind the batter to a smooth paste, you can always add more water after grinding. It is better to mix enough water to the batter after grinding itself. I mean do not keep the batter very thick for fermenting, after fermenting you may not be able to mix water and make a uniform batter.
This dosa recipe yields crispy yet soft, golden colored dosas. The taste will be very similar to what you eat in restaurants. You can serve dosa with tiffin sambar, sambar, chutney or milagai podi. Even potato masala goes well with dosa. I hope all the beginners will try this easy dosa recipe and tell me how you liked it!
Tips for making perfect crisp dosa recipe
1. Grind the batter very smooth. The batter should not be very thick or thin. Keep it little loose than idli batter.
2. Make dosas according to the size of your tava. If your tava is small do not pour more than 1 ladle of batter, if you add more batter you will not be able to spread and dosas will be thick.
3. if you are using cast iron tava, you can sprinkle little atwer after taking out each dosa and balance the temperature of tava.
4. The temperature of tava is very crucial for making perfect dosas. Keep the flame low while pouring and spreading the dosa, increase it to medium while the dosa is cooking. Repeat the same for all dosas. If you keep the flame high while pouring the batter, it will immediately  get cooked and will disintegrate when you try to spread.
5. Add oil to the edges after the dosa gets slightly cooked, do not add immediately after spreading the batter.
6. If you are making very thin dosa, it is not necessary to flip over the dosas.
Here is how to make dosa recipe/ dosa batter recipe!
If you are looking for more dosa recipes do check oats dosa, rava dosa, neer dosa, bread dosa recipes.
Dosa recipe – dosa batter recipe card below:
How to make dosa recipe and dosa batter recipe with step by step photos.
1. Measure and wash raw rice,idli rice, urad dal and fenugreek seeds. Rinse the poha/aval well.
2. Mix everything together and soak in enough water for 3-4 hours.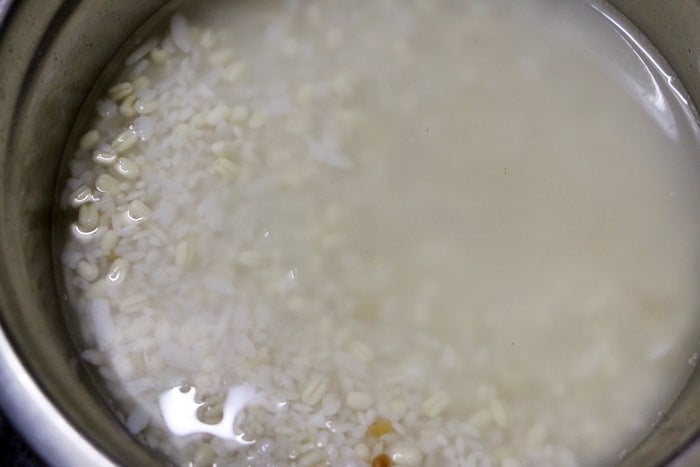 3. Drain and take the soaked ingredients in the mixer jar (take according to the size of your jar)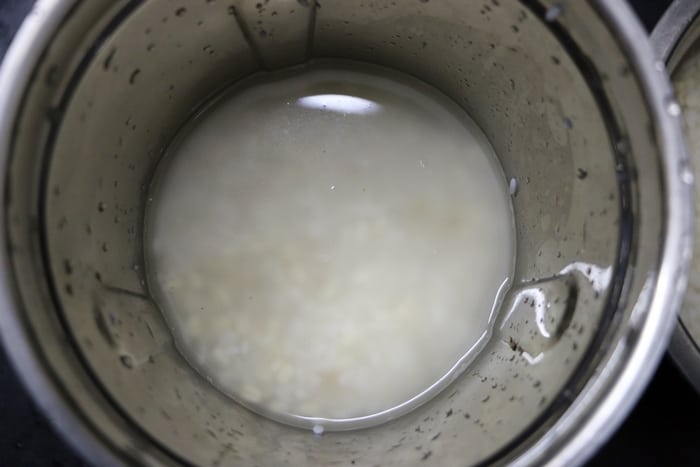 4. Add little water and grind to a very smooth batter.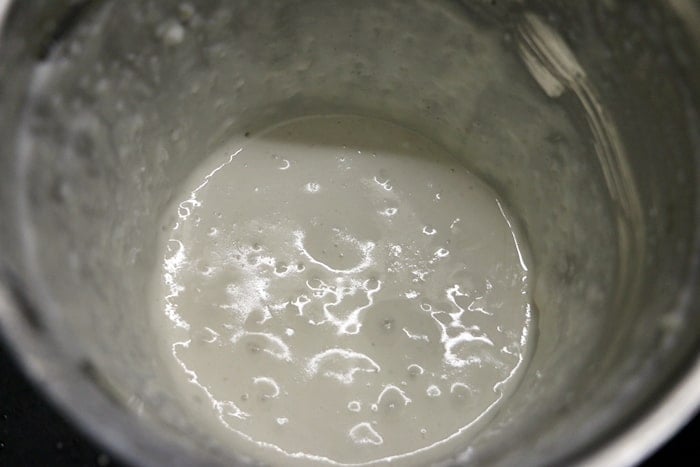 5. Take the ground batter in a deep bowl.Add salt and mix well  Choose the a big bowl so that there is enough space for fermentation.
6. Let the batter ferment for minimum 10 hours.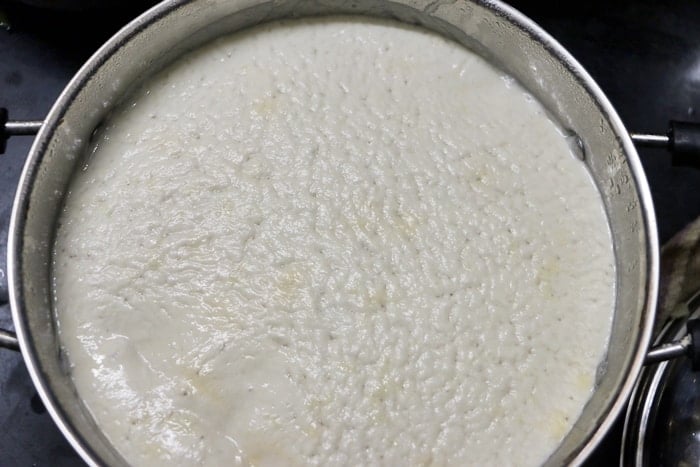 7. If not making dosa immediately after fermenting the batter, keep it in fridge. Remove the batter from fridge and rest in room temperature at least 1 hour before making dosas.
8. At the time of making dosas, heat a tava. Once the tava is pour a ladle full of batter.
9. Swiftly spread the batter as thin as you want.
10. let it cook for 1-2 minutes. Add oil in the edges. The edges will start to brown and rise slightly. At this point of time you can flip the dosa.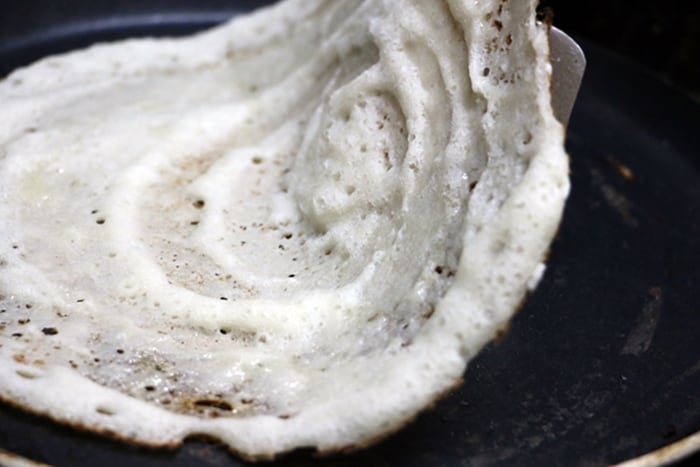 11. Flip the dosa and cook the other side adding few drops of oil. Serve dosas immediately with chutney,sambar or potato masala.