Mexican rice recipe with video and step by step photos. Mexican style fluffy rice loaded with corn and other veggies. Make Mexican rice easily at home with simple ingredients. Enjoy with refried beans as side dish or with tacos as main dish!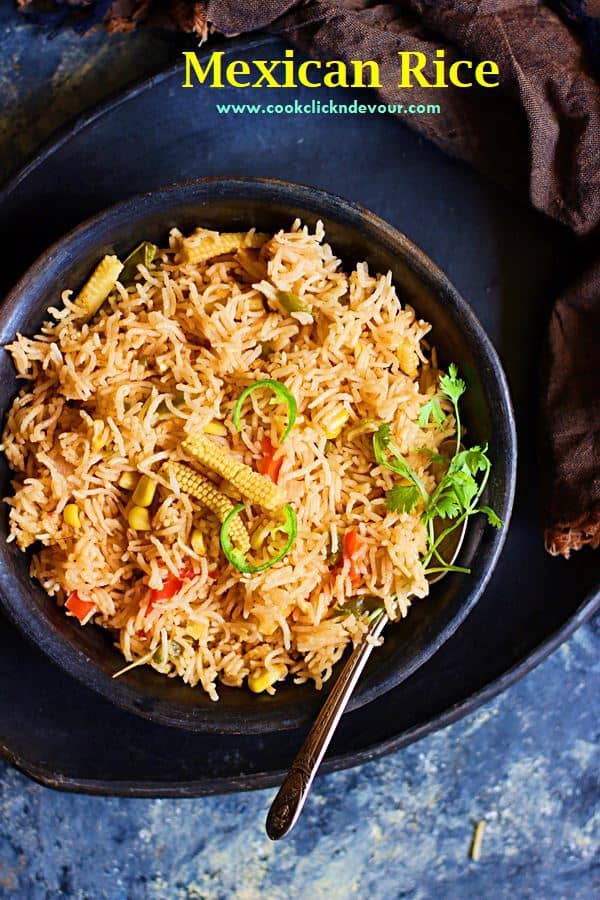 This Mexican rice is a delicious mix of perfectly cooked long grain rice with sweet corns, peppers and chilies in a flavorful tomato base. For tomato base you can use tinned tomato puree or tomato sauce. Here I have used my homemade classic tomato sauce.
Vegetarian Mexican rice recipe is a one pot dish and I always use a pressure cooker to make it quickly. I have used basmati rice in this recipe while long grained white rice is authentically used in this recipe. You can also make this rice in a rice cooker or regular pan with lid.
Mexican rice in rice cooker:
You can make this rice directly in the rice cooker vessel after preheating it. Follow the steps exactly and after adding water to the rice, mix well and switch on the rice cooker and cook as per instructions in the manual.
Mexican rice in a pan:
If you do not want to use a pressure cooker or rice cooker then you can make this rice in normal pan with a lid. Use a thick bottomed pan with a lid. Follow the steps as in recipe and after adding water to the rice, mix gently, cover and cook for 20-22 minutes. Uncover and check if the rice is cooked. If needed add very little more water and cook f0r 3-5 minutes in low flame.
You can make best mexican rice at home just like your favorite takeaways. While I have not used cayenne pepper or jalapenos in this recipe, it is no less in flavor or taste compared to authentic mexican rice. If you can get jalapenos or cayenne pepper use it by all means.
There are many ways you can make Mexican rice. The recipe shared here is for vegan and gluten free Mexican rice. I have tasted quite a few variation in Mexican restaurants. Below you can fins some variations with this recipe.
Variations in making mexican rice recipe.
While I have used tomato sauce as base in this recipe, you can easily use tinned tomato pulp. You can also just process fresh tomatoes with garlic, onion in a food processor and use.
Vegetables are optional in this recipe. I suggest you keep the corn kernels and leave out baby corn and peppers if you wish.
As I said above you can include or leave out jalapenos.
While cooking rice you can use tomato stock or vegetable broth. Non vegetarian variation would be to use chicken stock in Mexican rice recipe.
Finally, use good quality light olive oil or any neutral oil in this recipe.
How to make Mexican rice for crowd?
The recipe can be easily doubled or tripled. Just increase the cooking time proportionally. I would suggest you use any broth for cooking the rice while making for crowd.
Serve Mexican rice with refried beans or salsa on side. You can also use this rice to fill tacos or stuff bell peppers. Also you can serve with burritos.
More rice recipes:
Singapore fried rice, Chinese fried rice, schezwan fried rice recipes, veg tahiri recipe
How to make Mexican rice recipe (step by step)
1. Rinse the rice well for at least two times first of all. Soak in plenty of water for 30 minutes. While the rice soaking prep the veggies by washing and chopping. If using blanched tomato puree get that also ready.
2. Next heat 3 tablespoons olive oil in a pressure cooker. Add chopped green chilies or jalapenos. Also add crushed garlic (i did not use) and saute well.
3. Add chopped onions and saute well till they turn soft.
4. Now add the vegetables and mix well. Season with chili powder, pepper powder and salt. Mix well.
5. Now add tomato puree or tomato sauce. Mix well and cook for 4-6 minutes.
6. Drain the soaked rice well and add to the cooked vegetables. Mix gently.
7. Add 2.5 cups water or broth and mix well. Pressure cook for 2 whistles. Once the pressure is released open the cooker. Gently fluff the rice and serve warm.
Are you making this recipe? Then don't forget to rate the recipe and let me know how you got on in the comments below. I love hearing from you! You can also stay connected with me on FACEBOOK, TWITTER, INSTAGRAM and PINTEREST to see more delicious food and recipes.
Mexican Rice Recipe Card: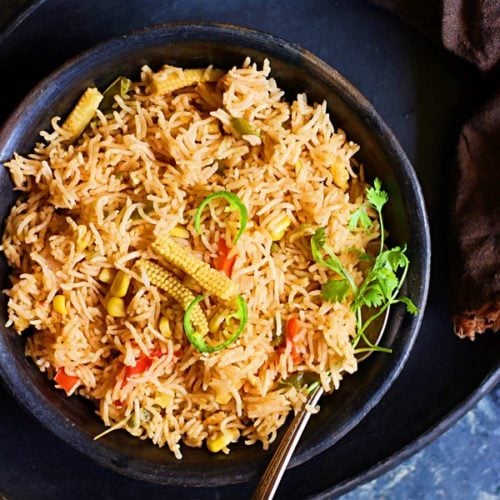 Vegetarian Mexican Rice Recipe
Easy vegetarian Mexican rice than you can make in no time at home and better than takeaways. Serve with a side of refried beans or taco or burritos.
1 CUP = 250 ml
Ingredients
1

cup

rice

long grained white or basmati

3

tablespoons

olive oil

OR vegetable oil

2

green chilies

OR jalapenoes, seeded and chopped

2

cloves garlic

peeled and minced

1

onion

chopped

1/2

cup

chopped bell peppers

1/2

cup

chopped baby corn

3/4

cup

sweet corn kernels

1/2

teaspoon

chili powder

optional

1/2

teaspoon

pepper powder

3

tablespoons

tomato sauce

OR Puree

Salt

to taste

2.5

cups

water

Cilantro leaves

to garnish
Instructions
Rinse the rice well for at least two times first of all. Soak in plenty of water for 30 minutes. While the rice soaking prep the veggies by washing and chopping. If using blanched tomato puree get that also ready.

Next heat 3 tablespoons olive oil in a pressure cooker. Add chopped green chilies or jalapenos. Also add crushed garlic (i did not use) and saute well.

Add chopped onions and saute well till they turn soft.

Now add the vegetables and mix well. Season with chili powder, pepper powder and salt. Mix well.

Add tomato puree or tomato sauce. Mix well and cook for 4-6 minutes.

Drain the soaked rice well and add to the cooked vegetables. Mix gently.

Add 2.5 cups water or broth and mix well. Pressure cook for 2 whistles. Once the pressure is released open the cooker. Gently fluff the rice and serve warm
Nutrition
Tried this recipe? Snap a pic and share 🙂
Mention cookclickndevou or tag cookclickndevour