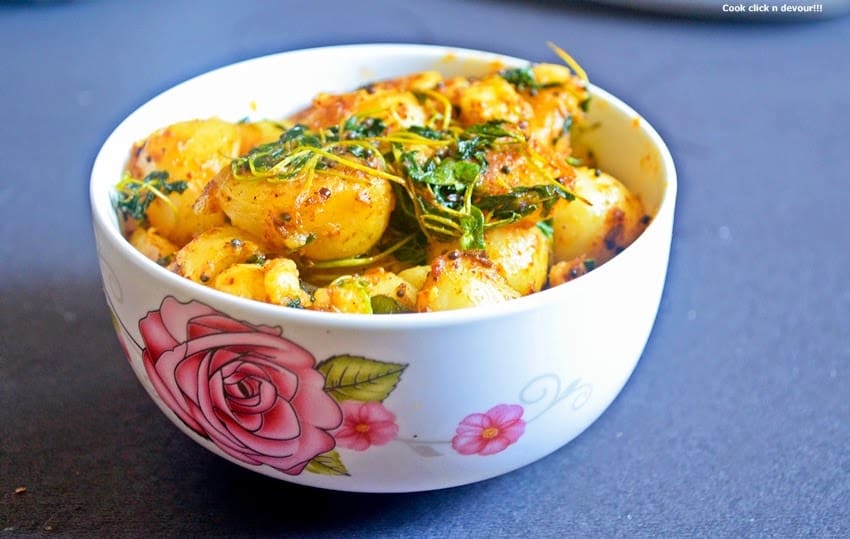 Aloo methi is a simple and humble curry ,with potatoes and methi leaves.This is a a very easy to make curry ,that bursts with flavor of methi leaves. A very quick side dish that you can whip up easily on a weeknight in flat 20 minutes.I highly recommend using baby potatoes and tender methi leaves for this recipe as it lends a very beautiful flavor and taste.A vegan,no onion garlic recipe that sure fits in any special meal.Try out and tell me.
Aloo methi recipe
Star ingredients: Baby potatoes and tender methi leaves
Time:20 minutes
Serves:4
Ingredients:
20-25 baby potatoes
2 small bunch of fresh methi leaves,about 1 cup packed
1 teaspoon chilli powder
1/2 teaspoon turmeric powder
1/2 teaspoon coriander powder
1/4 teaspoon asafoetida
1 teaspoon cumin seeds
1/2 teaspoon mustard seeds
2 tablespoons cilantro chopped fine
Juice of half lemon
Salt
Method:
1.Pressure cook potatoes until they are soft yet firm.Peel them and pat dry with a kitchen towel.
2.Wash the methi leaves several times thoroughly to remove dirt and mud.Drain and keep aside.
3.Heat 2 teaspoons oil in a kadai and temper with mustard and cumin seeds.
4.Add asafoetida,turmeric and chilli powder,saute till raw smell goes off.
5.Add the washed methi leaves and saute till the leaves wilt.
6.Add the potatoes,salt,coriander powder and saute well.Add 1 more teaspoon oil if needed and saute.
7.Add cilantro leaves,mix well and remove from flame.Mix lemon juice and serve hot with roti/rice
Notes:
1.Instead of baby potatoes you can use 3 large regular potatoes.
2.You can add any other masala powder like garam masala too if needed
3.You can add amchur(dry mango) instead of lemon juice.