Chinese bhel is a delicious, easy to make addictive crispy noodles chaat made in the lines of American chopsuey. As the making is similar to bhel puri, this dish gets the name Chinese style bhel.
This unique preparation of crispy noodle salad is a delicious mix of fried noodles, vegetables sauteed in soy sauce, vinegar & finished with loads of chopped spring onion greens, cilantro leaves etc. This a vegan recipe and can be made gluten free too.
In this post I am sharing an easy best recipe of street style Chinese bhel that tastes very similar to the street side shops or takeout.
Looking for some super easy to make yet absolutely delicious, moreish and addictive snack for cold winter or monsoon evenings? Do try this chinese bhel recipe and it will surely please you.
You need very few simple ingredients to make this dish. If you have crispy fried noodles handy, this bhel comes together in less than 15 minutes.
Here I am sharing a very detailed recipe of making fried noodles, the sauce mixture with vegetables and finally assembling the bhel. Let's get into the recipe 🙂
About This Recipe
Chinese bhel is a crispy, sweet, spicy and tangy fusion snack from Indo Chinese cuisine. It is basically a mix of crispy fried noodles, Chinese style sauce with vegetables and finely chopped scallion greens or spring onion greens.
This delicious Indian street food actually goes by many names likes noodles chaat, fried noodle salad, crispy noodles salad etc. This is very close to American chopsuey in both making and taste.
Crispy fried noodles are very commonly used in Indo Chinese cuisine. It is used as garnish in soups like manchow soup.
It is super easy to make Chinese bhel once you have all the components ready. This is a super versatile recipe where you can mix and match the sauces like soy sauce, red chilli sauce, green chilli sauce, mushroom sauce Along with it we are also using a bit of tomato ketchup for that sweet taste.
Here you can also use green chutney, tamarind chutney or sweet chutney, dates syrup etc for more flavor and taste. I sometimes add siracha sauce or even harissa paste.
The vegetables used for making Chinese bhel recipe are the same ones we use in noodles or fried rice recipes. I have used carrots, cabbage & colored bell peppers. You can also use mushrooms, bok choy etc. This dish also has loads of chopped spring onion greens, freshly minced ginger garlic.
You can use any variety of noodles for making this bhel like hakka noodles, ramen. I have used millet noodles here as it is the only variety of noodles I store other than rice noodles.
How To Make Chinese Bhel Recipe
Boiling Noodles
Open a pack of 200 grams of noodles and keep it ready. Do not break the noodles.
Add 5 cups of water to a large pot and heat it for cooking noodles
Let water the come to a rolling boil. Add a big pinch of salt.
Now place the block of noodles into the water carefully. Most of the noodles packet will have cooking time mentioned, so keep a watch. It helps to cook the noodles a minute or two less than what is mentioned to get al dente texture.
Mix very gently. Add few drops of oil over the noodles.
Mix again gently. As the water boils, noodles will become soft. Usually this takes around 4-6 minutes.
Now mix very gently so that the noodles do not stick to the bottom of the pan. As the noodles cook, they will begin to float, also check the time mentioned in the pack.
Once they are soft, switch off the flame and immediately drain the boiled noodles in a colander.
Rinse the cooked noodles under running water to prevent further cooking. Spread the cooked noodles on a plate and set aside to dry for an hour.
Making Crispy Fried Noodles
Heat oil for deep frying in a heavy pan. Once the oil is hot maintain medium flame.
To check if oil is ready for frying, add few boiled and dried noodles in the hot oil. If it sizzles up after a second, oil is ready for frying. If you are using a thermometer it should ready 190 C.
Once the oil is heated, add boiled noodles in batches to it.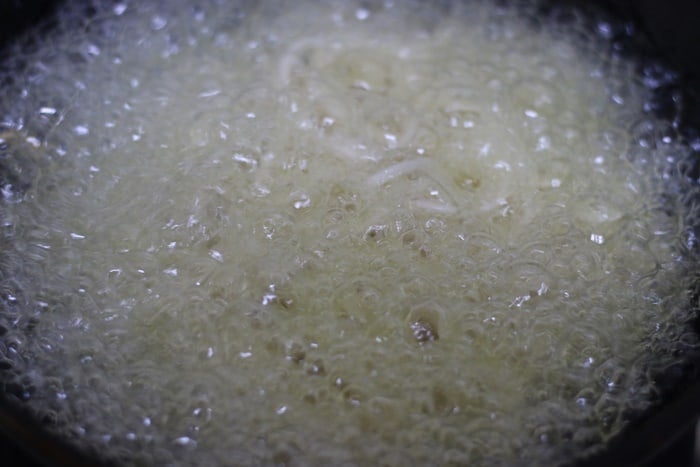 Deep fry the noodles in medium flame until it turns crispy and golden.
Once fried, the noodles will float atop.
Remove to a plate lined with kitchen towel to drain excess oil. Break the fried noodles into small pieces. You can prepare this a day or two ahead. Keeps well in airtight container.
Stir Frying Vegetables With Sauces For Chinese Bhel
Heat 2 tablespoons sesame oil in a broad wok or heavy pan. Add 1/2 teaspoon red chilli flakes, 1 inch peeled and minced ginger, 3 garlic cloves minced and 2 tablespoons chopped spring onion whites. Saute in high heat for a minute. Also add 1/4 cup chopped onions.
Now add 1/3 cup each- shredded cabbage, thinly sliced bell pepper and carrots. Saute in high heat for another 2 minutes.
Now add red chilli sauce or green chili sauce. I have added homemade chili paste. Mix well and saute.
Next add tomato ketchup. If you don't have ketchup you can add 1 tablespoon tomato sauce or paste along with 1/2 tablespoon sugar. You can also add date syrup or honey or maple too.
Add 2 tablespoons soy sauce. I have added low sodium naturally brewed soy sauce. If you are using regular sauce add 1 tablespoon only.
Next add 1 teaspoon sugar and mix well.
Finally add salt to taste and freshly cracked black pepper.
Saute everything until well combined for a minute or two in high flame until the sauce combines. Remove the sauce for Chinese bhel from the heat.
Crispy Fried Noodles Tossed In Vegetables
Divide the prepared veg stir fry among three serving bowls. You can also toss everything together in a mixing bowl.
Add about 3/4 cup deep fried noodles on the top.
Do not over mix. Add finely chopped spring onion greens, more ketchup of required and chopped cilantro leaves. Serve Chinese bhel immediately.
Expert Tips
While making chinese bhel is super easy, it is a bit time consuming for sure. You can easily make the fried noodles a day or two ahead and store in airtight containers. Just make the sauce when required, toss the fried noodles and serve.
You can also air fry the noodles instead of deep frying them. Just place the boiled noodles in the air fryer basket and bake until crispy.
This recipe is a super versatile one where you can easily add many ingredients to make it interesting. I sometimes add crushed roasted peanuts, cashews or even roasted chickpeas. Instead of scallion you can also add finely chopped raw onions.
The sauces used in this recipe are entirely customizable. You can use red chili sauce, schezwan sauce, green chili sauce, green chutney, garlic chutney or even sweet tamarind chutney.
To make Chinese bhel crispy keep the sauce and noodles separately and toss just before serving.
Spring onions add a wonderful flavor and crunch, do not miss them.
Instead of fried noodles you can even add crushed nacho chips, crushed papdi or pani puris too.
More Chinese Recipes
Are you making this recipe? I would love to see a snap of your creation too. Do snap a pic and share on Instagram with hashtag #cookclickndevou and please give a star rating ★ in the recipe card above. Follow us on Pinterest , Instagram, Facebook for more recipes and ideas.
Recipe