This fried rice recipe is just like what you get in your favorite Chinese restaurants, quick and easy to make, totally versatile and delicious side dish in any Asian spread. Vegan recipe.
In this classic recipe, perfectly cooked long grain rice tossed with delicious sauces and mixed vegetables. Easy, perfect and delicious entrée or side dish in any Asian inspired or oriental meal.
Fried rice can be made in so many ways in both vegetarian and non vegetarian cuisine. Chicken fried rice, egg fried rice are popular ones.
Here in this vegan recipe we are using cold rice, truckload of vegetables, few simple sauces and mild seasoning. This is a flavor packed delicious one pot meal that tastes best with Asian sides like chilli potato, basil tofu, braised tofu, stir fry vegetables.
Whenever I have some leftover rice or we need a quick and satiating meal, this easy fried rice recipe is my go to choice. I can sneak as much veggies I like, gets done in less than 30 minutes and tastes delicious on its own.
In this recipe you can use a combination of any of your favorite sauces and season as you wish. The best part about this restaurant style fried rice is it tastes excellent with any and all the combinations of sauces and seasonings.
If you like the veg fried rice from Chinese restaurants or take outs and want to try your hands on making it at home, this veg fried rice recipe with step by step photos and video is your best bet! Get that wok heating, let's stir up some Asian 🙂
About This Recipe
What Is Fried Rice?
Fried rice is a broad term for Chinese style preparation of rice. You will find this in the menus at Chinese restaurants and Asian take outs.
In this method cooked and cooled rice is basically fried in a very high heat along with some sauces, meat or vegetables in a deep broad skillet known as Chinese wok.
Here this veg fried rice is a combination of cooked and cooled white rice, finely chopped mixed vegetables like carrot, beans, cabbage and few simple sauces like soy sauce, chili sauce and vinegar. The whole frying is done with sesame oil for that authentic flavor in this vegetable fried rice.
Frying rice in high heat is one of oldest Asian cooking technique. It is indeed a skill to fry the rice perfect and there is a knack to get it right.
Veg fried rice is a wonderful addition to any Asian meal as entrée or side dish. We love this as a filling brunch or dinner with Asian specialties like Gobi manchurian, veg manchurian, chilli paneer etc.
Why This Recipe Works?
If you like fried rice with clean, crisp flavors then this recipe for you. My recipe does not use ridiculous amount of sauces or any rare ingredient that we may not have in the pantry.
This is an extremely versatile best fried rice recipe in which you can easily vary the sauces and use what you might have handy.
The same goes with the choice of vegetables for fried rice using this recipe. I have mentioned all the possibilities so that you can choose two or more vegetables as you like.
Next this is the most easy fried rice recipe out there. All it takes to make this recipe are very few ingredients, stir fry in high heat and a total time of 20 minutes, if you include the the time for chopping vegetables the total time is 30 minutes, pretty decent for a weeknight meal right?
Stir frying the ingredients at high heat in a good wok or cast iron skillet is what makes my homemade fried rice special. I do not add ajinomoto or mono sodium glutamate in any of my recipes. If you like you can add it or to bring the umami and flavor in veg fried rice without MSG just follow my recipe 🙂
There is indeed some magic about perfectly stir fried rice with just the right amount of sauces :), do try out and enjoy this homemade veg fried rice recipe which is
Quick, easy and simple
absolutely delicious & addictive
ready in total time of 30 minutes
Flavorful, full of umami, smoky
Vegan and can be easily made gluten free.
Homemade Easy Fried Rice Ingredients
My biggest tip with any Chinese recipe is you make sure you do the prep work before beginning the actual cooking.
As we are cooking in super high heat for short time, it hugely helps to measure and set out the ingredients by the stove .
So let talk about the ingredients for this veg fried rice recipe, shall we?
Rice– cooked cold rice is what we need for this recipe. If you have leftover rice or a day old rice, it would be ideal for this rice.
You can use any variety of rice here really. Long grain rice, short grain rice, basmati rice, jasmine rice, white rice, brown rice anything goes. The only key for perfect fried rice is the cooked rice should be cold, non sticky and grains separate.
Vegetables– Mixed vegetables are the main attraction of this restaurant style veg fried rice. As we are not adding any eggs or meat here, be generous with vegetables and add two or more of the following veggies
carrots
baby corns
cabbage
bell peppers
peas
beans
broccoli
pok choy
Sauces– This is a very versatile recipe and you can easily use any of your preferred sauces. I generally add a good soy sauce, a bit of red chili sauce or hot sauce like sriracha and some vinegar.
I also occasionally use green chili sauce, vegetarian oyster sauce, mushroom sauce or even kimchi to make kimchi fried rice. See my instruction for the same as you read.
I always use naturally brewed low sodium soy sauce in my recipes so the quantity is a bit more. Halve if you are using regular soy sauce.
Celery and green onions- These two ingredients are must if you want to make authentic Chinese fried rice. Celery adds such a traditional flavor to this rice.
Ginger-garlic– I prefer to use generous quantity of freshly minced ginger garlic for making fried rice. It adds such a deep flavor and taste here.
Salt and pepper– Season the rice with required quantity of salt and pepper before serving. You can add kosher salt too. For a milder flavor you can add powdered white pepper too.
Sesame oil– Use very good quality sesame oil to stir fry the rice of possible. Sesame oil lends such a deep flavor and taste that is so authentic. Also while serving I like to add a wee bit of toasted sesame oil for intense flavor. A small drizzle goes a long way here.
If sesame oil is unavailable use canola oil or vegetable oil. You can also butter for that glossy finish.
How To Make Fried Rice Recipe
Making veg fried rice can be divided into three parts.
Preparing rice & vegetables.
Sautéing vegetables with sauces.
fry the rice with vegetables
Cooking Rice
For this recipe we need cooked and cooled basmati rice, grains full and separate for this recipe. A day old rice or at least rice that has been cooked few hours before works for this veggies fried rice.
Pick and rinse raw basmati rice gently once or twice.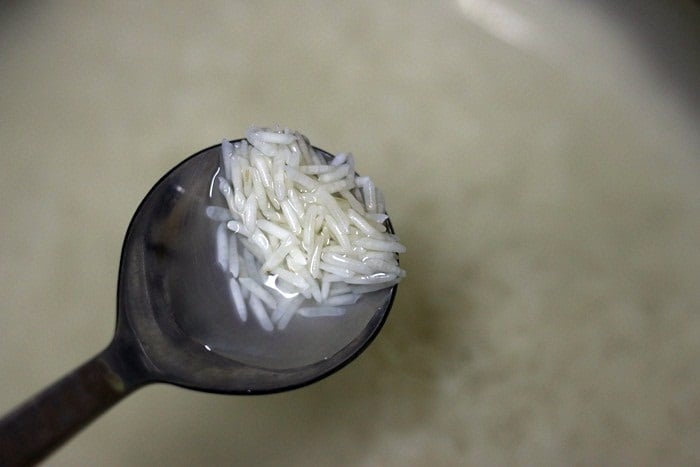 Soak the rice in plenty of water for 30 minutes.
Drain the rice and spread it on a plate for few minutes.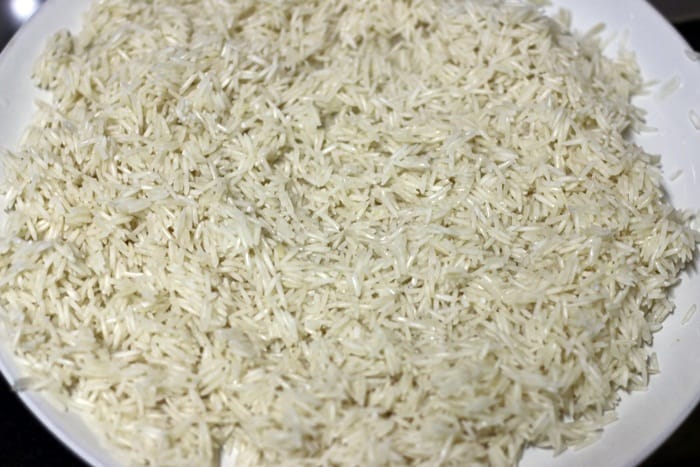 Next bring two cups of water to a rolling boil in a heavy pan. Add few drops of oil to the water.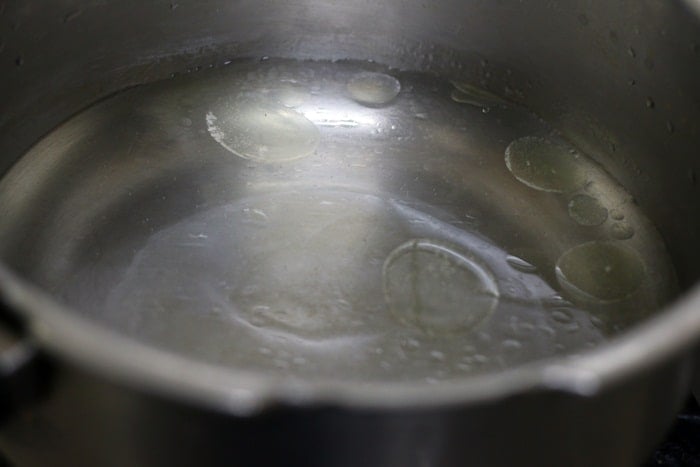 Next add the rice and mix gently once.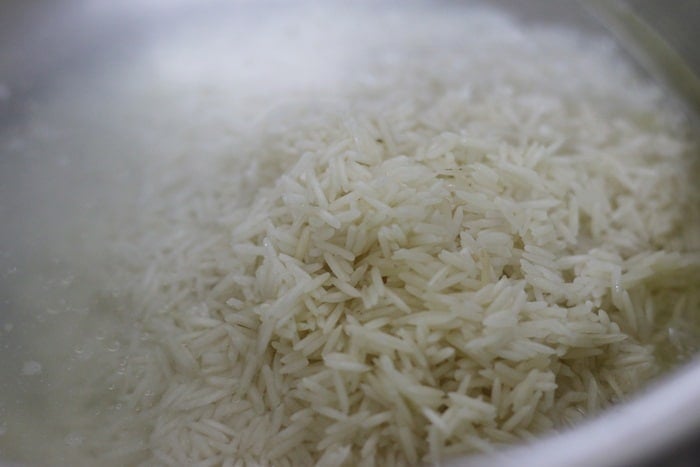 Cook until all the water is absorbed, it takes around 8-12 minutes.
Cool the rice completely before using in vegetable fried rice.
Spread the cooked rice on a plate and add few drops of oil. Cool thoroughly before stir frying. Set aside until use.
If you wish to cook rice for fried rice in instant pot then add 2.25 cups water for 1 cup raw rice, set the timer to 4 minutes in manual or pressure cooker mode. Let the pressure settle down for 5 minutes.
Preparing Vegetables
While the rice is getting ready, we will prepare the vegetables. This time I added a small bunch of fresh greens in this recipe and it is optional.
To make this veg rice you will the following vegetables
1/3 cup finely chopped carrots
1/3 cup frozen peas or fresh peas
1/4 cup finely chopped beans
1/3 cup shredded cabbage
1/3 cup bell peppers or capsicum
1/2 cup finely chopped spring onions bulbs and stems
1/2 cup spring onion greens or green onions
Adding mushrooms lend a very earthy umami flavor this dish. Instead of fresh mushrooms I have added some mushroom sauce.
If you want you can add 3/4 cup chopped mushrooms. Set aside the vegetables.
Also finely chop two tablespoons celery
mince 3 cloves garlic and 1 inch ginger together. Set aside .
Stir Fry Vegetables With Sauces
Heat 3 tablespoons sesame oil in a Chinese wok or large saute pan. You can also use a good cast iron skillet. Heat the oil until it begins to smoke.
Add 1 teaspoon red chili flakes, 1/2 inch ginger minced, 3 cloves garlic minced and saute for a minute. Add celery, 1/2 cup spring onions or yellow onions and fry for a minute.
Here I have added 1/2 cup fenugreek leaves which is optional. You can skip this if you don't have. You can also add baby spinach or bok choy greens. Saute for a minute.
Add the prepared vegetables like carrots peas and others. Saute in high flame for 2 minutes continuously.
Now add the sauces-3 tablespoons low sodium soy sauce, 2 teaspoons red chili sauce or green chili sauce, 1 tablespoon vegetarian oyster sauce or mushroom sauce, 1/2 teaspoon brown sugar.
Mix well , saute and fry the vegetables in high flame for 6-7 minutes or until the veggies turn a bit soft yet crunchy.
Now maintain high flame, move the veggies to one side of the pan and splash 2 tablespoons water on the pan. Close the pan with a lid immediately to trap the steam. Cook in high flame for one more minute with lid on. This step will impart such a wonderful smoky flavor to your fried rice. The same technique we do in pot stickers
Stir fry the rice and make fried rice
Open the lid of the pan and add the cooked and cooled rice.
Toss, saute and fry the rice in high heat for a minute.
Season with salt and pepper. The sauces already have salt in them, so add discreetly.
Toss again in highest heat and fry the rice well for another 2 minutes. You can add a teaspoon sesame oil now to add some glossy finish to the rice. Finally throw in 1/2 cup chopped spring onion greens or green onions.
Toss and mix well.
Serve fried rice immediately for best taste. One of the best weeknight meals for us 🙂
Tips For Making Best Fried Rice
Making this recipe for more than a decade, I have learnt some tips and pointers that helps in making absolutely best homemade fried rice just like Chinese restaurants and takeout's. I am sharing those here, please follow and tell me how it turned out for you.
Cooking rice– A good fried rice begins with perfectly cooked rice. You want the rice to cooked al dente, that means done with a bite.
If I get to plan ahead, I always cook the rice at least 3 hours before making veg fried rice. This way the rice has a chance to cool thoroughly and become non sticky.
If your rice is freshly cooked, give it at least 30 minutes to cool down, Spread on a plate and refrigerate.
If you try to fry rice that is fresh and hot, what you will end up with is a sticky mass, been there done that 🙂
Chopping vegetables– Make sure you chop all the vegetables in uniform size. This is very important as the vegetables are getting cooked in high flame for a short time, if they are uneven few will remain uncooked while few may burn or turn mushy.
Wok or skillet– If you see in makeshift shops where the cooking area is visible, you will find that Chinese recipes are cooked in a large, broad and deep pan what is known as Chinese wok. They withstand heat wonderfully, broad enough to toss the rice and vegetables and cook them without sticking to each other and imparts a wonderful smoky flavor.
At home try to use a very good quality sturdy cast iron pan or saute pan for best results. Also preheating the skillet with some oil helps while making fried rice in high flame.
Sauces– While the sauces used impart a nice flavor and taste, this recipe is not all about the sauces. Trust me I make fried rice only with salt, pepper and dash of vinegar occasionally and it tastes just brilliant. So if you want to eliminate sauces, just skip them.
Having said that when using sauces, make sure they are of highest quality.
To get that typical restaurant flavor use mushroom or vegetarian oyster sauce.
Toss in High flame– This is one most important tip for this recipe. Prep, measure and set the ingredients by your side, preheat the skillet and maintain high flame throughout the recipe.
Secret ingredients- I would like to think sesame oil, celery, green onions are the secret ingredients for fried rice. If you have not tried using these in your recipe, please try once and tell me 🙂
Variations With This Easy Fried Rice
Checkout these interesting fried rice recipes and enjoy – thai fried rice, tofu fried rice, broccoli fried rice, Singapore fried rice. Here are few more ideas
Pineapple fried rice– Just chop some fresh pineapple and saute along with vegetables for that wonderful tropical flavor in your rice.
Kimchi fried rice– I tried this at a hole in the wall restaurant and it was good. I have made it few times with store bought kimchi and it was excellent.
Jus add 3/4 to 1 cup of kimchi instead of vegetables and saute with sauces. You can also add the kimchi juice for more flavor. This is one thing you do not want to miss if you like kimchi.
With brown rice– Just swap white rice with cooked brown rice and enjoy. You can use brown basmati rice too.
With cauliflower rice– Instead of regular rice, just add 2.5 cups riced cauliflower but fry just for a minute or two.
With quinoa– Same recipe, swap rice with cooked quinoa or any millet too.
Frequently Asked Questions
What is the secret to Chinese fried rice?
thoroughly cooled cooked rice, high heat, suitable skillet or pan, not over cooking.
Yes just follow these and you will be amazed with your rice.
How To Make Gluten Free Fried Rice
The recipe as such is gluten free except for soy sauce. Instead of soy sauce you could use
gluten free tamari or
liquid aminos
How Do I sneak In Some Protein In This Rice?
I often add some pressed tofu or chickpeas in this recipe to get some protein. You can also add paneer if not keen on making vegan fried rice.
Which rice is best for fried rice?
Honestly any of your favorite rice can be used here. Just know the age of your rice and how much water to add, cook and cool the rice thoroughly.
I have made this rice with basmati rice, jasmine rice and brown rice many times.
Which oil is best for fried rice?
I highly recommend sesame oil for the authentic taste and flavor. You could however use any oil with high smoking point like canola oil, any vegetable oil or even peanut oil.
Olive oil can be used but use light olive oil.
Why is my fried rice sticky and mushy.
This vegetable fried rice might turn when the rice is not cooked perfectly. If the rice is hot, it will stick to other ingredients and fried rice will turn mushy.
More Asian Recipes
I hope you will try this vegetable cutlet recipe and enjoy as much as we did. Please give a star rating ★ in the recipe card below if you have tried this recipe. Follow us on Pinterest , Instagram, Facebook for more recipes and ideas.
Recipe Card