Best homemade flour tortillas made with just five ingredients and under an hour. With this recipe you will be able to make soft, chewy and delicious tortillas for quesadila, enchiladas, fajitas, wraps, soft tacos at home. No lard or any other special ingredient required, vegan recipe too.
I am sure I have mentioned this here before although here it goes again, I love Mexican food. I love it a lot like I can have it for multiple meals in a week 🙂 I find the flavors and taste very similar to home and most of the recipes are super easy to make too.
If you like this cuisine too you might want to check out these easy Mexican recipes posted here- Mexican rice, vegan Spanish rice, cilantro lime rice, vegetarian tacos.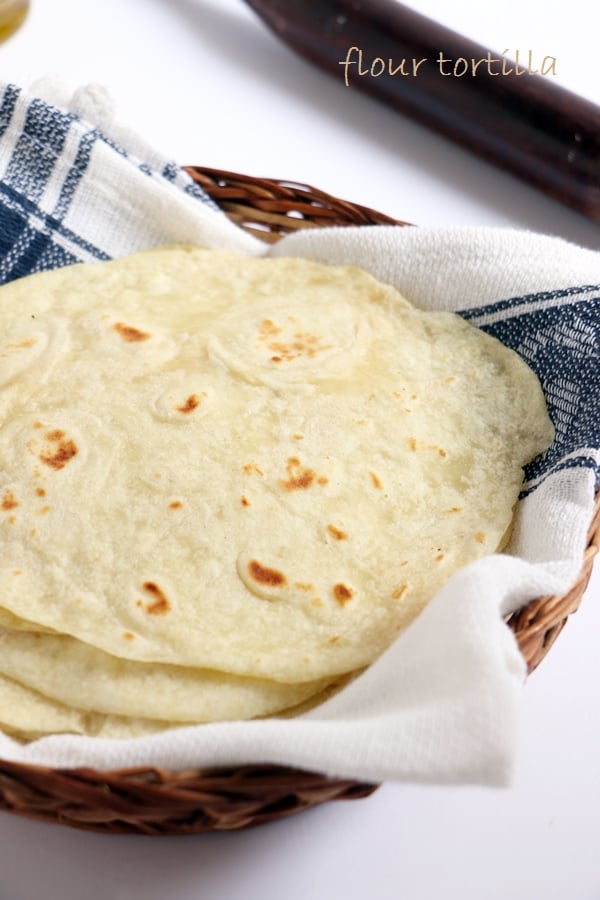 Now coming to these flour tortilla recipe, it is the best simply put 🙂 Earlier I used to purchase tortilla for making quesadillas. I found this recipe in a magazine many years back and ever since no store bought tortillas for us 🙂
I had been meaning to post this best tortilla recipe for long time but it is happening only now. I make a stash of flour tortillas twice a month though 🙂
If you have never tried making tortilla at home, do read on, check out the tips and make a batch, it is really good and not intimidating at all.
About Homemade Flour Tortillas
Flour tortilla is a thin, flat circular flatbread from Mexico. Tortillas were traditionally made from maize or yellow corn flour but over the time they have been made with various flour blends.
Tortillas are essentially unleavened flatbreads but a pinch of baking powder is added to get that super soft yet chewy texture. You can leave it out if you want but make sure to rest the dough for 5-6 hours to develop that texture.
Next lard is the prefered fat for this flatbread. Lard is used in Mexican tortillas for that soft and airy texture but we can easily use oil or even butter for the same at home.
For these homemade flour tortillas recipe I have used just plain flour. To make it healthier you can use half whole wheat flour or even just use wheat flour. The texture and taste will be different though. Wheat flour tortillas are more dark, dense and less chewy.
These homemade tortillas are so easy to make and freeze beautifully. You can make a big batch and freeze the cooked tortillas for up to 2 months.
Making the dough is easier if you have a stand mixer with dough hook or even a food processor when you are making a large batch.
Next you do not need any special equipment like tortilla press for this recipe. A simple rolling pin does the job 🙂
These flour tortillas are so good for making classic Mexican dishes like enchiladas, burrito etc. These are so good to soak up curries or even for wraps.
Here I am sharing a super detailed recipe for easy flour tortillas from scratch which I am sure you will like 🙂 Do try it out and tell me 🙂
Ingredients & Substitutes
You will need just five ingredients for making flour tortillas at home. Flour, salt, oil, water and pinch of baking powder.
Flour
As mentioned above you can use both plain flour or wheat flour for these flatbreads. I have plain flour or all purpose flour for this batch but mostly I use wheat flour or a mix of both flours. You can even make corn tortillas with the same recipe. Just add 3/4 cup maize flour and 1/2 cup plain flour.
Use unbleached flour for best results. You can also use white whole wheat flour.
Oil
We are using oil in this recipe instead of lard. You can even use butter or vegan butter. I have used olive oil. Coconut oil or any vegetable oil can be used. You can also use vegetable shortening or lard itself too.
I would not recommend skipping oil in this recipe. Adding fat is essential for making a super light airy flatbreads. Without fat these will turn out brittle.
Baking Powder
Adding a pinch of baking powder leavens the dough and makes the tortilla light airy and soft. Along with these ingredients we will need boiling water and salt.
How To Make Flour Tortillas Recipe
Preparing The Dough
Bring about 1/2 cup of water to rolling boil. Let it cool down a bit. Combine flour, 1/2 teaspoon salt, 1/2 teaspoon baking powder and 2 tablespoons olive oil in a large mixing bowl.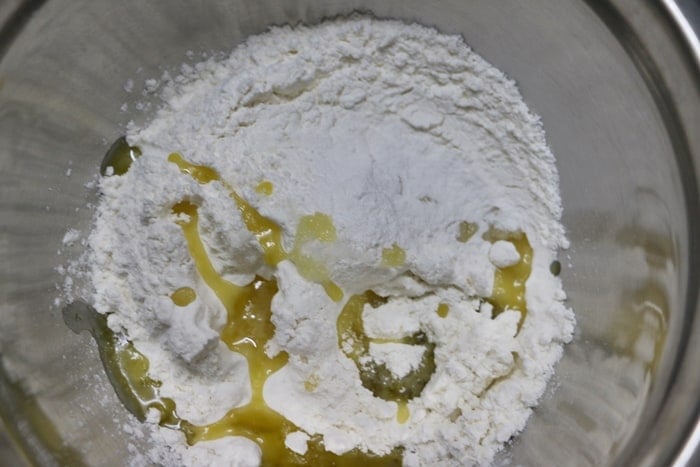 3. Mix very well to coat oil all over the flour.
4. Add warm water little by little (about 2 tablespoons at a time) and mix well with a spoon. Add water until a shaggy dough forms.
5. Once you are able to handle the heat, start kneading. The dough should be very elastic, soft and non sticky. Adjust water/flour quantity.
Transfer dough to a large bowl and cover with a damp cloth. Let the tortilla dough rest for an hour. Divide the dough into 8-9 equal portions.
Shaping & Making Tortillas
7. Take one portion of the dough ball and roll into a very thin disc using a rolling pin on a lightly floured surface.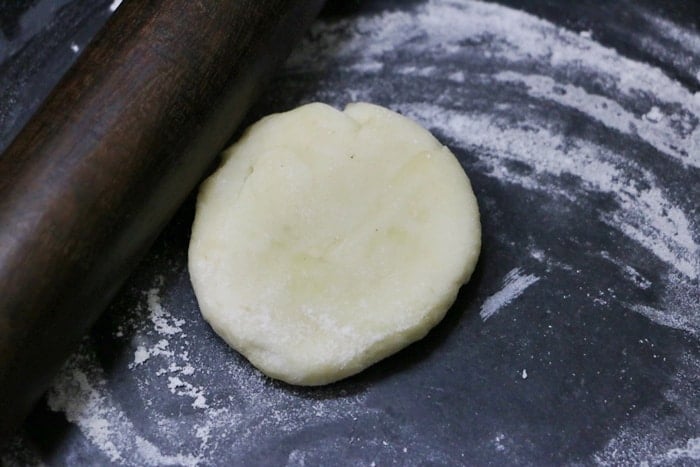 8. Preheat a cast iron skillet or any heavy flat pan or tawa. Place a rolled tortilla dough and cook for 30-40 seconds. Small bubbles will appear on the top.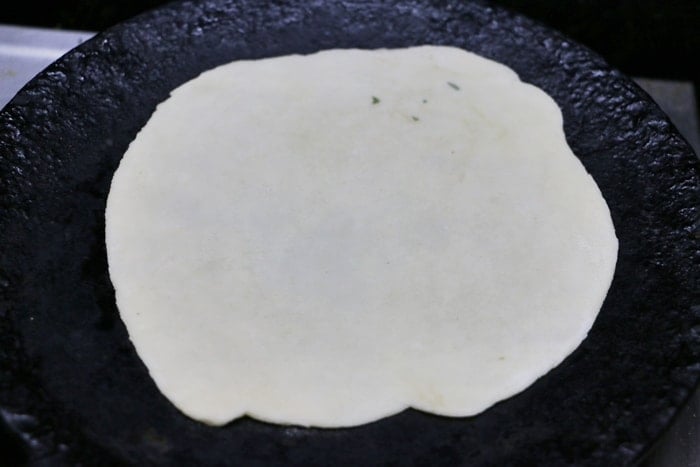 9. Flip and cook till light brown spots appear, press well to cook the edges. Well cooked tortilla will puff up. Remove the cooked tortilla to a plate.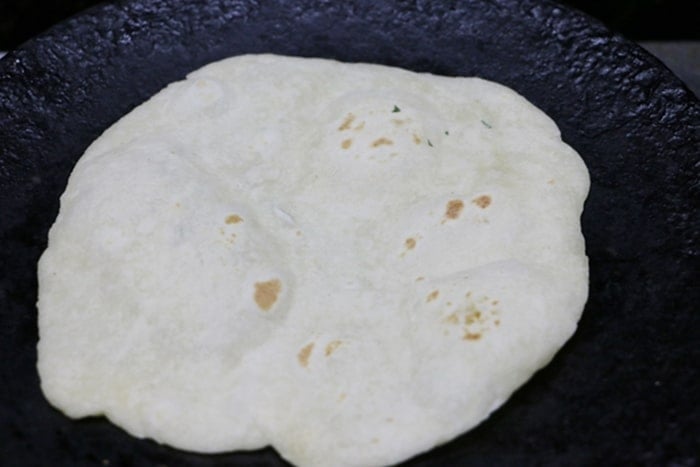 10. Repeat the same with the remaining dough, once done stack the flour tortillas and gently wrap in kitchen towel before using. You can also use tortilla warmer.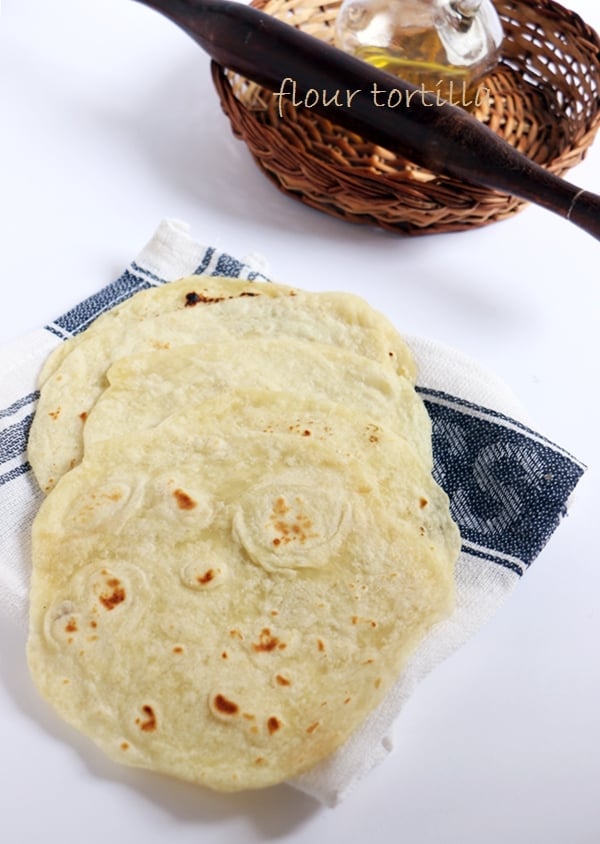 Ways To Use Homemade Flour Tortillas
Apart from using these best homemade tortillas for obvious recipes like fajitas, chilaquiles, enchiladas, I also use them in few more ways as follows
Serve them piping hot with curries as flatbreads
use them as base for thin crust skillet pizza, just follow this recipe.
Make toastadas.
Make tortilla chips– brush olive oil generously on each tortilla and bake in hot oven at 230 C or 250 F for 5-7 minutes.
Sandwich wraps
How To Freeze Flour Tortillas
You can freeze both cooked tortillas and uncooked rolled tortillas easily.
Freezing cooked tortillas- After cooking let the tortillas cool thoroughly to cool temperature. Stack them alternating between parchment paper and place in freezer bags. Freezes well for 2 months.
Uncooked rolled tortillas can also be frozen in the same way. Alternately you can also partly cook them, cool and freeze.
Frequently Asked Questions
What are the ingredients in a flour tortilla?
A basic flour tortilla is made of just flour, salt, oil and water.
Do tortillas need lard?
Lard or vegetables shortening is a fat used in tortilla recipe which makes the flatbread airy & light. You can use oil or butter instead.
How to make gluten free tortillas?
By simply using maize or yellow corn flour instead of plain flour. Rolling gluten free is not easy as plain flour though.
Do I need a tortilla press?
No, rolling plain flour tortilla can be easily done using a rolling pin itself.
Are you making this recipe? I would love to see a snap of your creation too. Do snap a pic and share on Instagram with hashtag #cookclickndevou and please give a star rating ★ in the recipe card above. Follow us on Pinterest , Instagram, Facebook for more recipes and ideas.
Recipe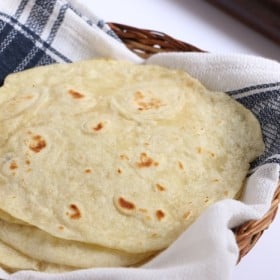 Flour tortilla recipe | How to make tortilla recipe
Flour tortilla recipe, easy recipe to make super soft and thin flour tortillas at home with just 4 ingredients!
1 CUP = 250 ml
Ingredients
1

cup

all purpose flour

2

tablespoons

olive oil

About 1/2 cup boiling water

Salt

1/2

teaspoon

baking powder

More flour for dusting.
Instructions
Bring the water to a rolling boil.

Take all the ingredients except water in a mixing bowl. Mix well.

Add water slowly and mixing well.

Knead to a very soft and smooth dough.

Rest the dough for 30 minutes. Divide the dough into 6 portions

Heat a tava/skillet

Take one portion of the dough and roll into a thin disc.

Place on the hot tava and cook from both sides till slight golden spots appear.

Serve or store flour torilla as required.
Notes
1. You can use wheat flour along with maida.
2. You can add any oil or butter in place of olive oil.
3. Do not add oil while cooking the tortillas.
Nutrition
Tried this recipe? Snap a pic and share 🙂
Mention cookclickndevou or tag cookclickndevour