Flour tortilla recipe with step by step photos. Absolutely soft, so tasty homemade flour tortilla in just 30 minutes and 4 ingredients + water. Flour,oil,salt and baking powder that's it!
If you are wondering what are tortillas, those are unleavened flat bread cooked on a skillet, very prominent one in Mexican cuisine and often used for quesadillas, burritos, fajitas etc. Though tortilla are easily available in stores, these are super easy to make at home and very economical too. I usually make whole wheat tortilla (very thin phulka) to make quesadilla at home but I wanted to try flour tortilla for a long time. I have heard from my friends that flour tortillas are very tasty and very very soft. I recently picked up a recipe for vegetable fajitas from a cook book and that called for flour tortillas. The homemade flour tortillas, fresh tomato salsa and paneer vegetable filled fajitas were so good that we finished the whole thing in minutes and we were literally scraping for bits at last 🙂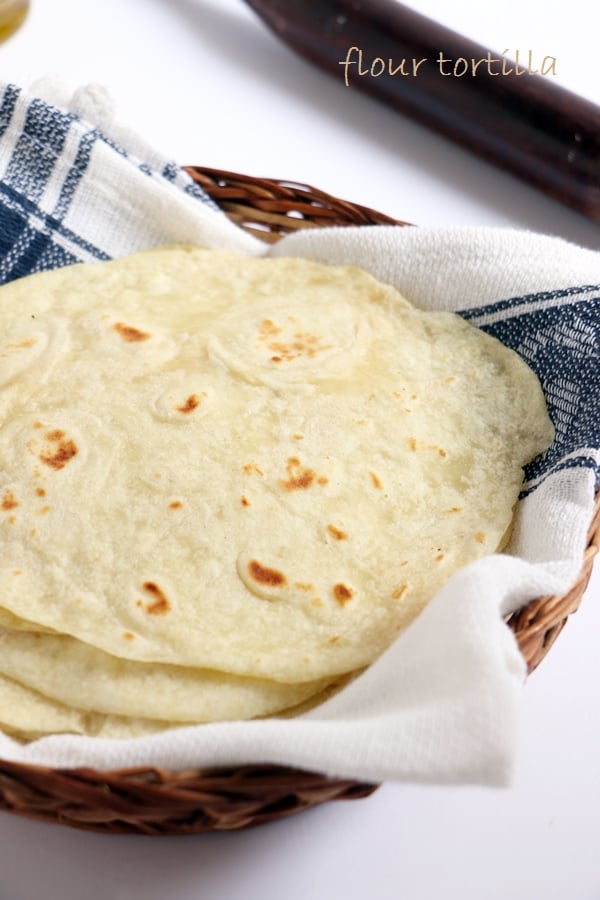 To make flour tortilla at home you can use all purpose flour alone or a combination of wheat flour and all purpose flour. If you want to make it healthy use only wheat flour, but tortilla made with flour are softer and light than the ones made with wheat flour. Usually lard or any shortening is used for making flour tortilla but here I have used olive oil, one more key to get very soft tortilla is use boiling water for kneading the dough.
You can serve tortilla wrapped with any filling you fancy, right from vegetables sauteed, paneer etc, or use it to make quesadillas, you can make baked tortilla chips or even serve it plain with any dip and fresh tomato salsa.
I used this batch of homemade flour tortilla to make veg-paneer fajita and served it with some fresh tomato salsa, we loved this meal to the core!
Here is how to make homemade flour tortilla recipe, do try out it is so easy, tasty and hygenic than what you get from stores!
If you are looking for more mexican recipes do check veg tacos recipe, salsa, veg quesadillas.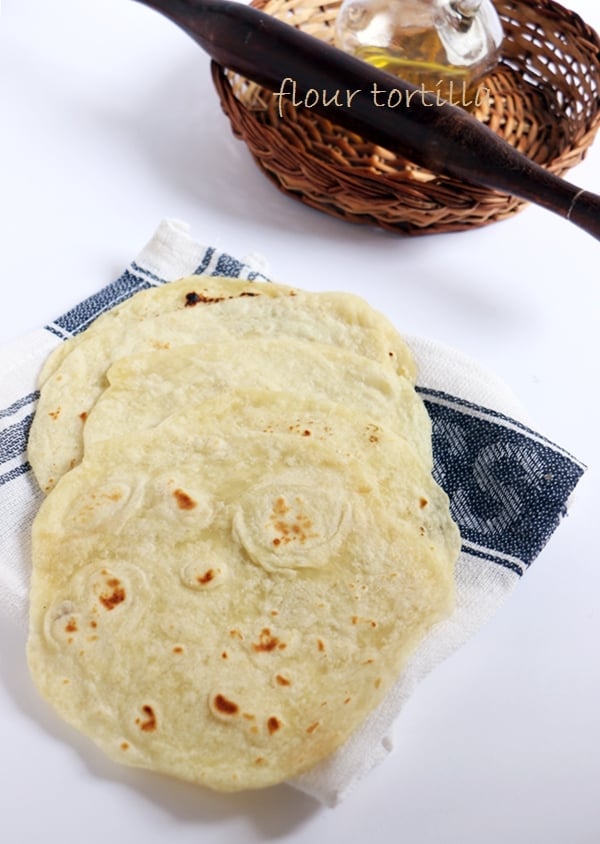 Flour tortilla recipe with step by step photos!
1. Bring about 1/2 cup of water to rolling boil.
2. Take flour,salt, baking powder and olive oil in a mixing bowl.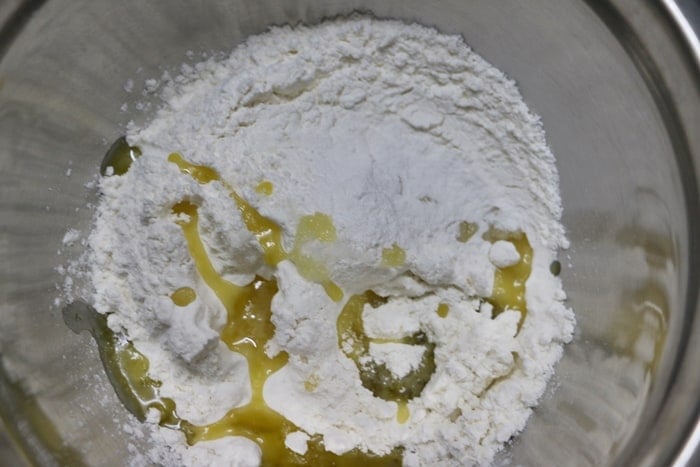 3. Mix very well to distribute the oil uniformly.
4. Add how water little by little (about 2 tablespoons at a time) and mix well with a spoon.
5. Once you are able to handle the heat, start kneading. The dough should be very elastic, soft and non sticky. Adjust water/flour quantity.
6. Rest the dough for 30 minutes. Divide the dough into 6 equal portions.
7. Take one portion and roll into a very thin disc.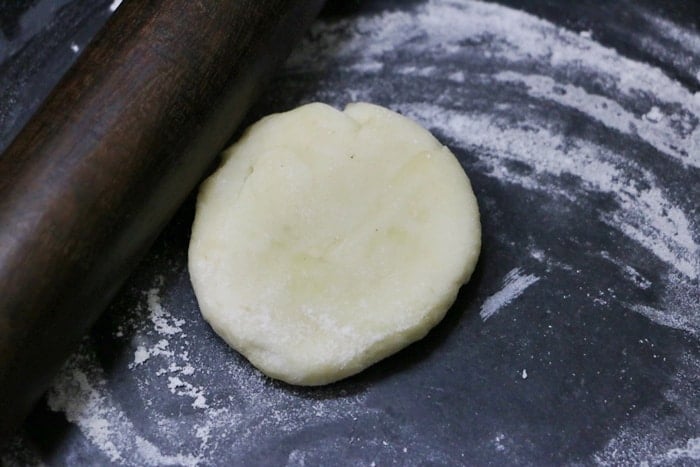 8. Heat a tava, the tava should be very hot before you place the rolled tortilla.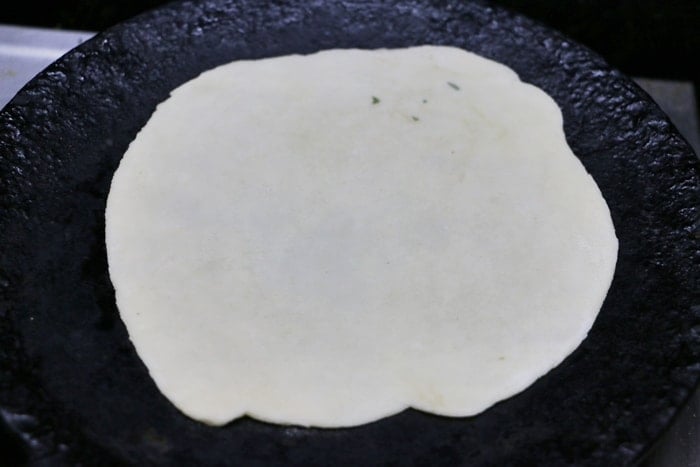 9. Place the rolled tortilla on the hot tava and cook for 10 seconds. Flip and cook till golden brown dots appear, press well to cook the edges.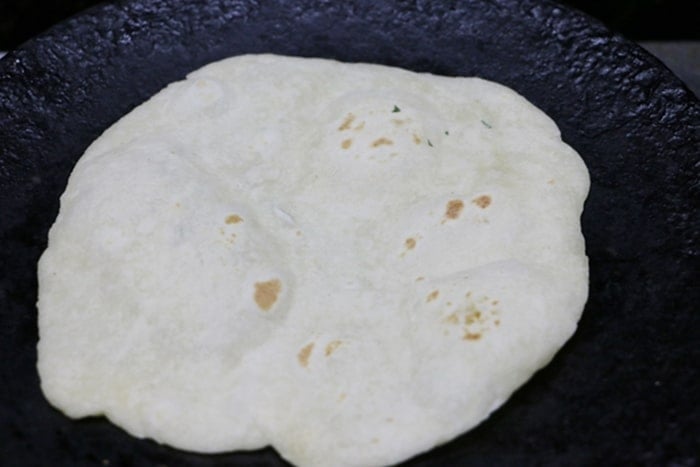 10. Repeat the same with the remaining dough, once done stack the flour tortillas and gently wrap in kitchen towel before using.

Flour tortilla recipe card below: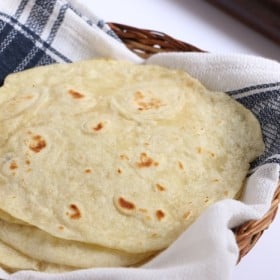 Flour tortilla recipe | How to make tortilla recipe
Flour tortilla recipe, easy recipe to make super soft and thin flour tortillas at home with just 4 ingredients!
1 CUP = 250 ml
Ingredients
1

cup

all purpose flour

2

tablespoons

olive oil

About 1/2 cup boiling water

Salt

1/2

teaspoon

baking powder

More flour for dusting.
Instructions
Bring the water to a rolling boil.

Take all the ingredients except water in a mixing bowl. Mix well.

Add water slowly and mixing well.

Knead to a very soft and smooth dough.

Rest the dough for 30 minutes. Divide the dough into 6 portions

Heat a tava/skillet

Take one portion of the dough and roll into a thin disc.

Place on the hot tava and cook from both sides till slight golden spots appear.

Serve or store flour torilla as required.
Notes
1. You can use wheat flour along with maida.
2. You can add any oil or butter in place of olive oil.
3. Do not add oil while cooking the tortillas.
Nutrition
Tried this recipe? Snap a pic and share 🙂
Mention cookclickndevou or tag cookclickndevour